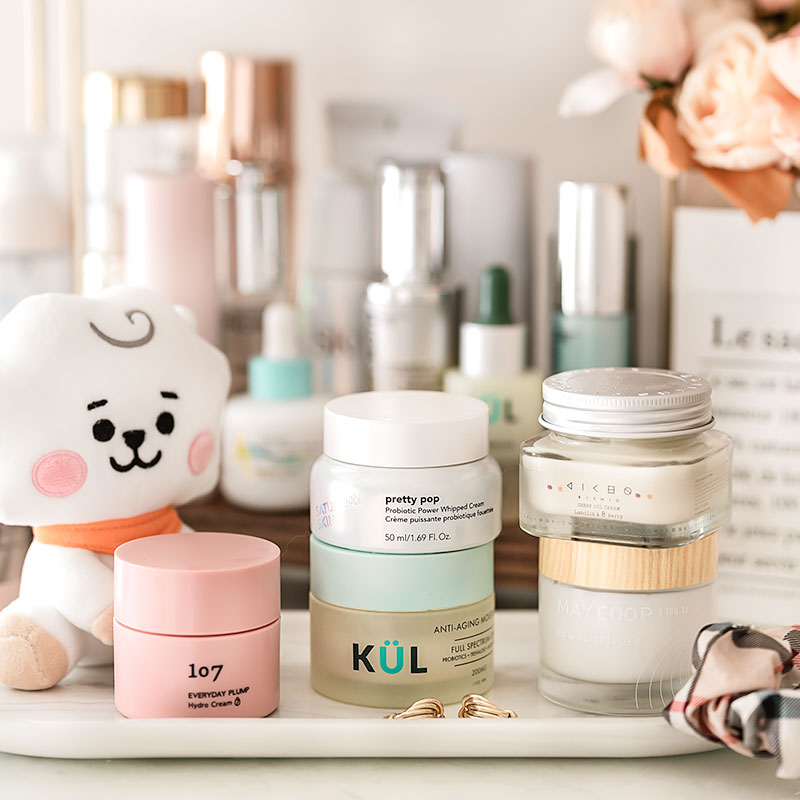 Last updated on May 25th, 2021
Yes I've actually tested 38 moisturizer and after using everything from high-end to drugstore brands, here are my quick thoughts on all of them, as well as my top picks.
I will keep updating this list as I review more products!
Ratings explained
These products were tested for a minimum of 2 weeks (4+ weeks if there's been a full review) on my dry skin with my usual routine. Things I look for include ingredients, texture, and how well it layers with my other products.
For moisturizers I mainly look for how well it keeps my skin moisturized and its texture/finish. Additional benefits are a plus, but I prefer my serums and essences to do most of the heavy lifting. Based on the results, usage experience, and price, I then give them the following ratings:
Best picks get 5 stars and are what I have or would repurchase happily.
Honorable mentions get 4.5 stars. These were close to being a top pick but didn't perform as strongly.
3 – 4 stars are good options and worth considering if they fit your needs.
Anything 2 stars and under aren't worth it in my opinion, but as always, ymmv.
Best moisturizers for dry aging skin
The best high-end moisturizer. Everything about this cream is perfection: the rich yet silky texture, the beautiful floral scent, and most importantly, how it plumps up my skin and makes it glow. This takes my skin to a whole new level, something I didn't even think was possible with moisturizers! That's why I will gladly continue to repurchase this.
→ Full review here
→ $120 for 30ml from Lancome, Harrods, and LookFantastic; $180 for 60ml from Nordstrom
The affordable Lancome dupe! It has a similar luxurious yet lightweight cream texture and also gives my skin a dewy glow. While it doesn't have the plumping and skin-refining results of the Lancome, it's still an excellent moisturizer with a great mix of plant oils to nourish, humectants to hydrate, and some soothing extracts. It's also fragrance-free!
→ $48 for 50ml from 107
Best affordable moisturizer! If you're a regular this will come as no surprise. The occlusive ingredients are almost identical to what's in La Mer, which is why this cream is so good at locking in moisture and keep your skin hydrated all night (and day)! I'm actually using this on top of some of my weaker moisturizers and it's made my dry skin very happy this winter.
→ Full review here
→ $0.99 for 1oz at Ulta and Target; 13.5 oz at Amazon ($6.25), Target ($7.29), and Ulta ($9.99)
Best moisturizer for irritated skin! Dry skin can be more prone to irritation from actives, and this is an absolute skin-saver in those situations. It has a rich texture that can feel oily at first, but after a few minutes it does absorb. Most importantly it not only heals your skin but strengthens your moisture barrier in the process, giving you healthier skin!
→ Full review here
→ $14.99 for 1.35oz from Amazon, Skinstore, Escentual, and Target
I should also mention that all 4 layer beautifully with other products. No pilling whatsoever!
Honorable Mentions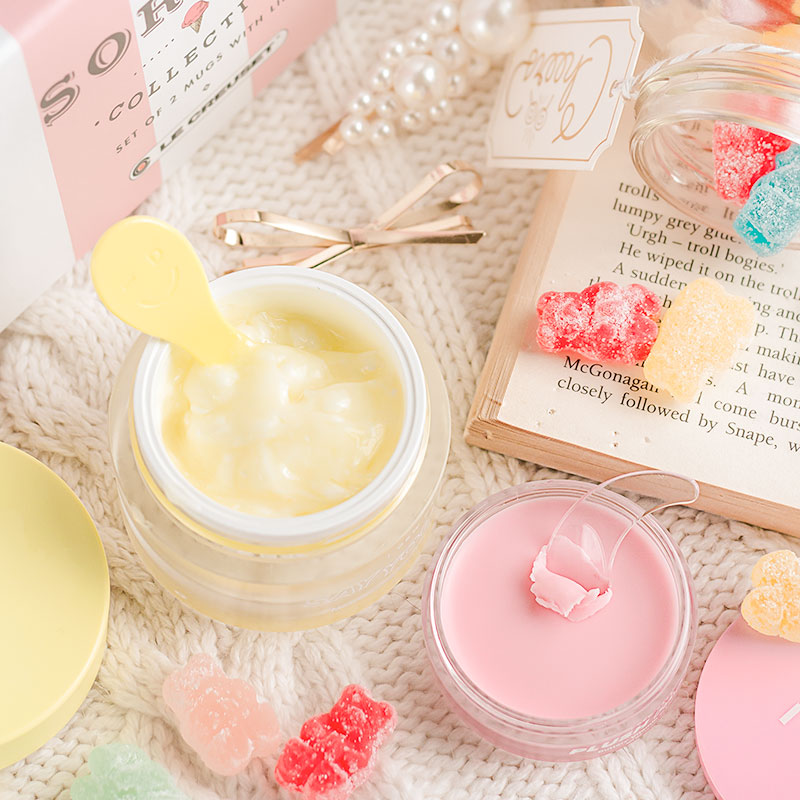 Illiyoon Ceramide Ato Concentrate Cream*
Really affordable, gentle, and full of skin repairing ingredients like ceramides and fatty acids! It doesn't quite wow me like the Nivea Creme but it has a more elegant texture and finish that would work for all skin types!
→ Full review here
→ $14 for 200ml on StyleKorean; $24 on YesStyle
I Dew Care Say You Dew Vitamin C Gel + Cream*
An affordable gel-cream moisturizer that a great mix of emollients plus some brightening ingredients like niacinamide and vitamin c! This gave my skin a beautiful glow and would be a top pick but the 107 Hydro Cream stole its spot.
→ Full review here
→ $29/1.69 oz on Ulta, Amazon, and Memebox
Youth to the People Adaptogen Deep Moisture Cream*
A delightfully soft yet nourishing cream that's packed full of antioxidants, I was surprised at how well it moisturized despite being so light. I can see this working well for all skin types!
→ Full review here
→ $50 for 60ml at Sephora, Free People, YTTP
Sulwhasoo Overnight Vitalizing Mask
My favorite product from Sulwhasoo, this mask/moisturizer is so creamy and nourishing without being heavy. Not only does it moisturize well, it also helps balance my skin with continued use.
→ $40 – $54 for 120ml at Stylevana, Sulwhasoo
AMOREPACIFIC Essential Creme Fluid*
Not your traditional cream but more of an emulsion, which means it's not quite occlusive enough for night time use. But for day use, it's like a cozy blanket + a hot cup of green tea for my skin, aka perfection.
→ Full review here
→ $98 for 90ml at Nordstrom, Sephora, AMOREPACIFIC
Venn Age-Reversing All-In-One Concentrate*
For those looking for a one-and-done product, you need to try this. It has excellent ingredients (peptides, amino acids, green tea extract to name a few) plus it keeps my dry skin moisturized all day and night long!
→ Instagram review here
→ $185 for 50ml at Net-a-Porter, Venn Skincare

Moisturizers that didn't make the cut
The products below are listed in descending order from highest to lowest rated.
Saturday Skin Pretty Pop Probiotic Power Whipped Cream* ★★★★☆
Love the fluffy whipped texture and how it turns into a watery emulsion when massaged in. Does contain alcohol (low on list) but also great ingredients like niacinamide, egf, and probiotics. I enjoyed this as a day cream.
→ Instagram review here
→ $57/50ml at Sephora, Nordstrom, Amazon; $38 at iHerb
Klairs Freshly Juiced Vitamin E Mask* ★★★★☆
A gel sleeping mask that's like a drink of water for the skin! Now this isn't quite moisturizing enough in the winter for me, but during the summer it's just lovely. Plus its brightening abilities are ah-mazing!
→ Full review here
→ $27 for 90ml at Wishtrend, Ulta, Sokoglam, and Amazon
Lumene Valo Glow Reveal Moisturizer* ★★★★☆
A lovely emollient cream that checks off everything you want in a moisturizer, plus a bit antioxidant boost with niacinamide, vitamin c + e. Super dry skin folks might want to mix/pair this with a bit of oil!
→ Brand review here
→ $24.99/50ml at Amazon, CVS, Target; $29.99 at Feel Unique, Look Fantastic
Darphin Intral Soothing Cream* ★★★★☆
A medium-weight moisturizer with wonderful ingredients that hydrate without being oily, and leaves skin healthier and stronger in the long run. It's like the bougier, more elegant, but also more expensive version of the Cicaplast Baume.
→ Brand review here
→ $72 at Dermstore, Blue Mercury, Darphin

Peter Thomas Roth FirmX Collagen Moisturizer* ★★★☆☆
I usually don't like gel moisturizers but this had a fun bouncy texture and was quite moisturizing too! Skin feels extra plump and soft when used with their FirmX Collagen Serum, but I still think there are better moisturizers for the price.
→ Instagram first impression here
→ $85 for 50ml on Sephora, Ulta, Skinstore
Chanel Le Lift Creme Riche ★★★☆☆
Loved how rich and lush this cream was, and I can't deny that it made my skin look good too (on top of keeping it moisturized)! It's not a must have imo, but if you have the budget and want to treat yourself, it doesn't get bougier than this.
→ $165 for 50ml on Nordstrom, Macy's, Chanel
Shiseido Essential Energy Moisturizing Gel Cream* ★★★☆☆
My favorite gel cream that I've tried. While it did pill under sunscreen (most gels do for me), it moisturized my skin well and I noticed smoother and more refined skin with continued use! This would be a great entry-level anti-aging product if you enjoy gel moisturizers.
→ Instagram review here
→ $48 for 50ml at Nordstrom, Sephora, Ulta
PERFECT ONE Moisture Gel* ★★★☆☆
Unlike the Venn which was a true all in one, this is more like a regular gel moisturizer, albeit a pretty good one. Good ingredients, good texture, good for normal/combo/oily skin folks!
→ Full review here
→ $53 for 75g on Perfect One US site – currently on sale for $48.
May Coop Raw Moisturizer* ★★★☆☆
A velvety gel cream that leaves skin soft and hydrated, but it has this weird plastic scent? It's good for day time use but again during the night I prefer something richer. Will be better for normal/combo skin folks.
→ $37/80ml on iHerb, Stylevana
Kicho Sheep Oil Cream* ★★★☆☆
Features lanolin so it's definitely a thicker cream, but it's surprisingly easy to blend and leaves skin feeling soft and matte. It's actually not as moisturizing as I would've preferred but otherwise it's a decent cream. Lanolin can be comedogenic so be careful if you have acne-prone skin.
→ $59/63g on Beauty Box Korea
First Aid Beauty Ultra Repair Cream ★★★☆☆
Has a fluffy whipped texture that feels comfortable on the skin. It moisturizes well and is great for soothing itchy skin, but not as reparative as the LRP. It also pills on me, but ymmv!
→ Full review here
→ $36/170g on Sephora, Ulta, Amazon
Klairs Midnight Blue Calming Cream* ★★★☆☆
An old favorite of mine for calming the skin, and it really does work to sooth any irritations. However it's not very moisturizing on its own, which is why it ranks lower than other soothing moisturizers. Could work well for combo/oily skin types though!
→ Full review here
→ $24.5 for 30ml on Wishtrend, Yesstyle, iHerb, Sokoglam, Amazon
Elemis Pro-Collagen Marine Cream* ★★★☆☆
A luxurious cream texture that doesn't feel heavy on the skin and leaves skin instantly velvet soft. However it pills when layered under makeup and tinted sunscreens! Even though it's advertised as a day cream, I find this better suited to use at night.
→ $89 for 30ml on Ulta, SkinStore, Dermstore, Look Fantastic
belif The True Cream Aqua Bomb* ★★★☆☆
A surprisingly lush gel cream that actually moisturizes my dry skin well! It really doesn't do much beyond that, but it's nice option if you have dry skin and prefer gel textures instead!
→ $38 for 50ml on Sephora, Ulta, Amazon
SK-II R.N.A.POWER Radical New Age Cream ★★☆☆☆
A luxurious cream featuring SK-II's patented Pitera and a bunch of great anti-aging ingredients. Sounds promising and it definitely moisturizes well, but for the price the lack of anti-aging results were seriously disappointing.
→ Brand review here
→ $129-$230 for 80ml at MyHuo, Alaso, Yesstyle, Cosme-De, Sasa, b-glowing, Sephora
Amorepacifc Youth Revolution Radiance Creme and Masque* ★★☆☆☆
One more disappointing high-end cream for you. This one is well formulated and feels really comfortable on the skin, but it's not moisturizing enough during the winter. Plus the bare minimum results (moisturized skin with a slight glow) were definitely not worth the price tag.
→ Instagram review here
→ $200 for 50ml on Sephora, Nordstrom, Cosbar
Laneige Cica Sleeping Mask* ★★☆☆☆
I enjoyed the light creamy texture, but for my dry skin its moisturizing abilities were underwhelming. I also didn't notice any soothing effects with this mask, and would rather use the La Roche-Posay, Darphin, or even Klairs creams if I had irritated skin.
→ Instagram review here
→ $34 for 60ml on Sephora, $25 at Stylevana
Peter Thomas Roth Peptide 21 Lift & Firm Moisturizer* ★★☆☆☆
I loved the serum from this line, and while the moisturizer had similar ingredients, the results were so underwhelming, aka nonexistent. Combo/oily skin might like the light gel texture though.
→ Peptide 21 line review here
→ $78 for 100ml at Sephora, Ulta, Nordstrom, Dermstore,
Peter Thomas Roth Water Drench Hyaluronic Acid Moisturizer* ★★☆☆☆
A light gel that burst into a water-like texture upon application. Feels incredibly refreshing and comfortable on the skin, but not heavy duty enough for my dry mature skin. I would recommend this to combo/oily folks though!
→ $52 for 50ml at Sephora, Ulta, Dermstore, Cultbeauty
Estee Lauder Revitalizing Supreme+ Global Anti-Aging Cell Power Cream ★★☆☆☆
A medium-weight cream texture that feels comfortable on the skin and moisturizes well. But it smells SO BAD like hair perming solution 🤢 Also it really didn't do much to moisturize. It's a pass for me.
→ $88 for 50ml at Sephora, Ulta, Nordstrom, Dermstore
Peter Thomas Roth Vital-E Microbiome Age Defense Cream* ★★☆☆☆
While I adored the eye cream from this line, I didn't really like the same balmy texture for my face. I didn't find it as moisturizing, though it does layer well under sunscreen and makeup. Normal/combo skin might like this lighter texture better.
→ $75 for 50ml at Sephora, Ulta, Skinstore
Klairs Fundamental Water Gel Cream* ★★☆☆☆
Has a fun watery texture but that's pretty much it. The gel texture isn't moisturizing enough for dry skin. It's also overpriced for being a basic moisturizer.
→ Full review here
→ $31/70ml on Wishtrend, Amazon, and YesStyle
Good Molecules Silicone-Free Priming Moisturizer* ★★☆☆☆
I feel bad giving this a low rating, but as a moisturizer this was not made for dry skin folks in mind, so don't even bother. However, as a primer this is excellent and I would 100% recommend it!
→ Instagram review here
→ $14/50ml at Beautylish
Paula's Choice Omega+ Complex Moisturizer* ★★☆☆☆
A great dupe for the DE Lala, in that it's also underwhelming and not that moisturizing. At least this one is more affordable?
→ Instagram first impression here
→ $35/50ml on Dermstore, Amazon
QUL Night Repair Moisturizer* ★★☆☆☆
Had high hopes for this due to its micro-algae (hello La Mer dupe?), retinol probiotics ingredients, I honestly haven't noticed any differences since using this. It also dries down to a matte finish and I would've preferred something more moisturizing. Not the worst, but definitely not good for the price.
→ $95/50ml on QULCBD
QUL Anti-Aging Moisturizer* ★☆☆☆☆
Same ingredients as the Night Repair but in lower doses, plus without the retinol. However this had a weird yogurt like texture and it pilled like crazy under sunscreen. Pass.
→ $90/50ml on QULCBD
Drunk Elephant Lala Retro Whipped Cream* ★☆☆☆☆
Brand problems aside, I really didn't find this one moisturizing enough for my dry skin, and that was in the summer time too. It's also got some potentially comedogenic ingredients, so be careful if you're acne prone!
→ Full review here
→ $60/50ml on Sephora and CultBeauty
Summer Fridays Jet Lag Mask ★☆☆☆☆
Aesthetic blue tube aside this is useless as a moisturizer/sleeping mask. For one it's not moisturizing at all, and it leaves this weird film on my skin. A lot of people also reported skin irritations while using this, so it's a good thing that SF is finally reformulating it.
→ Currently unavailable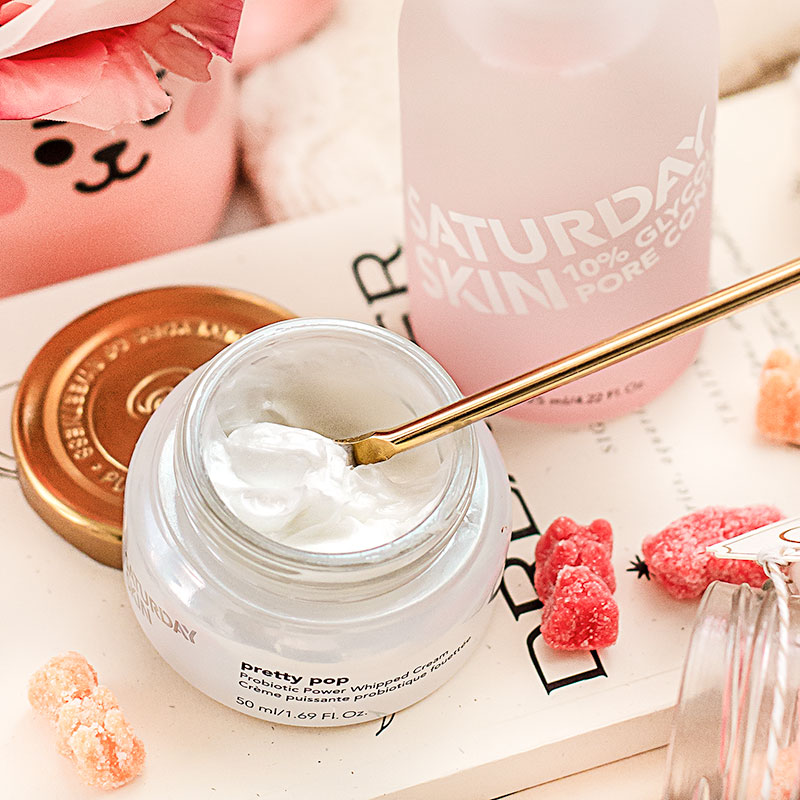 Did you enjoy this post?
I share first impressions, product comparisons, and more skincare tips regularly on Instagram! Learn about products first and get a bonus dose of daily fluff! 😸
Follow Now