Everyday there seems to be a new it ingredient in the skincare world, and one of the up-and-coming stars? Cloudberry, the feature ingredient in Lumene's products. Let's see what the hype is about and if the Lumene Valo Glow range is really all it claims.
What is cloudberry?
From the same family as raspberries, this golden berry is common in Scandinavian countries.
Due to the unique light cycles of the region (super long days and super long nights), the fruit contains an extremely high level of vitamin c (twice the level of oranges), beta-carotene1, and the antioxidant ellagic acid2, making it a sort of super-antioxidant fruit.
We're all familiar the vitamin c and beta-carotene, but what exactly is ellagic acid?
Ellagic acid is also an antioxidant, most commonly found in pomegranates. It's been show to have anti-inflammatory and anti-tumor properties, and recent studies also show that it can protect the skin against UVB + UVA damages3,4 and promote wound healing5. However most of these studies were done in vitro (ie. In a test tube or on a petri dish) rather than in vivo (on an actual living being – even better, a human), so more research is still required to truly prove its efficacy. But hey, it's a good start!
In addition to antioxidants, the cloudberry seed oil is also rich in alpha-linolenic acid6, which helps soothe and nourish the skin while strengthening our skin's natural barrier. This makes cloudberry seed oil an excellent option for those with sensitive or inflamed skin!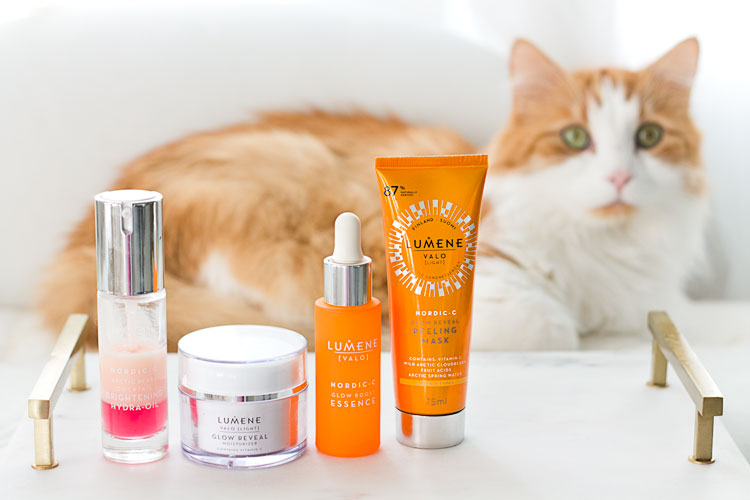 So is cloudberry the next super-fruit ingredient? Don't hold your breath, though it seems popular among natural beauty brands, maybe because it sounds nicer and more "green" than ascorbic acid?
That's not to say this is a trash ingredient, because clearly it has its benefits. However I'd make sure the product also includes ingredients that are well-backed by years of research. With that said, let's look 4 products from the Lumene Valo Glow range that feature the cloudberry!
Lumene Valo Glow Reveal Peeling Mask
Claim
This radiance enhancing mask helps tired and dull skin to recover a luminous, smooth, and youthful glow instantly.
Key Ingredients
Panthenol, vitamin c, cloudberry extract, vitamin e, citric acid, rosemary extract (full ingredient list)
Where to buy
$13.99 at SkinStore (25% off with code JENNY), LookFantasic, Target, and Amazon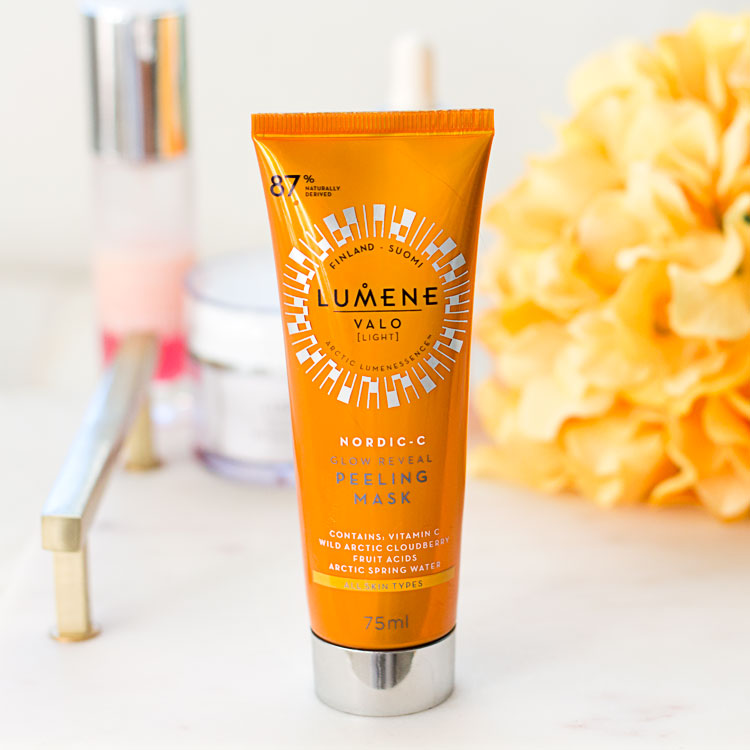 One of my favorite gentle exfoliating masks, and it smells like oranges! For me this is an affordable dupe of the Oskia Renaissance Mask with very similar texture and results – glowing and softer skin.
Since this contains mostly antioxidants and soothing ingredients with just one exfoliant – citric acid, don't expect it to deliver the same drastic results as your stronger acids. But if you prefer a gentle exfoliation while simultaneously nourishing your skin, this mask is a must try.
Rating: 💖💖💖💖
Lumene Valo Glow Boost Essence
Claims
A super concentrated, miracle boosting serum for brighter-looking, intensely hydrated skin.
Key Ingredients
Cloudberry extract, vitamin c, hyaluronic acid, adenosine, urea (full ingredient list)
Where to buy
$23.49 at Target, Amazon, Beauty Expert, Look Fantastic, and Feel Unique
Yet another vitamin c serum, but what sets the Lumene Valow Glow Boost Essence one apart is its use of the brightening Ascorbyl Glucoside vitamin c form, its super lightweight texture that absorbs into the skin almost instantly, its gentleness, and its relatively affordable price.
Curious about the different types of vitamin c's? 8 types of Vitamin C compared – which one is right for your skin?
While I wouldn't call this "miracle boosting" by any stretch, it does help maintain my skin tone and give my skin a healthy glow. Between the antioxidant + brightening + hydrating ingredients it contains, this makes a nice all-around serum for those with a limited budget or prefer a simpler routine.
Rating: 💖💖💖
Lumene Valo Glow Reveal Moisturizer
Claims
Intensely hydrates and brightens the complexion with our radiance enhancing Nordic-C complex with berry extract from antioxidant-rich Arctic cloudberry and vitamin C.
Key Ingredients
Jojoba oil, sweet almond oil, cloudberry extract, cloudberry seed oil, vitamin c, niacinamide, vitamin e, sea buckthorn oil, panthenol, rosemary extract (full ingredient list)
Where to buy
$24.99 at Amazon, CVS (wait for their 30% off sale); $29.99 at Feel Unique, Look Fantastic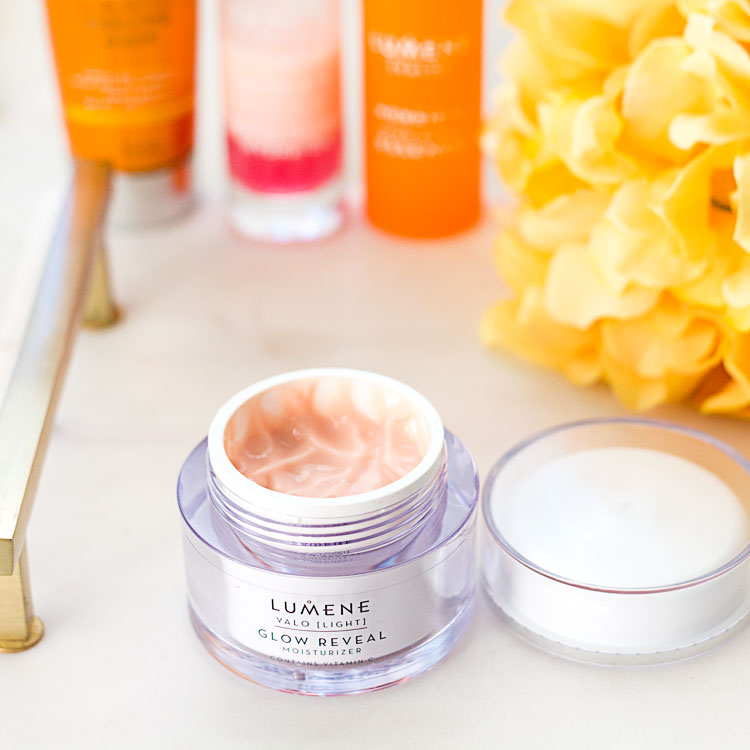 This is a medium weight cream moisturizer that's got a great blend of emollients and antioxidants, including 2 forms of vitamin c – the more potent ascorbic acid and oil soluble ascorbyl tetraisopalmitate.
For a drugstore brand, I'm impressed with the formula. Not only do they use well-researched ingredients, but the texture of this rivals high end creams. It's silky, absorbs quickly into the skin, doesn't pill under sunscreen, and keeps my combination skin hydrated throughout the day.
If you have dry skin, this might not be rich enough, but layering an oil over or under should help. The jar packaging is unfortunate as it can decrease the efficacy of the antioxidants, but high end brands are just as guilty of this as well. Overall, still a lovely moisturizer for the price.
Rating: 💖💖💖
Lumene Valo Arctic Berry Cocktail Brightening Hydra-Oil
Claims
A replenishing blend of Wild Arctic Cloudberry and Cranberry Seed Oils with a vitamin cocktail of C, B3 and B5, omega fatty acids and Pure Arctic Spring Water, for perfectly hydrated, radiant and velvety smooth looking skin.
Key Ingredients
Jojoba oil, avocado oil, squalane, vitamin e, cranberry seed oil, sea buckthorn oil, cloudberry extract, cloudberry seed oil, vitamin c, niacinamide, panthenol (full ingredient list)
Where to buy
$19.99 at SkinStore (25% off with code JENNY), Target, Amazon; $22.99 at CVS (wait for their 30% off sale); $39.99 at Feel Unique, Look Fantastic
I adore this oil, and not only because the bi-phase layers looks gorgeous.
The mix of oils and essence actually makes this feel lighter than regular oils, plus you get that extra boost of antioxidants and soothing ingredients along with the blend of skin-friendly oils. The results? Smooth, soft, and supple skin that glows.
This reminds me very much of my old favorite Naruko Supreme Rejuvenating Elixir Oil, but at a more wallet-friendly price. Seriously, this blows so many more expensive oils out of the water, and is definitely worth trying if you want the benefits of an oil (and then some) without the heaviness.
Rating: 💖💖💖💖
Final Verdict
Packaging
Ingredients
Texture/Application
Performance
Price
It's been a long time since I've tried drugstore brands but I was really impressed with what I tried from the this range. Granted I've tried more expensive products that have produced better results, but considering the price range of the products (everything is under $25 at Target and Amazon!), they look and feel just as luxe, and I find the value to be better than many high end brands. For those who are just starting their skincare routine or with a limited budget, this range is worth looking into!
One thing to keep in mind though is that their products are all fragranced. I personally enjoy the orange scent, but for those sensitive to fragrances, this may be a deal breaker.
Article Sources
To keep my content accurate and trustworthy, I rely on peer-reviewed studies, articles from reputable academic institutions, and quotes from certified healthcare professionals to back my claims. No woo-woo clickbait nonsense here!