Continuing my series on cheap and cheerful skincare products, this post focuses on the combination skin type or those living in warmer and/or more humid climates. Or if heavy creams just aren't your thing, you'll find some great refreshing yet still effective skincare options here!
A reminder that when it comes to skincare, you really just need 4 steps: cleanser, serum, moisturizer, and sunscreen in the morning. And if you have to splurge for a product, it would be serum – sure there are expensive products in all categories but with serums you get the best return for your pricier investment.
With that said, this post will keep everything, even the serums, under $25, with some options under $10!
Budget cleansers for combination skin
Definitely don't splurge on cleansers, and if you find one you like, buy in bulk to get an even better value for your money!
Affordable serums for combination skin
As I mentioned earlier, serums should be where you spend the bulk of your skincare budget. Luckily there are plenty of great serum under $20 - The Ordinary, Geek & Gorgeous, Naturium, and The Inkey List are all great brands to look at for more options!
Affordable moisturizers for combination skin
Depending on how "oily" your combo skin is, you might not need a moisturizer or just need some in the dry areas of your skin. If you're just doing spot applications, then the options listed in the affordable dry skin care routine might be more suitable. Otherwise keep reading!
The Inkey List Omega Water Cream*
What I'm currently using now for the warmer spring weather! It has a light gel cream texture that spreads effortlessly onto the skin, leaving behind a slightly dewy finish. Don't worry though, the dewiness does dry down after a few minutes, leaving just soft hydrated skin behind.
→ $9.99 for 50ml ($0.2 per ml) on Sephora, Cult Beauty
Good Molecules Silicone-Free Priming Moisturizer*
This was not moisturizing enough for my dry skin normally, but on a trip back to Taiwan where the humid weather made my skin more oily, it was perfect! The cream texture is incredibly light which feels comfortable on the skin, plus it doubles as a wonder makeup primer!
→ $12 for 50ml ($0.36 per ml) on Ulta, Beautylish
e.l.f. Holy Hydration Face Cream
This brand has come a long way since their $1 makeup line! This features great ingredients like Hyaluronic Acid, Niacinamide, Squalane, and Peptides all in a lightweight gel cream texture. People rave about how silky this feels and that it keeps skin moisturized without any heaviness.
Budget sunscreens for combination skin
For affordable and effective sunscreens, Korean and Japanese brands are the way to go. They also have a lighter texture which combo skin folks will find more comfortable!
Innisfree Daily Mild Sunscreen
One of my favorite everyday sunscreens for it's high proven UVA protection! Unlike most Korean sunscreens that leave a dewy finish, this has a light lotion texture with a satin finish that combo and oily skin types will enjoy more. Doesn't pill and no white cast either!
→ $10 for 50ml ($0.2 per ml) on Stylevana, Beauty of Korea, iHealthee
bliss Block Star Daily Mineral Sunscreen*
The only item > $20 but hear me out, it's a really nice option if you prefer mineral sunscreens. First, no white cast because it's tinted, and second, the almost mousse-like texture feels so light and comfortable on the skin! It leaves a velvet finish that also blurs out minor imperfections.
SCINIC Enjoy Super Mild Sun Essence
I'm going to cheat and include this sunscreen again because 1) I absolutely love it and 2) it's the only one here with proven UVA and UVB protection! Slightly dewier finish than the Innisfree but still light enough for combo or even oily skin, though the latter might have to skip the moisturizer step. You won't be disappointed with this one!
→ $10 for 50ml on YesStyle (5% off with code GEEKYPOSH), Stylevana; $15 for 2 tubes on Olive Young!
Example budget skincare routines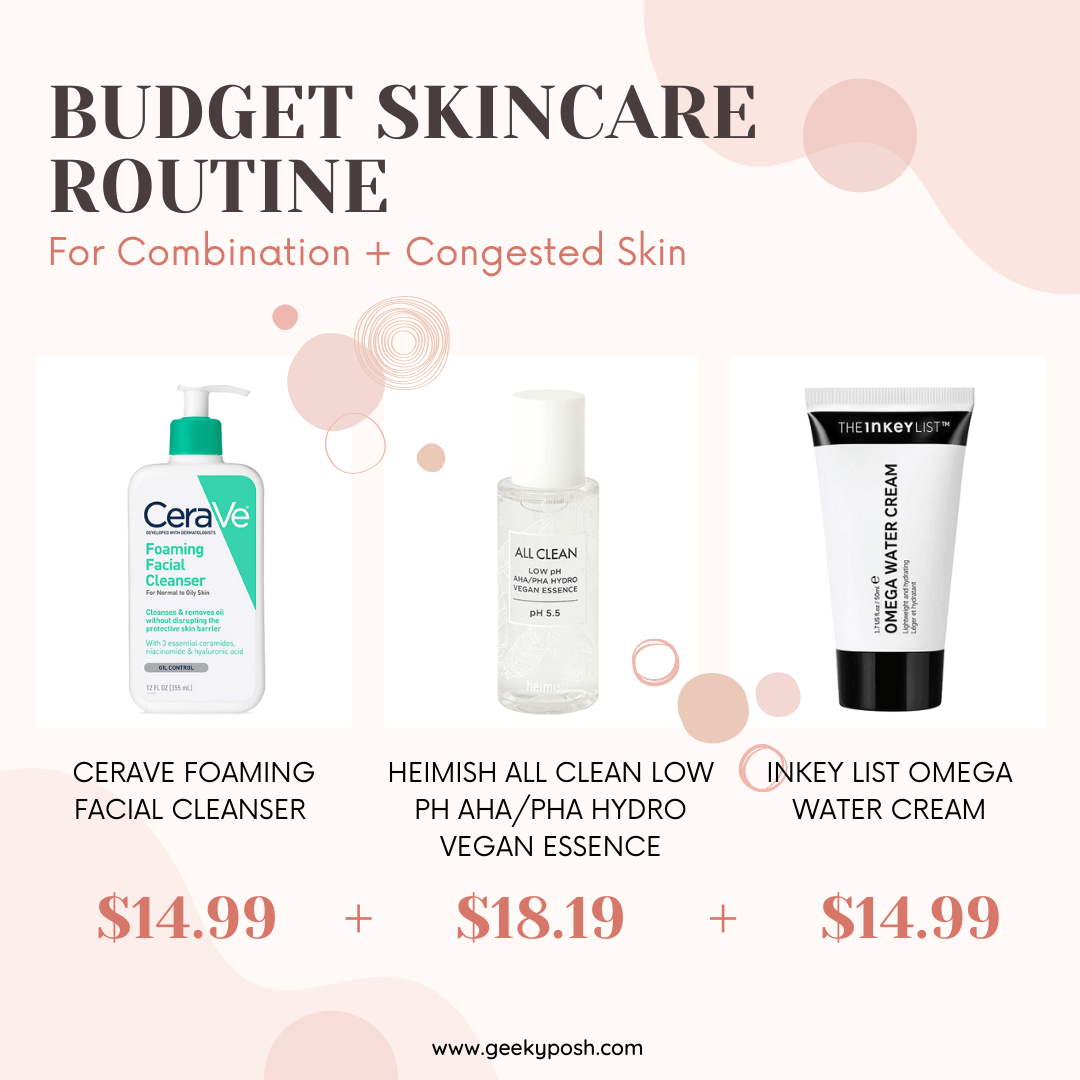 For congested or acne-prone skin:
The products don't contain the typical comedogenic ingredients, and adding in some light exfoliation with PHAs or retinol can help with cell turnover, minimizing congestions and breakouts. Also sunscreen is a must, especially when using actives!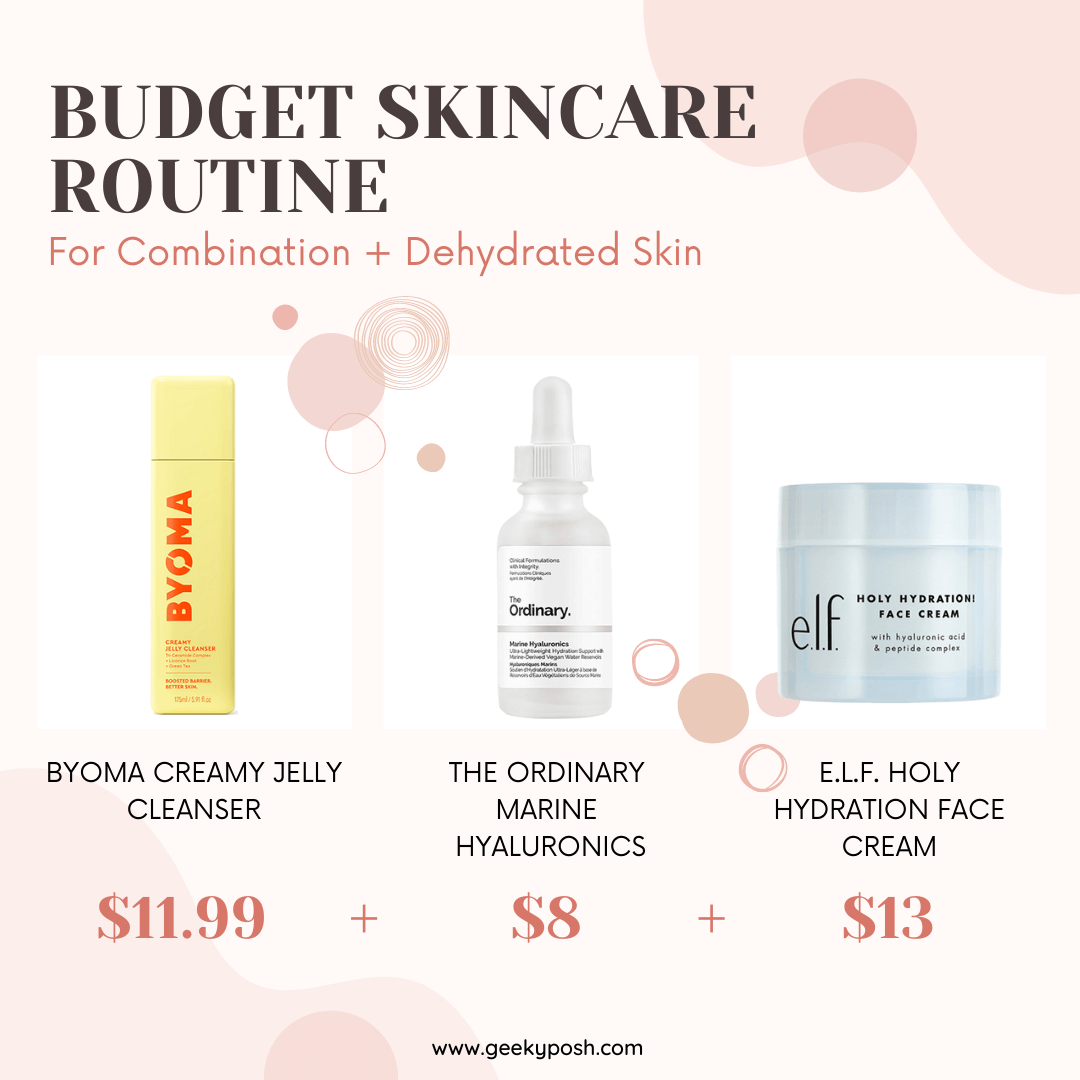 For combo dehydrated skin:
Look for products that provide lightweight hydration without heavy emollients. Both The Ordinary serum and the e.l.f. moisturizer are rich in humectants, which will help draw and retain moisture, and their light textures will still feel comfortable on your combo skin.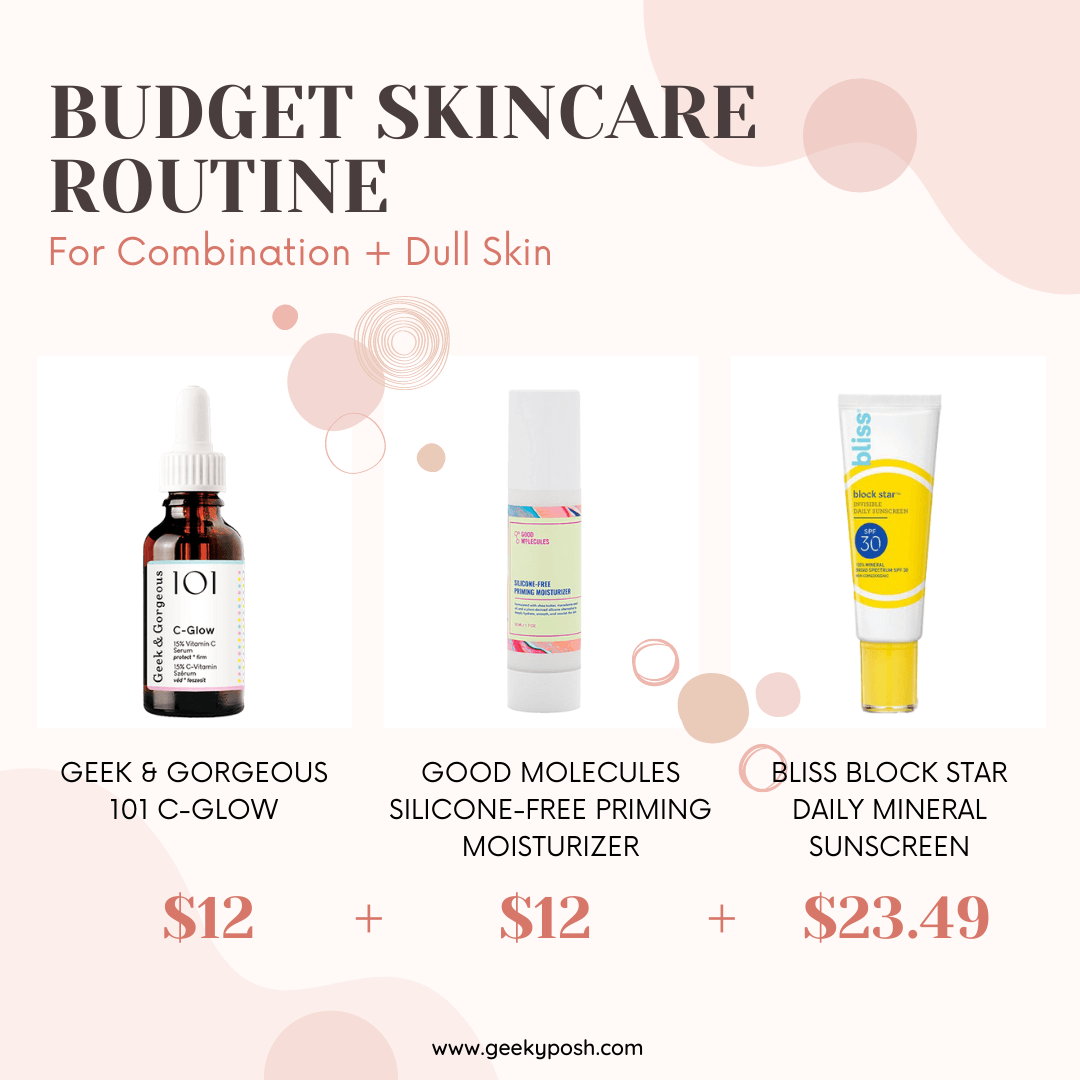 A brightening morning routine:
Vitamin C and sunscreen are your best friends in the morning regardless of skin type, and this routine has both covered. The Good Molecules moisturizer sets the canvas for the Bliss tinted sunscreen, which adds just a hint of coverage to finish your look!
Conclusion
Have you tried any of these product before? If you have any affordable combination skincare product you'd like to share, please let me know so I can add it to the list!