Sunscreen is one of my skincare obsessions, partly because I deeply regret not slathering this on when I was younger, but also because it's a guaranteed anti-aging product. Diligently (ie. everyday, rain or shine) applying sunscreen is one of the most effective ways of preventing wrinkles and pigmentation. Now the question is, does your sunscreen actually live up to its UVA/UVB protection claims?
Understanding UVB and the SPF rating
What is UVB?
UVB are short-spectrum rays with wavelengths around 290-320nm. Prolonged exposure can cause burning, which leads to inflammation and decrease in collagen level plus potential hyperpigmentation. Also causes direct DNA damage, which can lead to skin cancer.
What is SPF?
SPF, or sun protection factor, is the universal measurement of protection against UVB rays. The number is a multiplier that indicates how much longer it takes for you to get a sunburn. Eg. SPF15 means that it will now take your skin 15 times as long to burn, assuming you use the correct amount.
How is SPF measured?
By literally applying sunscreen on a person (in vivo) to see how much longer it takes for their skin to become mildly red. There are also in vitro tests that can be done using a spectrophotometer without the requirement for human test subjects.
The thing with SPF is that everyone has a different tolerance for UVB rays – some people just don't burn, while others turn into a lobster within a minute. Other factors like the variation in solvents, the combination and concentration of the active ingredients, the type of emulsion, the addition of other active ingredients, and even the pH level can affect also the actual SPF level (source).
Understanding UVA – UVA-PF, PA, PPD, Broad Spectrum, and Boots Star ratings
What is UVA?
UVA are long-spectrum rays with wavelengths from 320-400 nm. The 320-340 nm range can cause burns, dullness, and dark spots, while the 340-400 nm range causes the pigmentation, wrinkles, and loss of firmness in skin. Learn more about UVA rays here
What is UVA-PF?
UVA Protection Factor is the general term for determining how much UVA protection a sunscreen offers. Depending on the region's regulations, different testing standards may be used. So when you see UVA-PF20, it's important to know which standard was used to accurately gauge the protection levels.
What is PPD?
Persistent Pigment Darkening is a method of measuring UVA protection that's similar to SPF. The sunscreen is applied on humans (in vivo) exposed to UV lights and measured to see how much longer it takes for the skin to tan. PPD10 would mean it now takes your skin 10x as long to tan, hence it measures the strength of the UVA protection.
What is PA?
Protection of UVA is PPD converted to a grade system. Used commonly in Japan and Korea, the more +, the higher the protections. PA++ = PPD4 to 8, PA+++ = PPD8 to 16, and PA++++ = PPD16+. The limitation is that it can't gauge the protection strength past PPD16.
What is the UVA Circle?
You may see a circle with the words UVA on European sunscreens, which means its UVA protection is at least 1/3 of its UVB protection. Eg. an European sunscreen with SPF50 must have at least UVA-PF 16.67 to be considered broad spectrum.
What is Broad Spectrum?
According to the US FDA, Broad Spectrum measures the breadth of UVA protection by looking at the critical wavelengths (CW). Tests are done in vitro by exposing the sunscreen to different UV wavelengths to see how much of the UV radiation is absorbed. The wavelength at which the sunscreen reaches 90% absorption is the critical wavelength/CW, which must be at least 370mm to achieve "broad spectrum" rating (source).
In Europe and Australia, sunscreens must meat the 370nm critical wavelength as well as the UVA Circle requirements in order to be considered broad spectrum.
What is the Boots Star Rating?
Boots Star rating measures the % of UVA that's been absorbed compared to UVB rays (source), so in a sense it measure the evenness of the UV protection. These tests are done in vitro using machines. The closer the UVA/UVB ratio is to 1, the more stars a sunscreen gets. Useful for gauging a sunscreen's actual PPD rating.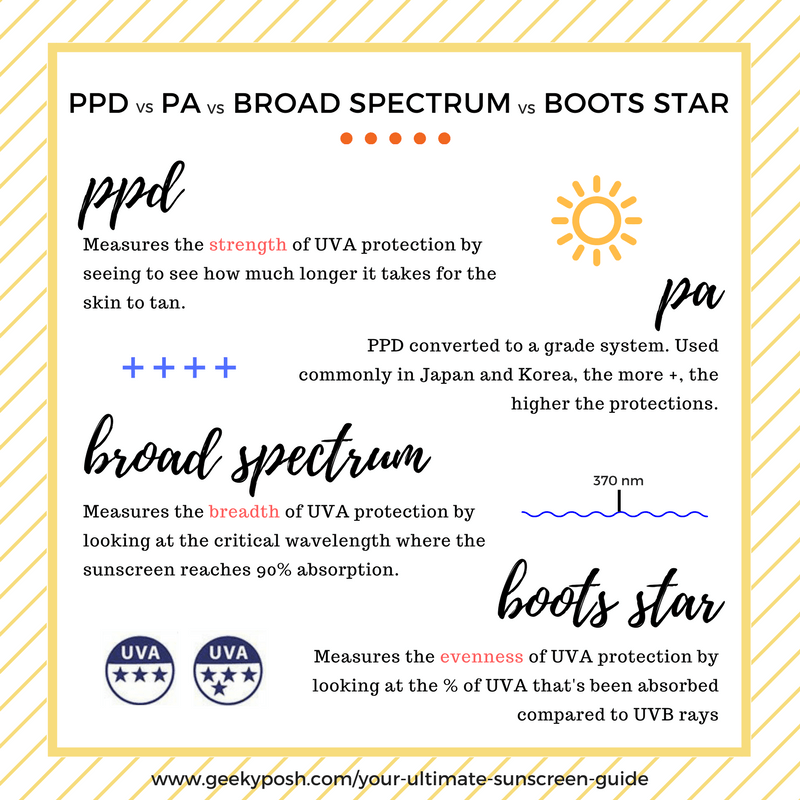 And this is why 2 sunscreens with identical labels (eg. SPF50+ and PA++++) can still have vastly different UV protection levels. Both sunscreen can prolong the time for your skin to tan by 10 times, but one may only absorb up to 360mm, leaving you exposed to the longer UVA rays that cause aging. All of a sudden the US "broad spectrum" rating doesn't seem so useless anymore…except for the fact that they set the bar at only 370mm.
Renowned Taiwanese dermatologist Dr. Pin-Chi Chiu actually ran tests on 20+ popular sunscreens on the market using the 3 different UVA measurements, and found that many of the sunscreens aren't as great as they seem:
The popular Biore UV Aqua Rich Watery Essence SPF 50+ PA+++ (pre PA++++ formula)

had a 1-star rating and a

371 nm CW. That means the PA/PPD level is probably around 8, compared to…
The Curel UV Lotion SPF50+ PA+++, same exact ratings, but Dr. Chiu's test showed it had a 3-star rating and a 376 nm CW. That means the PA/PPD level is probably around 16 – double the Biore sunscreen!
Making sure your sunscreen is absorption-proof
With most skincare products, we want the ingredients to absorb as quickly and deep into our skin as possible to get the most benefits, but sunscreens are the exception. They're meant to protect your skin against UV radiation while ensuring minimal absorption of the active ingredients into our skin (source).
This isn't to say ingredients will enter our bloodstream and give us cancer, no, it's just that you want to keep the actives on the surface to prevent any potential irritations/allergies (thank you Jackie for pointing this out!)
Apply your sunscreen as the last step of your morning routine. Most dermatologists agree on this, and layering your moisturizers and/or facial oils beforehand can prevent the active ingredients from potentially penetrating your skin.
Do the spritz test. According to Dr. Chiu, you can apply some sunscreen to bare skin and wait 15 minutes. Then spray some water on the back of your hand and observe the results. Do you see water droplets or a dripping puddle? The water droplets suggest the sunscreen contains film-forming agents to protect it from sweat, water (to a certain extent), and also from getting absorbed into the skin.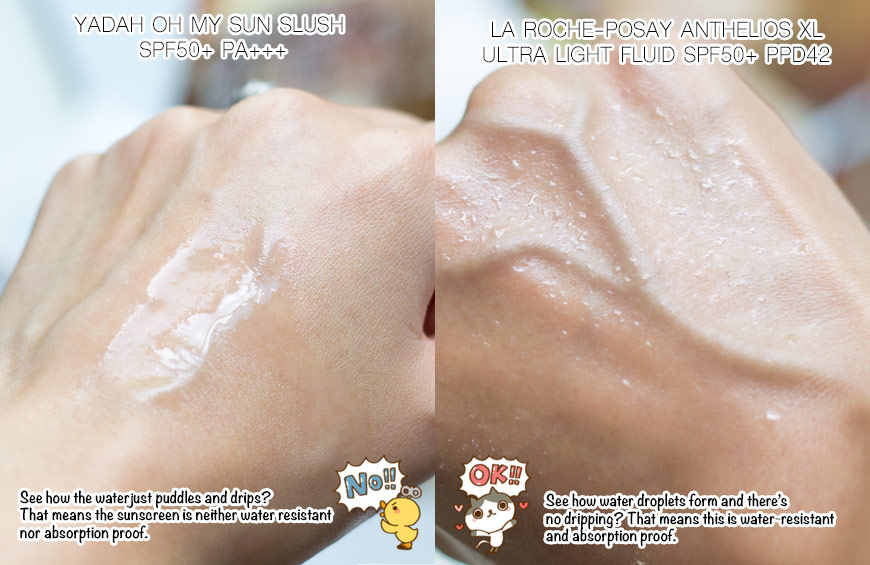 Remember reading all those articles about "bad" sunscreen ingredients due to their potential to disrupt our hormones? As long as you apply your sunscreen last and it passes the spritz test, I wouldn't rule those ingredients out completely.
Fantastic sunscreens and how to find them
2022 Update: 5 Best Lab Tested Sunscreens for 2022
Now that we know to look at the whole picture, which sunscreens actually offer strong protection against most of the UVA rays? According to Dr. Chiu's tests, these 5 sunscreens have the best UVA and UVB protection: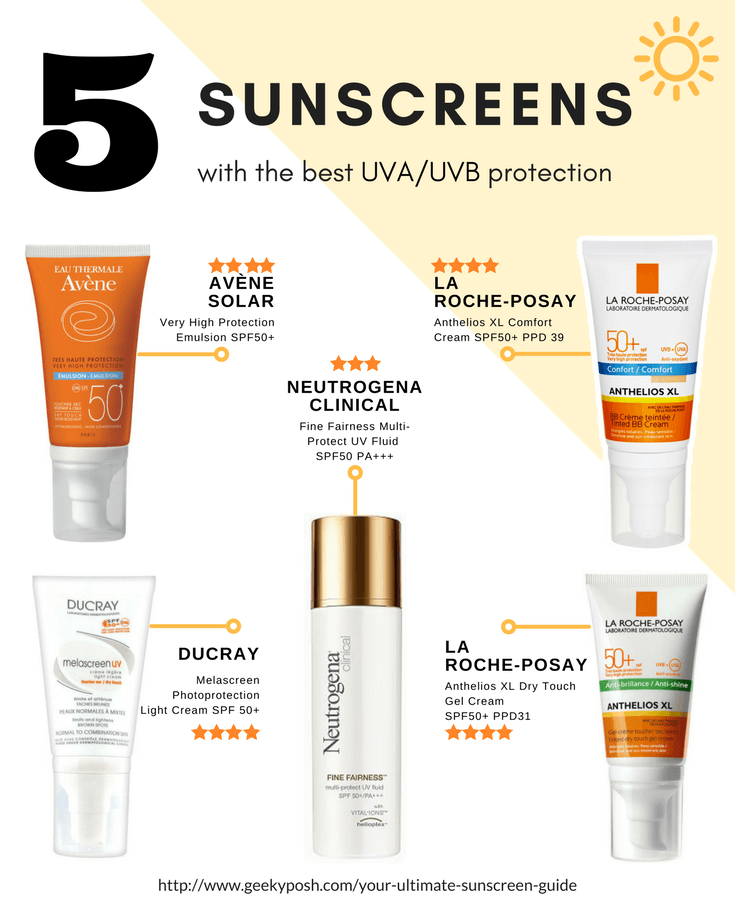 Testing method: sunscreen samples were sent to SGS which then conducted the tests in-vitro (ie. via machines instead of on human skin) using the TESP-UB-108 method.
Popular brands like Biore and Shiseido Anessa didn't rank as well due to the lower CW and star ratings, though like I say, some sunscreen is always better than no sunscreen, especially since many of the above are difficult to purchase if you're in the US.
More tested sunscreens: Dermatologist-tested best sunscreens of 2020 (and my personal picks)
Of course, Dr. Chiu could only test what was available in the Taiwanese market, so it's definitely possible that there are winning sunscreens available in your country. So how do we find them? Here's what I like to look for:
At least SPF 30, but ideally SPF50+. We probably don't apply nor reapply enough, so with SPF 30 we might really only be getting SPF15.
At least PA+++, ideally PA++++. Same reasoning as SPF, I need the extra buffer for my bad habits (I'm trying to change them, I promise)
At least a 3-star rating, ideally a 4 or 5. You can measure this is using the Sunscreen Simulator, and since star ratings indicate ratio rather than absolute value the results should be fairly accurate, so plug away.
At least 370 nm CW, ideally 380+ nm CW. You'd be surprised at the number of Asian sunscreens that aren't broad spectrum, so double check using the Sunscreen Simulator to get an estimate.
Water-resistant & absorption-proof. Basically we want our sunscreen to stay put on top of our skin to properly protect it.
A texture that works with my skin type. This may be the most important factor, because what good is any sunscreen if you hate using it?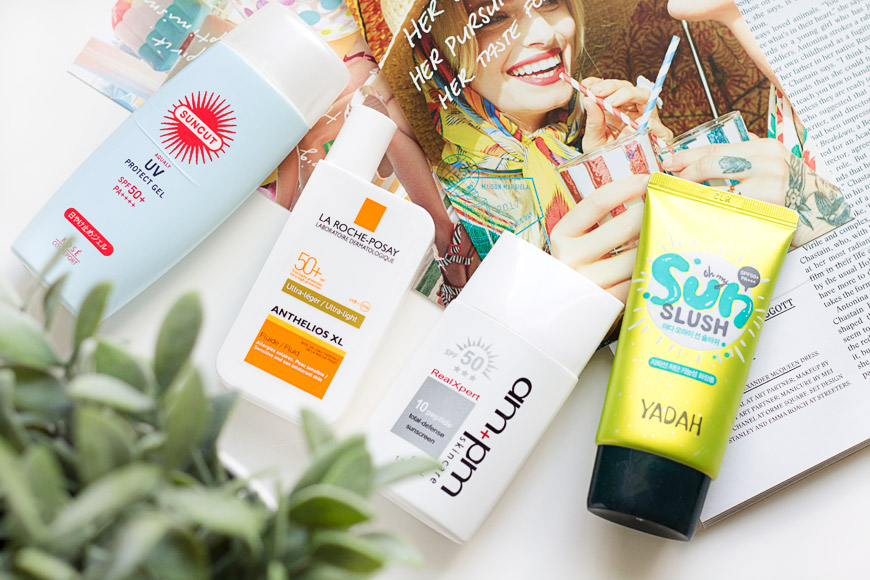 Since the SPF level is always clearly labeled, the key is to use the Sunscreen Simulator to try and figure out how well the sunscreen protects from UVA using the 3 different rating. You simply enter the % of sunscreen ingredients and it returns an estimate of what the PPD/PA, CW, and star rating will be.
Studies show that there is a good correlation between these estimates and in vivo results, but keep in mind that the simulator doesn't account for other ingredients like vitamin c and vitamin e which can help boost the UV protection. For example, I tested the Naruko AMPM RX10 Peptide Total Defense Sunscreen SPF50 PA+++ with 3% Uvinul A + 10% Octinoxate and got the following:
PPD 7.9 + 3 Boots star + 370nm critical wavelength
This is lower than the advertised ratings, but it didn't take into account the inclusion of titanium dioxide, a physical sunscreen ingredient. The product label didn't include the %, but if we go by INCI order and assume it's around 2%, the PPD rating increases to 8.8. I also ran a test on my holy grail La Roche-Posay Anthelios XL Fluide Extreme SPF50+ PPD42 and got 375 nm CW + 4-star rating, which is pretty good considering actual ratings are usually higher.
How to get the most out of your sunscreen
Yes, the current system of UVA measurements and ratings suck, but there are definitely things we can do to make sure we're getting the highest protection possible from our sunscreen. Here are few good sunscreen habits we should all aim for:
Apply the correct amount of sunscreen. Keep in mind the amount scientists apply when running these tests: 2 mg/cm², which is about

1/4 teaspoon for your face

. That's a lot, and why I think SPF15 in makeup is meaningless – no one is going to apply that much foundation.

Reapply sunscreen regularly. The SPF/PPD/PA ratings themselves indicate there is a limit to how long the sunscreen will protect you for, not to mention you may wipe or sweat it off throughout the day. Follow the reapplication instructions on your sunscreen, and definitely reapply if you've been in the water.
Don't rely on makeup for protection. It's highly unlikely that you'll apply enough powder or foundation to get the labeled amount of SPF (most of which are usually quite low to begin with). Not to mention some makeup only display the SPF rating, so there's no guarantee that your skin will be protected against UVA rays.
Wear your hats and sunglasses! Or if you're bold enough, channel your inner Asian grandma and bring out the umbrellas. Physical barriers like these can be super effective against UV rays!
Do NOT DIY sunscreen. I can write a whole other post about why I'm not a fan of DIY skincare, but DIY sunscreen is just dumb. No amount of coconut oil or shea butter will give you the proper UVB AND UVA protection, it just won't. It's like the baking soda nonsense all over again. Natural is not always better!!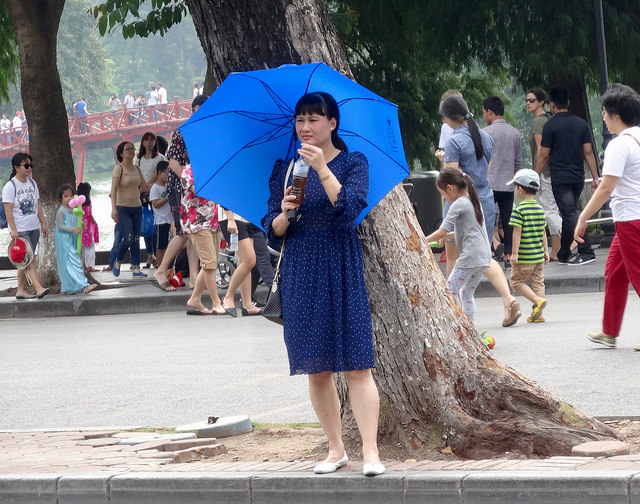 Common sunscreen ingredients
In case you're curious about what the various active sunscreen ingredients, here's a quick breakdown in alphabetical order:
Avobenzone
Aka Eusolex 9020, Parsol 1789, or butyl methoxydibenzoylmethane.
A chemical ingredients that protects against UVA.
Needs a stabilizing ingredient to prevent it from degrading in the light.
Approved for use worldwide, max 3% in US and 5% in EU (source)

Homosalate

Aka homomethyl salicylate.
A chemical ingredient that protects against UVB in the 295 – 315 nm range.
In vitro tests show it can have slight estrogenic activities.
Approved for use worldwide, max 15% in US and Australia, 10% in EU and Japan.

Mexoryl SX

Aka Ecamsule or terephthalylidene dicamphor sulfonic acid.
A photostable chemical ingredient that protects against UVA and UVB.
Exclusive to L'oreal brands (eg. Lancome and La Roche-Posay)
Approved for use worldwide, max 3% in US

Mexoryl XL

Aka drometrizole trisiloxane.
A chemical ingredient that protects against UVA and UVB.
Also exclusive to L'oreal products, it works best when used with Mexoryl SX.
Approved for use in most places except the US (*&$# FDA man…)
Octinoxate
Aka octyl methoxycinnamate, ethylhexyl methoxycinnamate, Parsol MCX, Escalol 557, Eusolex 2292 or Uvinul MC80.
A chemical ingredient that protects against UVB rays.
Not very stable itself and can actually further destabilize avobenzone.
Approved for use worldwide, max 7%
Octisalate
Aka octyl salicylate or 2-ethylhexyl salicylate.
A chemical ingredient that protects against UVB rays.
Approved for use worldwide, max 5%

Octocrylene

Aka 2-ethylhexyl-2-cyano-3 or 3-diphenyl acrylate.
A chemical ingredient that protects against UVA and UVB rays in the 280 – 320 nm range.
Can help stabilize Avobenzone.
If absorbed into the skin, it can increase the number of free radicals produced in the sunlight.
Approved for use worldwide, max 10%

Oxybenzone

Aka BP3, 2-hydroxy-4-methoxybenzophenone, benzophenone-3, eusolex 4360, or escalol 567.
A chemical ingredient that protects against UVA and UVB between the 270 – 350 nm range.
Can potentially disrupt our hormones if absorbed and causes coral bleaching.
Approved for use worldwide, max 10% in EU and Australia, 6% in Canada and US, 5% in Japan
Parsol SLX
Aka polysilicone-15.
A stable chemical ingredient that protects against UVB.
Approved for use in EU and Japan, max 10%

Tinosorb M

Aka bisoctrizole or methylene bis-benzotriazolyl tetramethylbutylphenol.
A stable chemical ingredient that protects against UVA and UVB rays in the 280 – 400 nm range.
Does not absorb into the skin and can help stabilize other ingredients, especially Octinoxate.
Approved for use in EU, Japan, and Australia, max 10%

Tinosorb S

Aka bis-ethylhexyloxyphenol methoxyphenol triazine, bemotrizinol, or anisotriazine.
A stable chemical ingredient that protects against UVA and UVB rays.
Can help stabilize other ingredients like avobenzone.
Works best when used with Tinosorb M.
Approved for use in EU, Japan, and Australia, max 10%
Titanium dioxide
A stable physical ingredient that protects against UVB and some UVA rays.
Gives the dreaded white cast on darker skin tones.
Approved for use worldwide, max 25%.

Uvinul A Plus

Aka diethylamino hydroxybenzoyl hexyl benzoate.
A stable chemical ingredient that protects against UVA rays in the 320 – 390 nm range.
Approved for use in EU, South America, and Japan, max 10%

Uvinul T 150

Aka ethylhexyl triazone or octyl triazone.
A stable chemical ingredient that protects against UVB.
Has very low skin penetration.
Approved for use in EU and Japan, max 5%

Zinc Oxide

A stable physical filter that protects against UVB and UVA rays.
Approved for use worldwide, max 10%
Chemical ingredients typically have a more elegant texture, but some of them aren't as stable and can irritating if absorbed.
Physical ingredients are good options for those with sensitive skin, but their texture and finish aren't as ideal in comparison. Formulas with nanoparticles solve the unpleasant texture issue without sacrificing efficiency, and they're generally considered safe to use though more testing are necessary to study its impact (source).
The terms physical and chemical are not technically correct as all ingredients are chemicals, but for the sake of easy understanding I'm using them instead of the proper inorganic vs organic terms.
Of course, the formula as a whole plays a lot into how the final texture of the sunscreen will be and how it will work for your skin type. I've highlighted some of the more stable, effective, and less irritating ingredients that I personally try to look for as well as ones that can be dangerous if absorbed. But as long as your sunscreen formula is absorption proof, I wouldn't worry too much!
Tl;dr
There are different measurements for UVA protection – PA/PPD measures strength, broad spectrum measures breadth, and boots star rating measures evenness. It's important to look at all measurements to get the complete picture of UVA protection. You can use the sunscreen simulator to get an estimate.
Sunscreen ingredients should not be absorbed into the skin. You can check to see if your sunscreen is absorption proof by applying it on bare skin, waiting 15 minutes, and then spritzing some water to see if water droplets form.
Get the most out of your sunscreen by developing good habits: applying enough product, reapplying regularly, and wearing sunglasses and hats.
Physical and chemical ingredients both have their pros and cons, but as long as your sunscreen is absorption proof, you won't need to worry too much about the potential side effects.
The most important thing about sunscreen is actually applying it, and that means finding a texture that works with your skin type. Any sunscreen is better than no sunscreen!
Whew, I know that was an extremely lengthy post, so kudos to you if you've read the entire thing, and hopefully this post will help you the next time you shop for a sunscreen. As always, questions + comments are always welcome and I hope you have a fantastic rest of the week!