Hello Naruko AMPM RX10 Peptide Total Defense Sunscreen SPF50, why must you have such an obnoxiously long name? But unlike the previous Naruko sunscreen I tried, this one works fabulously (spoiler alert) so I'll forgive the long name annoyance.
Naruko AMPM RX10 Peptide Total Defense Sunscreen SPF50
What is it

A lightweight milky suncreen with SPF50, PA+++, and 10 different types of peptides. I'm pretty sure this has more anti-aging ingredients than some of my other products.

How I use it

Every morning on days where I know I'll mostly be indoors.

Best suited for

Normal to oily skin types. Dry skin types will definitely need moisturizer underneath as this sunscreen is not hydrating by any means.

Packaging

A small plastic bottle that you'll need to shake before each application

Scent

That traditional sunscreen smell

Texture

Very light and watery…reminds me a bit of whiteout (do people still use that?)

Finish

Velvet finish with minimal shine and stickiness

Size & Price

$14.99 – $22.99 for 50ml

Where to buy

Naruko US (free shipping + constant sales), Naruko Canada, Amazon (free prime shipping), eBay
Octinoxate 10% – Protects the skin from UVB, which can cause burning. Despite what some sites claim, this is a safe ingredient when used in sunscreen (source)
Uvinul A Plus 3% – Very stable, and protects the skin from UVA, which causes the skin to age (think wrinkles, dark spots, and dryness).
Titanium Dioxide – A physical ingredient that protects against UVB and UVA rays, though it does leave a slight white cast.
Palmitoyl Tripeptide-3 – Helps stimulate the production of collagen and minimize inflammation (source)
Dipeptide-2 – A natural moisturizing factor that essentially helps our skin stay hydrated and prevent moisture from escaping (source)
Syn-tacks – A combination of Palmitoyl dipeptide-5 diaminobutyroyl hydroxythreonine and Palmitoyl Dipeptide-6 Diaminohydroxybutyrate, both which are listed in the ingredients. It helps stimulate the production of collagen in our skin, which in term helps increase skin firmness and reduce wrinkles (source)
Acetyl Tetrapeptide-15 – A peptide for sensitive skin that boosts the skin's tolerance to environmental factors and other cosmetic ingredients (source)
Pentapeptide-18 – Aka Leuphasyl, this peptide helps reduce the appearance of fine lines and wrinkles (source)
Argireline (Acetyl Hexapeptide-8) – Similar to Leuphasyl, this peptide also helps reduce the appearance of fine lines and wrinkles (source)
Nonapeptide-1 – Research shows that this peptide can inhibit melanin synthesis, hence decreasing skin pigmentation (source)
Oligopeptide-68 – Another brightening peptide that is more effective than 4% hydroquinone when used with Diacetyl boldine (sadly not included in this product) (source)
Tetradecyl aminobutyroylvalylaminobutyric urea trifluoroacetate – Aka Syn-Hycan, it's been shown to boost the production of hyauronan which helps maintain the hydration in our skin (source)
Yes that's a lot of peptides and many of them sound promising, because who doesn't want to reduce the appearance of wrinkles? However, many of these have just a few studies to back their claims, and applying them at the very end of my routine over my moisturizer makes me wonder how much of the peptides are actually getting absorbed into the skin. So for me personally peptides aren't on the level of retinol or niacinamide as superstar ingredients, but it certainly doesn't hurt having them in products. Plus, some like Acetyl Tetrapeptide-15 and Palmitoyl Tripeptide-3 can further minimize the irritations and inflammations that are associated with sun damage.
What's so great about it then?
So while the inclusion of 10 peptides was the selling point of the Naruko AMPM RX10 Peptide Total Defense Sunscreen, it was the product's elegant texture and finish that sold me. Sunscreen by itself is a proven anti-aging product, but it's only as effective as how much and frequently you apply it, and that's where this product shines. It's not oily or heavy like Western sunscreens, and it doesn't leave a shine like a lot of the hydrating Asian sunscreens. It's easy to spread, leaves a velvet finish, doesn't break me out, and doesn't pill at all.
Since it does contain titanium dioxide, you'll notice a tiny bit of white cast, or in my case, it's more like a brightening effect! I actually like it, but if you have a darker skin tone then the white might be more noticeable.
Minor white cast issue aside, my biggest qualm with the Naruko AMPM RX10 Peptide Total Defense Sunscreen is the UVA protection level – PA+++ is so 2012, let's keep up Naruko! But for days when you're mostly indoors, it's definitely enough. Plus the texture makes it so easy to reapply, so you'll have no problem getting the adequate amount of sun protection. While I haven't noticed any anti-aging effects since using this, I also haven't noticed any increase in hyper-pigmentation. If anything, my dark spots seem to be getting lighter, though that's probably a combination of using this and my Curology treatment.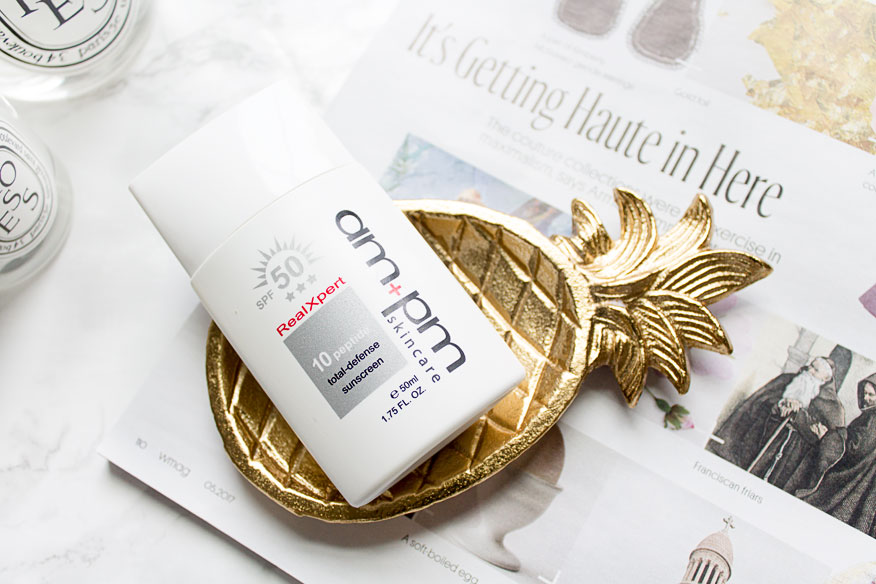 Packaging
Ingredients
Texture/Application
Performance
Price
Overall I'm very happy with this sunscreen, mainly due to its excellent texture and finish. Of all the Asian/Western sunscreen I've tried this definitely a top 3 when it comes to those factors. While the PA+++ is a shame, as an indoor sunscreen it suffices and it's done a great job of preventing any further sun damage. I highly recommend this sunscreen to normal/oily skin folks who are looking for an elegant everyday sunscreen, and will be repurchasing this for myself in the future!
Hope you enjoyed this review, and let me know what your go-to sunscreen is lately, or if you're still on the search for one that works! Have a great week ahead!