Fine lines, dullness, enlarged pores, or maybe even sagging skin. No matter what kind of signs of aging you're facing, it's never too late to start taking care of your skin!
However with most "newbie" skincare guides targeting those in their early 20's or even late teens, the 30-something year old you is probably wondering – would that work for me too?
So before we get into the details of what a good starting routine for a 30-year old looks like, there are two tenets of skincare that applies to everyone, regardless of age:
A skincare routine doesn't have to be expensive, even if you're older!
Your routine should always include the following: cleanse – treat – moisturize – protect. Then based on your needs you can expand accordingly.
So what would skin in its 30's need? Let's get started!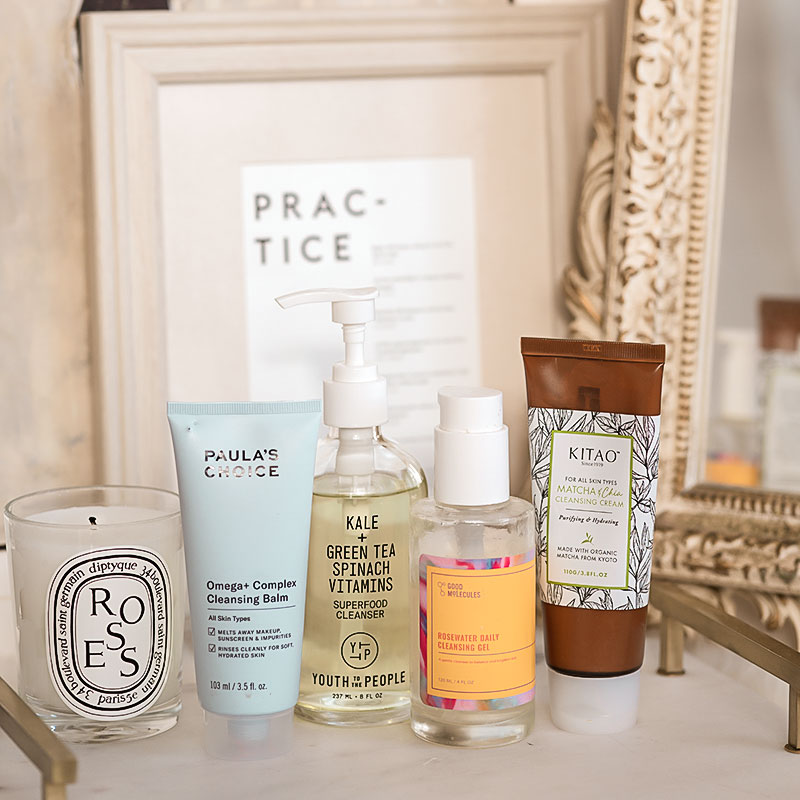 Step 1: Cleanse
Think of this as the foundation of your routine – using the right or wrong product can impact not just your skin, but the rest of the steps as well! Here's what we want to look for:
✅ Gentle and low pH cleansers
Multiple peer reviewed studies have shown that harsh and high pH cleansers disrupt the biome of our skin and damages our natural moisture barrier. A damaged barrier not only results in dry, red skin but also other signs of inflammation and worsening acne conditions.
✅ Double cleanse when wearing makeup or a water-resistant/tinted sunscreen
Skip the harsh makeup wipes and opt for an oil or balm option instead. Not only are they gentler on the skin, but they're more effective in removing water-resistant makeup and sunscreen than water-based cleansers! Micellar water can also be a good option for removing sunscreen only.
✅ Active ingredients optional
Some cleansers claim to have ingredients like vitamin c or niacinamide, which sound great on paper, but they won't do much for your skin if you're washing it off 30 seconds later. Plus, actives like glycolic acid or salicylic acid can be irritating when used daily!
My cleanser recommendations
Cerave is what I always recommend because it's affordable and has 4 different kinds to pick from. Good Molecules is another affordable brand with a lovely gel cleanser and cleansing balm. If you want to splurge (totally unnecessary imo), Holifrog makes excellent cleansers for all skin types and situations.
Personally, I love the Oskia Renaissance Cleansing Gel for a sensorial experience. For makeup removal, Paula's Choice Omega+ Complex Cleansing Balm* is my favorite.
I also like the Bioderma Sensibio Micellar Water, but I find it less versatile than balm/oil cleansers for general use. It's too gentle to remove medium/heavy makeup and requires cotton pads to work effectively.
Read more: Which first cleanser do I need? 7 types of makeup removers compared
Step 2: Treat
Aka the serum step, and where you should be spending the bulk of your skincare budget, because these are the products that will make the biggest difference to your skin! Here's what you want to look for:
✅ Research-proven ingredients
While the idea of some exotic botanical extract sounds promising, you're going to get the best results if you stick to tried and true ingredients. Vitamin C, niacinamide, and retinoids are the big 3 you should look for, but I also have a soft spot for peptides, ceramides, and egf (epidermal growth factor).
✅ Don't be afraid to splurge
I'm not saying you need to spend $$$ to see results, but if you are going to spend money, spend it on this step. Generally I do see better results from more expensive products, especially when it comes to anti-aging.
My serum recommendations
Retinoids are a must if you're serious about anti-aging, and I love Curology and Agency (sister brands!) because they use prescription-strength tretinoin (the most effective kind of retinoid) and the formula is customized with other power ingredients like niacinamide or vitamin c. Reviewed here and here.
A gentler but still powerful alternative is the Peter Thomas Roth Pro Strength Retinoid Peptide Serum* or the Maelove Moonlight Retinal Super Serum*. Retinal is my go-to retinoid when I want a good balance between efficacy and gentleness, and I often alternate that with tretinoin.
If you're looking for an all-in-one serum that does a bit of everything and will work for all skin types, I recommend the Allies of Skin Mandelic Pigmentation Corrector Serum*. It's pricey, but it works.
If you really want to splurge, try EGF. They're expensive and you might not notice the changes immediately, but you'll definitely see the difference once you stop using the products. The Klairs Midnight Blue Youth Activating Drops are excellent for the price, or SkinMedica TNS Advanced+ Serum for some serious magic.
In the mornings I like using something with vitamin c – not because I actually see any brightening results with it, but it's a powerful antioxidant that can work in synergy with sunscreen to protect against UV rays!
Read more: 9 types of Vitamin C compared – which one is right for your skin?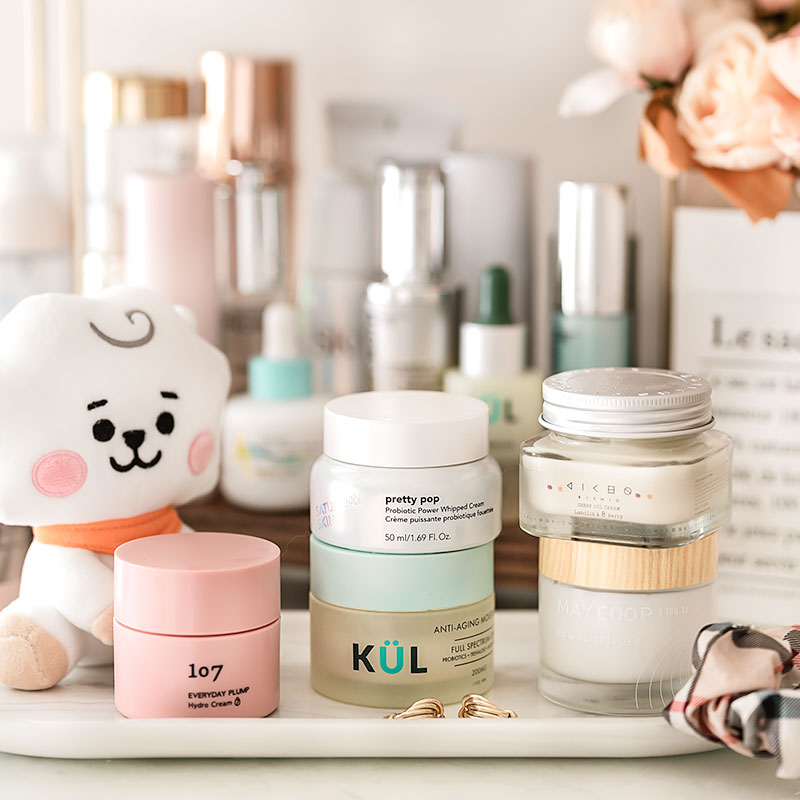 Step 3: Moisturize
Studies show that as we age, the moisture level in our skin decreases due to a decline in the NMFs (natural moisturizing factors, self explanatory name) on our skin. As a result, it's even more important that we properly moisturize once we hit our 30's.
As with cleansers, your moisturizer doesn't need to be fancy to get the job done, that's what the serum step is for. All you want to look for are these 3 components:
✅ Humectants
These ingredients draw moisture to the skin. The most famous is hyaluronic acid, which is usually shown as sodium hyaluronate in the ingredient list. Others include glycerin, urea, beta glucan, and sodium pca.
✅ Emollients
These ingredients soften and smooth the skin by repairing the cracks in your moisture barrier. Oils, butters, silicones, ceramides, and fatty acids are all considered emollients, and which kind you choose depends on your skin type. Really dry skin will want heavier oils and butters, whereas oily skin types can use lighter emollients like silicones (often found in oil-free formulas).
✅ Occlusives
These ingredients form a protective layer over the skin to locks the moisture in, preventing transpidermal water loss, TEWL. Some of emollients also function as occlusives but vary in occlusivity. Common ingredients are mineral oil, cocoa butter, shea butter, olive oil, avocado oil, beeswax, lanolin, and silicones.
You can easily check if your moisturizer contains all 3 with a tool like Incidecoder.
My moisturizer recommendations
For the super dry and barrier-impaired skin, Nivea Creme is a skin changer (not to mention a great La Mer alternative). Another affordable one that will work for all skin types is the Illiyoon Ceramide Ato Concentrate Cream*.
I personally love the 107 Everyday Plump Hydro Cream* and the Lancome Absolue Soft Cream as they really do more than just moisturize. If you have the budget and are into glowy skin, I can't recommend them enough.
Read more: 36 moisturizers reviewed, and here are the best ones for dry aging skin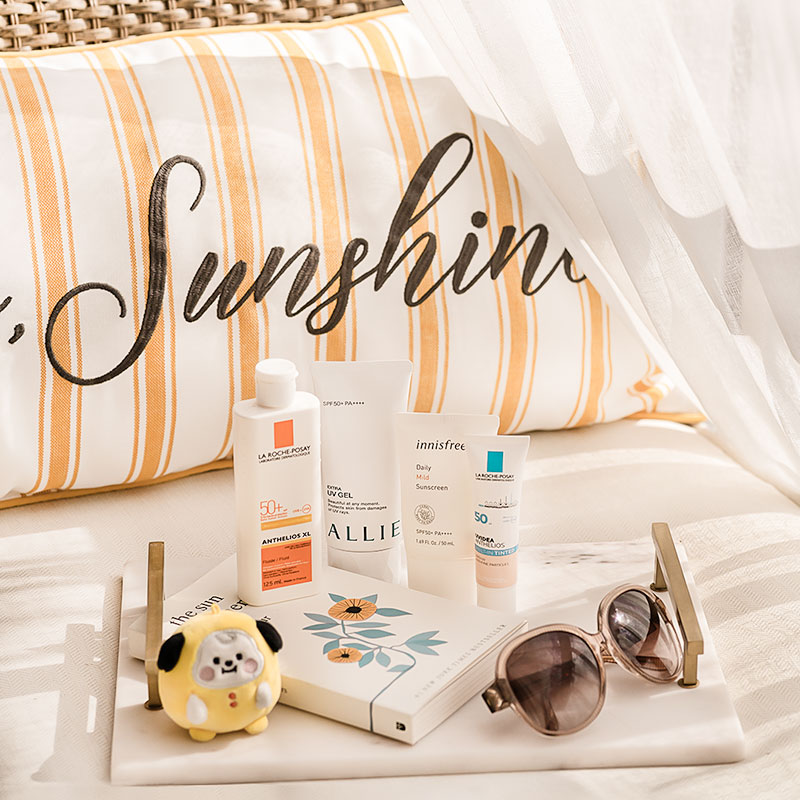 Step 4: Protect
Possibly the most important step, because if you skip this, none of the previous 3 steps will matter. Yes sunscreen is that important. As a matter of fact it's so important I wrote a whole 2800+ word post about it:
Everything you need to know about sunscreens: PA? PPD? Broad Spectrum? The ultimate guide to understanding and choosing the best sunscreen
Here are the key takeaways when it comes to sunscreen:
✅ Pay attention to the UVA protection!!
The idea that sunscreen = SPF is dangerous, because SPF only protects against UVB rays, whereas UVA rays will cause all the signs of aging PLUS skin cancer. I recommend at least PA+++, PA++++ if you'll be outdoors. For European sunscreens, look for a circled UVA, and for US sunscreens, the "broad spectrum" label.
✅ Apply the correct amount
I love the 2 finger rule because 1) it's the easiest to follow 2) you can apply in layers, one finger at a time. If I'm going to be outdoors, I add another finger for good measure – more is more when it comes to sunscreen!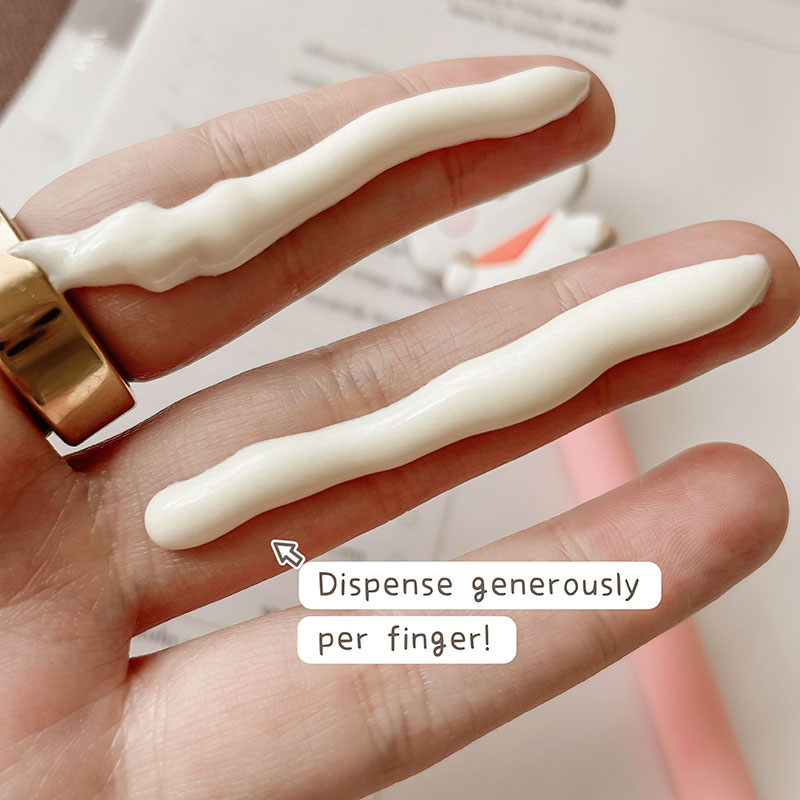 ✅ Reapply regularly when outdoors or after sweating/swimming
Don't be fooled by water-resistant sunscreens, they're about as water resistant as your phone. Yeah a few drops won't hurt it but drop it into a pool and bye bye phone, bye bye sunscreen.
My sunscreen recommendations
Due to outdated filters and a lack of UVA protection emphasis, I'm not a fan of US sunscreens. Instead I prefer Korean sunscreens like the Beauty of Joseon for everyday use (elegant formula and good filters) or European sunscreens like the La Roche Posay Anthelios UVMune 400 if I'll be outdoors since they're usually the strongest.
The only exception to the no US sunscreens rule is mineral sunscreens . If for whatever reason you can't/won't wear chemical sunscreens, look for US brands like Colorescience or Bubble for elegant options (or as elegant as physical sunscreens can get).
Read more: Dermatologist-tested best sunscreens of 2020 (and my personal picks)
Optional but recommended
The above 4 steps are really all you need to start out your routine, but there are lots of things you can do to improve your skin in your 30's! Here are a few more skincare steps you can add: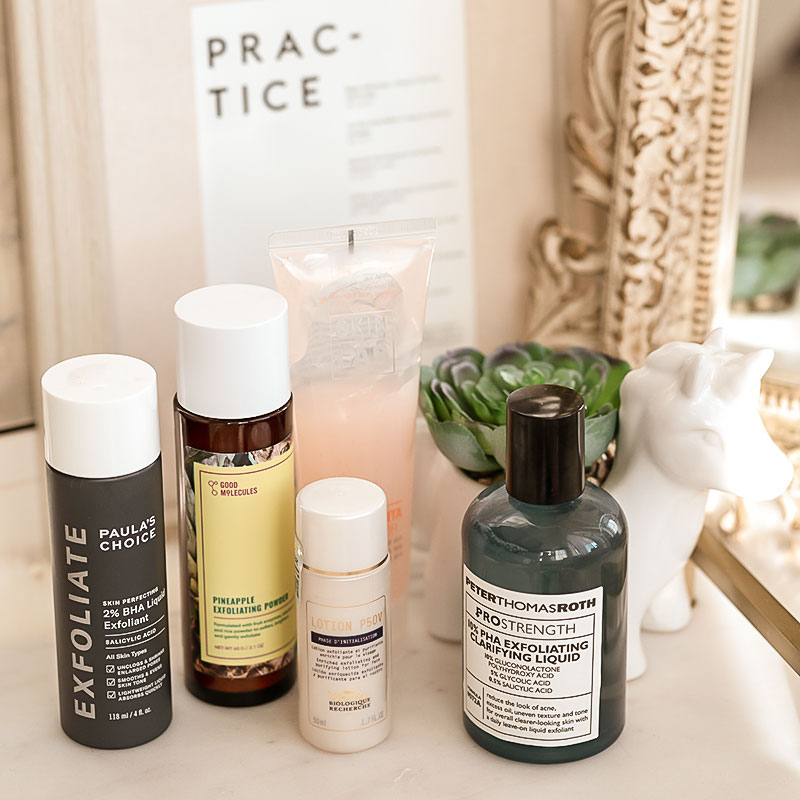 Step 1-b: Exfoliate
Something else that slows down when we get older? Our skin cell turnover rates. That's where exfoliation comes in to give those dead cells a little nudge and tell them it's time to go. Less is more with exfoliation, I would start once a week or even once every other week until your skin has fully adjusted.
I'm a big fan of Paula's Choice Skin Perfecting 2% BHA Liquid* for the t-zones to help with any pore issues. For smoother and brighter skin, I like the AHA Liquid Gold* or Dr. Wu Intensive Renewal Serum with Mandelic Acid 18% once a week.
Not an acid but I also highly recommend a peeling gel if you want instantly baby soft skin. Cure Natural Aqua Gel is still the best I've tried and unlike acids there's no irritations with using this!
And please pass on the harsh physical scrubs *cough* St. Ive's Apricot Scrub *cough*. They often use harsh particles that can cause microtears in your skin if you're not careful! You might not be able to see the damage, but inflammation at any level is detrimental to your skin.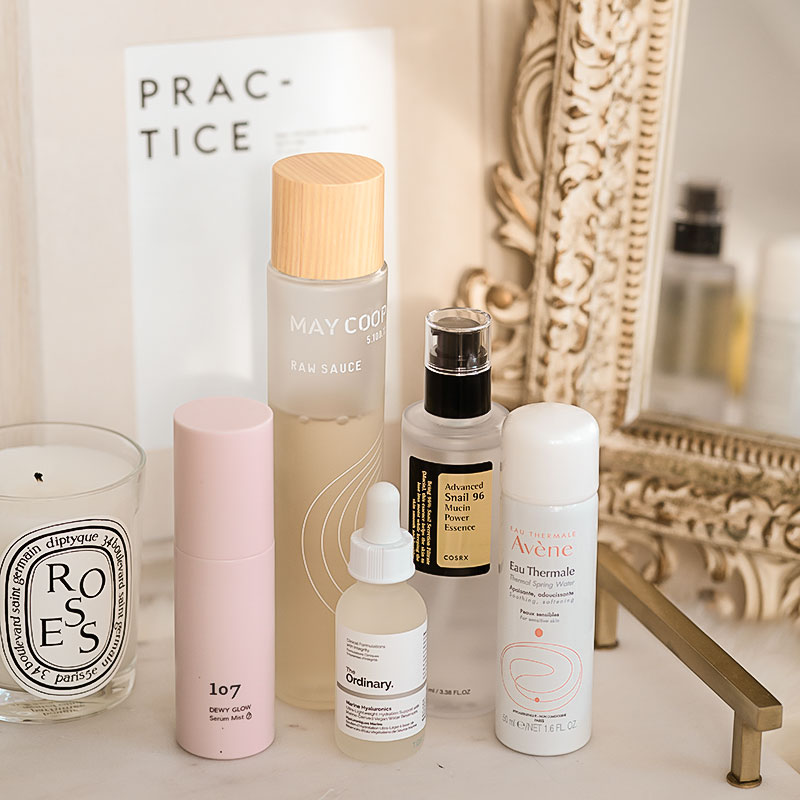 Step 1-c: Hydrate
This is typically the toner/lotion/skin step in Asian skincare routines, which focuses on adding hydration to your skin to help the subsequent products absorb better. You can also use a mist or essence here, basically anything fluid with humectants will do.
While I don't think toners/essences are a must have, this step has personally made a huge difference in my own routine. Brighter, plumper, softer skin is what I've noticed after I added a dedicated hydration step. And the best part is these products are usually inexpensive!
Products I've seen great results with include the Maycoop Raw Sauce* (a toner/essence hybrid), Laneige Cream Skin Refiner (milky toner), and Aromatica Reviving Rose Infusion Treatment Toner (another milky toner but pink!).
Step 2-b: Eye Care
Our eye area is often the first to show signs of aging, and while some argue you can just apply the same serum and moisturizer to that area, I've seen a noticeable difference when I use a dedicated eye product. The key is knowing what kind of product to use for your eye issues:
Dark circles – If they're due to hyperpigmentation, a brightening eye cream with vitamin c, arbutin, or niacinamide can help. Otherwise try gentle eye massages to improve circulation and get a good night's rest!
Fine lines – Look for antiaging ingredients like

peptides

and

retinoids

, which are formulated to avoid irritating your eyes.
Dryness – Emollients and occlusives are your best friends here!
Puffiness –

Caffeine

is a great ingredient but anything cold over the area should help too.
My favorite eye cream is the AHC Youth Lasting Real Eye Cream, which is only $15!! The Peter Thomas Roth Vital E Eye cream* is effective against lines and bags, the Belif Moisturizing Eye Bomb* is a great mid-range product that targets dryness and fine lines, and the Good Molecules Yerba Mate Wake Up Eye Gel* is a lovely entry-level option for puffy and dry eyes.
Read more: The eye cream edit – what I'm using for for dryness, lines, and puffiness
Slow and steady is key
With so many products out there, it's tempting to just buy everything and pile it all on your face at once. Coming from someone who actually did that (and seriously regretted it) – don't!
Start slow with minimal products. Observe your skin over the course of a few weeks to see how it's reacting. Maybe your skin is still feeling dry and tight – in that case add an extra hydration step. Maybe your skin is still looking dull – bring in the exfoliants. Skin getting red and irritated? Time to dial it back on the retinoids and acids.
The more you observe your skin, the better you will understand what works for it and what it needs!