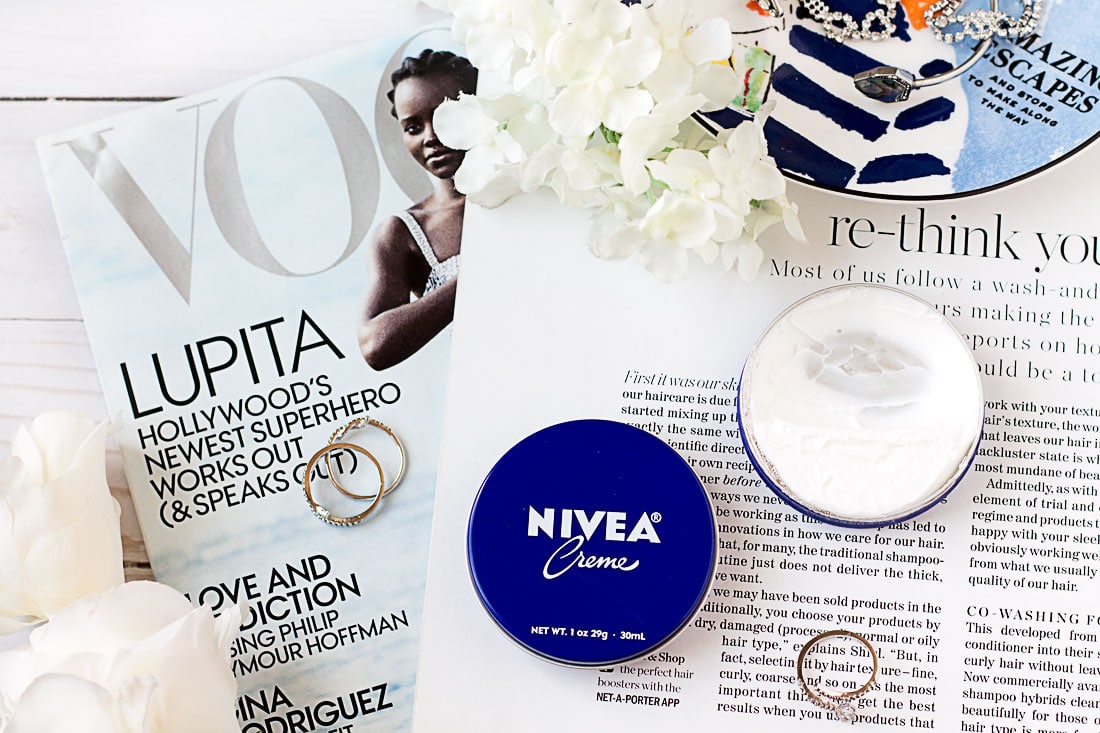 Last updated on September 7th, 2020
You've probably seen the simple blue jar on your grandma or mom's vanity or tucked away on the bottom shelf at a drugstore. It looks bland, feels bland, has a bland ingredient list, but its impact on my skin is anything but. Spoiler alert, it's fantastic.
What is it

A creamy rich moisturizer that really locks in hydration and smoothes and softens the skin. The formula dates back to 1911 (it has changed since then, though not by much) and was the first stable oil-and-Water based on cream on the market!

Packaging

A plain blue tub or jar or tin, depending on what size you get. Seriously the packaging is a snooze-fest.

Scent

It does contain artificial fragrance, and it smells exactly what you'd expect a 100+ year-old (the recipe, not the cream itself) cream to smell like. Flowery, not overwhelming, and a bit like grandma.

Texture

Thick, like butter thick. You need to warm it up before applying it on your face, which I do by rubbing it between my fingers.

Finish

Depending on how much you use, this can leave a dewy finish. Otherwise it doesn't pill, doesn't leave a white cast, and plays well under makeup.

Available At
Nivea's ingredients explained
Water, Mineral Oil, Petrolatum, Glycerin, Microcrystalline Wax, Lanolin Alcohol, Paraffin, Panthenol, Magnesium Sulfate, Decyl Oleate, Octyldodecanol, Aluminum Stearates, Fragrance, Citric Acid, Magnesium Stearate, Methylchloroisothiazolinone, Methylisothiazolinone
Full ingredient analysis here.
We can all agree that there's truly nothing sexy about these ingredients, right? Some of them may actually raise a few eyebrows:
Mineral Oil – There's so much misconception about mineral oil that I need to say this loud and clear: MINERAL OIL IS NOT EVIL. Cosmetic grade mineral oil is actually one of the safest and non-irritating ingredients available. All the toxic substances from crude oil (from which mineral oil is derived) are removed during the purification process, and the quality is regulated in the US and EU (source). It's also non-comedogenic, but because it's such an awesome occlusive, any comedogenic or irritating ingredient you apply under mineral oil will get trapped and possibly cause acne.
Petrolatum – Aka. Vaseline, it's also derived from crude oil and gets the same bad rep as mineral oil, so I'll say this as well: PETROLATUM IS NOT EVIL. Like Mineral Oil, it's gentle on the skin and an excellent occlusive.
Microcrystalline Wax – a thickener derived from crude oil and safe to use in skincare.
Lanolin Alcohol – a fatty alcohol derived from sheep that makes an excellent emollient. Can be comedogenic for some people.
Paraffin – A thickener derived from crude oil.
Methylchloroisothiazolinone (MIT) & Methylisothiazolinone – Interestingly they're the same preservatives used in the $170 Creme de La Mer (more on that below), but they're also potential skin sensitizers and irritants. Personally I haven't had any reactions yet, but if you want to avoid them, try the German Nivea Creme.
Yes, there are a lot of petroleum/crude oil derived ingredients in the Nivea Creme, but now you know they're perfectly safe to use on the skin, and Paula Begoun and Beauty Brains both agree.
Now the Nivea Creme does contain panthenol which is great for soothing the skin, but by and large this product does one thing and one thing only – keep your skin moisturized by preventing trans-epedimermal water loss (TEWL) and keeping the hydration locked in your skin.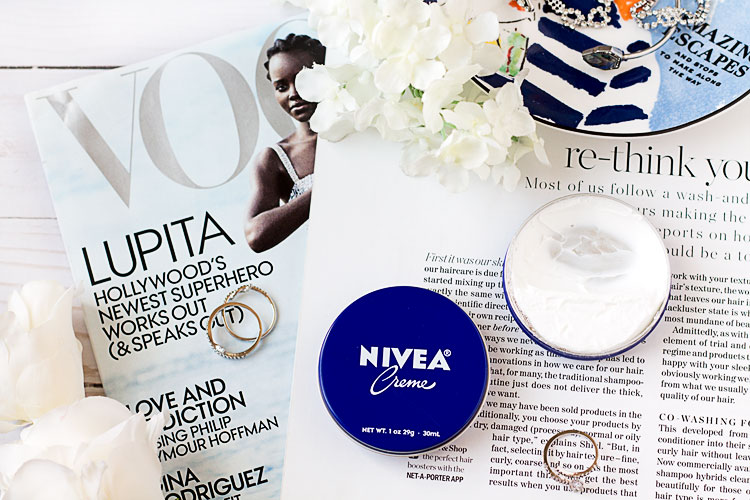 But don't all moisturizers do that, and more?
Yes. Nowadays moisturizers not only include occlusive ingredients that keep hydration in, but they also include antioxidants, brightening ingredients, anti-aging ingredients, and all that beautiful stuff we love seeing. BUT!
When it comes to occlusiveness, petrolatum's abilities are second to none. (source)
Mineral oil, lanolin alcohol, and paraffin are all excellent occlusives as well, making the Nivea Creme more occlusive than your typical moisturizer. The latter usually rely on less "heavy" feeling oils like jojoba and shea butter, or dimethicones to give that smooth silky feeling we associate with good skin. For normal/oily skin you can definitely get by with any regular moisturizer, but for those with perpetually thirsty skin or a compromised moisture barrier, you may need something more. *cue the Nivea Creme*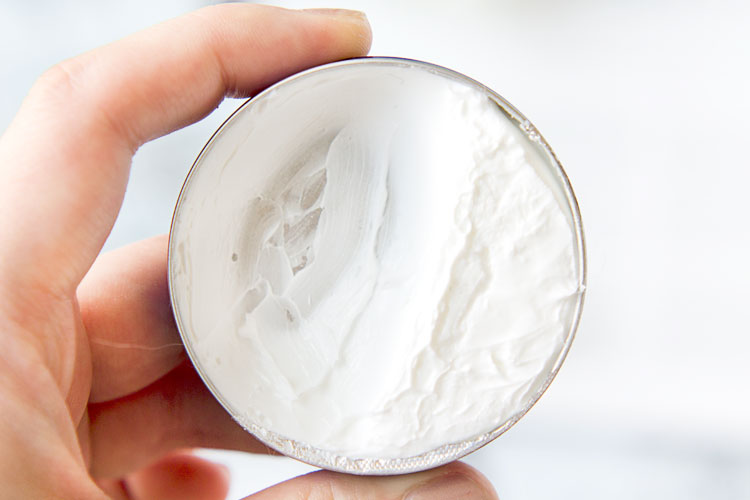 La Mer vs Nivea
I actually did try a sample of the famous La Mer Cream, and I admit, it's lovely. For me it performs slightly better than the Nivea Cream, but not nearly enough to justify the difference.
Of Faces And Fingers has a great post analyzing the ingredients between La Mer and Nivea Creme, and they use pretty much the same occlusives, but with an outrageous price difference – $170 vs $1 for 1oz – all because La Mer's ingredients listens to friggin' Mozart (ok not actually Mozart, but they do play music for it!) ????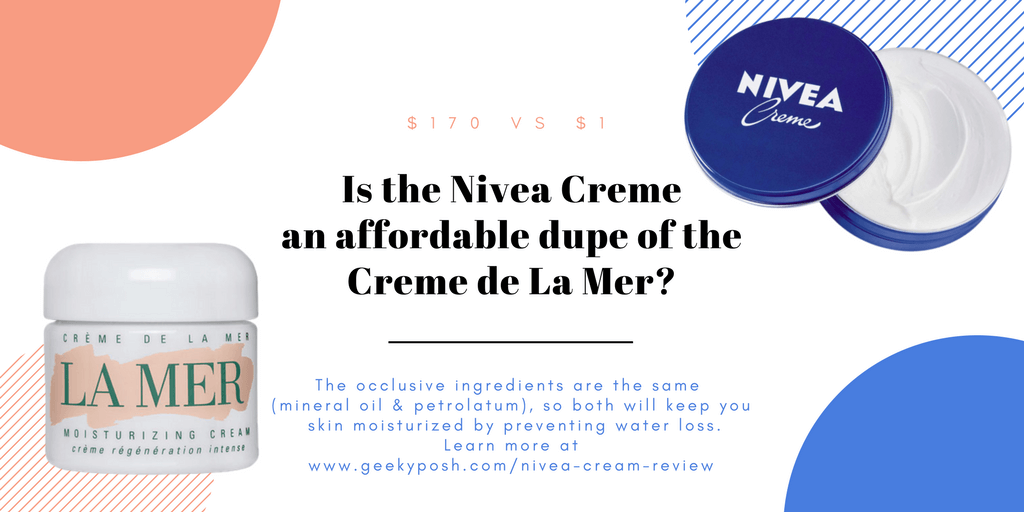 The key ingredient in La Mer is their fermented algae extract (ie. lactobacillus/kelp ferment filtrate), which is not a rare ingredient by any means. If you want to replicate the effects of La Mer, I suggest getting the Nivea and layering it over one of the following products:
Why and how I use the Nivea
My poor exfoliation habits have left my moisture barrier damaged and me wondering why no sleeping mask or moisturizer I used was ever quite enough. Then I stumbled upon this thread on /r/SkincareAddcition singing Nivea Creme's praises, and since it's only $1, I figured "why not?" ????????‍♀️
Holy shit best $1 I've ever spent on my skin I shit you not (and you know it's serious when I use shit twice in one sentence).
I apply this as the last step in my routine, after my moisturizer/sleeping mask, in order to prevent moisture loss. I'll scoop up a pea sized amount, rub it between my fingers, and apply that under my eyes and on my cheeks where my skin is driest. After massaging for a bit the white cast disappears, and I go to sleep. I wake up, and my skin looks as if I had just sheet masked – the overall brightness and the invisible pores & lines – all signs associated with hydrated skin.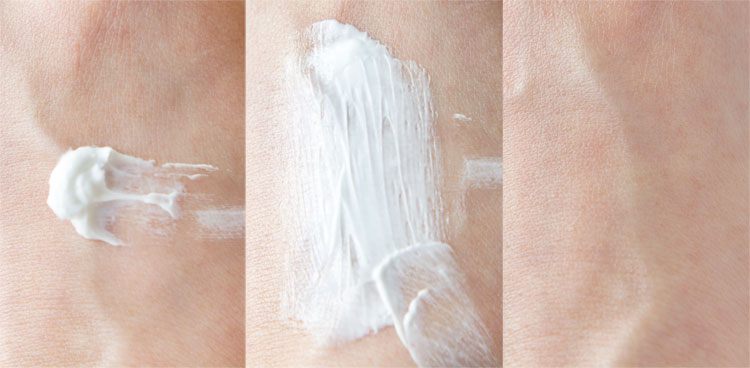 I thought this was a fluke, and knowing my luck I was probably going to break out in a few days, but nope. I've been using my Nivea Creme day and night for the past 2-3 weeks and the only thing it's given me is juicy skin. I've stopped wearing foundation now because I'm at a point where I can be comfortable in my bare skin (except for those pesky dark spots that refuse to go away) and I love the glow that the cream gives me. All this for $1.
Despite my success with it, I don't think everyone necessarily needs it or would benefit from it. Here are some things to keep in mind:
This shouldn't replace anything in your current routine. Rather this helps seal everything in and prevent moisture from escaping, that's it.
You could get similar occlusive effects with Vaseline, but that will definitely leave your skin greasy.
Only apply to areas that are prone to dryness. If you have super dry skin, you can get away with using it all over, just make sure to patch test first!
If it doesn't work out for your face, use it on your hand or feet! I love layering this over my regular hand cream before bed. Hello baby soft hands!
Final verdict
Nivea Creme
Packaging

Ingredients

Texture/Application

Performance

Price
For $1, you have little to lose and a lot to gain. If you find your skin perpetually dehydrated and nothing seems to work, I highly recommend picking up the travel sized jar and giving this a try. I've already repurchased a backup, and this will be a staple in my routine until I win the fucking lottery (then I'll splurge on La Mer because why not) or kingdom come.
Have you guys tried this old school cream before, or anything similar? Love to hear your thoughts!
Did you enjoy this post?
I share first impressions, product comparisons, and more skincare tips regularly on Instagram! Learn about products first and get a bonus dose of daily fluff! 😸
Follow Now