It's been more than 6 years since I first raved about my Curology custom formula, and while I don't talk about it as much, it's still very much a staple in my routine.
In this post I want to share my updated Curology review, some before and afters, and how to best use your custom prescription to get maximum results with minimum damage.
What is Curology?
Curology is a subscription based skincare that matches you to a licensed healthcare provider who will create a custom formula to fit your skin care needs. You start with the Curology quiz and some photos of your current skin, and once it's been reviewed by your healthcare provider they'll prescribe your Curology formula!
As a subscription, you pay $19.95/month and can choose the following
A smaller bottle (18g) of the customized cream delivered once a month and pay the $4.95 s&h
A larger bottle (24g) every two months with free shipping.
I chose the latter to save costs and reduce waste! Curology also provides the following add-ons:
You can add/remove these each month based on your needs, and while I haven't tried them myself, the prices are reasonable.
Curology offers all the above as part of their free trial. You get a 30-day custom prescription plus any of the above products necessary for just $4.95 shipping & handling!
Curology Active Ingredients
Clindamycin is an antibiotic that is recommended by the American Academy of Dermatology as a treatment for mild to moderate acne. It works by killing the P. acnes bacteria that can get into our pores causing inflammation (ie. acne), but is best used when combined with other anti-blemish ingredients.
Azelaic acid is primarily used for treating acne and rosacea, but studies have shown that it's also effective against hyperpigmentation, and that using it together with tretinoin can boost its brightening effects!
Tretinoin is a member of the retinoid family and the anti-aging ingredient with a blemish fighting benefits too! It does everything from reducing fine lines to stimulating collagen production to reversing sun damage!
Niacinamde is an extremely well-studied ingredient that's been proven to show antioxidant, anti-inflammatory, brightening, barrier repair, and collagen boosting effects!
Zinc Pyrithione has antibacterial, antimicrobial, and antifungal properties that make it a potential ingredient for fighting blemishes. How it works against acne is still unclear but it's been shown to inhibit the growth of P. acnes bacteria.
Tranexamic acid is a dark spot fighting ingredient that works to inhibit melanin (what gives skin and spots their colors) accumulation and reduce inflammation. A study found that 5% TA was just as effective against dark spots as 3% hydroquinone, an effective but controversial ingredient.
Metronidazole is an FDA-approved antibiotic that is used to treat rosacea by reducing the redness and pimples, thanks to its anti-inflammatory, antimicrobial, and antifungal benefits.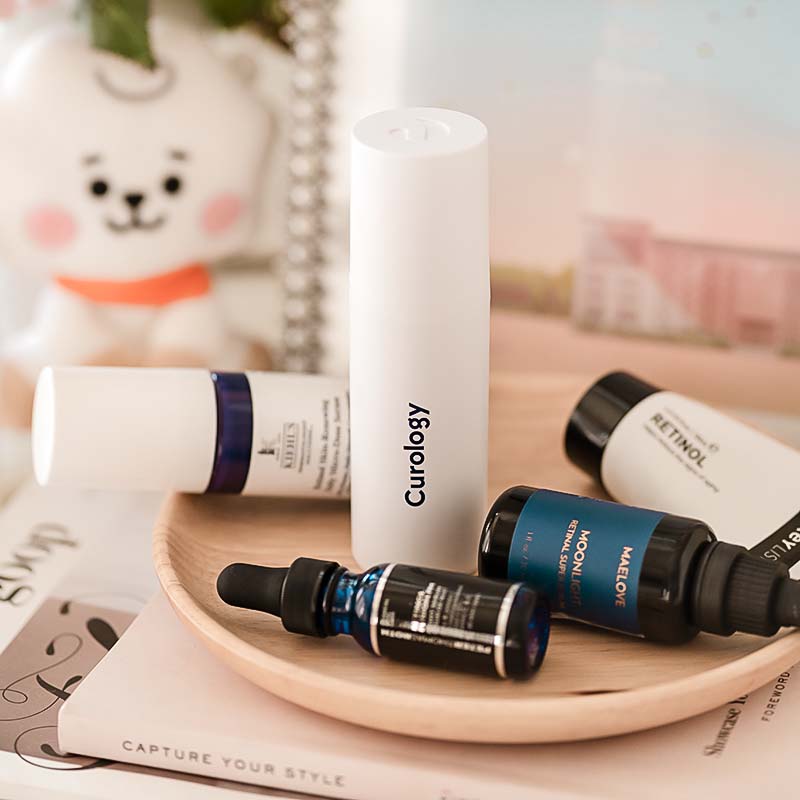 Who should use Curology?
The brand began as a custom prescription skincare for acne but has since expanded to include ingredients that would benefit other skin types as well:
Mature skin types or those looking for prevention against signs of aging.
Those with rosasea or skin prone to redness.
Dull skin or those with dark spots and hyperpigmentation.
And of course acne-prone skin types, with possibly the exception of hormonal acne.
The only skin type I would be hesitant to recommend Curology to would be those with a compromised skin barrier. It's best to repair your barrier back to health first before working with actives again.
My Current Curology Formula
My goal is reducing/preventing fine lines and fading of dark spots, and this has been my custom mix for the past years:
5% azelaic acid + 0.012% tretinoin + 4% niacinamide
While Niacinamide and Azelaic Acid can be found in many OTC skincare products, Tretinoin is available via prescription only. However thanks to services like Curology, it's now much more accessible than before!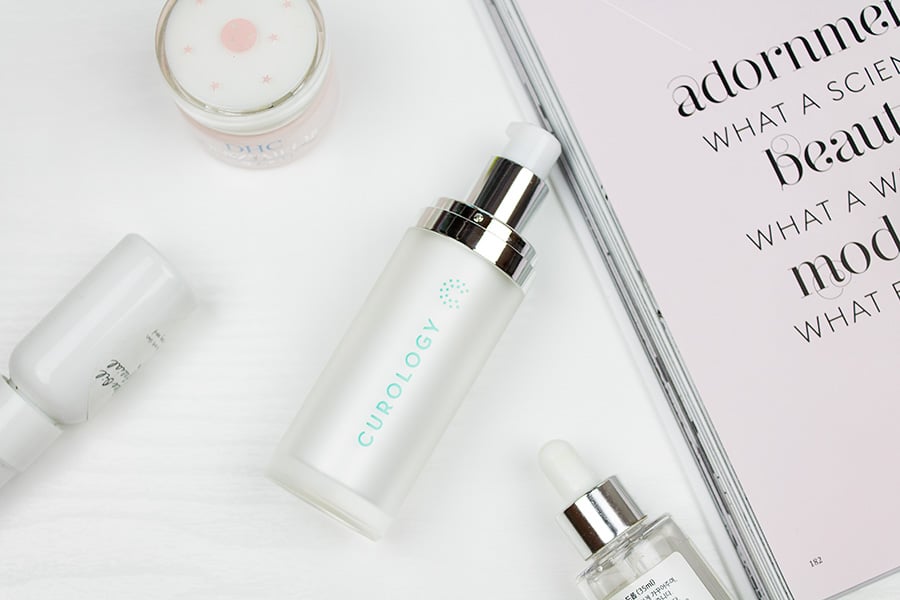 How to use Curology in your skincare routine
Aka, lessons learned from my experience so far so you don't have to repeat my mistakes!
1. Adjust your custom formula slowly
This allows your skin to gradually adjust to the stronger formula and decreases the chance of any irritations. Check in with your assigned healthcare provider regularly and get feedback on when you're ready to increase the prescription strength!
2. Use the sandwich method
If your customized cream features any of the acne-fighting ingredients including Tretinoin, I highly recommend applying it between layers of moisturizer or facial oil, similar to creating a sandwich:
cleanser – toner – serums – moisturizer/facial oil – Curology Tretinoin – moisturizer/facial oil
This helps create a buffer between your skin to minimize any irritations, and the final layer of moisturizer is to prevent any dryness! Once your skin gets used to your formula, you can move it up in your routine.
If you're still worried about tretinoin and possible skin discomfort, I wrote this for you: How to use retinol without irritations: a beginner's guide
3. Keep using your custom mix consistently!
It can take MONTHS before you start seeing results, especially if you're using tretinoin for anti-aging, so don't give up just after a few weeks! A lot of products come and go in my routine, but Curology has remained one of the few consistencies throughout the years and that's because it really works!
Products that work well with Curology
🧼 A gentle low-pH cleanser.
My top recommendation will always be the CeraVe Hydrating Cleanser for how affordable it is, but I also love the H2O+ Hydration Sensitive Gel Cleanser which might be the most hydrating cleanser I've used to date. Or to make it super easy, you can add the Curology cleanser to your subscription.
💦 A hydrating serum
Dryness is a common side effect with tretinoin so humectants like hyaluronic acid will be your best friend. I like the Klairs Rich Moist Soothing Serum, Filorga Hydra-Hyal, or the Holifrog Galilee Antioxidant Dewy Drops. The Holifrog has an incredible blend of ingredients and is the most nourishing of the 3!

🧱 A barrier restoring product
I've gotten great result with the Skin Actives Every Lipid Serum (full review here) which contains ceramides, fatty acids, and all sorts of great oils to really nourish my skin. Other options I like are the Activist Skincare Precious Oils Active Infusion and Cerave Skin Renewing Oil, but any nourishing plant oil will work.
🧈 A nourishing + soothing moisturizer.
LOVE the La Roche Posay Cicaplast B5 Baume (reviewed here) which is fantastic for healing redness and irritations. I also like the Illiyoon Ceramide Ato Concentrate Cream for its ceramide + fatty acid formula and the Bybi Night Nutrition for how moisturizing it feels. The Klairs Midnight Blue Calming Cream is soothing but it's not moisturizing on its own. Again, you can also add the Curology moisturizer to your subscription, which has been specifically made to work with these potent ingredients.
Need more moisturizer recommendations? 38 moisturizers reviewed, and here are the best ones for dry aging skin
☀️ Sunscreen with PA+++/UVA circle
UVA protection is so important, especially if your goal with Curology is antiaging as that's the ray responsible for fine lines and dark spots! Newsletter subscribers get access to my exclusive sunscreen database, but you can't go wrong with the La Roche Posay Anthelios or Allie Extra UV Gel N!
Further reading: Dermatologist-tested best sunscreens of 2020 (and my personal picks)
Curology Pros and Cons
➕ A custom formula with prescription only ingredients to target your specific skincare needs.
➕ Access to a licensed healthcare provider to ask any questions or tweak your formula.
➕ Reasonable prices and convenient – no more having decision paralysis over which products to try.
➕ Uses well-researched ingredients at effective % to deliver noticeable long term results.
➖ The Curology quiz isn't always accurate and the initial formula may be too strong at times.
➖ The formulas might not be effective for hormonal acne.
➖ While Curology products are effective, their skintertainment factor is low to none. So if you're looking for beautiful packaging, textures, or scent, this isn't it.
Does Curology Work? My Before and After
The before shots were from 2016 before I started Curology, and the after shots were from August 2020. While it's hard to see the changes in fine lines, the fading of dark spots is pretty noticeable.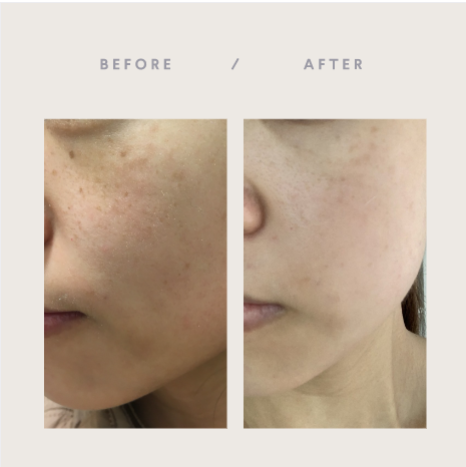 It's possible that other skincare products contributed to the improvements, but I've used similar products in my pre-Curology days and I didn't notice results then.
Also keep in mind a big part of anti-aging skincare is in prevention, so a lack of overwhelming new aging signs (eg. fine lines or new dark spots) is a good thing! Other than a slight loss of firmness (there's only so much topical skincare can do), my skin is looks and feels healthier now than it did those 5 years ago!
So don't feel discouraged if you're just starting out, because it can't be worse than my initial experience! Keep it up, and you'll see results soon enough!
Article Sources
To keep my content accurate and trustworthy, I rely on peer-reviewed studies, articles from reputable academic institutions, and quotes from certified healthcare professionals to back my claims. No woo-woo clickbait nonsense here!