Can you tell that I'm a bit obsessed with Klairs? And my obsession only grew (exponentially I might add) when I tried out their latest product. The Klairs Midnight Blue Calming Cream is a unique cream that is a must-have for any skin type, but especially those with sensitive or irritable skin.
What is it
A cream that helps to calm & strengthen barriers in extremely sensitive skin. It works rapidly to soothe and regulate irritated (by heat or sebum), stressed skin.
How to use
At the last step of your skin care routine, apply a small amount to areas of sensitivity or irritation, and gently tap in to allow full absorption.
First impressions
Beautiful blue cream that feels somewhat thick, but blends beautifully and leaves a natural (and colorless!) finish. Comes in a cute little jar with its own spatula.
Best suited for
Sensitive or irritated skin. Dry skin will need an extra layer or moisturizer as this isn't moisturizing enough on its own.
Ingredients
Water, Cetyl Ethylhexanoate, Butylene Glycol, Glycerin, Sodium Hyaluronate, Caprylic/Capric Triglyceride, Centella Asiatica Extract, Sorbitan Stearate, Cetyl Alcohol, Shea Butter, Argan Oil, Jojoba Seed Oil, Sorbitan Sesquioleate, Glyceryl Stearate, Stearic Acid, Portulaca Oleracea Extract, Anthemis Nobilis Flower Extract, Ceramide 3, Polysorbate 60, Bees Wax, Chlorphenesin, Tocopheryl Acetate, Xanthan Gum, Acrylates/C10-30 Alkyl, Acrylate Crosspolymer, Morus Alba Root Extract, Triethanolamine , Broccoli Extract, Lavender Oil, Eucalyptus Globulus Leaf Oil, Pelargonium Graveolens Flower Oil, Lemon Peel Oil, Orange Peel Oil, Cananga Odorata Flower Oil, Guaiazulene, Acetyl Hexapeptide-8, Lecithin, Acetyl Glutamine, SH-Oligopeptide-1, SH-Oligopeptide-2, SH-Polypeptide-1, SH-Polypeptide-9, SH-Polypeptide-11, Bacillus/Soybean/Folic Acid Ferment Extract, Caprylyl Glycol, 1,2-Hexanediol
full ingredient list analysis
Oh hello you sexy list. You've got your hyaluronic acid for hydration, centella extract for repair, and fatty acids + argan oil + jojoba oil for nourishment. There are also plenty of great plant extracts in there for additional anti-oxidant benefits and ceramide (one of my favorite ingredients) to help strengthen your skin's moisture barrier. Lovely!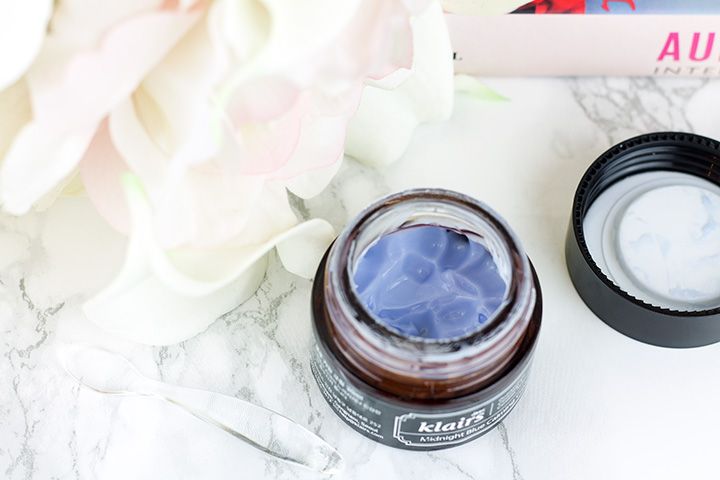 Now the star of the Klairs Midnight Blue Calming Cream is actually Guaiazulene, a chamomile extract that also gives the cream its beautiful blue color. It has anti-inflammatory properties and can help soothe + repair damaged skin cells. It's frequently used in healing ointments you may find in Asia (or in my mom's first-aid kit), so it's nice to see it being used in skincare products.
This cream also contains a bunch of peptides, which have anti-aging benefits and can stimulate collagen production. Shame that they're listed towards the end of the list, so I'm not sure how effective they'll be. Then there's the lemon and orange peel oil, which made me iffy at first, but they're also near the end so I wouldn't be too concerned.
Overall Experience
Between this and the Klairs Rich Moist Soothing Cream, I definitely like this one a lot more. It may feel thicker at first, but it absorbs very quickly and leaves a natural, almost matte, finish. No stickiness, no shine, no pilling, just incredibly soft + soothed skin.
However, the application method is critical. You only want to use a small, slightly larger than pea-sized amount, for your whole face (or less if you're doing spot treatment). If you apply too much, it doesn't absorb as well and just kind of sits on top of your skin in an unpleasant way. For normal/combo/oily skin folks, this may be enough, but for drier skin types, you'll probably need another layer of moisturizer.
For me, I use this cream mainly to soothe and calm my skin. It's excellent in reducing redness and making my skin feel soft and plump, but I definitely need another cream to layer over this at night, especially now that I'm using prescription Tretinoin. Some people might find this a hassle, but I enjoy this extra step as this gives me an excuse to use one of my other favorite creams.
Final Verdict
Packaging

Ingredients

Texture/Application

Performance

Price
I love this cream. I love that it really does soothe and repair, and I love how soft it makes my skin feel. For me this definitely is a star product in the Klairs line, and that's really saying something. If you're looking for a new moisturizer to try out, I would highly recommend this one.
Where to Purchase
$23-31 at WishTrend, Amazon, Ulta, and YesStyle (extra 5% off with code GEEKYPOSH)