As much as I enjoy using some of my skincare devices, you know what the biggest struggle is still? Consistency. 15 minutes doesn't seem like much at first, but sticking to that 15 minutes every other day? Sometimes I barely want to wash my face, much less spend 15 minutes moving a wand across my face.
So when Medicube sent me their Age-R Ussera Deep Shot, which takes just 5 minutes, 3 times a week, I was intrigued. Is it as good as the Tripollar Stop Vx? Let's find out!
What is the Age-R Ussera Deep Shot?
Overview
A powerful skin collagen stimulation home device using ultrasound & high frequency. For lack of collagen from aging, high frequency + ultrasound dual energy can help 'simultaneously' to fill in the gaps
Is a primer required?
As with all radio frequency (RF) devices, a primer is required to conduct the energy to the deeper layers of the skin. Medicube has its own booster gel which is less sticky, with much better ingredients, long-lasting and can be left on as a skincare product!
Does it hurt?
Not at all! I'm currently on level 4 and to me it's just a slight warm sensation on the skin! Super comfortable, even more so than the Tripollar. Even if you're sensitive to heat, level 1 should be tolerable, if not pleasant on the skin.
Is there any downtime?
None whatsoever, not even any redness, definitely not any pain.
Is it time consuming?
Just 5 minutes per session, 3 times a week!
Is it safe to use while pregnant?
No studies have been done to confirm or deny the safety of the device during pregnancy. To be safe it's best to stop using or check with your healthcare provider.
Areas to avoid
Around the eyes, Adam's apple, the area under your nose above your lips, or anywhere with scars or where you've had work done (eg. Botox).
Available for
$360 on Medicube, Booster Gel sold separately for $25. 10% off with code GEEKYPOSH!
High Frequency + Ultrasound technology
What makes the Medicube Age-R Ussera Deep Shot unique is that it combines two types of technology to help boost collagen production. Let's take a look at each one:
High frequency technology for anti-aging
This is the same radio frequency technology that's used in clinical treatments like Thermage and other at-home devices like the Tripollar Stop X. It generates heat that reaches the deeper layers of the skin, which then causes collagen contraction and skin tightening. Subsequent treatments after a few months will result in new collagen production1!
Due to its ability to stimulate collagen production, RF technology has been shown to improve fine lines, improve mild sun damage, and even improve facial firmness!
Ultrasound technology for anti-aging
As the name implies, this uses ultrasound energy to promote collagen production, which then leads to firmer and smoother skin. The ultrasound needs to go about 5mm deep into the skin into the second muscle layer, which is where the collagen action happens.
Several studies done on ultrasound technology found it helped smooth wrinkles5, improve skin elasticity2, firm sagging skin3, and even helped lift drooping eyelids4! These studies were done over the course of several months, so patience is key to seeing improvements with ultrasound.
How to use the Medicube Age-R Ussera Deep Shot
Medicube has an excellent, easy to follow tutorial that I highly recommend using until you've memorized the steps!
Cleanse and dry your face, but don't apply any other products.
Apply some of the booster gel directly on the device head.
Use the device to apply the gel on both cheeks.
Make sure the device is turned on and set to the desired level.
Place the device in spot 1 holding it right against the skin. Click the top button to release a shot.
Once the beeping stops, you can move the device to the next spot and repeat step 5.
The Ussera Deep Shot will turn off automatically after 80 shots have been completed. Wipe the extra gel off the device, and either wash off the gel on your skin or tap it in for extra anti-aging/hydrating benefits.
Continue with the rest of your routine!
Usage Experience & Results
✅ It's so easy to use!
I've tried so many different devices, from LED masks to NuFace to multiple Tripollars, and the Medicube Age-R Ussera Deep Shot is definitely one of my favorites to use. I love that I know exactly where to place the device, how long to place it for, and the whole process is just 5 minutes. There's no figuring out what the best techniques are or worrying if you're over/under-doing it. The device is also cordless, so once you've memorized the steps, you can easily use it while on the bed or watching TV!
Honestly I don't know how I'm going to go back to the Tripollar after this, I've been spoiled!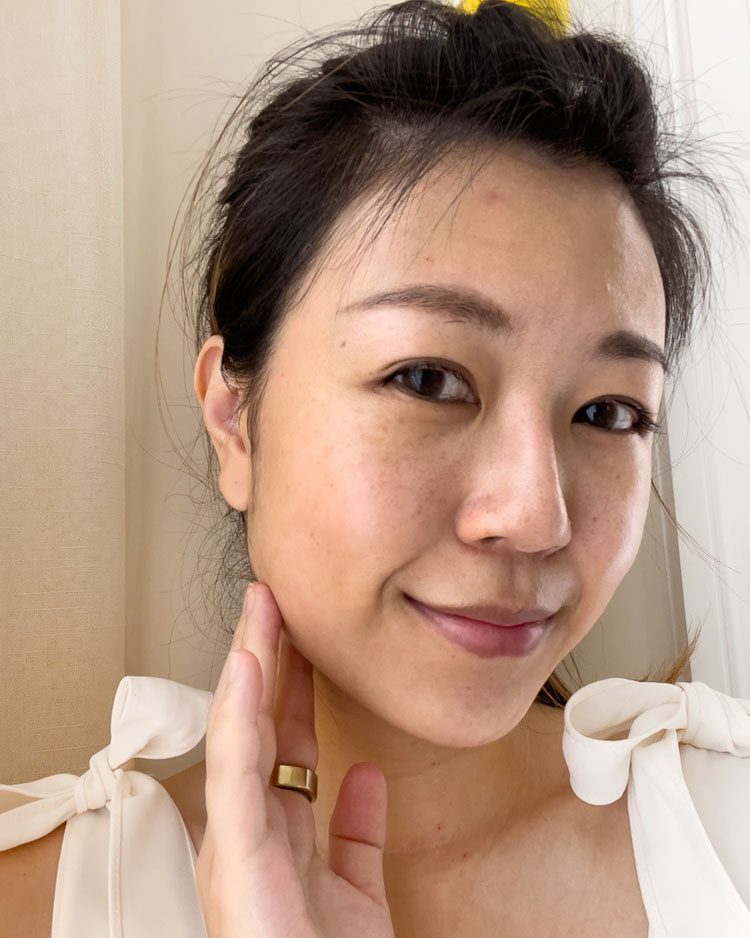 ✅ It's completely painless
I know I said the Tripollar Stop X was comfortable, but the Ussera Deep Shot makes the Stop X look like a mini torture device, that's how comfortable it is!
Ok the Tripollar is not that bad, but on a scale of 0 to 10 the Stop X would be a 3 while the Medicube would be a 0.2. I'd say 0, but you can feel some warmth, but it's nowhere near unpleasant, and it definitely won't make your skin red!
✅ Targets all my problematic areas safely
Medicube developed their 80 shot program specifically to target people's main areas of aging in the safest way possible: marionette lines, smile lines, cheeks, jaw line, neck, and double chin.
There is some concern with radio frequency technology and how the heat it generates can melt fat, causing our face to lose that youthful plumpness. In fact, radio frequency can be used to remove fat from other parts of the body, so it's critical that the temperature and timing be controlled on the face to only stimulate collagen production.
While I trust reputable RF devices (like Tripollar) operate at the correct temperature, the Age-R Ussera Deep Shot definitely requires less time on the skin and does so at a lower temperature. The controlled timing also eliminates any user error of leaving the device on for too long.
In addition to being FCC certified in the US, meaning it outputs a safe level of radio frequency, it's also KC, CE, RCM, and PSE certified in 4 other regions.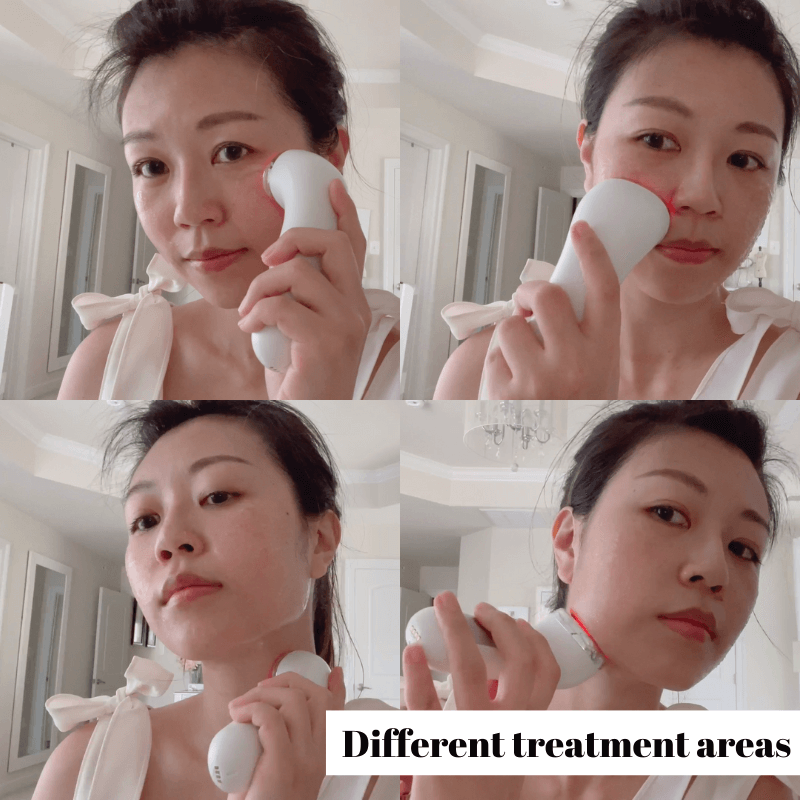 🐢 Slower but still some results
As I write this post it's been just over 4 weeks since I started using the device. The biggest difference for me is how my jawlines have become more defined, something I never saw with the Tripollar. My cheeks also seem to be slightly fuller, though I haven't noticed any significant changes in my smile lines/nasolabial folds.
6-month result
I've switched to using this instead of the Tripollar and focusing on my face rather than my jawlines and neck. Still no significant changes in my nasolabial folds but my overall face looks fuller, especially the area right under my cheekbones! I haven't noticed any changes in my pore appearances.
Medicube also did their own clinical testing and found the following:
Sunken cheek area improvement – 37.8%
Sunken smile line improvement – 16.3%
Saggy cheek area improvement – 7.1%
Saggy smile line improvement – 4.4%
Dermis layer density improvement – 8.5%
Skin elasticity recovery improvement – 48%
Outer skin elasticity improvement – 5.6%
Pore volume improvement – 42.7%
Skin glow improvement – 22.3%
Skin texture improvement – 7.6%
Most of the changes are subtle, so unless you're taking photos, a ~10% difference may be difficult to tell. Given the time commitment and gentleness of the treatment, I think the results are more than generous. Remember that most studies looked at RF and Ultrasound technology over the course of months, so I'm excited to see the long term results!
👵🏻 May not be suitable for serious signs of aging
I'm talking about seriously sagging, sunken skin and deep wrinkles. Any at home device can only do so much, and since the Ussera Age-R shot is one of the gentler devices, you might not see the desired level of results. That's no fault of the device, but just to set your expectations.
What Others Say
These are some reviews I extracted from Medicube directly to show how this device has worked for different skin types and age groups.
I honestly don't see the dramatic result yet, but I definitely can tell my face skin texture got smoother, skin looks brighter, somewhat wrinkle on my forehead looks bit faded and my skin is glowing all day.

Ashley J, normal, age 36-45
After using just one time, my skin felt incredibly plump, hydrated and soft the same day. The next morning, I was able to actually see my face line has been lifted in the mirror. Only after one use!

Shin, oily, age 26-35
I've used this gadget for the past two weeks, three times a week. So far, I haven't seen much improvement in my skin tone and texture. Perhaps my skin has too many issues and it will take longer time to see the result. The gadget is so easy to operate so I don't mind continue using it.

Ching R, dry, age 46-55
Age-R Ussera Deep Shot vs Tripollar Stop Vx
| | Ussera Deep Shot | Stop Vx |
| --- | --- | --- |
| Price | $360 | $649 |
| Tech | Ultrasound + Bipolar RF | DMA + Multi RF |
| Levels | 5 | 2 each |
| Cordless | Yes | No |
| Areas Targeted | Cheeks, smile lines, marionette lines, jawlines, chin, and neck. | DMA mode is for the jawline only, RF mode can be used on the entire face except eye area. |
| Primer | Medium weight gel that can be left on as a skincare product. 1 tube will last ~2 months. | Thick sticky gel that must be washed off after each use. 1 jar will last ~1 year. |
| Pain Level | Very low to none. | RF mode is low. DMA mode is medium and noticeably uncomfortable. |
| Time Required | 5 minutes, 3 times a week. | 30 minutes (20 for RF, 10 for DMA), every other day. |
| Downtime | None. | None, but skin is red and warm after treatment. |
| Efficacy | 4 weeks minimum to see some improvements in definition and fullness. | Instant lifting results with the DMA mode, 4-8 weeks to see noticeable plumping on RF mode |
I do think the Tripollar Stop Vx is more effective overall, but the Age-R Ussera Deep Shot is the winner in every other factor, it's more affordable and easier to use. In the end it really comes down to what fits your budget and lifestyle. Remember, long term commitment is key to getting the best results from any at-home device!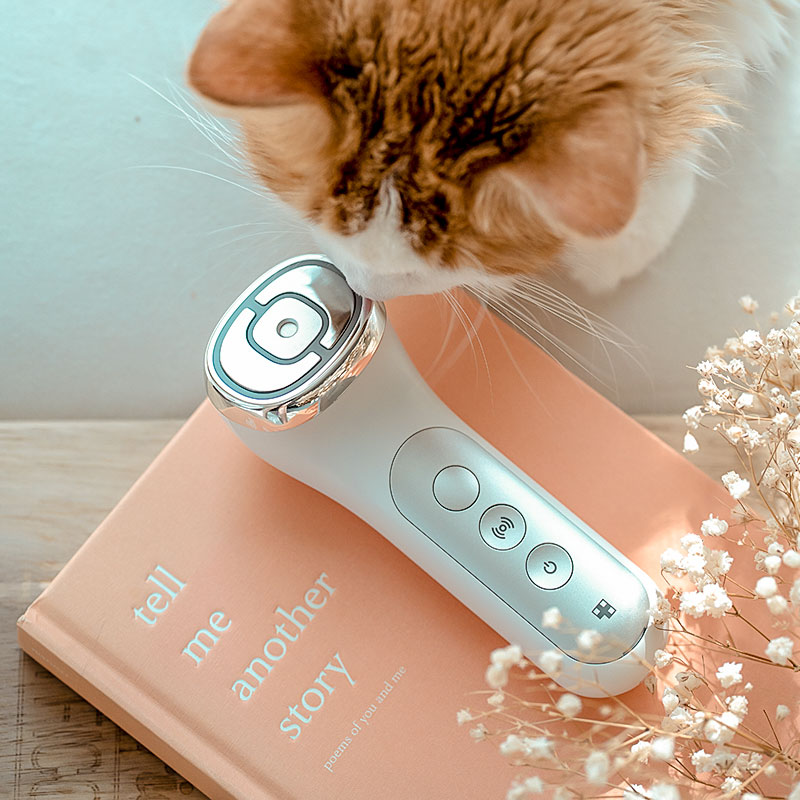 Final Verdict
Design
Comfort Level
Ease of Use
Performance
Price
As a big Tripollar Stop X fan, the Medicube Age-R Ussera Deep Shot had some serious shoes to fill, but it was quick to win my heart. It's just so much easier to use compared to the Tripollar, and while the jury is still out on the results, I'm happy with what I've seen so far.
Will I go back to using the Tripollar? Yes because it's still a fantastic device, and just because I love the Deep Shot doesn't mean I love Tripollar any less. They're both fantastic for different reasons, but let's just say for now I'll be sticking to the Ussera Deep Shot a little longer.
Article Sources
To keep my content accurate and trustworthy, I rely on peer-reviewed studies, articles from reputable academic institutions, and quotes from certified healthcare professionals to back my claims. No woo-woo clickbait nonsense here!