Facial tools, gimmicky or the real deal? Depending on the tool and who you ask, the answer will vary.
I've tried everything from cleansing brushes to ionic devices to micro-current tools like the NuFace, and now I'll be sharing my favorite of them all in this Tripollar Stop X review.
Tripollar Stop X overview
What is it
A facial tool using radio frequency technology, which stimulates dermal activity in order to kick start the natural production of collagen, improving your skin's contours and overall condition. This slows down and reverses, signs of aging and reduces the appearance of fine lines and wrinkles in just 8 weeks
Available For
$399 for the tool + a tube of preparation gel, but it's regularly on sale for around $270 on SkinStore (25% off with code JENNY), Tripollar Official (25% off with code GEEKYPOSH), and CurrentBody (25% off with code SKINCARE25).
I post deals on my Instagram regularly so follow me there if you're interested!.
Is a primer required?
Yes, you need to apply a thin layer of their Stop Preparation Gel beforehand help transfer the heat. Less is more, and do not try to use a different gel or else the treatment might not work as well.
Does it hurt?
If you're sensitive to heat the tool can feel hot at first, though it's still tolerable as you're constantly moving it in circular motions across your skin, so it never touches one spot for too long. Now that I'm used to it I find the heat quite relaxing!
Any irritations or redness afterwards?
No irritations but your skin will be flushed from the heat! I always follow up with a sheet mask afterwards to cool my skin down.
Is it time consuming?
Takes me about 10-12 minutes to complete the two sides of my face, I don't bother with my forehead. It's also easy to watch Netflix while using this, so the time just flies!
Is it safe to use while pregnant/breast-feeding?
While there hasn't been any proof to show that it's dangerous during those times, they still recommend stopping your treatment to be safe.
Areas to avoid
Your nose, eye lids, and the lymph node areas on your neck. Also avoid where your thyroid is.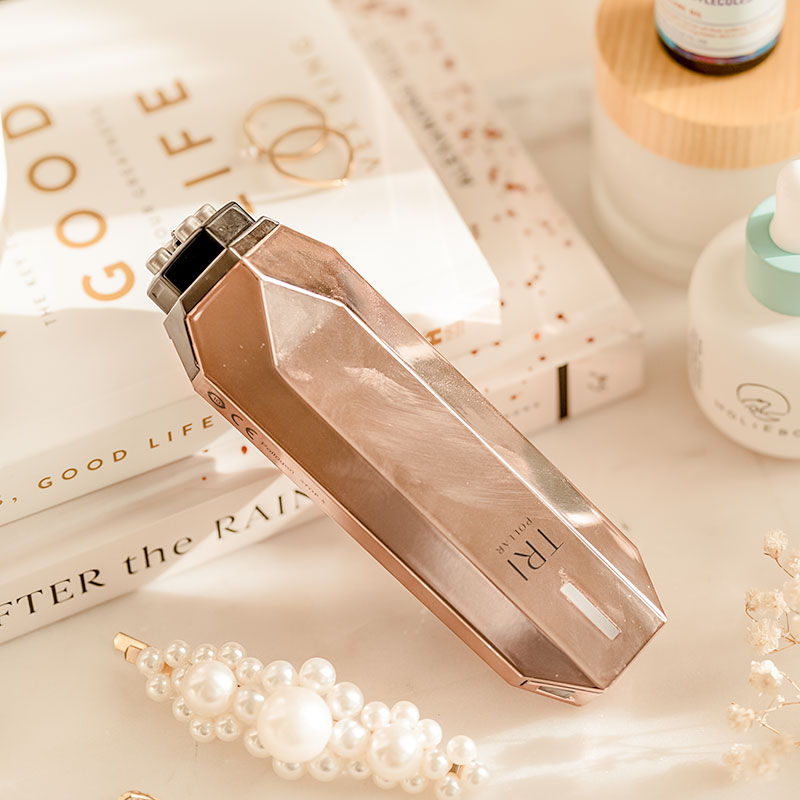 Radio frequency technology in skincare
RF might sound foreign to you, but how about Exilis or Thermage treatments? Both of these and the Tripollar Stop X use the same multi-RF technology which sends waves to heat the deep layers of the skin.
By maintaining that high temperature, our body will then release heat-shock proteins, which then in turn stimulate collagen production (source). Don't worry, this heat is transferred to the deep layers, so the surface level of your skin is perfectly safe :)
Due to its ability to stimulate collagen production, RF technology has been shown to improve fine lines, improve mild sun damage, and even improve facial firmness!
Obviously the levels from a at-home facial device won't be as strong as what you'll receive from a dermatologist office, but the technology itself is definitely promising. Keep reading for proof.
My Tripollar Stop X review
I started using this tool at the beginning of September every other night per the instructions.
Immediate results the next day: Maybe it was from using the sheet mask after the tool, but my skin always looked brighter and just healthier. Even more so compared to just using a sheet mask without the tools.
Results after a month: Slightly less noticeable nasolabial folds and smoother + plumper skin.
Results after 2 months: Noticeably less noticeable nasolabial folds and fullness near the bottom of my mouth where it was previously looking a little sunken.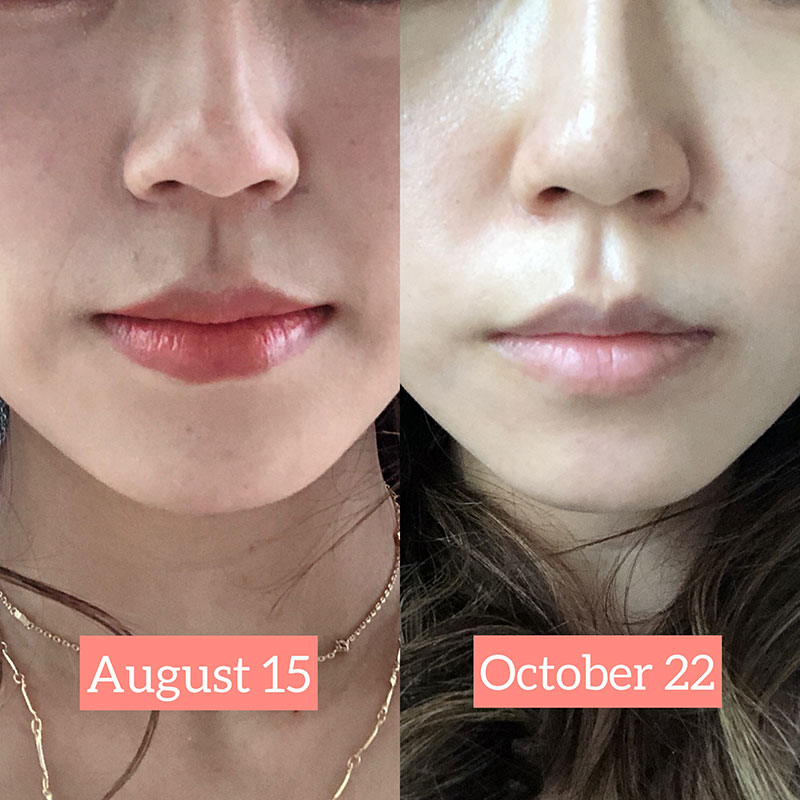 I will continue updating this Tripollar Stop X review as time goes on, but I'm incredibly pleased at the progress so far!
Also not as important, but let's take a minute to appreciate the tool's aesthetics. I love the sleek design, the rose gold color, and the fact that it has its own stand to display proudly on any vanity. 10/10!
My Tripollar Stop X routine
Apply the thinnest layer possible of the preparation gel. Less is definitely more!
Slowly and gently massage a small area of your face in a circular motion. I always start with my nasolabial folds and work clockwise from there.
When the device beeps I move on to the next area, continuing the small circles.
Once I complete a whole side of my face I'll go back over my nasolabial folds and massage upwards and outwards as if to smooth the lines. The important thing is to keep the device moving!
After I complete my entire face, I rinse off the gel with water and continue with my essence and serum steps, using soothing and hydrating products.
I then follow up with a sheet mask to help cool the redness at the surface level. Remember, the heat only needs to work at the deeper levels!
I do this every other day. It is not recommended to use this device daily!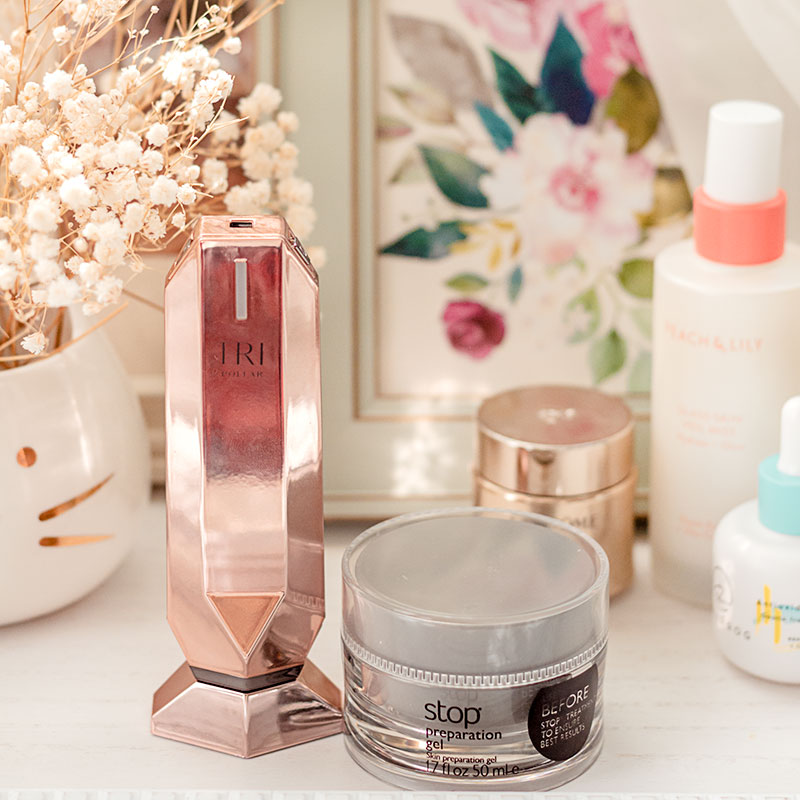 Other RF facial devices
In addition to the whole Tripollar range (more on that below), there's also Newa, YA-MAN, and Silk'n. However Tripollar had the most positive reviews and seemed the most user friendly, hence my decision to go with that brand.
Next of course was deciding which version to get!
Different versions of Tripollar
The one I'm using, Stop X, is their latest model available in North America, but they carry 3 other models. Here's a quick comparison:
| Stop | Stop V | Stop X | Stop Vx |
| --- | --- | --- | --- |
| 1st generation | 2nd generation | 3rd generation | 4th generation |
| Uses RF Technology | Uses multi-RF and Dynamic Muscle Activation (DMA) technology, which tones and lifts. | Uses Multi-RF Technology for improved efficacy | Uses multi-RF and DMA technology |
| Feels hotter on the skin due to the smaller tips.* | Same issue with the smaller tips, plus DMA portion can hurt depending on your pain tolerance.* | Feels much better on the skin thanks to the wider tips + improved temperature stabilization. | ? |
| Indicator light shows when ideal temperature has been reached. | Indicator light only. | Indicator light and beep, making it easy to use while watching TV or reading. | Indicator light + beep |
* based on reviews I've read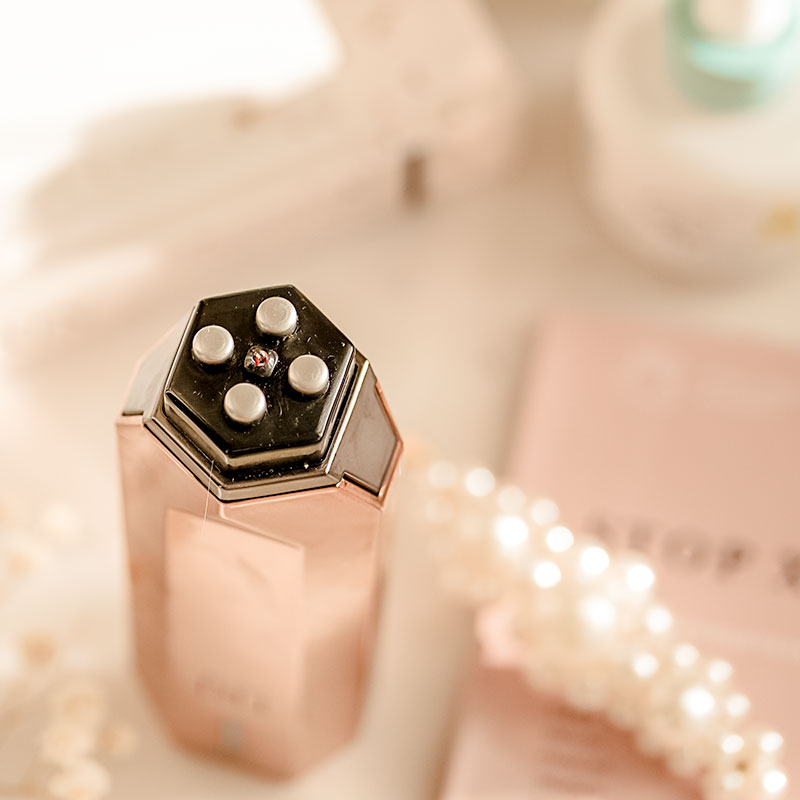 Final Verdict
Design

Comfort Level

Ease of Use

Performance

Price
A picture speaks 1000 words, and my results after 2 months are enough to convince me that this purchase was 100% worth it, and why it's the first of all my facial tools that I'm reviewing on here!
It's an expensive splurge, but price is comparable to other facial tools (eg. NuFace), and you can frequently find it on sale. If you enjoy facial massages and want a tool with proven anti-aging benefits that's easy to use, I cannot recommend this enough. With a few minutes every other day and persistence, I'm confident you'll see improvements too!