I'm not over 45 quite yet, but I'm all for sheet masks that promising anti-aging benefits. Let's see if these Lululun Over 45 sheet masks are as good as they claim!
Quick Summary
These bulk packaged sheet masks are more sustainable without sacrificing efficacy
Fabric feels soft and adheres wells with no dripping
Moisturizing but nothing that wowed
What is it
Firming and glowing the aging skin. A luxurious daily treatment developed in Japan to deliver aging care benefits while wiping off the dead skin that causes the dullness brings back the brightness and elasticity to your skin.
How I use it
In the evenings after my serum step. I'll also mist my skin making it damp first before applying the mask. Wait 10 minutes, remove, fold the mask, and gently press it into my skin. I'll then use the mask on my neck for another 5 minutes.
Best suited for
Dry skin types of all ages who want a bit of hydration and anti-aging boost. Oily/combo skin might find the finish a bit tacky.
Things to note
The mask is alcohol and fragrance free! I usually don't mind those ingredients but in sheet masks where the ingredients are in constant contact to your skin for 10+ minutes, they could be potentially irritating.
Packaging
A resealable bag with 7 masks inside. Low key loving the geometric design on the front!
Scent
A very faint floral scent from the iris extract? It's not noticeable when you're wearing it.
Texture
The mask is a thicker but soft and stretchy cotton that adheres well to the skin. The essence is on the more viscous side and doesn't drip.
Finish
Skin feels slightly moist with a bit of tackiness on mask removal. Remaining essence is absorbed after a bit of massaging in.
Available For
$7/7 masks on SkinStore (use code JENNY for 25% off!), $25/32 masks on SkinStore
Ingredients Highlight
Water, Glycerin, Butylene Glycol, Betaine, Coconut Fruit Extract, Iris Florentina Root Extract, Albizia Julibrissin Bark Extract, Palmitoyl Tetrapeptide -10, Caprylic/Capric Triglyceride, Cetyl Palmitate, Sorbitan Stearate, Polysorbate 80, Hydrogenated Lecithin , PEG-40 Hydrogenated Castor Oil, Carbomer, Xanthan Gum, Potassium Hydroxide, Disodium EDTA, Phenoxyethanol, Methylparaben, Caprylyl Glycol, 1,2-Hexanediol
One thing I appreciate about this sheet mask is that you actually get most of the beneficial ingredients at the top of the ingredient list, before preservatives, which is capped at 1%.
Don't expect this sheet mask to be super hydrating though, the only humectant is glycerin, but you do get some some moisturizing benefits from betaine and coconut fruit extract.
The key ingredient here is Iris Florentina Root Extract, which contains natural isoflavones that prevent the breakdown of protein structures in our skin – collagen and elastin! Though research is limited compared to ingredients like retinoids or vitamin c, this extract can help our skin stay nice and plump.
Albizia Julibrissin Bark Extract is comes from the Persian Silk Tree, and it's main effect is to neutralize glycation – a process where excess sugar molecules in the skin bind to collagen and elastin proteins, making them rigid and causing our skin to lose its plumpness and suppleness.
You might be noticing a pattern here: collagen and elastin preservation for bouncier skin! There's also Palmitoyl Tetrapeptide -10, a synthetic peptide that's lesser known than the more popular anti-aging peptides. Overall some interesting ingredients, but the selling point here is definitely the lack of irritants.
Usage Experience
✅ Perfect to wear while multitasking
In other words, this mask adheres well to the skin and doesn't drip. Yeah I get that we want value with our sheet masks but a ton of essence that ends up dripping everywhere isn't it. These masks stay moist during the entire wear time with enough to even use on the neck for another 5 minutes!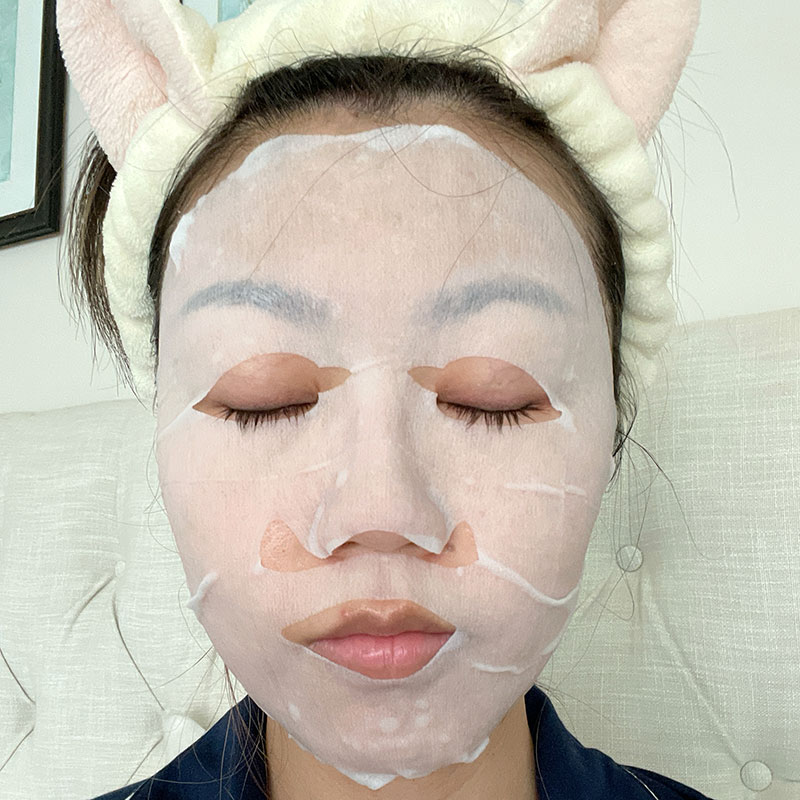 As for the fit, I can tell you that these fit my face pretty well, especially the nose! There is this weird gap next to the nose, but not a deal breaker for me. They're also easy to stretch if you need extra coverage!
✅ Gentle + affordable enough for daily use
I don't know who needs to hear this, but sheet masking daily can be bad for your skin! A lot of masks actually suggest in their instructions to use only once or a few times a week, but these specifically state that they're safe for everyday use, and the ingredient list certainly corroborates the claim. At 78 cents per mask, they won't break the bank either!
✅ More eco-friendly packaging
One major downside of single sheet masks is the waste it creates. The packaging, the plastic backing – all these are eliminated when choosing a multi-pack like this! However not all multi-pack sheet masks are worthwhile, so it's nice to find a decent option.
❌ Won't wow you like other sheet masks
I like my sheet masks to instantly hydrate my skin, brightening + plumping benefits are a plus but not required. The Lululun Over 45 Sheet Masks don't quite deliver the same noticeable results in any of those areas, but that's not to say it's a bad mask. It'll still hydrate and nourish your skin, but it'll require consistent use to see long term results.
Lululun Over 45 Sheet Mask compared…
TO DO LIST Honey Mask – $25/30
These are more hydrating than the Lululun but the cotton feels thinner and the fit isn't as great, but the latter aren't deal breakers imo. An excellent sheet mask for the money imo. Reviewed here.
Lululun ONE Face Mask – $25/5
These are single packs and quite pricey but the value is there. These have the same soft cotton material but the results are much more noticeable. A great option when your skin needs a pick-me-up or before a big event.
Lululun One Face Mask WHITE – $25/5
I've tried both this and the original and honestly I can't tell the difference between the two. They're both great for hydrating and brightening the skin!

Final Verdict
Ingredients
Packaging
Texture/Application
Performance
Price
I've had some pretty awful experiences with multi-pack sheet masks so my expectations were low when trying this, but this pleasantly surprised me on all fronts. It's definitely one of the best multi-pack masks I've tried and I love the waste reduction aspect, but single sheet masks are still more effective imo.
If you're looking for a low-waste, hassle-free, and affordable sheet mask, this really is a fantastic option. You definitely don't need to be over 45 to enjoy this!