Face mists. Every brand has at least one and they're all over influencers' skincare shelfies. But what exactly is the point of a face mist? If you're not using them right, they can be a waste of money, or worse, do more harm than good.
So let's dive right in and talk about how you really should be using face mists in your routine, as well as my 5 top picks.
What are face mists?
Think toners or essences, but in a mist format.
Seriously, that's it.
So naturally, the main way you would use them would be in place of a toner or essence. That means if you already have a toner/essence you like, you really don't need a separate mist in your routine!
However, that's not to say that mists don't have their own unique functions. I personally use a separate mist in addition to my first essence, and I'm going to share exactly how and why.
How to properly use a mist
In addition to replacing your toner/essence that I mentioned earlier, there are 3 other ways you can use your mists:
Create a hydration sandwich 🥪
This is when you apply the mist in between each step of your skincare routine. For example: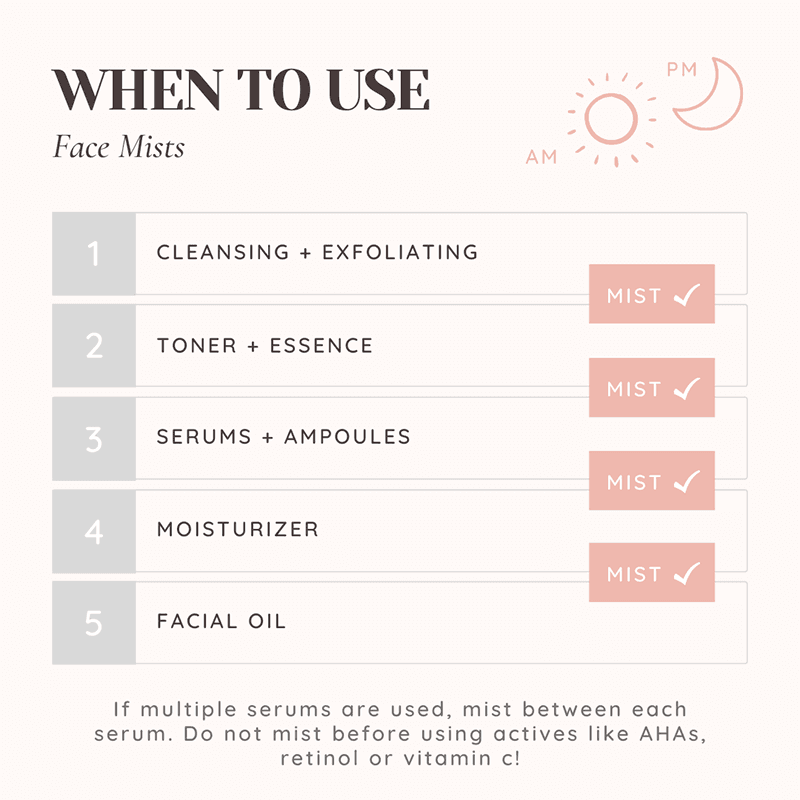 Not only does dampening your skin help with product absorption, your skin is also going to be super juicy by the end of your routine. This is by far my favorite way of using face mists!
To keep your wash off masks from drying out
I hate the tight feeling of a dry clay mask on my skin, not to mention the process dries out the skin in the process too! To prevent that I'll thoroughly mist the mask regularly until it's time to wash it off.
As a finishing touch to your makeup
A regular mist won't help set makeup, but it can remove that powdery finish and give you a more radiant and dewier look.
How to not use a mist
I know your favorite influencer gushes about spraying her favorite mist all day long to keep her skin cool and hydrated, but I'm here to burst your bubble.
Using a mist without any emollients will only dry out your skin further.
Examples of common emollients are plant-based oils (not essential oils) and silicones. If your mist is just water, extracts, and humectants, it might temporarily hydrate your skin, but there's nothing in there to lock that hydration in! Eventually that moisture will evaporate, and your skin is back to being dry again.
My 5 favorite mists
Ok now that we've talked about how to best use mists, I'm going to share my top 5 picks that will work for all 4 methods I shared above!

Caudalie Grape Water
Made with 100% grape water, this refreshing mist is perfect for creating that hydration sandwich! The single ingredient means that it'll layer perfectly between each skincare step, not risk of stickiness or heaviness. Plus grape water also contains polysaccharides, mineral salts, and potassium, all of which are beneficial to our skin.
The mister sprays a fine and even layer with just a few spritzes, adding the ideal amount of hydration each time. I'm on my second bottle already!
→ $18/200ml at CultBeauty (get £10 off with my invite code), Sephora, SkinStore
Tatcha Luminous Dewy Skin Mist
My pick if you're looking for a luxurious mist! Plus you can actually use this to hydrate your skin throughout the day since the squalane and camellia oil will help lock the moisture in. It also works wonderfully as a toner alternative or to help give your makeup a dewy glow! I also love how fine this mist is, so you never feel like you're getting hosed in the face.
→ $48/40ml at Sephora
Klairs Fundamental Ampule Mist*
An underrated gem that would be a great toner replacement or in a hydration sandwich. With a base of Jeju Green Tea Water, this mist is refreshing but still packs a hydrating punch with plant extracts and humectants. It's just a great and gentle all-around mist that will work for all skin types that I honestly can't find a flaw with, plus it's cruelty-free!
The mister is pretty fine, though a step down from the previous 2 mists, but still great compared to the average mist!

Odacite Aloe + Immortelle Hydra-Repair Treatment Mist
Reviewed here. Years later this is still one of my favorite "eco beauty" mists. If you're a fan of plant extracts this has some great ones that are proven to soothe the skin: aloe, chamomile, and oat extracts, plus hyaluronic acid for hydration. It's got the bougie feel + fine mist that rivals Tatcha but the light texture of the Klairs. This one will work well as a toner or for your hydration sandwich.
→ $39/50ml at Odacite and CultBeauty
Youth to the People Adaptogen Soothe + Hydrate Activated Mist*
Another fantastic all-around mist, with ingredients that rival many serums. To me this is like the Klairs mist, but on steroids: better packaging, finer mist, more humectants, more antioxidants, and throw in some peptides + emollients for good measure too. This is the mist that can do it all, making it worth the high price tag.
Yes I realize that aside from the Caudalie Grape Water, these mists cost a pretty penny. Sure there are cheaper options, but my experiences have been mixed at best. Many have a poor mister that feels like a bird crapping on your face each time. 💩 Definitely not the experience we want. 🙅🏻‍♀️
Runner-up face mists
Here are some more options that I think are worth checking out, and don't worry, there are no bird-pooping experiences here: