Yes I've tested 19 different facial essences for at least 2+ weeks each. Here are my thoughts on all of them and which I think are the best ones.
I will keep updating this list as I try more products!
Ratings explained
These products were tested for a minimum of 2 weeks (4+ weeks if there's been a full review) on my dry skin with my usual routine. Things I look for include ingredients, texture, and how well it layers with my other products.
For facial essences I look beyond just hydration. Ideally I'd like to see improvements to the skin tone and/or texture or immediately anti-inflammatory effects. Based on the results, usage experience, and price, I then give them the following ratings:
Best picks get 5 stars and are what I have or would repurchase happily.
Honorable mentions get 4.5 stars. These were close to being a top pick but didn't perform as strongly.
3 – 4 stars are good options and worth considering if they fit your needs.
Anything 2 stars and under aren't worth it in my opinion, but as always, ymmv.
Best Facial Essences
Best Overall: SK-II First Treatment Essence
Water like texture but smells like saliva. Refines skin and pore appearances giving skin a lit from within glow. Gives the most noticeable results. Get the XL bottle from Costco for best value.
→ brand review here
→ $64 to $99 for 75ml at MyHuo, Alaso, Yesstyle (get 5% off with code GEEKYPOSH), Cosme-De, Sasa, b-glowing, Sephora
Runner Up: Klairs Midnight Blue Youth Activating Essence
Contains 93% EGF + bFGF, and Guaiazulene. Blue water-like texture. Incredibly soothing and improves overall skin health in the long run.
→ full review here
→ $29 to $30 for 20ml at Wishtrend, Amazon, StyleVana, Yesstyle (get 5% off with code GEEKYPOSH)
Best Affordable: Secret Key Starting Treatment Essence Rose Edition*
Same yeast derived ingredient as SK-II and provides great hydrating + brightening results for the price. Great for DIY masking!
→ Full review here
→ $16/150ml on YesStyle (get 5% off with code GEEKYPOSH), $21 on Amazon, $28 on StyleKorean

Honorable Mentions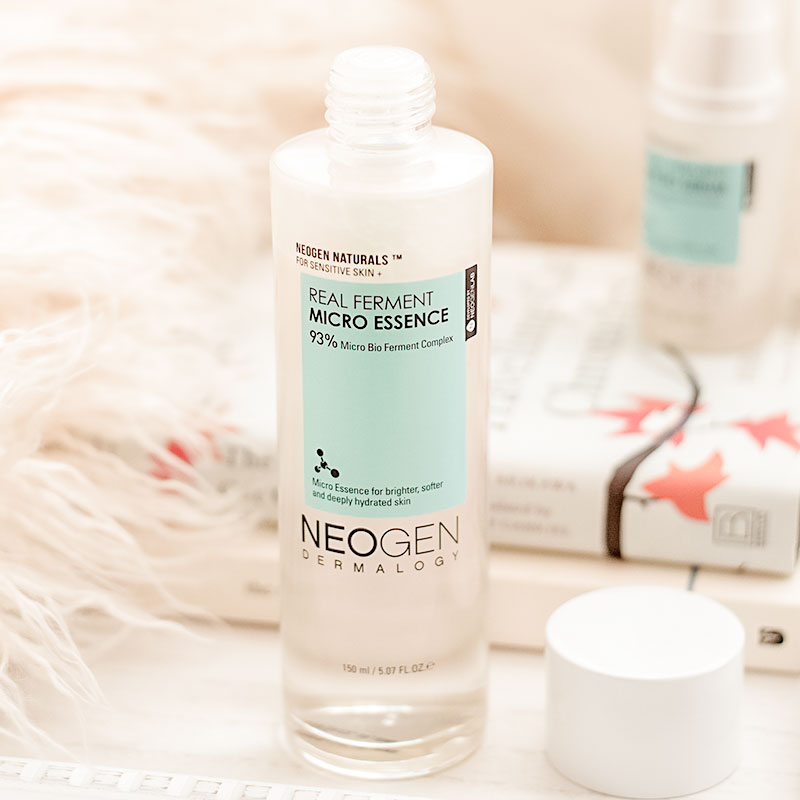 Neogen Micro Ferment Real Essence*
Contains probiotics, Saccharomyces Ferment Filtrate, and Rice Ferment Filtrate. Great for brightening, especially when paired with the Neogen Micro Ferment Serum! Adds some hydration too.
→ Full review here
→ $24/150ml on StyleKorean, YesStyle (5% off with GEEKYPOSH), SkinStore (25% off with JENNY)
Naruko La Creme Face Renewal Miracle Essence*
Contains 94.9% rice ferment extract. A great all around essence that to me is a watered down version of the SK-II but a powered up version of the Secret Key.
→ Full review here
→ $70/150ml on Naruko, Glowie Co, Amazon, eBay

The Rest
May Coop Raw Sauce* ★★★★☆
Features 93% maple tree sap and feels extremely hydrating on the skin, probably the most hydrating out of this entire list. Doesn't do much else though but sometimes that's good enough. Contains alcohol but isn't drying or irritating.
→ Featured here
→ $21 to $43/150ml on Stylevana, Yesstyle (get 5% off with code GEEKYPOSH), Amazon, Peach & Lily
Innisfree Firming Energy Essence* ★★★★☆
Key ingredient is fermented soybean extract. This is an incredibly hydrating and plumping essence with a viscous texture that feels silky on the skin. Can be layered without feeling heavy or sticky. Feels like a hydrating toner but with extra oomph.
→ Reviewed here
→ $26 to $39/150ml on Amazon, Jolse, StyleVana, Sephora
Lancome Clarifique Face Essence* ★★★★☆
A bi-phase essence with a bit of glycolic acid to gently exfoliate and botanical oils to nourish. Feels like water and gives the most amazing glow the first week, but that's about. Great for regular gentle exfoliation if that's your thing.
→ Instagram review here
→ $95/150ml on Sephora, Selfridges, Macy's
Kitao Matcha & Chia Essence Lotion* ★★★☆☆
Contains acai + green tea extracts, chia seed oil, and ceramides. Texture has a slip but isn't sticky. Hydrates well without feeling heavy. Would work well for all skin types.
→ $25/200ml on Ulta, iHerb
I'm From Mugwort Essence* ★★★☆☆
Contains 100% Mugwort Extract. Viscous texture, but not heavy at all or particularly hydrating. Excellent for soothing the skin and instantly reducing redness.
→ Featured here
→ $40/160ml on Amazon, Wishtrend
IOPE Bio Essence Intensive Conditioning* ★★★☆☆
Contains 85% Saccharomyces Ferment Filtrate. Feels like water. Underwhelming used alone as a regular essence, especially for the price. However I've seen great results when used as a toner mask or with a ionic facial device. It's up to you if the hassle is worth it.
→ Full review here
→ $35 to $60/168ml on RoseRoseShop, KoreaDepart, eBay, and Amazon
COSRX Advanced Snail 96 Mucin Power Essence ★★★☆☆
Contains 96% snail mucin. Viscous texture but isn't sticky at all. Hydrates well and also great for soothing the skin, especially after sun burns. Have not noticed any other effects.
→ Full review here
→ $15 to $25/100ml on Amazon, Soko Glam, Dermstore, Ulta

H2O+ Hydration Sensitive Essence* ★★☆☆☆
Called an essence but honestly more like a hydration toner. A light milky texture that feels comfortable on the skin. Gentle and hydrating, but doesn't do much else.
→ $40/120ml on H2O+, Amazon
I'm From Fig Boosting Essence* ★★☆☆☆
Contains 62.7% Fig Extract. Viscous emollient texture that feels deeply hydrating, but can be sticky for combo/oily skin types. Feels more like a hydrating toner than an essence.
→ First impressions here
→ $35/160ml on Amazon, Wishtrend
Naruko 60 Actives Bright Perfecting Enhancer ★★☆☆☆
Contains a blend of 60 botanical extracts, brightening ingredients, and humectants. None of the actives are in high %, so this is more like a hydrating toner. Feels thicker than water with some slip.
→ $39/200ml on Amazon
Rovectin Activating Treatment Lotion* ★★☆☆☆
Contains 7 forms of hyaluronic acid and lots of other humectants. Viscous texture but isn't sticky. Has a faint "plastic" scent but hydrates well. Doesn't seem to do much else.
→ $25 to $29/180ml on Amazon, Wishtrend, Sokoglam, Yesstyle (get 5% off with code GEEKYPOSH)
By Wishtrend Quad Active Boosting Essence* ★☆☆☆☆
Contains much lower fermented extract % but has popular ingredients like honey and propolis. I saw no results except a bit of extra hydration, but if you have good experience with propolis you might like this one.
→ Full review here
→ $23/100ml on Wishtrend and Yesstyle (get 5% off with code GEEKYPOSH)
AMOREPACIFIC Vintage Single Extract Essence* ★☆☆☆☆
Contains fermented green tea extract and has a soothing tea scent. Hydrating, but doesn't do much else, which is seriously disappointing considering the price.
→ Full review here
→ $145/133ml at Sephora, Nordstrom, AmorePacific
Biotherm Life Plankton Essence ★☆☆☆☆
Containst 5% Vitreoscilla Ferment and other humectants. Viscous texture that can feel a bit sticky if too much is used. Great for hydration but doesn't do much else.
→ Full review here
→ $37 to $65/126ml on Biotherm, Cosme-De
Facial Essences vs Toners
I could write a whole post about this but in a nutshell, a facial essence should have a high % of active ingredients. Traditionally it'll be some type of fermented ingredient, but nowadays it could be anything from snail mucin to green tea extracts!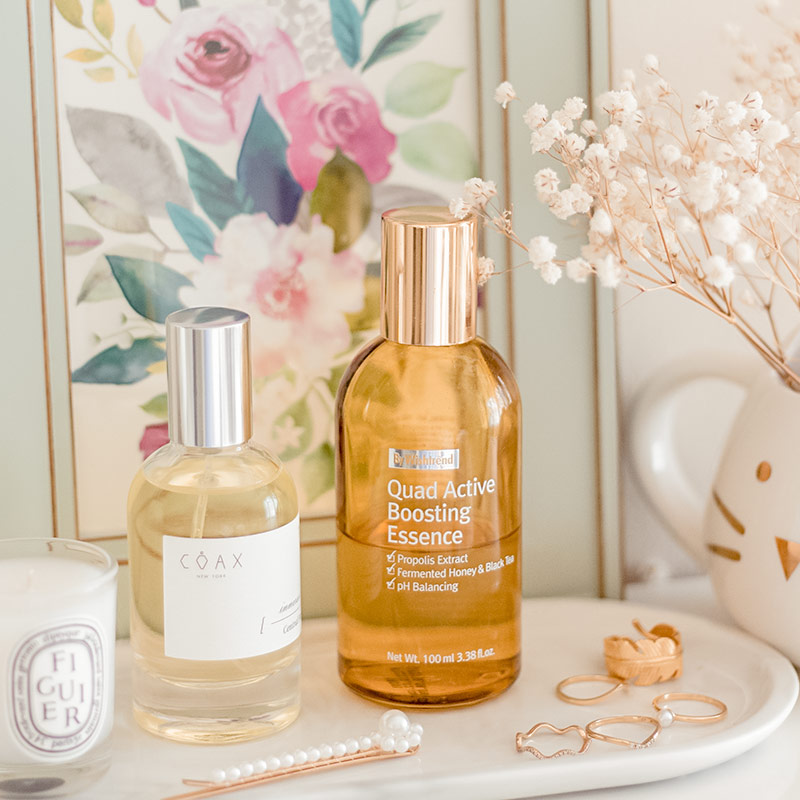 Toners on the other hand typically focus on hydration (exfoliating toners being the exception), and will contain a mix of humectants and emollients. Active ingredient % is typically lower.
In the end though it's really up to the brand's discretion what they want to call the products. Some of the essences here definitely belong in the toner category imo, while there are some toners I've tried that were more like essences instead!
Rather than relying on the product name, I would read the description and even the ingredients to get an idea of the type of product it is. After all, a rose by any other name would smell as well!