Holy crap what a long name. And holy crap x 2 what an incredible product. It's affordable, it's versatile, and it makes my skin feel sooo good. Long live the amazing COSRX Snail Essence!
What is it

A gel that protects skin from moisture loss and keeps skin smooth and healthy without heavy oils.

First Impression

Looks boring AF, but 96% snail goo? Sold!

How I use it

1 pump for the entire face, morning and night after my serums but before moisturizer.

Best suited for

All skin types, seriously

Size & Price

100ml for $15.2 – $18

Where to buy
Ingredients
Snail Secretion Filtrate, Betaine, Butylene Glycol,1,2-Hexanediol, Sodium Hyaluronate, Panthenol, Arginine, Allantoin, Ethyl Hexanediol, Sodium Polyacrylate, Carbomer, Phenoxyethanol
Can we talk about the fact that this contains 96% snail goo?? While there's not as much research behind the benefits of snail secretion filtrate, what's done show promising results when it comes to improving photodamaged skin. The remaining 4% includes hydrating ingredients like hyaluronic acid and panthenol + soothing ingredients like allantoin and arginine.
Just looking at this ingredient list it should be pretty obvious why the COSRX Snail Essence is an excellent post-sun skincare product. And this time, sexy ingredients really does mean one sexy bottle of snail goo.
Holy crap this is incredible
It's what made me fall in love with snails and with the COSRX brand to begin with. First, it's cheap. $15 for 100ml, and at 1 pump per use, a bottle can last you a whole year. Second, it feels delightful on the skin. You expect snail goo to feel gooey but this has a beautiful texture. It's light, blends beautifully, and leaves a natural finish with no stickiness. It actually helps tone down the stickiness of my serums in some cases!
On a regular day, this gives a nice boost of hydration and keeps my tretface in check. If it's really hot or humid, I can even skip my moisturizer and use this as the last step.
Now where the COSRX Snail Essence really shines is when you use it after a long day in the sun. My skin definitely felt hot and irritated after a day at the beach this past Memorial Day Weekend, so I lathered this on my face and body (guilt-free because it's so affordable) and my skin immediately felt better. My husband got a small sun burn and after using this, the heat and redness went away. Our go-to post-sun skincare product used to be aloe vera gel, but snail goo works so much better. All hail the power of the snail!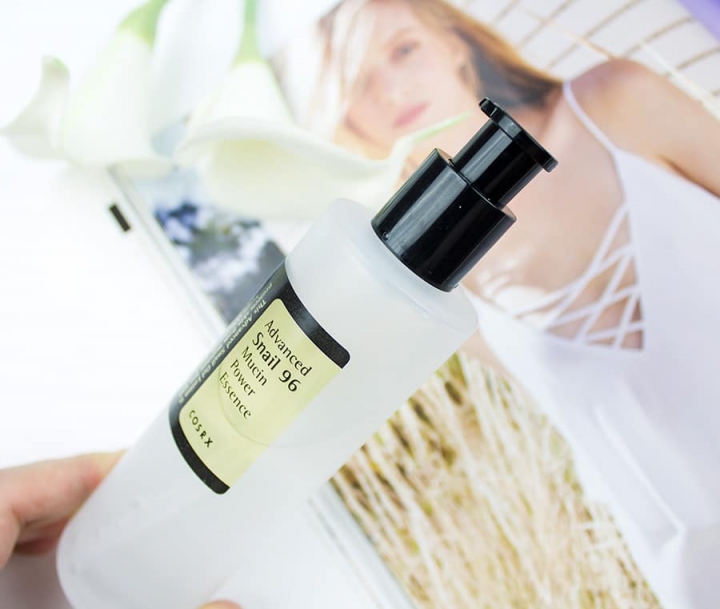 As a total packaging elitist, the COSRX Snail Essence bottle has got to be its biggest letdown. Don't get me wrong, it's very practical and fairly travel-friendly, but it's also…boring. Like really boring. But I'm so impressed by how well this works that I don't even care anymore. Give me all the snail goo in ugly bottles!
Final Verdict
Packaging

Ingredients

Texture/Application

Performance

Price
Forget aloe vera, this is the post-sun skincare product you need! It's also doubles as a serum/essence or even a moisturizer, and my goodness it feels so soothing on the skin. If you've never tried snail goo before, or if you just need some extra hydration, or heck you just want to add a new product to your routine, you can't go wrong with this. Plus did I mention how affordable it is?? So much win for the snails right now.
Hope you enjoyed this post!