You know you're getting serious about skincare when you get a prescription, and after my many failed attempt at trying to ged rid of my dark spots, I knew it was time for me to get serious. Sadly my health insurance doesn't cover dermatology, but luckily there's Curology.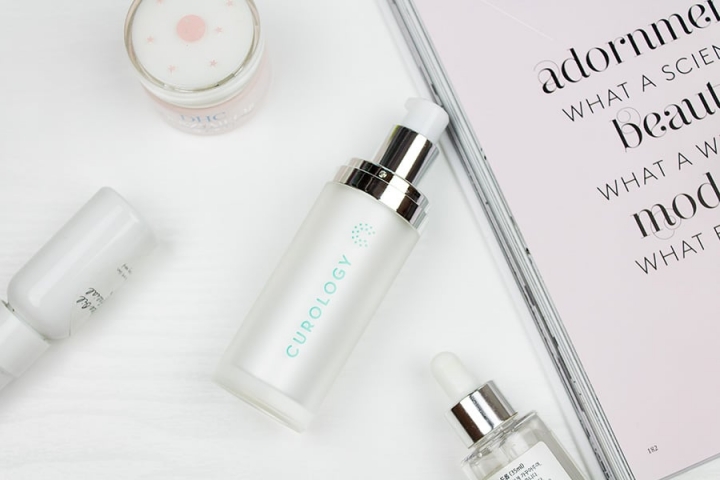 Curology is pretty straightforward. You pay $24.90/month (or $39.90 every 2 months) and have unlimited access to a board-certified dermatologist, physician assistant, or registered nurse. You also get a customized skincare treatment (that's formulated for your particular skin type and issues) either every month or every other month depending on your plan, and your health practitioner will work with you to reformulate the prescription based on your progress and feedback.
For me the selling point was being able to add tretinoin, one of the most powerful ingredients to treat + prevent wrinkles and stimulate collagen production (source, source 2). Since tretinoin increases skin turnover rate, it's also super effective in fading dark spots (source)! If prescription tretinoin doesn't work, I don't know what will.
My first Curology formula
After filling in a questionnaire about my skin and uploading some up-close photos, I was matched up with Dr. Satur, a dermatologist in San Diego. She quickly reached out to me and let me know that she has prescribed the following formulation:
4% Niacinamide + 5% Vitamin C + 0.012% Tretinoin
Ah the holy grail anti-aging and brightening ingredients. Though I'm neutral about vitaminc c, I do love me some niacinamide! The tretinoin is at a very low dosage because I expressed my concern for flaking and purging (aka tretface), and Dr. Satur totally listened.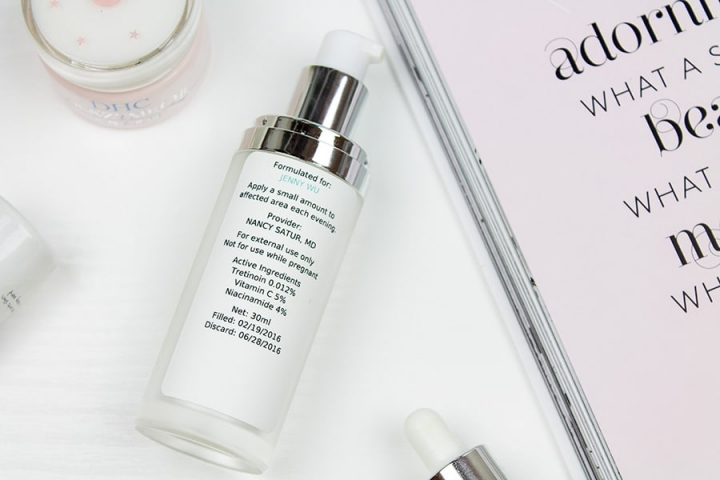 You know how some doctors act like they know best and whenever you raise a question or opinion they look at you like you just committed blasephemy? Dr. Satur was none of that – she was friendly, helpful, and responsive to all my questions. I didn't think having access to your own dermatologist was a big deal, but now that I have, it's pretty awesome :D
Also, bonus points for the perfect skincare product packaging: opaque airless pump that minimizes oxidation and possibility of contamination. Now why can't more products be packaged this way?
My 1-month progress
Day 1: Oh this isn't bad at all. My skin does feel a little dry, but I'll just lather on more of my I'm From Honey Cream.
Day 3: Holy crap my skin feels dry. And it burns a little. Are those flakes I see by the side of my mouth?? Ahhhh the dreaded tretface!! It's happening! Layer on all the hydrating toners and serums! Jenny – 0, Tretface – 1
Day 4: Ok, I'm pretty sure my moisture barrier is weak af right now, and I need something to really seal in my skin's moisture at night and do some repair work. Enter the CeraVe Baby Cream.
Day 7: Skin no longer burns and the flaking has stopped. Jenny – 1, Tretface – 1.
Week 2: Skin is feeling normal again with some minor dryness, even with 2 pumps of Curology every night. Jenny – 2, Tretface – 1
Week 3+4: I got bold and reintroduced acids and exfoliants back into my routine at the beginning of week 3. No dryness, burning, or flaking reported. Jenny – 3, Tretface – 1
The peeling + burning at the beginning probably could've been avoided if I used only 1 pump of Curology every other night. But nope, I dove head first and used 2 pumps every night because I was anxious to see results.
Tretinoin may be powerful, but I knew realistically it would take months, maybe even years, before my dark spots faded away completely. But for 1 month? The improvements were pretty good:
Arrows show the areas of improvement. I forgot to add arrows for my smile lines!
My skin tone has gotten brighter and there's less redness in my cheek area.
A few of the dark spots have faded slightly, and no new ones have emerged.
My smile lines are gone and I notice less fine lines near my eye area.
My skin feels buttery soft, all the time.
Overall I'm very happy with the Curology experience and formulation so far, and would highly recommend it to anyone who is frustrated with store-bought products. If you use my referral link, you can actually get your first product free, and you can cancel at any time! $19.95 (for the 2 month plan) is cheaper than most beauty subscription boxes, and in my opinion, has a much better value.
Packaging

Ingredients

Texture/Application

Performance

Price
Formulated to suit your skin type and needs
Contains proven anti-aging ingredients at prescription strength
Actually fades my stubborn dark spots
Can give you tretface if you're not careful (or too ambitious like me)
So worth the $20 a month
Let's Chat
What are your thoughts on prescription skincare over the internet, yay or nay?
What skincare issues do you have that store-bought products just can't seem to fix? Have you considered seeing a dermatologist to address those issues?