Yeah, it's never good when the title of the review begins with *sigh*. As you know, dark spots are the bane of my existence, and so far nothing I've tried have made them go away. Clearly the Kiehl's Clearly Corrective Dark Spot Solution didn't either.
Believe it or not, Kiehl's Clearly Corrective Dark Spot Solution is highly raved about by Chinese and Taiwanese bloggers. So of course, I decided to ignore the 3.5/5 review on the Kiehl's website and test this out in hope that this would be the one.
Ingredients
Aqua, Propylene Glycol, Glycerin, Alcohol Denat, PEG/PPG/polybutylene glycol-8/5/3 glycerin, Hydroxypropyl Tetrahydropyrantriol, 3-o-ethyl ascorbic acid, PPG-6-DECYLTETRADECETH-30, Phenoxyethanol, Salicylic Acid, Xanthan Gum, Hydroxyethylcellulose, Potassium Hydroxide, Citric Acid, Sodium Citrate, Tocopheryl Acetate, Lavandula Angustifolia Oil, Disodium EDTA, Linalool, Citrus Aurantium Tachibana Peel Extract, Paeonia Suffruticosa Root Extract
full ingredients analysis
The star ingredient of this serum is the 3-o-ethyl ascorbic acid, which is a stable form of Vitamin C. This means that it has all the benefits of Vitamin C (brightening, antioxidant, collagen synthesizer, etc), but remains stable even when exposed to light, heat, and oxygent – hence the clear dropper bottle.
Hydroxypropyl Tetrahydropyrantriol was a surprising one. More commonly known as Pro-Xylane, it stimulates the production of glycoaminoglycans (GAGs), which is essential to collagen production and protecting our skin against water loss. Yay for plump bouncy skin!
While these 2 great ingredients are high enough on the list, I wasn't too thrilled to see things like alcohol even higher up. Also, the peony extract that's touted on the bottle is last on the list. Boo.
Packaging, application, and all that good stuff
Kiehl's is known for their no-fuss packaging, as evident by this rather vanilla looking dropper bottle. If the bottle were a font, it would be Times New Roman – clean, professional, but boring.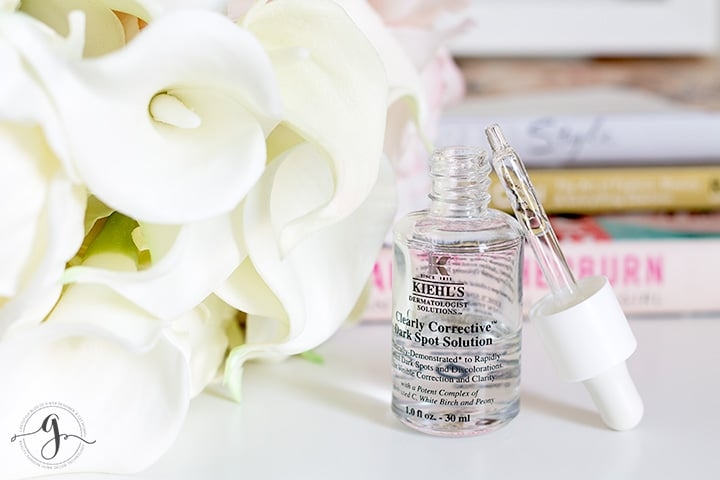 The serum itself has a light watery texture and is very different from any Vitamin C-based serum I've tried in the past. It's not sticky at all and absorbs very quickly into the skin – so major points for Kiehl's here. I use about half a pipette, focusing mainly on my cheeks where my dark spots are, and I apply this twice a day after my Goodal Water Oil Firming Camellia but before the rest of my serums.
While the texture and application are both wonderful, the Kiehl's Clearly Corrective Dark Spot Solution sadly didn't do much for my dark spots. As you can see I've used more than half the bottle now, but my dark spots are there in all their ugly glory. Ugh.
Key Points
Contains a stable form of Vitamin C and a great anti-aging ingredient.
Light watery texture that's easy to apply.
Doesn't feel oily or leave a sticky residue.
Dropper bottle has a clean design, is well made, and hygenic.
Rest of the ingredients are average, with alcohol higher up than the Vitamin C and peony extract last on the list.
Didn't do anything for my dark spots.
Final Verdict
Packaging

Ingredients

Texture/Application

Performance

Price
Of all the Vitamin C serums I've tried, this is the one I most enjoyed using, by far. But what good is it if it can't live up to its promise of fading dark spots? Though to be fair, I haven't had much success with Vitamin C-based products in general. So if you like Vitamin C-based products, but hate the usual tacky thick texture, you might really love this one!
Where to Purchase
Kiehl's – $49.50 – Get free shipping + 3 deluxe samples with orders $50+. Plus get additional cashback with Ebates!
Saks Fifth Avenue – $49.50 – Free shipping and get cashback with Ebates.
Nordstrom – $49.50 – Free shipping and returns, plus get cashback with Ebates.