If you follow me on Instagram, you probably saw my post on my new favorite skincare product: the Goodal Water Oil Firming Camellia. A terribly undescriptive and confusing name, but a wonderful addition to my skincare routine!
Goodal is a Korean skincare brand, and you've probably read glowing reviews on their original Water Oil. I definitely did, and during Black Friday I hauled both the original and this Firming Camellia variation which is targeted towards, ahem, maturing skin. No my skin hasn't started sagging yet, but it's never to late to start the prevention process!
I don't usually pay attention to the box packaging, but the camellia print on there was so pretty! The product comes in a frosted plastic bottle with a pump. It feels quite substantial without being heavy, and bonus points for the pink color! :D
Ingredients
Saccharomyces Ferment Filtrate, Camellia Japonica Flower Extract, glycerin, dimethicone, Butylene Glycol, niacinamide, 1,2-hexanediol, Acrylates/C10-30 alkyl acrylate crosspolymer, tromethamine, xanthan gum, adenosine, Ethylhexylglycerin, fragrance, purified water, Camellia Japonica Seed Oil, propylene glycol, Hydrolyzed Extensin, Sodium Hyaluronate, oregano leaf extract, cypress leaf extract, white willow bark extract, beta-glucan, Lactobacillus / bean fermentation extract, Portulaca Oleracea extract, cinnamon extract, Gold extract, polysorbate 20, PEG-40 Hydrogenated Castor Oil, Pentapeptide-4
full analysis on CosDNA
As you can see there are plenty of excellent ingredients high up on the list:
Saccharomyces Ferment Filtrate

is the key ingredient in many essences including the famous SK-II Facial Treatment Essence and the Missha FTE.
Studies have shown that

Camellia Japonica Extract

(not to be confused with Camellia Sinensis – aka green tea extract) can help increase the skin's production of collagen, which in turn prevents wrinkles.

Camellia Seed Oil

is a fast-absorbing and non-comedogenic oil that can restore moisture balance to the skin and protect against sun damage + moisture loss.

Niacinamide

is a beauty blogger favorite for good reasons: it helps fade hyper-pigmentation, brighten the skin, increase ceramide levels in skin, plus much more.
The only iffy thing for me was the fact that fragrance was quite high on the list – higher than the Camellia Seed Oil. Personally I don't have an issue with fragrance, nor do I find the product scent overwhelming, but it's also quite unnecessary in my opinion.
What the heck is Water Oil anyways?
The name is a bit of an oxymoron because water and oil by nature to not mix well together. However with the advancement in technology, the Goodal Water Oil Firming Camellia is able to deliver all the benefits of camellia oil without any of the texture/unpleasantness associated with traditional oils. In a nutshell, it's the oil for those who hate oils.
In the bottle the product looks like a typical serum, but once dispensed, you'll find that it has a lightweight watery texture that doesn't feel oily at all. As with the original Water Oil, you're supposed to use this after your toners & first essence but before your serums & ampoules. This makes perfect sense to me as it's definitely lighter than all my serums. Plus, I find that applying this actually helps subsequent products absorb better and faster!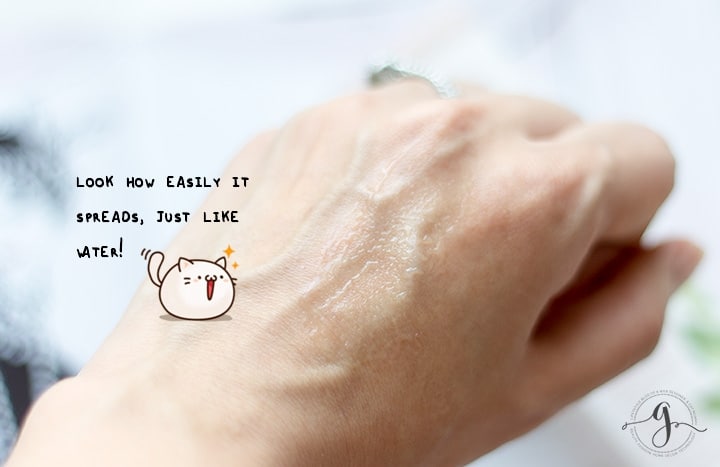 The Goodal Water Oil Firming Camellia is easy to spread and quickly absorbs into the skin without leaving any shine, oiliness, or residue of sorts. As a matter of fact, I feel like it mattifies my face a bit, probably due to the dimethicone. Needless to say I fell in love with this right away, and after using it morning + night for a week I find my face is more hydrated and less oily. And that is a happy face indeed.
Key Points
Provides the benefits of an oil without the unpleasant texture or stickiness
Suitable for all skin types
Excellent ingredients that help soothe and hydrate the skin
Absorbs quickly and helps with subsequent product absorption
Fragrance is pretty high on the ingredient list
Final Verdict
Packaging

Ingredients

Texture/Application

Performance

Price
Oh I love when I stumble across a product that's an instant hit. The Goodal Water Oil Firming Camellia just makes my face happy in every way possible AND it helps subsequent products in making my face happy. I honestly can't think of anything I don't like about this product (the fragrance thing is meh for me, since I have no issues with it), which is incredible. It delivers on its claims and comes in a pretty pink bottle. What more can you ask for? LOVE.
Where to Buy
RoseRoseShop – $17.86 – Ships from Korea, and shipping cost is based on weight and location. A reputable seller that includes lots of samples in each order!
TesterKorea – ~$19 – Ships from Korea and cost is based on weight and location. Another reputable seller with frequent sales and includes lots of samples in each order!