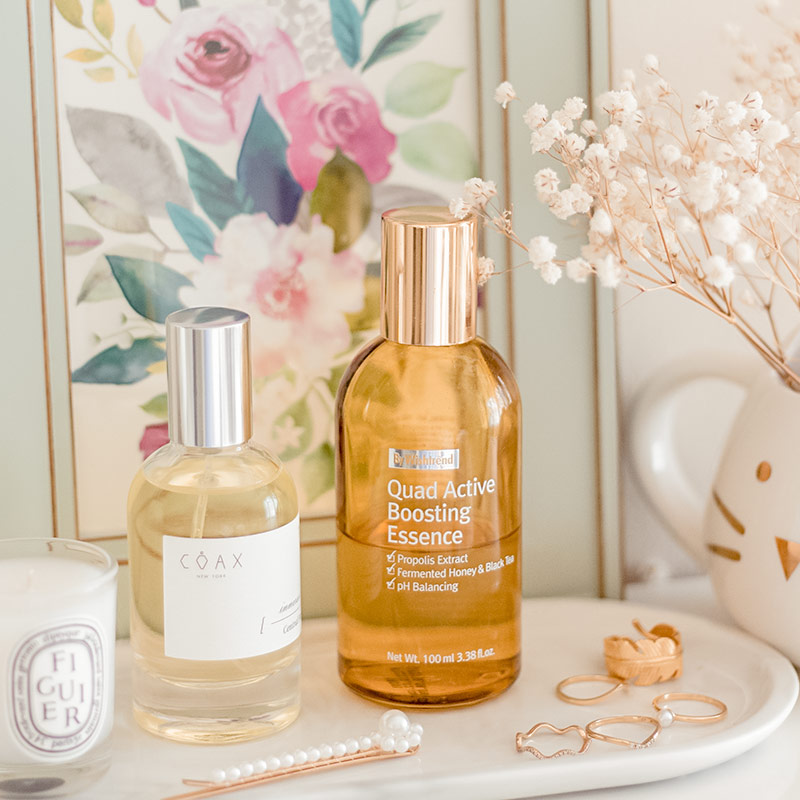 Last updated on April 22nd, 2021
What is it
This essence is recommended as a serum booster that contains 'Quad Active' Ingredients that are widely known to help with anti-inflammatory, anti-pollution, and anti-bacterial effects to maintain your skin to stay healthy and lively. 
How I use it
Since this is technically a serum, I use it after my first essence/toner step but before my thicker serums (read more about how to properly layer products). I pour some into the palm of my hands and gently pat into the skin until absorbed. May repeat 1-2x if extra hydration is desired.
Best suited for
Sensitive and/or acne-prone skin due to the anti-inflammatory and antibacterial ingredients.
Packaging
A luxurious glass jar with a gold cap. Looks and feels like a high-end product!
Scent
Fragrance-free.
Texture
Water like, but with a tiny bit of slip. Feels like your typical lightweight hydrating essence.
Finish
Natural with no noticeable shine or stickiness for my dry/combo skin.
Available For
$23 for 100ml on Wishtrend and Yesstyle
Ingredients Highlight
Aqua,
Willow Bark Extract
(10%), Centaurea Cyanus Flower Water (9%),
Schisandra Chinensis Fruit Extract
(9%),
Morus Alba Bark Extract
(8.7%), Nelumbo Nucifera Leaf Extract (8.7%), Methylpropanediol, Glycerin,
Saccharomyces/Honey Ferment Filtrate
,
Saccharomyces/Xylinum/Black Tea Ferment
, 1,2-Hexanediol,
Propolis Extract
(1%), Butylene Glycol, Benzyl Glycol, Hydroxyethylcellulose, Citric Acid, Sodium Citrate, Disodium EDTA, Ethylhexylglycerin
full analysis here
Given the product name, By Wishtrend is saying that this essence contains 4 actives, which is slightly misleading because one of these 4 is actually a combination of another 3 actives! Let's take a closer took:
3 Complex ingredients
Morus Alba (Mulberry) Bark Extract contains components like tannins, polyphenols, resveratrol, and flavonoid that provide antioxidant, anti-inflammatory, and brightening benefits.
Nelumbo Nucifera (Lotus) Leaf Extract showed brightening, anti-aging, and anti-inflammatory effects in a few studies. Promising, but requires more research to prove its effects.
Schisandra Chinensis (Magnolia) Fruit Extract is another anti-inflammatory ingredient that can also help inhibit acne growth and UVB induced damage (source). It's also full of polysaccharides, polyphenols, and flavonoids that provide antioxidant benefits.
Willow Bark Extract is frequently used for its anti-inflammatory and soothing properties. It also contains salicin, which can be converted to the BHA salicylic acid when ingested, however topical conversion is questionable at best.
Centaurea Cyanus Flower (Cornflower) Water contains polysaccharides with anti-inflammatory properties (source). But keep in mind the benefits are mainly from the flower, which means the flower water will not be as potent due to it being diluted.
Propolis, one of 3 skincare ingredients sourced from bees, is well known for its antibacterial, anti-inflammatory, and antioxidant properties (source).
Have you noticed a recurring theme yet? All of these ingredients are anti-inflammatory, meaning they can help calm redness and soothe irritated or damaged skin. Adding up the % of these actives, you're getting at least 46.4% of ingredients that are known to soothe your skin!
In addition to the 7 actives listed above, this essence also contains fermented black tea and fermented honey. These ingredients are already known for their antioxidant and soothing properties, but the fermentation process breaks down the actives into components that are more easily absorbed by our skin. So think of these 2 as black tea and honey on steroids!
Usage Experience
The By Wishtrend Quad Active Boosting Essence is a beautiful product on paper and on my vanity. Great ingredients, great texture, and generally great usage experience from beginning to end.
However my skin is not prone to breakouts nor redness, so I'm not able to see nor reap the full anti-inflammatory benefits this essence has to offer. For my skin type, this is a mildly hydrating essence that's nice to use but offers no long-term benefits. Again, ymmv.
Compared to other essences…
The By Wishtrend Quad Active Boosting Essence is one of the most underwhelming product I've tried. Again, it really doesn't do anything for my skin other then adding some hydration, but what product doesn't do that?
If you don't have acne-prone or easily irritated skin, I recommend the following essences instead:

Want to check out more facial essence reviews? I've tested 17 essences, and here are the best ones
Final Verdict
By Wishtrend Quad Active Boosting Essence
Packaging

Ingredients

Texture/Application

Performance

Price
Unless you have acne-prone or sensitive skin types, this essence is nothing to sing home about. It's not bad, but with so many product options available, this is average in comparison. Again, this is based on my skin type which is neither prone to irritations or breakouts, so ymmv.
Did you enjoy this post?
I share first impressions, product comparisons, and more skincare tips regularly on Instagram! Learn about products first and get a bonus dose of daily fluff! 😸
Follow Now