There's no shortage of Korean brand first essences, from the affordable Secret Key Starting Treatment Essence to the famous Missha Time Revolution First Essence 5x. This IOPE Bio Intensive Essence Conditioning is pricier, so let's see if it warrants the higher cost.
Overview
What is it
Formulated with enhanced Bio-redox α™ technology that helps brighten and smooth complexion, Bio Essence helps bring your skin to its optimal state for a softer, more even and youthful look
How I use it
In the evening after cleansing and any exfoliants (see my skincare layering guide for more details). I pour a generous amount into a cotton pad and use it with my ionic facial tool or I soak a compressed mask in this and apply for 5 minutes.
Best suited for
All skin types looking for smoother + more hydrated skin and don't mind committing some extra time to their routine.
Things to note
This is alcohol and fragrance-free.
Packaging
A heavy glass jar with a metal lid. There are markers on the bottle to indicate how much product to use, but you seriously don't need to use that much. This actually makes the markers kinda useless and deceptive imo.
Scent
No noticeable scent despite the fermented ingredients.
Texture
Water with a bit of slip. Absorbs instantly into the skin.
Finish
Natural with no noticeable stickiness. Skin has that hydrated glow and subsequent products seem to absorb better.
Where to buy
$35 to $60 for 168ml on RoseRoseShop, KoreaDepart, eBay, and Amazon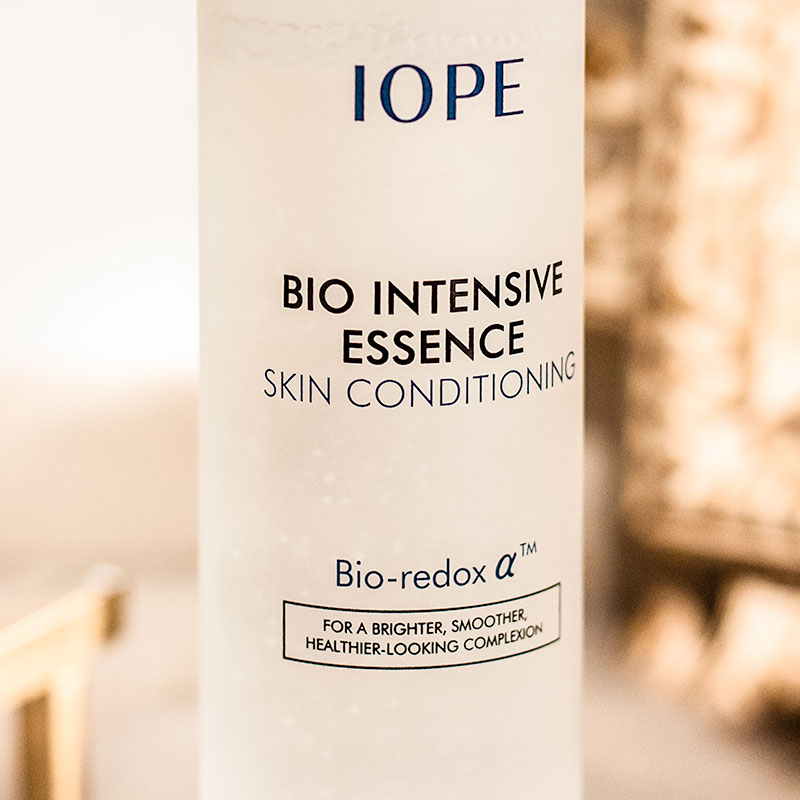 Ingredients Highlight
Saccharomyces Ferment Filtrate
, Water,
Niacinamide
, Glycerin, Propanediol, Butylene Glycol, Ketoglutaric Acid,
Saccharomyces Ferment
,
Glycolipids
, Natto Gum,
Green Tea Leaf Extract
,
Theanine
, Glycereth-26,
Adenosine
, Carbomer,
Caffeine
, Caprylyl Glycol,
Cholesterol
, Pentylene Glycol, Polyglycerin-3, Peg-8,Hydrogenated Lecithin, Potassium Hydroxide, 1,2-Hexanediol, Phenoxyethanol
full analysis here
Similar to the Neogen Real Ferment Micro Essence, the star ingredient is 85% Saccharomyces Ferment Filtrate (source) which has brightening + anti-aging properties. The superstar niacinamide is also common in Korean essences, but I want to highlight some of the less common ingredients:
Ketoglutaric Acid , aka α-Ketoglutaric acid, was found to increase collagen production which then helps reduce wrinkle formations in one study. There's not much info on this elusive ingredient, but we do know that it's one of the new ingredients added when IOPE reformulated this essence.
This new complex, Bio-Redox α™ was found to be more effective in improving the skin's health and resilience compared to the old Bio-Redox™. My guess is that the α could refer to the addition of α-Ketoglutaric acid.
Glycolipids and cholesterol are also added to the new formula. They're naturally a part of our moisture barrier and keep our skin properly hydrated. These ingredients give this essence a bit more emollience than your usual water based products.
Usage Experience
I originally used the IOPE Bio Intensive Essence as I would any other first essence: patting and massaging it into my skin after cleansing. Tried this for about 2 weeks and honestly noticed no difference other than a bit of hydration. Totally underwhelming.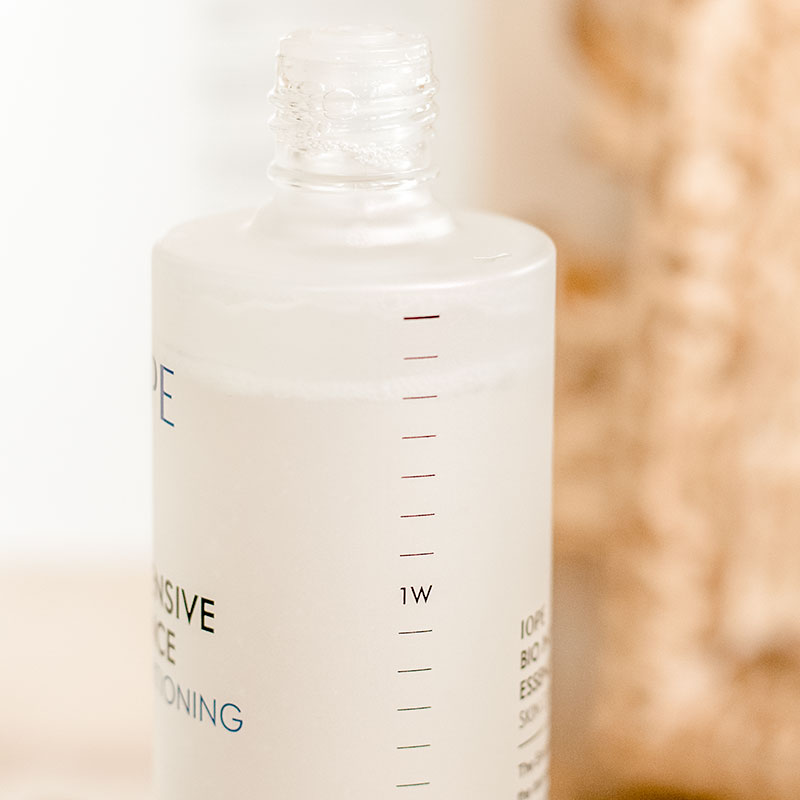 To be fair, the original instructions says to soak a cotton pad full of this and gently wipe + pat into the skin, and there are even markers on the bottle to show how much product to use each time.
I found this method a bit wasteful, so I compromised and used the essence with both an ionic facial massager and as an essence mask.
IOPE Bio Intensive Essence + Panasonic Ion Effector
This tool uses negative and positive ions + gentle heat + vibrations to help push ingredients deeper into the skin. I usually use this with sheet masks but you can get the same effect by attaching an essence soaked cotton pad to the tool.
Once I started using this method twice a day for a week, I started noticing the same results as my favorite SK-II FTE: brighter + smoother skin and less noticeable pores!
Unfortunately this method isn't very practical, as each massage session is 3 minutes. I could only do it the week I had work off.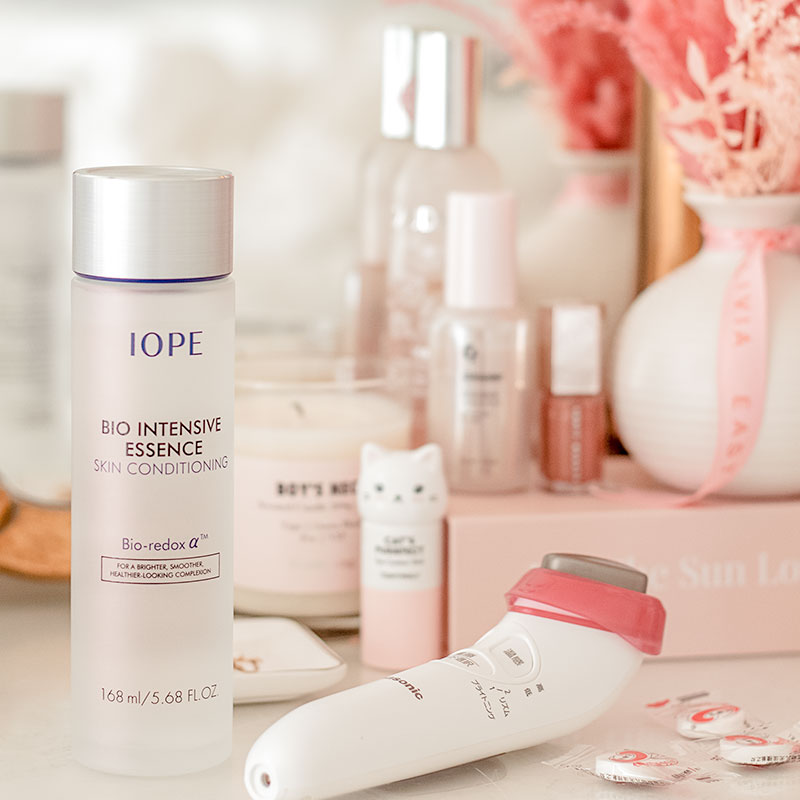 IOPE Bio Intensive Essence as an essence mask
This is easier to do. Just soak a compressed sheet mask or a couple cotton pads and apply the damp sheets to your face for about 3-5 minutes.
Learn more about essence/lotion masking here: Cotton pads – the only skincare tool you really need
Again, great results, and doesn't take as much time as a sheet mask. It's slightly more efficient than using the ionic facial tool because at least I can multitask while masking, but again, most of us don't have time to mask like this every day, twice a day.
Looking for a better facial essence alternative? 16 facial essences reviewed, and here are the best ones
Final Verdict
Packaging
Ingredients
Texture/Application
Performance
Price
If you have the time and ability to commit at least 3 extra minutes to your skincare routine, this is a fantastic dupe for the SK-II FTE! But honestly it's not just not a very efficient product and I prefer a product where I can see results from regular application methods, which is why I gave application only a score of 5.5. It's significantly less expensive than the SK-II though, so if you're on a budget but have a lot of time, the IOPE is worth a try!