Of all the supposed SK-II Essence "dupes" out there, the most famous is probably this Missha Time Revolution First Essence, now in its 5th generation. As someone who considers the SK-II a holy grail, I'm always curious if more affordable options can compare.
Quick Summary
Water-like texture with no noticeable scent
Easy to layer without any stickiness
Works best together with the Time Revolution Ampoule to strengthen skin resilience.
What is it
This firming and brightening essence helps maintain the skin's pH balance, delivers dense moisture, and offers basic strength care. The pure and potent skin-nourishing ingredients provide eight key skincare benefits: clarity, moisture, skin tone, texture, soothing, smoothness, hyperpigmentation, and protection.
How I use it
Twice a day after cleansing or exfoliating toner if I'm using one. I pour a quarter amount into my palms and gently pat into my skin.
Best suited for
Anyone looking for a hydrating first essence that improves skin resilience. Normal/combo/oily skin types can use this as a hydrating toner as well. Those prone to fungal acne should avoid as fermented ingredients may exacerbate symptoms.
Things to note
None, this is alcohol and fragrance-free!
Packaging
A frosted glass bottle with plastic lid. Similar to other first essence bottles.
Scent
None. It doesn't smell offensive like the SK-II essence either!
Texture
Water-like with a tiny hint of slip.
Finish
Natural finish, not sticky or shiny, it's like applying water on skin.
Price & Size
$54 for 150ml on Missha; $25 on Jolse; $45 on Stylevana (10% off with SHOPJENNY)
Ingredient Highlight
Water, Glycerin, Propanediol, 1,2-Hexanediol, Niacinamide, Yeast Ferment Extract, Diethoxyethyl Succinate, Bifida Ferment Lysate, Sodium PCA, Butylene Glycol, Ethylhexylglycerin, Adenosine, Xanthan Gum, Ceramide NP, Hydrogenated Lecithin
The formula has come a long way since the first generation, with a shorter ingredient list that focuses on its star ingredient: yeast ferment extract. specifically 97% Desert Cica Yeast Ferment. Except one issue, there's no information on what Desert Cica is outside of Missha's product description. Sounds like marketing fluff to me!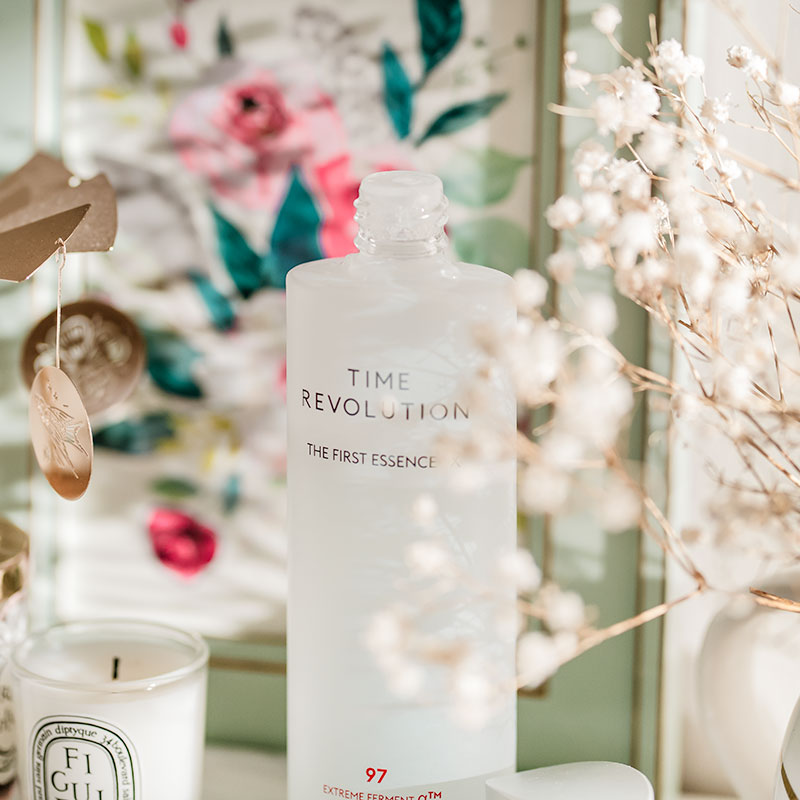 What we can be sure of though, is that the fermented extract was created using the probiotic Bifida Ferment Lysate, made famous in Estee Lauder's Advanced Night Repair Serum. EL claims it can help with DNA repair activity, but independent studies also show it can reduce inflammation and skin sensitivity1.
Other great ingredients include:
Niacinamide, a powerful ingredient that brightens, soothes, reduces fine lines, and increases ceramide production just to name a few. One of my favorite ingredients to see!
Sodium PCA is naturally found on our skin and helps hydrate by retaining moisture.
Ceramides, one of the building blocks of our skin's barrier that helps lock in moisture.
Adenosine is anti-inflammatory and can help with barrier repair and even collagen production!
Desert Cica ridiculousness aside, the ingredients are actually pretty good, but that doesn't answer the million dollar question: is the Missha Time Revolution Essence an SK-II dupe?
Missha Time Revolution First Essence vs SK-II
After testing this for 30+ days, I did not see the same refining and brightening results I saw with the SK-II. I even took a 10 day break from skincare (due to health issues) and hoped that the Time Revolution Essence would help with the resulting dullness, but sadly still nothing.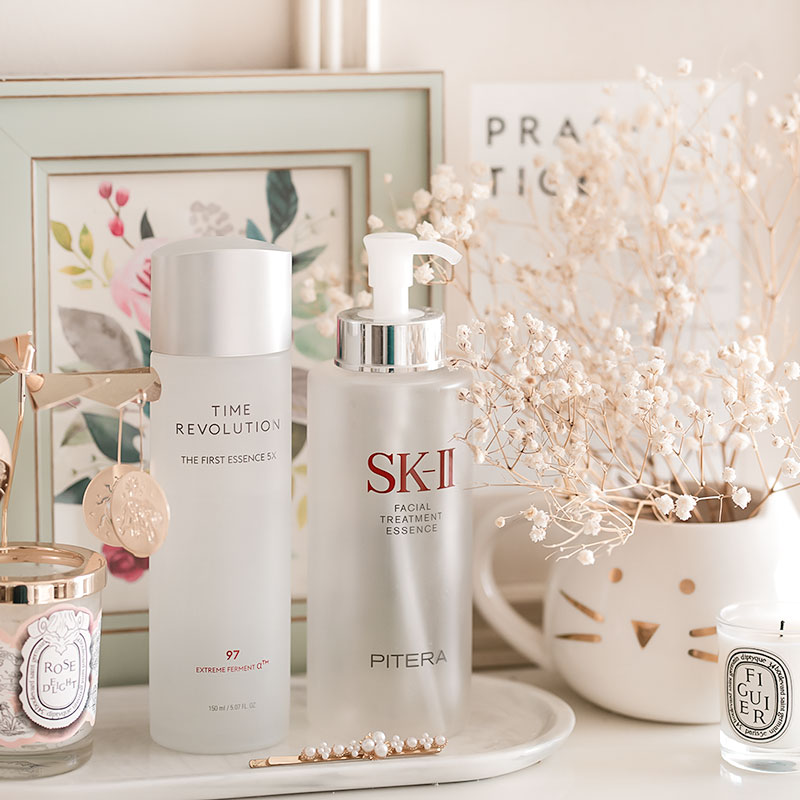 This isn't to say it's a bad essence. I did find it more hydrating than the SK-II and I've found my skin to be more resilient against retinol and acid usage. There's definitely less sensitivity, even when I use an exfoliating toner and my Curology in the same routine. If you don't have terribly dry skin, this essence can double as a hydrating toner too!
These results make sense because at the end of the day, the key ingredient between the two products aren't even the same! SK-II uses Galactomyces ferment filtrate, which is shown to reduce melanin synthesis2, minimize the appearance of pores3, and strengthen skin barrier4 – all changes I've noticed while using the product.
I think the biggest issue here isn't whether the the Missha Essence is an SK-II dupe, it's that the two never should've been compared in the first place, it's like comparing apple and oranges! Both have their pros and cons, go with what best fits your skin needs and budget instead.
Read more: Is SK-II worth it? Which products to try and which to skip
Missha Time Revolution First Essence vs IOPE Bio Essence
IOPE uses a different strain of fermented ingredient, Saccharomyces Ferment Filtrate, which interestingly is what Missha used in its previous formulas. According to manufacturer info it helps moisturize and nourish the skin, but there's also promise that it can help prevent the breakdown of collagen and elastin5 in our skin.
As with the Missha, I found the IOPE hydrating with regular use, but didn't seen any improvement to skin resilience. I did get good brightening results masking with the IOPE though, something I haven't been able to replicate with the Missha.
Full review: IOPE Bio Intensive Essence Conditioning review
Again, different key ingredient, different benefits, hence different results. Between the two, I personally prefer the Missha Essence.
Missha Time Revolution First Essence vs Secret Key
Now the Secret Key is my favorite affordable essence and the closese I've found to the SK-II, and that's because both feature Galactomyces Ferment Filtrate as their key ingredient. Missha and Secret Key both also include Niacinamide and Adenosine, so again it all comes down to which features you prefer.
Read more: 19 first essences compared, and here are my favorite ones
Final Verdict
Ingredients
Packaging
Texture/Application
Performance
Price
Treat this first essence as its own product and not a dupe for the SK-II, and you'll likely enjoy this. I still prefer the results from the latter, but I can't deny that I'm seeing improvements in skin health and resilience from using this Missha essence regularly. While I won't be repurchasing this for personal reasons, I do think it's a worthy essence to try, especially since its use of Bifida ferment filtrate is unique among Asian brands. Definitely buy it on sale or from Korean retailers to get the best price!
Article Sources
To keep my content accurate and trustworthy, I rely on peer-reviewed studies, articles from reputable academic institutions, and quotes from certified healthcare professionals to back my claims. No woo-woo clickbait nonsense here!