I'm a big fan of the SK-II Facial Treatment Essence, and for years I've been on the search for another first essence that could rival the SK-II in efficacy.
No luck until I recently started trying the Neogen Real Ferment Micro Essence and it's perfect partner, the Neogen Real Ferment Micro Serum!
What is fermented skincare?
Much like the SK-II FTE and other Asian skincare essences, the Neogen Real Ferment line also features fermented ingredients as its actives. The idea is that via the fermentation process, the actives are further broken down into smaller molecules, releasing components like amino acids and antioxidants.
So not only are we getting more nutrients from fermented ingredients, but our skin can better absorb them!
Here's a quick look at the fermented ingredients featured in the Neogen Real Ferment line:
Bifida Ferment Lysate – a probiotic that's been shown to increase moisture retention, skin resiliency, and decrease sensitivity1, resulting in generally healthier skin/ Another study shows that it can protect against UVB damage2.
Saccharomyces Ferment Filtrate – A fermented yeast extract that's full of vitamins, amino acids, and peptides that can moisturize, protect, and brighten the skin and increase collagen production3,4.
Rice Ferment Filtrate (Sake) – Studies show that it can protect against UV damage, improve skin elasticity and barrier function5,6,7.
Aspergillus Ferment – Rich in polyphenols that provide antioxidant benefits to the skin. One study found it to be more effective against free radicals than superoxide dismutase (SOD)8.
Neogen Real Ferment Micro Essence review
What is it
A deeply hydrating and brightening essence that contains more than 93% naturally fermented ingredients to deliver instant moisture and skin-plumping benefits.
How I use it
Twice a day immediately after cleansing. I pour a dime-sized amount into my palms and massage into my skin. I then pat gently until product has been absorbed.
Best suited for
All skin types except those prone to fungal acne, which can be made worse by fermented ingredients.
Things to note
Alcohol and fragrance-free.
Packaging
Like water. There's no noticeable slip or viscosity. Absorbs instantly into the skin.
Scent
Natural with no noticeable shine or stickiness. You use multiple layers for additional hydration.
Texture
A light gel that bursts into a water-like texture once you apply it on the skin.
Finish
Natural with no noticeable stickiness.
Where to buy
$24 for 150ml on StyleKorean, $30 on YesStyle (get 5% off with code GEEKYPOSH), and $38 and Sokoglam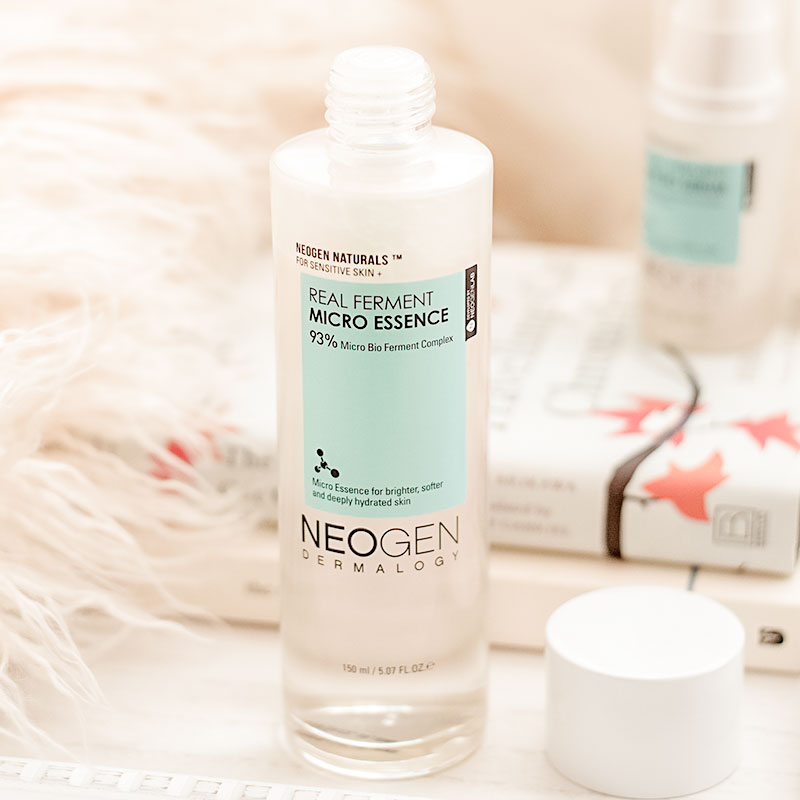 Despite the water-like texture, I found this essence slightly more hydrating than my SK-II FTE thanks to the birch juice and hyaluronic acid. There's also green tea extract and allantoin to help soothe the skin. Full ingredient analysis here.
In terms of skin refining results, the SK-II still wins, but let me tell you…the brightening abilities of this essence paired with the serum absolutely blew my socks off!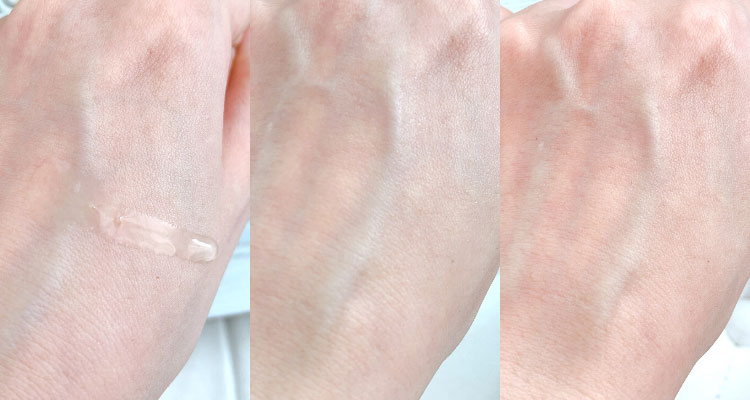 Curious how this compares with other facial essences? I reveiewed 16 different facial essences, and here are the best ones
Neogen Real Ferment Micro Serum review
What is it
A follow-up to the intensely hydrating Micro Essence, the micro serum delivers a concentrated boost of nutrients and antioxidants to skin.
How I use it
In the evenings, I use this after my Peter Thomas Roth Pro Strength Retinoid Peptide Serum* following the best practices in skincare layering. In the mornings I use this right after the Micro Essence.
Best suited for
All skin types looking for a brightening boost. Those with fungal acne will want to avoid due to the high % of fermented ingredients.
Texture
A delightful light gel that spreads easily and absorbs quickly into the skin.
Finish
Instantly softer and smoother skin thanks to the silicones, but no stickiness or shine. Layers well under other products without pilling.
Available For
$32 for 30ml on YesStyle (get 5% off with code GEEKYPOSH), $38 on StyleKorean and Soko Glam,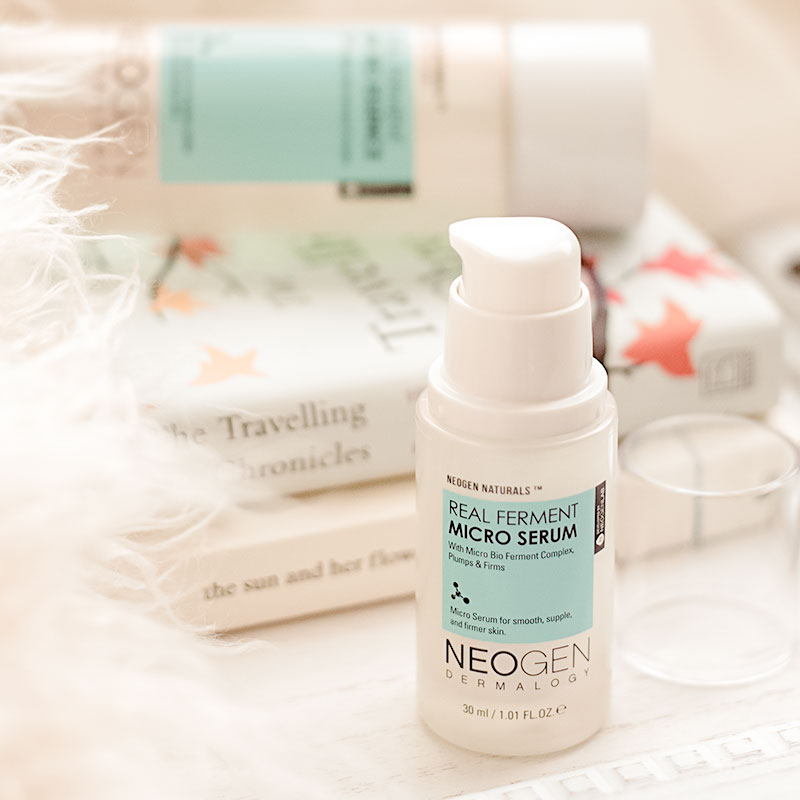 The true star of this duo for me. My skin has been looking dull since finishing up my favorite SK-II Genoptics Aura Essence, so I tried this on a whim, and I kid you not I woke up the next day with glowing skin!! ✨
I thought it was a fluke at first, but ever since I've introduced the Micro Essence and Micro Serum in my routines my skin has become noticeably brighter and more radiant! Soko Glam calls it the "honey skin" look, and I'm ???? here for it.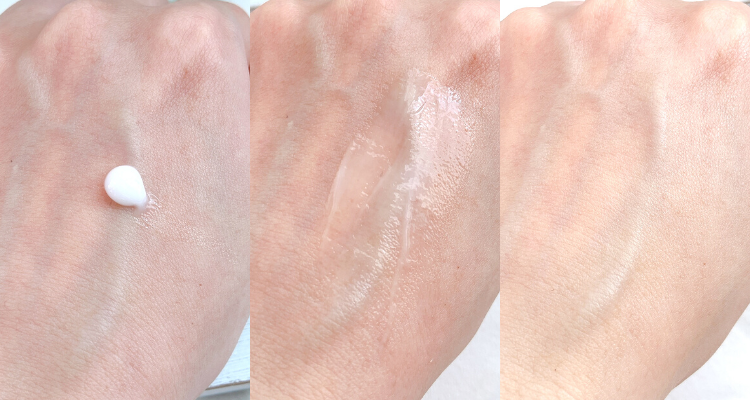 I also tried switching out the Micro Essence with the SK-II FTE, and I noticed that the next-day brightening effects aren't as noticeable. Clearly Neogen designed the duo to work together, and while I usually like to mix and match products from different brands, I'll happily make an exception here!
Neogen Real Ferment Micro Serum vs SK-II Genoptics Aura Essence
Neogen Real Ferment Micro Essence
$32/30ml
Features 61% fermented ingredients (Bifida Ferment Lysate, Saccharomyces Ferment Filtrate, Rice Ferment Filtrate (Sake), and Aspergillus Ferment), plus Birch Juice, Niacinamide, and Vitamin C (ascorbic acid)
A light gel texture
Works best with the Micro Essence
Skin has a noticeable glow the next day, and remains bright and radiant with continued usage
SK-II Genoptics Aura Essence
$191/50ml
Features Pitera (Galactomyces Ferment Filtrate), Niacinamide, Undecylenoyl Phenylalanine, and Vitamin C (ascorbyl glucoside)
A milky emulsion texture
Works well independently
Saw noticeable skin tone improvements over time. After 2-3 weeks skin was noticeably brighter and
had a healthy glow
.
In terms of brightening my skin tone in the long run, so far I think the SK-II still performs better. But factor in the price and the Neogen serum becomes the clear winner! I will definitely be repurchasing the serum once I finish!
Final Verdict
Packaging
Ingredients
Texture/Application
Performance
Price
The essence is a nice hydrating option with subtle brightening effects, but the true star of this duo is the serum. The brightening effects comes a close second to my original hg, the SK-II Genoptics Aura Essence, but at a fraction of the price! For best results I recommend using the essence and serum together, but if you're just looking for an affordable brightening serum, definitely give the Neogen one a try!
Article Sources
To keep my content accurate and trustworthy, I rely on peer-reviewed studies, articles from reputable academic institutions, and quotes from certified healthcare professionals to back my claims. No woo-woo clickbait nonsense here!