As someone with type A personality, I'm easily stressed. In comparison I think my skin may be type AA personality, because not only does it get stressed when I'm stressed, but there are lots of other factors that can stress it out as well. So today I'm sharing 7 awesome skincare ingredients that can help destress our skin and bring it back to its optimal state.
Signs of Stressed Out Skin
So how can you tell your skin is stressed out? The most obvious sign is when your skin isn't being itself, which often includes one or more of the following symptoms:
it's red or may have red splotches
it looks dull and may feel rough
it feels itchy
it feels extra warm, and or hot
it feels tight and may be flaking
Things that can stress out your skin may be external factors like extreme weather conditions or over-exfoliating, or it can be internal factors like hormones, illness, or when you're just feeling stressed in general!
The 7 Super Ingredients
The best way to prevent stressed out skin is to obviously avoid these situations and environments in the first place, but in the case it does happen, you can rely on the following 7 ingredients to soothe and restore your skin:
Calendula extract – Promotes the fast healing and regeneration of the skin thanks to its anti-inflammatory and antibacterial properties (source). This is an excellent ingredient for oily/combo skin types due to its mild properties.
(German) Chamomile extract – One of the best ingredients for sensitive skin due to its strong anti-inflammatory properties. It can help reduce redness and swelling in the skin. Look for ingredient names like

azulene

or

bisabolol

, which are both extracted from the chamomile.
Centella Asiatica extract – A medicinal herb that's been used to treat a variety of skin conditions, it also helps with wound healing by increasing the production of collagen, decreasing inflammation, and reducing scarring in our skin (source).
Snail secretion filtrate – While not anti-inflammatory itself, it does contain a bunch of beneficial enzymes and peptides that help hydrate and repair damaged skin. Studies have shown that photoaged skin saw improvement when treated with snail goo (source).
Propolis – Another wonderful product from bees, propolis contains hundreds of antioxidants that help protect and heal our skin. It's also anti-bacterial, antiviral, anti-fungal, and anti-inflammatory. No wonder beehives (made with propolis) is one of the most sterile environments on earth.
Aloe vera – Need I say more? I think we're all well aware of its soothing and anti-inflammatory properties. It's definitely worthy of being a super ingredient, as it really does it all: hydrates, protects, heals, and even has anti-aging properties!
Tranexamic acid – You may recognize this as a brightening ingredient, but did you know it can also help restore damaged skin caused by UVA/UVB, pollution or other environmental factors (source)? Due to its anti-inflammatory and hypoallergenic properties, it was originally used to treat skin conditions like eczema and hives.
13 product recommendations
Now you know which ingredients to look out for, here are 13 products that contain these star ingredients: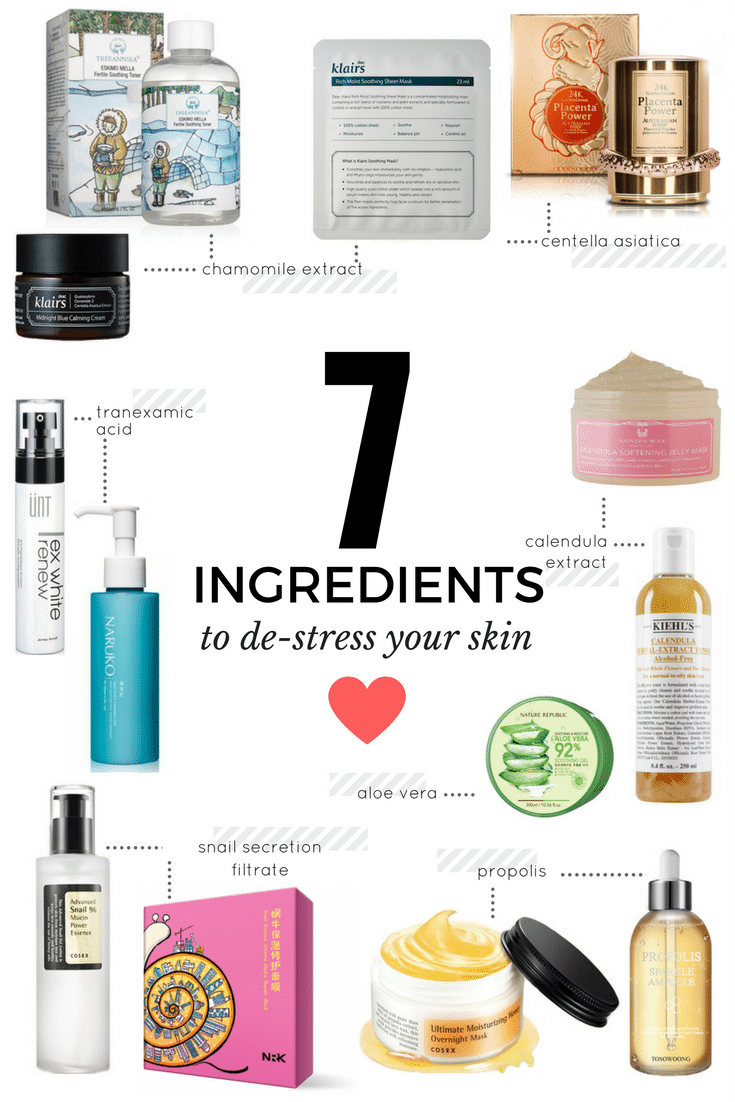 A few of these products, like the Klairs Midnight Blue Calming Cream and the COSRX Snail Essence have already been reviewed on the blog. Others like the COSRX Honey Overnight Mask and Annie's Way Calendula Jelly Mask are products I've praised in various posts, and the rest are ones I'd like to add to my routine in the future.
If you have sensitive skin or just easily stressed skin (like me), it's always smart to have a destressing product in your skincare wardrobe, just in case. Or next time when you're shopping for skincare products, check the ingredient list to see if it includes any of these ingredients! For a complete destressing routine and more tips, check out my guide for troubled skin!
Hope you found this helpful, and let me know if you've tried any of these ingredients and/or products!