I had low expectation for this because honestly the name had me all sorts of perplexed. But now, let's just say the May Coop Raw Sauce is now one of my top 3 hydrating product picks!
Quick Summary
Viscous texture feels hydrating without being sticky.
Incredibly hydrating, even with alcohol in the ingredients.
Works as well or even better than some hydrating serums!
Overview
What is it
A gentle toner, emulsion and essence in one that intensively hydrates and nourishes the skin
Best suited for
All skin types that wants extra hydration sans stickiness. May not be suitable for those sensitive to alcohol.
Things to note
Contains alcohol but is the complete opposite of drying. I don't find it irritating either.
Packaging
A frosted glass bottle with a plastic cap. Feels quite luxe and I like the minimal aesthetics.
Scent
A slightly smoky yet sweet scent. Think burnt maple syrup. It's very faint and dissipates quickly.
Texture
Like water but with noticeable slip. Feels thicker than your typical first essence.
Finish
Dewy on initial application but quickly absorbs and dries down to a natural finish.
Available For
$43/150ml on Peach & Lily, a 40ml mini is also available for $15; $34 on May Coop US; $36 on Jolse
Ingredients Highlight
Sugar Maple Sap is the star ingredient here at 79%. I know, you're thinking "but my skin isn't pancake, why am I putting maple syrup on my face?" Well a study1 found that it's actually full of antioxidant polyphenols, plus maple sap molecules are smaller than water molecules which makes them easier to absorb! Unfortunately there aren't too many other studies out there, but it looks like a promising ingredient.
Soybean Extract are also full of antioxidants, plus they contain soy proteins – the larger ones help soften and smooth the skin while the smaller ones prevent hyperpigmentation.
Wheat Flour Extract, Rice Bran Extract, and Rice Extract are all ingredients from whole grains, which in general provide some antioxidant and anti-inflammatory properties. The bran can also include minerals, fatty acids, and moisturizing polysaccharides.
Chestnut extract is another lesser seen ingredient but studies2 have shown that its antioxidant properties are on par with vitamin e while providing a hydration boost to the skin. Research also found it can protect the skin against UV damage.
Other antioxidant ingredients: grape fruit extract, centella asiatica extract
Other hydrating/soothing ingredients: hyaluronic acid, panthenol, amino acids, sodium lactate, sodium gluconate
My personal thoughts
While the top ingredients aren't the most well researched when it comes to antioxidants and humectants, they are supported by a well rounded mix of proven ones. As usual, I don't fuss over the ingredients too much unless it's absolutely stellar or terrible, what matters more are the results.
Full Ingredient List
Sugar Maple Sap, Butylene Glycol, Glycerin, 1,2-Hexanediol, Water, PEG-8, Sea Water, Soybean Seed Extract, Wheat Flour Extract, Rice Bran Extract, Rice Extract, Corn Germ Extract, Pinus Sylvestris Bark Extract, Betula Alba Bark/​Leaf Extract, Black Currant Fruit Extract, Olive Fruit Extract, Vaccinium Vitis-Idaea Fruit Extract, Chestnut Bark Extract, Grape Fruit Extract, Sodium Hyaluronate, Biosaccharide Gum-4, Centella Asiatica Leaf Extract, Fructan, Creatine, Panthenol, Caprylyl Glycol, Sodium Gluconate, Sodium Lactate, Propylene Glycol, Sodium Chloride, Arginine, Carbomer, Hydroxypropyl Methylcellulose, PEG-60 Hydrogenated Castor Oil, Tocopheryl Acetate, Parfum
How To Use
The brand describes this as a toner, emulsion, and essence in one, which might leave you confused as to how to actually use this. Here are my tips:
Dry Skin – Use this as you would a hydrating toner, after cleansing and any acid toners or first essences. I pour a quarter size into my palm and gently pat into my skin. Will apply a second layer when my skin is extra dry.
Normal Skin – Depending on how your skin is feeling, you can use this as a hydrating toner OR as a hydrating serum.
Combination Skin – You can apply this as hydrating serum or a toner on areas that are dry
Oily Skin – You can use this as a hydrating serum or even as an emulsion after your usual serum step. Don't let the texture fool you, it's surprisingly moisturizing yet still lightweight!
I personally enjoy this the most as a hydrating toner but I've tried all the methods above and it's just a product that works well no matter which step you use it in!
Experiment with different ways and see what works best for you!
Pros & Cons
✅ Noticeable moisturizing results
You know how juicy your skin looks and feels after a good sheet masking session? That's what the May Coop Raw Sauce delivers after a few uses! Fine lines are less noticeable, skin looks brighter and feels plumper, all signs of well hydrated skin!
For its moisturizing results alone this has made it into my 2021 favorite skincare discoveries, yes it's that good.
✅ No sticky or oily texture
Not that oily textures are inherently bad, but it's rare to find an intensely moisturizing product with such an elegant texture. Others with similar results usually feel heavier or leave a tacky finish, and those with the same lightweight texture just don't have the same wow factor.
✅ New formula is alcohol-free!
The original formula had 93% sugar maple sap but also alcohol, which I know some people are iffy about. While this new version is down to 79% maple sap, it keeps the same elegant texture and finish without alcohol – sensitive skin types rejoice!
✅ Helps subsequent products absorb better
Which is better at absorbing products? A damp sponge or a dry one? Our skin is similar in that hydrated skin will help with subsequent product absorption. Now some hyaluronic acid serums may hydrate but they're also prone to pilling, which makes layering products tough – not the case with the raw sauce though!
❌ Risk of being discontinued
May Coop Raw Sauce was one of the first K-beauty products to enter the US, yet for a while it completely disappeared and people were wondering if the product was discontinued! Luckily they eventually came back with this improved formula that is just *chefs kiss*. Let's just hope they don't ghost us again!
Product Comparisons
May Coop Raw Sauce vs Hada Labo Gokujyun Hyaluronic Lotion
Hada Labo is one of the most well-known hydrating toners and features 3 types of hyaluronic acid to draw moisture to the skin. They both have similar textures but Hada Labo can feel sticky if you use too much. May Coop works better for me, but Hada Labo is an affordable option at $14/170ml!
May Coop Raw Sauce vs Klairs Supple Preparation Facial Toner
The original Klairs Toner feels like the lighter version of May Coop – it has a lighter texture and is less nourishing, but still hydrates well. I prefer the original version but super oily skin types might like the unscented which somehow feels even lighter.

May Coop Raw Sauce vs Innisfree Firming Energy Essence
Both feature soybean extract as a key ingredient, and the Innisfree delivers even more of that plumping action, though it doesn't feel quite as hydrating as May Coop. Innisfree is lighter and has a silky finish which feels lovely on the skin.
May Coop Raw Sauce vs Laneige Cream Skin Refiner
The Laneige Cream Skin is still a favorite for my dry skin, but it can feel heavy for oilier skin types due to the cream content within. If you want mostly hydration with some nourishment, May Coop is definitely the better choice. But if you need lots of moisture and nourishment, go with Laneige.
Read more: 19 facial essences reviewed, and here are the best ones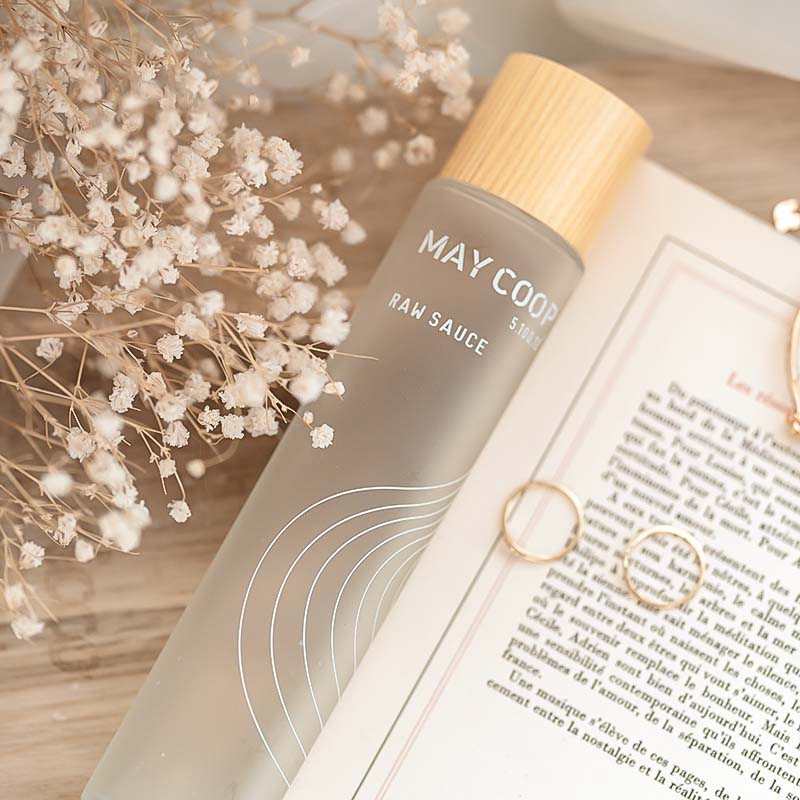 Final Verdict
Ingredients
Packaging
Texture/Application
Performance
Price
So I personally love this, it delivers amazing results for me and is absolutely worth the price, especially when compared to hydrating serums. BUT there are a lot of excellent hydrating toners out there already as I listed in the product comparison, and I honestly don't think you can go wrong with any of them.
If you already have a favorite, the incremental hydration from the May Coop Raw Sauce might not wow you as much. But if you're still searching for your hydration holy grail, please give this one a try!
FAQs
Is May Coop Raw Sauce cruelty-free?

No, since they have physical stores in China.

Is May Coop Raw Sauce vegan?

There's no mention of vegan ingredients on both the US or Korean website so it's best to assume no.
Article Sources
To keep my content accurate and trustworthy, I rely on peer-reviewed studies, articles from reputable academic institutions, and quotes from certified healthcare professionals to back my claims. No woo-woo clickbait nonsense here!
Abou-Zaid, M. M., et al. "High-Performance Liquid Chromatography Characterization and Identification of Antioxidant Polyphenols in Maple Syrup." Nrcan.gc.ca, 2021, cfs.nrcan.gc.ca/publications?id=28297.

Baumann, Leslie. "Chestnut Extract." Mdedge.com, 14 Jan. 2019, www.mdedge.com/dermatology/article/106969/aesthetic-dermatology/chestnut-extract.