As someone with combination skin, I'm always a bit hesitant when a product advertises itself as an intense repair cream for very dry skin. But it's winter, half of my face is super dry, and I got the travel size of the First Aid Beauty Ultra Repair Cream in my Sephora Customizable Skin Care & Hair Gift Set, so heck, why not.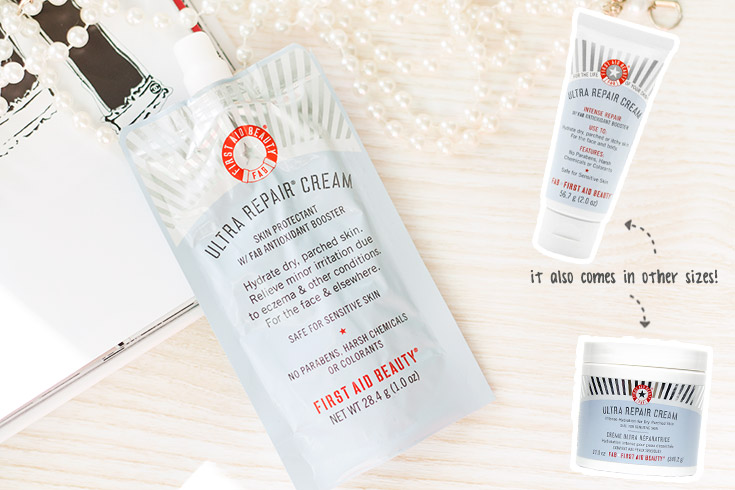 What is it

A head-to-toe moisturizer that instantly soothes the skin and increases hydration by up to 169% immediately upon application.

How I use it

Morning and evening, I apply a small amount on my cheeks, eye area, and mouth area after my regular moisturizer. If my skin still feels dry, I'll apply a second layer.

Best suited for

Dry, distressed, sensitive, and/or itchy skin

Key ingredients

colloidal oatmeal (0.5%), shea butter, squalene, allantoin, ceramide 3 – full ingredients on CosDNA

Irritants

No parabens, artificial fragrances, colorants, or mineral oil. Glyceryl Stearate SE ranks 3/5 as a potential acne trigger.

What I love

Great ingredients, really does hydrate + sooth the skin, absorbs fast, excellent value

What I dislike

No fragrance (though they have a scented version now!), potential acne trigger, pills like nobody's business when used over oils and certain serums

Size & Price

$6.50 – $34, depending on size

Where to buy
I love that this contains colloidal oatmeal, an FDA-approved ingredient to treat symptoms of eczema like itchiness, redness, and dry + scaly skin. While I don't have eczema, the cold weather does make my skin dry and itchy. I've used body lotion with colloidal oatmeal and it worked great for my arms, but this is my first time using it on my face. Luckily, it worked just as well as I had hoped – any dryness and itchiness were instantly soothed.
Ceramide 3 is another ingredient I love, especially in the winter time as it helps fortify and protect your skin's moisture barrier. Shea butter, squalene, and allantoin are all excellent hydrating ingredients as well, making this truly a dry-skin savior from an ingredients perspective.
For a product with such an intense name, it's surprisingly not heavy. It's a medium weight cream that spreads and absorbs into the skin very quickly, even when applied over another moisturizer. I follow the targeted application approach and use this as a secondary moisturizer on my cheeks, eye area, and mouth area where my skin is drier. Since it does have a potential acne trigger, I'm hesitant to apply this on my t-zone where my skin is on the oilier side, though I've yet to break out at all from this product.
If you have dry skin all over, you can definitely use this as your main moisturizer. It doesn't feel heavy, yet it does a great job of hydrating and soothing your skin. When my skin is feeling dry or itchy throughout the day, I'll apply this as a spot treatment, and the relief is pretty much instant.
Since this is an all-over moisturizer and not too expensive, I'll use this on my hands as well. I find that it hydrates better than regular hand creams, yet it doesn't leave a film or greasy finish. The only downside for me is its lack of fragrance, but the good news is that they've recently released a version with citrus + vanilla essential oils! Sensitive skin folks will probably want to stick to this original unscented version though.
01/10/17 Update: Unfortunately I've also found that this cream pills like crazy when applied over oils and certain serums, most likely due to the dimethicone. As someone who loves facial oils, this simply won't do. Sadly I will have to adjust the rating to reflect this finding.
Final Verdict
Packaging

Ingredients

Texture/Application

Performance

Price
The First Aid Beauty Ultra Repair Cream is an excellent moisturizer for relieving dry and itchy skin without being too heavy. My skin definitely feels softer and more hydrated as a result of this product, just make sure you don't apply this over any facial oils and be careful when applying over serums to avoid any pilling. A little goes a long way as well, so you're going to get a lot of use out of the product, even at the travel size - yay for great value!
I can't believe this was my first time trying First Aid Beauty products, but now I'm sold on the brand and want to try everything else! Have you ever tried their products before? Or if you have a favorite dry winter skin savior that you love, let me know!