I've tried several popular acid toners these past few years, from the iconic Pixi Glow Tonic (a supposed dupe of the BR Lotion P50) to the K-beauty version By Wishtrend Mandelic Acid 5% Skin Prep Water, but none really sold me until I started using the Biologique Recherche Lotion P50W.
Overview
What is it
A part of the famous Biologique Recherche Lotion P50 range, P50W is a toner, exfoliator, hydrator, and rejuvenator specially formulated for sensitive and acne prone skin.
Best suited for
Sensitive skin and/or acne-prone skin that struggle with stronger exfoliants but still want something effective.
Things to note
Capsicum Frutescens Fruit Extract, aka Cayenne Pepper extract, contains capsaicin which can be a skin irritant. But according to Dr. Nicholas Perricone, it can also increase blood circulation and improve skin tone and firmness. Arnica Montana Flower Extract can was found to be an irritant in one study1, but other tests2 found no signs of skin sensitivities. Lastly this is an acid toner with low pH, which by nature can be irritating. But otherwise alcohol-free, fragrance-free, and paraben-free.
Packaging
A white plastic bottle with a label design that looks like it hasn't changed since the 70's. It's not the prettiest thing, but the retro aesthetic grows on you.
Scent
Sour, like vinegar, probably because it does contain vinegar. It's definitely the most repulsive smelling product in my stash (tied with drool-scented SK-II FTE), but luckily it's not too strong and dissipates quickly.
Texture
Like water. Stinky water.
Finish
A natural finish with no noticeable shine, stickiness, or stinky-ness (thank God).
Where to buy
$28 for 1.7oz, $67 for 5.1oz at Toska Spa, Rescue Spa, and Vicki Morav
Ingredient Highlight: Why the Lotion P50W stands out
Most of the acid toners out there use glycolic acid, which one of the most effective and researched AHA (alpha hydroxy acids – water soluble ingredients that can remove dead skin cells from our skin's surface) out there.
Unfortunately after trying out so many exfoliants, I've come to the conclusion that my skin just doesn't tolerate glycolic acid and prefers lactic acid. Here's a quick comparison of the two:
Lactic Acid
larger molecules that penetrate less effectively
✔ more gentle on the skin
✔ great anti-aging properties: can improve skin firmness, thickness, and decrease appearances of fine lines
less research on collagen production increase
✔ can help fade hyperpigmentation
✔ improves the skin's natural moisturizing factor
Glycolic Acid
smaller molecules that penetrate the skin more effectively
can be more irritating
✔ has the same great anti-aging properties
✔can increase collagen production
✔ effective against hyperpigmentation
no impact on skin's moisture level
In addition to lactic acid, Lotion P50W features gluconolactone, a PHA (polyhydroxy acid) that can also help remove dead skin cells. It has the same benefits as lactic acid, but has much larger molecules, meaning it's even gentler!
The combination of the two means you have an exfoliant that is gentler and more moisturizing than traditional AHA/BHA blends.
Sulfur is an interesting ingredient that we rarely see in exfoliants, but if you've tried those pink powder blemish treatments that smells like trash, you've used sulfur before. It's a great anti-inflammatory + antibacterial ingredient, making it suitable for acne-prone skin. While I don't get breakouts often, I do like having this extra bit of protection to keep acne at bay!
Vinegar is basically a 5% acedic acid solution from fermented ethanol. While not a common ingredient, it does have some anti-bacterial and anti-microbial properties3.
Full ingredients
Water, Gluconolactone, Glycerin,
Niacinamide
, Propylene Glycol,
Lactic Acid
, Ethoxydiglycol, Magnesium Chloride, Malic Acid, Vinegar, Phytic Acid, Citric Acid, Quillaja Saponaria Bark Extract, Horseradish Root Extract, Capsicum Frutescens Fruit Extract, Arnica montana Flower Extract, Sulfur, Allantoin, Sodium Salicylate, Serine, Urea, Sorbitol, TEA-Lactate, Sodium Lactate, Sodium Benzoate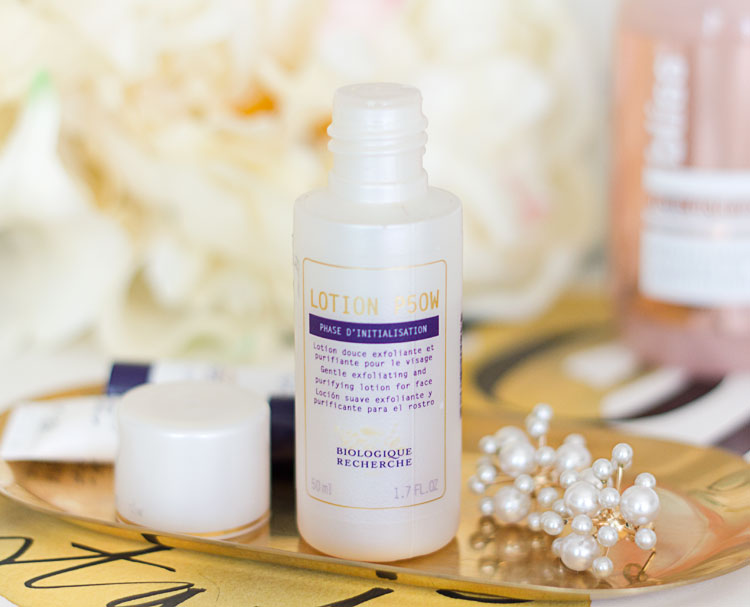 How to use it
Exfoliating toners should be used immediately after cleansing on dry skin, before all your other skincare products.
A dime sized amount is enough for my face and I gently pat it into my skin until absorbed.
For a stronger exfoliation, apply to a cotton pad and gently wipe in an upwards motion.
At most I use this once a day in the evenings, skipping it if I'm using other actives like prescription tretinoin.
Always apply sunscreen the next day!
Experience + Results
Unlike past acid toners, the Lotion P50W did not sting on application, which is already a huge winning point for me. While dermatologists say the stinging is a sign that the product is working, I prefer my skincare routine feel pleasant instead of painful.
Despite its gentleness, I noticed results within a few days: my skin was smoother, more refined, and radiant. It's similar to the effects I first experienced with the SK-II First Treatment Essence, but much quicker and more noticeable (and less expensive).
Unfortunately I would still get the occasional breakouts, so I'm not sure if the sulfur helps with prevention, but my breakouts do heal faster.
I've been using this for 2+ months now, and my overall skin texture and luminosity has improved to the point where I'm comfortable going foundation free again.
I shared my routine on Instagram recently and I'm sure every product contributed to the great results, but the Lotion P50W was definitely the heavy hitter here.
A couple things to keep in mind to get the most out of your Lotion P50W (or any acid toner):
Moisturize, moisturize, moisturize! Using products with plenty humectants and emollients can help avoid flaking and inflammation. I love layering the Laneige Cream Skin Refiner after this, the two together are perfection.
Don't use it with any other exfoliants. That means no retinol, no other acid toners, no vitamin c in the form of ascorbic acid, and no physical scrubs on the same day. If you're just starting out it might be best to avoid other exfoliants completely and let your skin rest a day between uses. The danger of overexfoliation is very real, and the damage is not worth the benefits.
Sunscreen is a must. Acids make your skin more sensitive to the sun, so it's even more crucial that you wear a sunscreen with UVA and UVB protection, and make sure you apply the correct amount! I have a big post all about sunscreen, and there's also a sunscreen recommendations post if you need a good one!
Now Biologique Recherche has 4 different versions of their acid toner, and Lotion P50W is the gentlest of the 4, so I recommend starting with that if you're new to exfoliating or just prefer something gentle. I also have the P50V which is for mature/dry skin and will be trying that next!
Final Verdict
Packaging

Ingredients

Texture/Application

Performance

Price
If you're struggling to find an acid toner or exfoliant that's gentle and effective, this is it. Given that I actually swore off exfoliating for a while, I'm seriously impressed to find an acid toner that's good enough to make me want to commit to it regularly. I also love that Biologique Recherche has multiple versions of their lotions, so while the P50W is perfect for me, you might find a different version more suitable for your skincare needs! Their products are sold through spas, so before purchasing online you can easily get recommendations from an esthetician, which I highly recommend. Start with the small bottles, you won't be disappointed!
Article Sources
To keep my content accurate and trustworthy, I rely on peer-reviewed studies, articles from reputable academic institutions, and quotes from certified healthcare professionals to back my claims. No woo-woo clickbait nonsense here!
Hofmann, Ute, et al. "A Sensitive Sensor Cell Line for the Detection of Oxidative Stress Responses in Cultured Human Keratinocytes." Sensors, vol. 14, no. 7, June 2014, pp. 11293–307, https://doi.org/10.3390/s140711293.

"Final Report on the Safety Assessment of Arnica Montana Extract and Arnica Montana." International Journal of Toxicology, vol. 20, no. 2, Jan. 2001, pp. 1–11, https://doi.org/10.1080/10915810160233712.

Nagoba, B. S., et al. "Acetic Acid Treatment of Pseudomonal Wound Infections – a Review." Journal of Infection and Public Health, vol. 6, no. 6, Dec. 2013, pp. 410–15, https://doi.org/10.1016/j.jiph.2013.05.005.