I usually don't care for sleeping masks, but I was intrigued by the Klairs Freshly Juiced Vitamin E Mask's bouncy texture and its promises to brighten + hydrate + prevent aging. But this one is so much more!
What is it
A multifunctional product that can be used as a mask, sleeping pack or daily moisturizer, fortified with the antioxidant power of vitamin E.
Best suited for
All skin types, though it does contain small amounts plant oils and extracts, so be careful if you're sensitive to those.
Packaging
A plastic jar with a spatula. Nothing fancy, and I'm low-key annoyed that the silver in the label is rubbing off, a trend I've noticed in Klairs products.
Scent
A very faint lemon scent that reminds me a little lemon meringue pie…yum…
Texture
Klairs says it has a custard-like texture, but it reminds me more of jello. The official name for the texture is "shape memory cream", which means it remembers its original shape and binds tightly to the application surface, ie. skin.
Finish
Slightly tacky at first, but eventually it dries now. It doesn't absorb completely, but rather it forms this barrier-like film that really helps lock in moisture.
Where to buy
$27 at Wishtrend, YesStyle (5% off with code GEEKYPOSH), SokoGlam, Ulta
How to use the Klairs Freshly Juiced Vitamin E Mask
Note to self: always read the instructions carefully before using the product (thank you for the reminder Shireen!). I assumed from the name that this was a sleeping mask, and while that's partly true, it's truly a multipurpose product that can be used in so many ways:
As a moisturizer. I did try to use this in the morning, but I think I used too much and ended up with a few spots :( But if you have really dry skin this would work well, and you could even mix in a serum/facial oil to make it more nourishing.
As a sleeping pack/mask. This is how I've been using it. I like layering my facial oil underneath, and then a layer of the LRP thermal water. Seriously this method makes my skin so plump + hydrated the next morning!
As a standalone mask. Personally I wouldn't recommend this method as you'd need to use a lot of product, and it'd be a shame to wash all this goodness off after 30 minutes.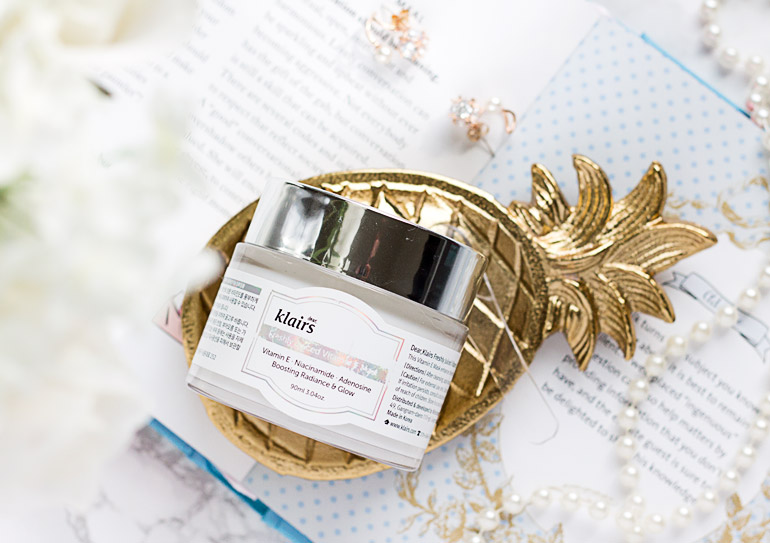 Klairs Freshly Juiced Vitamin E Mask Ingredients
Speaking of goodness, let's take a look at the ingredients (I'll give you one guess on what the star ingredient is…):
Water, Glycerin, Butylene Glycol, Tocopheryl Acetate, Niacinamide, Sodium Hyaluronate, Carrageenan, Gellan Gum, Betaine, Algin, Mannan, Ceramide NP, PEG-60 Hydrogenated Castor Oil, Acrylates/C10-30 Alkyl Acrylate Crosspolymer, Chlorphenesin, Arginine, Ethylhexylglycerin, Centella Asiatica Extract, Rubus Fruticosus (Blackberry) Fruit Extract, Salicornia Herbacea Extract, Phragmites Communis Extract, Adenosine, Lavandula Angustifolia (Lavender) Oil, Eucalyptus Globulus Leaf Oil, Pelargonium Graveolens Flower Oil, Citrus Limon (Lemon) Peel Oil, Citrus Aurantium Dulcis (Orange) Peel Oil, Cananga Odorata Flower Oil
Tocopheryl Acetate, aka Vitamin E – A lipid-soluble antioxidant that has anti-inflammatory properties and can protect our skin from free radicals. It also works well in synergy with vitamin c , even boosting the latter's stability (hence Klair's recommendation to use this with their Freshly Juiced Vitamin Drop). FYI tocopheryl acetate is also the most potent form of vitamin e1.
2% Niacinamide – Gotta love when brands list the % of actives. This is one of my favorite ingredients because it literally does it all: improve moisture barrier, reduce appearances of fine lines, reduce hyperpigmentation and redness (though that was tested at 5%), and increase collagen production. What more can you ask for?
Sodium Hyaluronate – Or commonly known as hyaluronic acid (technically sodium hyaluronate is the salt & more stable form of HA), a humectant that draws moisture to your skin and a must have ingredient for really all skin types.
Betaine – An amino acid derived from sugar beets, it acts as a humectant to help draw and retain moisture on the skin. Studies have also shown that it can help minimize skin sensitization to irritants2, suggesting that it has soothing properties.
Ceramide NP – One of the core building blocks of our skin's moisture barrier, it's essential for helping maintain healthy skin and prevent moisture loss.
Centella Asiatica Extract – A potent skin-soothing and healing ingredient, it can also help increase the skin's moisture level and reduce moisture loss.
Blackberry Fruit Extract – This is my first time seeing this ingredient, but studies show that it has strong antioxidant properties and can protect against UV-damage3,4. This means that the mask could work well as a daytime moisturizer.
Salicornia Herbacea Extract – Another first-time ingredient for me, but one study showed that this has antioxidant and brightening properties5.
Phragmites Communis Extract – I'm starting to sound like a broken record here, but this is yet another first-time ingredient. One study showed that just 0.25% of this can significantly increase the skin's moisture level6, while another showed that it has potential brightening properties7.
Adenosine – Primarily responsible for cell communication in our bodies, it can help smooth our skin reduce the appearances of fine lines when applied topically.
The mask also contains small amounts of essential oils, which depending on your stance on these ingredients, can be a plus or a negative.
Overall the Klairs Freshly Juiced Vitamin E Mask contains some excellent, well-studied ingredients at the top of its ingredient list, rounded off by a few exciting new plant extracts with potential, which is really what you want to see in a skincare product. But enough about ingredients, let's get to the fun part.
Usage Experience & Results
You'd think from this photo that the mask was brand new, but nope. The "shape memory cream" texture means that the product will naturally adhere tightly to the application surface, which in the case of the jar, is the rest of the product. So no matter how you scoop, it will always return to its glorious smooth form the next time you use it: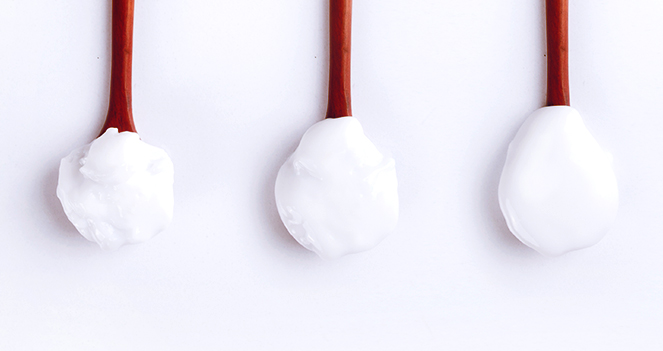 While the Klairs Freshly Juiced Vitamin E Mask does feel like jello initially, it actually melts into a milky texture after you massage it into the skin. Cue sigh of relief here, because let's be real, no one actually wants to slather their faces with jello.
It take a bit of massaging for the product to blend and apply evenly, at which point it sort of forms this slightly tacky film on your skin. Don't worry, the tackiness is temporary, and after a few minutes it goes away.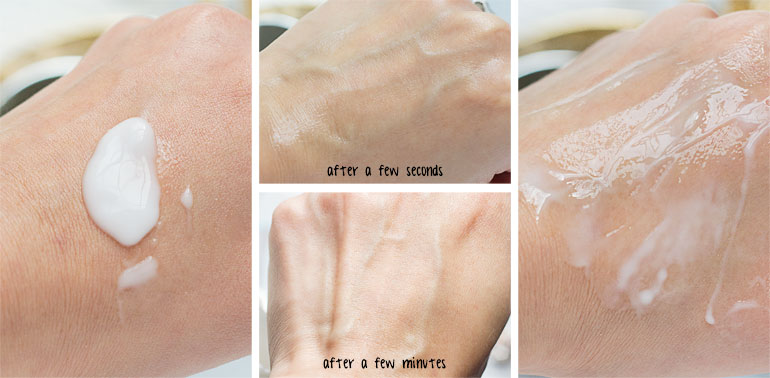 As the title suggests, using the Klairs Freshly Juiced Vitamin E Mask at night pretty much guarantees brighter skin the next morning.
Not quite the chok-chok level of brightness + dewiness from the Instytutum Flawless Face Mask, but good enough, especially considering the price difference.
I also noticed that my skin is less oily in the mornings when I use this mask, which I would normally credit to the change in seasons, except it's still an uncomfortably hot 80-something degrees, so I'm 99% sure the Klairs mask deserves the credit here.
Skin feels hydrated, plump, and soft – all signs of a great moisturizer, and these effects are amplified if I use a sheet mask the night before.
Do I have any complaints? Of course, and that'd my inability to use this as a daytime moisturizer. Well, it's not so much a complaint about the product but more like me lamenting the fact that it's just a tad too-heavy for my combo skin during the day. Maybe if the weather actually cooled down I can give it another try, but for now, I'm perfectly content using this as my evening moisturizer/sleeping mask.
Good news though, dry skin should be able to use this day and night! I haven't experienced any pilling issues and so far it's played nicely with all my other products!
Final Verdict
Packaging
Ingredients
Texture/Application
Performance
Price
Overall a well-rounded and affordable skincare product that will work for most skin types, especially if you're looking to brighten your skin. Usually I'm not a fan of gel-type sleeping masks as they leave my skin sticky, but luckily that was not the case for here. Highly recommend and will most likely repurchase myself.
Article Sources
To keep my content accurate and trustworthy, I rely on peer-reviewed studies, articles from reputable academic institutions, and quotes from certified healthcare professionals to back my claims. No woo-woo clickbait nonsense here!