Last updated on April 16th, 2020
Spoiler alert, it's the Klairs Supple Preparation Facial Toner. I know, I'm no fun.
But in all seriousness, there's a good reason why Klairs is one of the most-mentioned brands on my blog: their products are great, if not incredible. I've actually mentioned this toner countless times before, but for some reason never got around to reviewing it, so when Wishtrend gave me the chance to try the reformulated version, I was all like "heck yes!" ???????? ???????? ????????
Klairs Supple Preparation Facial Toner
What is it

A super hydrating and calming toner that helps balance the skin's pH level and increase subsequent product absorption

How I use it

After I cleanse, between layers of my routine, as a lotion mask, or mixed with a facial oil. Keep reading for more details!

Best suited for

All skin types, especially sensitive or dehydrated skin types looking for that extra moisture!

Key ingredients

hyaluronic acid, MSM, centella asiatica extract, licorice root extract, panthenol, beta-glucan, and Lipidure® (full ingredients on CosDNA)

Irritants

There are small amounts of plant oils, so be careful if you're allergic. Otherwise this is free of parabens, alcohol, common acne triggers, and artificial fragrances.

Packaging

Nothing special, though I do like being able to see how much product is left. It's also easy to dispense just the right amount of product.

Scent

A faint fresh scent, nothing overbearing.

Texture

Slightly thicker than water, but still blends out easily and absorbs quickly.

Finish

Natural finish with no stickiness

Size & Price

$19.90 – $25.50 for 180ml

Where to buy
I had tried the original Klairs Supple Preparation Toner way back, and while reformulation usually makes me cringe (like why do they always turn out worse??), this is a rare case of the brand actually making the product bigger (150ml to 180ml) and better. The new formula is more hydrating , no longer sticky, absorbs faster, and contains less irritants (see old ingredient list). I experienced the improvements immediately on my first use, and found that this is one of the few products I can apply on my skin when it's irritated.
More about Lipidure – a 4th generation moisturizing agent

Lipidure is a moisturizing polymer that mimics the structure of phospholipid membrane and provides long-lasting moisturization (comparable if not better than hyaluronic acid), improves our moisture barrier, and reduces irritation. So like hyaluronic acid, but on steroids. (source, source)
More about the Klairs brand

Klairs was created in 2009 with the goal to bring skincare back to its simple roots. It focuses on creating high quality + affordable products using simple but effective ingredients that's gentle enough even for the most sensitive skin. You won't find harsh ingredients like parabens or alcohol in their products, and you'll be happy to know that they don't test on animals! Learn more about the brand here.
4 ways to use the toner
This toner is interesting in that it's thicker than typical watery toners and more hydrating, yet it's still incredibly light and absorbs into the skin instantly. Its excellent formulation and texture actually makes it extremely versatile:
Use it as a regular hydrating toner. Great for adding moisture back to your skin after cleansing. It can also be used to remove any residue on your skin and balance the pH level, but that shouldn't be necessary if you double cleanse with low-pH cleansers.
Adding extra hydration throughout your skincare routine. If you have a multi-step routine, you can layer this toner between steps for extra hydration, minimize stickiness from previous products, and help subsequent products absorb better.

This is my favorite way of using the toner.

As a lotion mask for immediate hydration + calming effects. This provides similar results to the Klairs Rich Moist Soothing Mask and is great when your skin is feeling irritated. Learn more about lotion masking here.
Mixing it with facial oil. Now that my skin is transitioning from combo-dry to combo-normal, facial oils can be a tad heavy. But mix a few drops with this toner and it's perfection. Learn more about how you can use facial oils here.
With the exception of method #3, I dispense the toner in my palms directly and apply it to my skin. You can definitely apply this with a cotton pad, which will make the toner feel even lighter. No right or wrong answer here, you should pick a method that works best for your skin.
So what does this toner do exactly? Pretty much everything you can hope for in a hydrating toner. My skin feels more plump, hydrated, and much softer, plus it's helped minimize redness in the long run. As for negatives….the basic packaging? The slightly higher price? Can you tell I'm just nitpicking at this point? Seriously, this toner is like my cat, it literally can do no wrong (crazy cat lady symptom #38).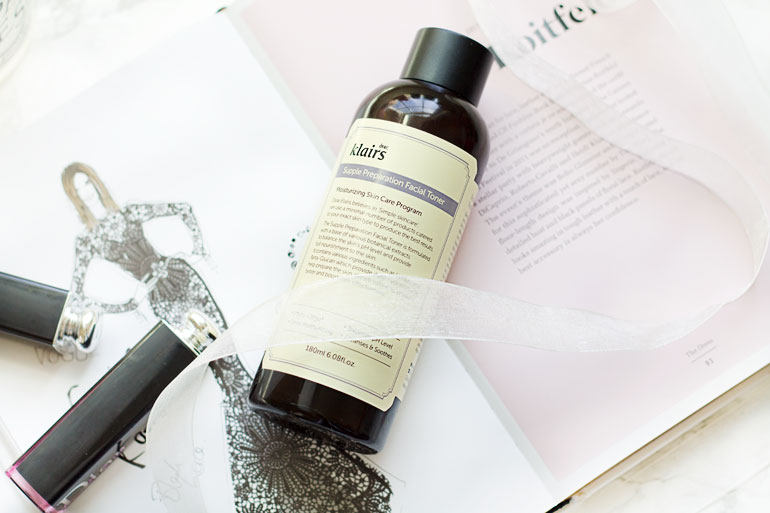 Klairs Supple Preparation Facial Toner
Packaging

Ingredients

Texture/Application

Performance

Price
I rarely repurchase products, but I will be repurchasing this toner for SURE. It's one of those hydrating staples that anyone with any skin type can really benefit from in their routine, especially if you find typical hydrating toners too heavy or sticky. There's a reason why this is one of the top ranked skincare product in Korea. I think I'm pretty strict when it comes to product reviews, but when products are da bomb dot com, you bet my ass I'll be fawning over it like a fangirl obsessed. And this my dears, is definitely a fangirling-worthy product.
Hope you enjoyed this review, and let me know if you've ever tried this toner or anything else from Klairs before! Have a great rest of the week :)