Originally posted on May 2nd, 2016
For the most part my skin has been pretty good – it's got its occasional issues, but nothing serious. Of course, when I least expect it, my face decides last week it was going to be a little sh*t and break me out like a pubescent boy. I'm literally dealing with more acne than I've dealt with my entire life up to this point. Time for a some serious changes.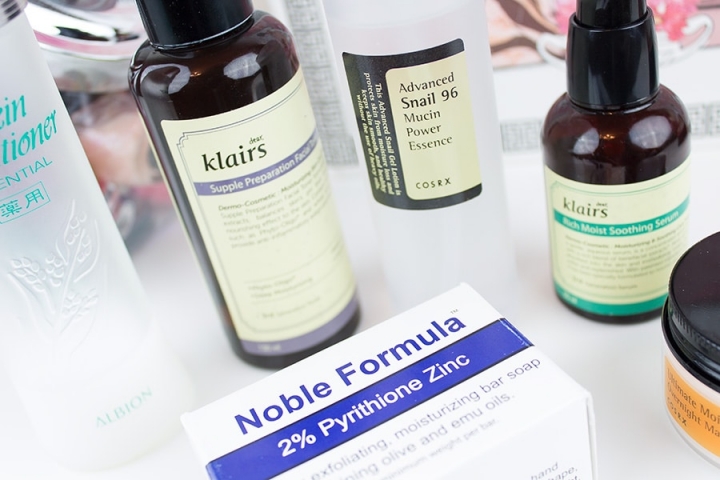 Having your skin suddenly go bananas on you is not fun, especially when this never (or rarely) happens and you're totally unprepared. Well, here are my 5 tips on how you can deal with your suddenly troubled skin:
Minimize your skincare routine. This was painful for me as I loved layering on my toners and serums, but I cut down from my usual 10-step routine to just 5: cleanser – toner – serum/mask – snail essence – moisturizer on cheeks – sunscreen (am only). The key here is that

the less products I use, the less chances I have of provoking the beast I call my skin

.
Seek out healing ingredients. There are some ingredients that can calm and soothe your skin, and would be great for when your skin is acting up: aloe, calendula extract, centella extract, chamomile, honey, and snail goo! Also avoid potential irritants like actives,

alcohol

, and

fragrances

. Your skin may be ok with them normally, but when it's in beast mode, you never know what will set it off. #truestory
Always have some anti-acne products in your stash. I had to place a 1-day shipping Amazon order last week because nothing in my current skincare wardrobe could deal with acne. Everything I owned was geared towards anti-aging and brightening, and most contained ingredients that are now too strong for my overwhelmed skin. Not saying you need a whole set of anti-acne products, but having one or 2 in your stash wouldn't hurt.
Adjust your lifestyle. I'm pretty sure my angry breakout is 99% stress related. That and my husband decided to buy

4 bags of gummy bears

 unleashed the skin beast from within. While the stress is hard to control, I've sworn off sugar (and run out of gummies) for the time being and am trying to be in bed by 11:30pm. Drinking plenty of water helps too!
Seek professional help. If the situation is bad and your insurance covers a dermatologist consultation, use it! Since I subscribe to Curology, I was able to get in touch with my derm and she recommended several products that would improve my situation.
As mentioned in tip #2, the ingredients you use during your problematic-skin routine is important. Using products with healing ingredients can not only help your skin calm down faster, but it can prevent any PIH spots from forming.
Here are some products I've been using to help me get through my difficult skin times. Remember, I didn't have any anti-acne products to begin with, so I had to make do with what I had:
Are these the perfect products for inflammed and/or problematic skin? I'm going to say no, but they're not bad. If it were up to me, I would love to add a couple tea tree products to my current routine, as tea tree oil is great against acne. The LJH Tea Tree 90 Essence is on my wishlist on its way as I write this, and I can't wait to add it to my routine!
Let's Chat!
What are your go-to products when your skin starts acting up? If you have any tips and/or product recommendations, do share!