There's a good reason why Klairs is one of the most-mentioned brands on my blog: their products are great, if not awesome.
I've actually mentioned the Klairs Supple Preparation Facial Toner countless times before, but for some reason never got around to reviewing it, so when Wishtrend gave me the chance to try the reformulated version, I was all like "heck yes!"
Overview
What is it
A super hydrating and calming toner that helps balance the skin's pH level and increase subsequent product absorption
How I use it
After I cleanse, between layers of my routine, as a lotion mask, or mixed with a facial oil. Keep reading for more details!
Best suited for
All skin types, especially dehydrated skin types looking for that extra moisture. Sensitive skin might prefer the Supple Preparation Unscented Toner instead.
Things to note
There are small amounts of essential oils, so be careful if you're allergic. Otherwise this is free of alcohol, common acne triggers, and artificial fragrances.
Packaging
Dark plastic bottle, nothing special. It's also easy to dispense just the right amount of product.
Scent
A faint rosemary scent, nothing overbearing.
Texture
Slightly thicker than water, but spreads easily and absorbs quickly.
Finish
Natural finish with no stickiness
Where to buy
$19.90 – $23 for 180ml on Wishtrend, Amazon, SokoGlam, YesStyle (5% off with code GEEKYPOSH)
Klairs Supple Preparation Facial Toner Ingredients
The toner is full of hydrating and skin-soothing ingredients like: hyaluronic acid, MSM, centella asiatica extract, licorice root extract, panthenol, and beta-glucan.
One that stands out is Lipidure, which is a moisturizing polymer that mimics the structure of phospholipid membrane and provides long-lasting moisturization (comparable if not better than hyaluronic acid), improves our moisture barrier, and reduces irritation. So like hyaluronic acid, but on steroids1.
Full ingredient list

Water, Butylene Glycol, Dimethyl Sulfone, Betaine, Caprylic/Capric Triglyceride, Natto Gum, Sodium Hyaluronate, Disodium EDTA, Centella Asiatica Extract, Glycyrrhiza Glabra (Licorice) Root Extract, Polyquaternium-51, Chlorphenesin, Tocopheryl Acetate, Carbomer, Panthenol, Arginine, Luffa Cylindrica Fruit/Leaf/Stem Extract, Beta-Glucan, Althaea Rosea Flower Extract, Aloe Barbadensis Leaf Extract, Hydroxyethylcellulose, Portulaca Oleracea Extract, Lysine HCL, Proline, Sodium Ascorbyl Phosphate, Acetyl Methionine, Theanine, Lavandula Angustifolia (Lavender) Oil, Eucalyptus Globulus Leaf Oil, Pelargonium Graveolens Flower Oil, Citrus Limon (Lemon) Peel Oil, Citrus Aurantium Dulcis (Orange) Peel Oil, Cananga Odorata Flower Oil, Copper Tripeptide-1, Linalool, Limonene
I had tried the original Klairs Supple Preparation Toner way back, and while reformulation usually makes me cringe, this is a rare case of the brand actually making the product bigger (150ml to 180ml) and better.
The new formula is more hydrating, no longer sticky, absorbs faster, and contains less irritants. I experienced the improvements immediately on my first use, and found that this is one of the few products I can apply on my skin when it's irritated.
How to use the Klairs Supple Preparation Facial Toner
This toner is interesting in that it's thicker than typical watery toners and more hydrating, yet it's still incredibly light and absorbs into the skin instantly. Its excellent formulation and texture actually makes it extremely versatile:
Use it as a regular hydrating toner. Great for adding moisture back to your skin after cleansing. It can also be used to remove any residue on your skin and balance the pH level, but that shouldn't be necessary if you double cleanse with low-pH cleansers.
Adding extra hydration throughout your skincare routine. If you have a multi-step routine, you can layer this toner between steps for extra hydration, minimize stickiness from previous products, and help subsequent products absorb better. This is my favorite way of using the Klairs Supple Preparation Facial Toner.
As a lotion mask for immediate hydration + calming effects. This provides similar results to the Klairs Rich Moist Soothing Mask and is great when your skin is feeling irritated. Learn more about lotion masking here.
Mixing it with facial oil. Now that my skin is transitioning from combo-dry to combo-normal, facial oils can be a tad heavy. But mix a few drops with this toner and it's perfection. Learn more about how you can use facial oils here.
With the exception of method #3, I dispense the toner in my palms directly and apply it to my skin. You can definitely apply this with a cotton pad, which will make the toner feel even lighter. No right or wrong answer here, you should pick a method that works best for your skin.
Usage experience & results
So what does this toner do exactly? Pretty much everything you can hope for in a hydrating toner. My skin feels more plump, hydrated, and much softer, plus it's helped minimize redness in the long run.
As for negatives, the inclusion of essential oils is the biggest one. While I experienced no issues with them, they're add no value to the formula either, which is why they probably came out with the unscented version.
However, after testing both, this original Klairs Supple Preparation Facial Toner feels significantly more hydrating. The ingredient list looks the same minus the EOs, but it's possible they adjusted the % of the ingredients. So if you're deciding between the two and don't hate fragrance, go with this one.
It's also not the cheapest hydrating toner, but when purchased on sale and given its efficacy, I still think it's worth it!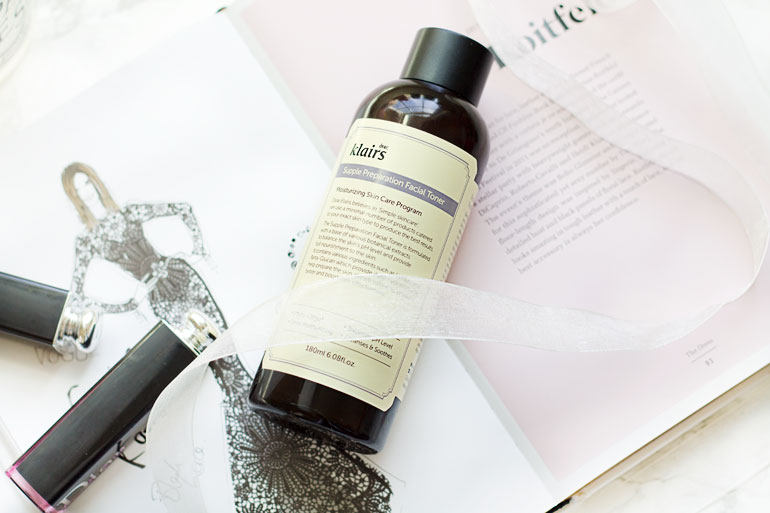 Final Verdict
Packaging

Ingredients

Texture/Application

Performance

Price
I rarely repurchase products, but I will be repurchasing this toner for SURE. It's one of those hydrating staples that anyone with any skin type can really benefit from in their routine, especially if you find typical hydrating toners too heavy or sticky. There's a reason why this is one of the top ranked skincare product in Korea. I think I'm pretty strict when it comes to product reviews, but when products are da bomb dot com, you bet my ass I'll be fawning over it like a fangirl obsessed. And this my dears, is definitely a fangirling-worthy product.
Article Sources
To keep my content accurate and trustworthy, I rely on peer-reviewed studies, articles from reputable academic institutions, and quotes from certified healthcare professionals to back my claims. No woo-woo clickbait nonsense here!
"Lipidure®-PMB." Ulprospector.com, 2012, www.ulprospector.com/en/na/PersonalCare/Detail/6873/524981/Lipidure-PMB.