My experiences with all-in-one products are either hits or misses. Hated the Naruko All-in-One High Potency Sunscreen Complex, but loved the Venn Age-Reversing All-In-One Concentrate (except the price).
A while ago I started hearing about the PERFECT ONE Moisture Gel from the Chinese beauty community and was intrigued. Will this finally be the affordable all-in-one product that I'm looking for?
What is it
An All-in-one moisture gel which combines the effects of toner, serum, lotion, cream, mask and make-up primer.
How I use it
Twice a day after cleansing and before sunscreen in the mornings. Later on I'd apply this as a moisturizer after my essence and serum steps.
Best suited for
Anyone under 30 looking for a super minimal routine. Normal/combo/oily skin types will enjoy refreshing water-like gel texture. Dry skin types might find it too light.
Things to note
Contains alcohol but isn't drying or irritating. Also contains a good amount of silicones.
Packaging
A white plastic jar, but features a thoughtful spatula holder on the inner lid so you'll never lose yours!
Scent
A light citrus scent, which I believe is due to the orange peel essential oil (that's labeled as orange yu for some reason).
Texture
A light gel that bursts into a water-like texture once you apply it on the skin.
Finish
A wet shine on initial application but eventually absorbs and dries down to a natural finish.
Where to purchase
$49.99 for 75g on Perfect One US site
Ingredients Highlight
Water, Glycerin, Dimethicone, Butylene Glycol,
Alcohol
, Dipropylene Glycol, Pentylene Glycol, Polysorbate 60, Inositol, Cyclopentasiloxane, Glycosyl Trehalose,
Squalane
, Phenoxyethanol, Polyacrylamide, Hydrogenated Starch Hydrolysate, C13-14 Isoparaffin,
Saccharide Isomerate
,
Hydrolyzed Collagen
, Carbomer, Acrylates/c10-30 Alkyl Acrylate Crosspolymer, Laureth-7,
Tocopherol
, Sodium Hydroxide, Silica Dimethyl Silylate,
Orange Peel Oil
,
Roman Chamomile Flower Oil
, Isostearic Acid,
Hydrogenated Lecithin
,
Sodium Chondroitin Sulfate
,
Hydrolyzed Hyaluronic Acid
, Soybean Sterols,
Soluble Collagen
, Citric Acid, Sodium Citrate, Agar,
Sodium Hyaluronate
,
Magnesium Ascorbyl Phosphate
,
Betaine
, Xanthan Gum,
Sorbitol
, Hydroxyproline,
Ceramide AP
,
Ceramide NG
,
Isostearoyl Hydrolyzed Collagen
,
Ceramide NP
,
Sodium PCA
,
Sodium Lactate
, Malus Domestica Fruit Cell Culture Extract,
Arginine
,
Aspartic Acid
,
PCA
,
Royal Jelly Extract
,
Glycine
,
Alanine
,
Centella Asiatica Leaf Extract
,
Alteromonas Ferment Extract
,
Serine
,
Valine
, Placental Protein, Bergenia Ligulata Root Extract,
Proline
,
Threonine
,
Isoleucine
, Succinoyl Atelocollagen, Coix Lacryma-jobi Ma-yuen Seed Extract,
Polyglutamic Acid
,
Histidine
,
Phenylalanine
,
Lecithin
,
Ceramide EOP
, Lithospermum Erythrorhizon Root Extract, Hydrolyzed Elastin, Soluble Proteoglycan
full ingredient analysis
What really stood out for me in this formula are all the humectants – ingredients that draw moisture to the skin – listed! I counted 2 types of hyaluronic acid, 4 types of ceramides, 11 types of amino acids, and 5 types of collagen:
Hydrolyzed Collagen – It's basically a chopped up version of the bigger collagen protein, but it's still fairly large and will sit on the surface of your skin as a humectant.
Soluble Collagen – When you hear about collagen in skincare, it's usually referring to soluble collagen. While it exists within our skin and is what gives it that plumpness and bounce, as a skincare ingredient it acts as a humectant and a moisturizer. So no, applying collagen ≠ collagen production in the skin.
Isostearoyl Hydrolyzed Collagen – Not much is known about the molecular weight of this collagen, but we do know that it's oil-soluble1, which suggests that it could possibly penetrate deeper into the skin.
Succinoyl Atelocollagen – Collagen that's been treated with succinic anhydride to electrically induce an anionic status that improves solubility in water. As for its effects on skin, one study2 found it to be a promising ingredient for diminishing fine lines.
Now the product claims it contains 7 types of collagens, but I couldn't tell from the ingredient list, unless they listed the amino acid components instead. But the number is irrelevant, as they all serve a similar function – keeping your skin hydrated!
The formula isn't without flaws in my opinion though. For an all-in-one, I would've like to see more antioxidants and anti-aging ingredients. It only lists vitamin e, vitamin c derivative, and centella asiatica extract.
Usage Experience
✔️ Truly makes skincare effortless!
On top of this being an all-in-one, it comes with clear instructions on exactly how much product to use. No more guessing the amount, and no more looking for a spatula thanks to the inner lid design. It's perfect for skincare beginners or those who want to keep things as minimal as possible.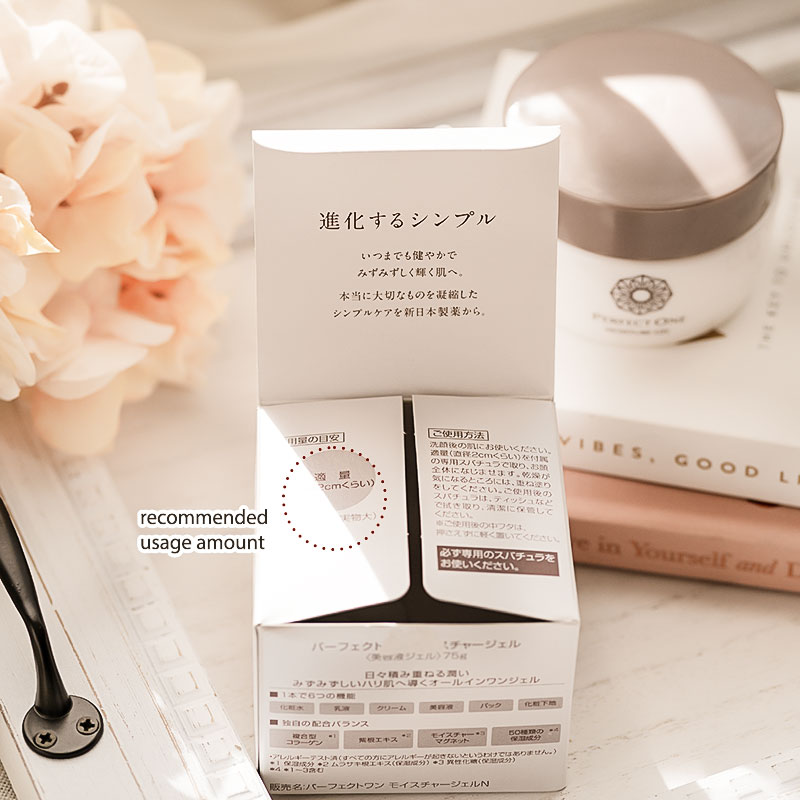 ✔️ Moisturizes surprisingly well for a gel cream
My dry skin prefers rich creams so I was surprised when my skin was mostly fine with using this alone for the past few weeks. I suspect it still won't be occlusive enough for me in the winter, but if you already enjoy gel creams, you'll really like this one.
❌ Won't really replace your serums or actives
If you use an anti-aging, brightening, or antioxidant serum, I would highly recommend keeping it in your routine. That's why I ended up adding my aox/antiaging serum back in my routine, because the formula of this gel just wasn't going to cut it. Skip your hydrating serum though – the Perfect One Moisture Gel has you covered here.
❌ Takes a while to fully absorb
The suggested usage amount is about the size of a dime, which is more than I've ever used of a single product (sunscreen aside). While applying it never feels heavy or sticky, it does take time for the product to fully absorb. I give it a full 2 minutes while I brush my teeth before applying sunscreen, otherwise my sunscreen will pill!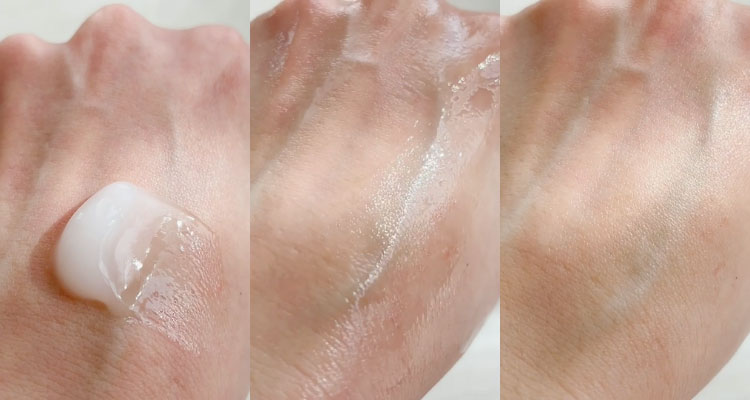 PERFECT ONE Moisture Gel Compared
…to the Klairs Fundamental Water Gel Cream
Both feel very similar in texture but the Perfect One is more hydrating with better ingredients as well. But if you're just looking for a simple light gel moisturizer, the Klairs will suffice.
→ $31 for 70ml on Wishtrend, Amazon, and YesStyle
…to the Venn Age-Reversing All-In-One Concentrate
Now the Venn is a true all-in-one product, and I've seen great results when I used this alone after cleansing. The ingredients are fantastic and the cream texture is more moisturizing for my dry skin. If you're older and/or have dry skin, I'd recommend splurging on the Venn instead.
→ $185 for 50ml at Net-a-Porter, Venn Skincare
…to the Shiseido Essential Energy Moisturizing Gel Cream
The Shiseido is still my favorite gel cream I've tried to date as I've actually seen good results with it. If I was picking a moisturizer (not an all-in-one), I'd go with the Shiseido.
→ $48 for 50ml at Nordstrom, Sephora, Ulta
…to the Peter Thomas Roth Water Drench Hyaluronic Acid Moisturizer
Both burst into a water-like texture upon application, but the Perfect One is more hydrating and costs less per volume.
→ $52 for 50ml at Sephora, Ulta, Dermstore, Cultbeauty
Read more: 36 moisturizers reviewed, and here are the best ones for dry aging skin
Final Verdict
Ingredients
Packaging
Texture/Application
Performance
Price
The older I get, the more needs my skin has, and the less likely an all-in-one-product is going to meet all those needs. At least not for a reasonable price. However for younger folks or those that just want a basic skincare routine, the PERFECT ONE Moisture Gel does a great job of properly moisturizing your skin and supporting its barrier health.
Even if this didn't work as an all-in-one, it still made for a lovely gel moisturizer with some great hydrating ingredients. I can see myself enjoying this even more as the weather gets warmer!