Bad pun aside, acids like AHAs and BHAs are my go-to when my skin starts looking dull and feeling rough. But not all acids or exfoliants are made equal, so similar to my wash-off mask roundup, today's post breaks down 13 different exfoliants by skincare needs. Ready? Let's go!
→ DISCLAIMER: Before you start exfoliating willy nilly, you might want to read my updated post on why I decided to stop exfoliating. The below information about acids/actives are still true, but I've cut most of these from my routine indefinitely.
A crash course on the acids
Acids in general help increase skin turnover and shed the surface layer of our skin, resulting in smoother textures, fading of hyperpigmentation, and diminished appearances of fine lines. Sounds wonderful, but due to the low pH level required for them to be effective, they can also irritate the skin if used in excess. Acids can be further broken down into 3 types:
Alpha hydroxy acids (AHA) are the most common type of acids found in chemical exfoliants, and include glycolic acid, lactic acid, and fruit acids. Mandelic acid is also an AHA, but gentler and oil-soluble, meaning it can go deep into your pores to unclog them, similar to…
Beta hydroxy acids (BHA) differ from AHAs in that they're oil-soluble, meaning they can penetrate into the pores and exfoliate the dead skin cells that build up inside there. BHAs are also anti-inflammatory, making them suitable for oily and congestion-prone skin. Common BHAs include salicylic acid, betaine salicylate, and willow bark extract.
Polyhydroxy acids (PHA) are the most gentle of the 3 types and the least likely to irritate the skin, but they're still as effective as AHAs (source). Two common PHAs are gluconolactone and lactobionic acid.
Keep in mind that using acids can make the skin photosensitive, so make sure you apply ample sunscreen in the morning (which you really should do anyways)!
Read more: PA? PPD? Broad Spectrum? The ultimate guide to understanding and choosing the best sunscreen
Lastly, there are other exfoliants like retinol and vitamin c which don't really fall in the above 3 categories, but still provide similar functions and results.
For first-timers and sensitive skin
Look for low % and the use of gentler ingredients like PHAs, mandelic acid, betaine salicylate, and willow bark extract. The key is to start slow and low to minimize any irritations and damages to your skin's moisture barrier. Products that include soothing and hydrating ingredients can also help.
Cosrx BHA Blackhead Power Liquid (100ml) uses 4% betaine salicylate (salicylic acid combined with betaine) and willow bark water for gentle pore cleansing action. It has a nice water-like texture and also contains niacinamide for brightening and panthenol + hyaluronic acid for hydrating. I use this when my skin is feeling hormonal or congested.
→ Full ingredients analysis on Skincarisma
→ Buy from Wishtrend for $21, Amazon for $14.98, or Ulta for $22, YesStyle for $17
By Wishtrend Mandelic Acid 5% Skin Prep Water* (120ml) is like the Pixi Glow Tonic, except better in every way. It gently exfoliates on the surface level and deep in the pores, while ingredients like panthenol, beta glucan, hyaluronic acid, and centella asiatica extract help moisturize and soothe the skin.
→ Full ingredients analysis on Skincarisma
→ Buy from Wishtrend for $22
Pixi Glow Tonic (250ml) uses 5% glycolic acid and while it's a bit stronger, it's still gentle enough for daily use. It also contains aloe vera juice to soothe the skin and ginseng extract to improve circulation. On this list because it's less expensive than the Mandelic Acid Skin Prep Water, and still works well.
→ Full ingredients on CosDNA
→ Buy from Dermstore & ASOS for $29, Cult Beauty for $23, Target for $15 (100m)
For the acid veterans who need something tough
Once your skin is used to the occasional acids, you can slowly (keyword is slowly) introduce products that are stronger – either with a higher % or stronger acids like glycolic and salicylic acid. Prescription retinol would also fall in this category. Start by using these every other night and see how your skin reacts before committing to these daily.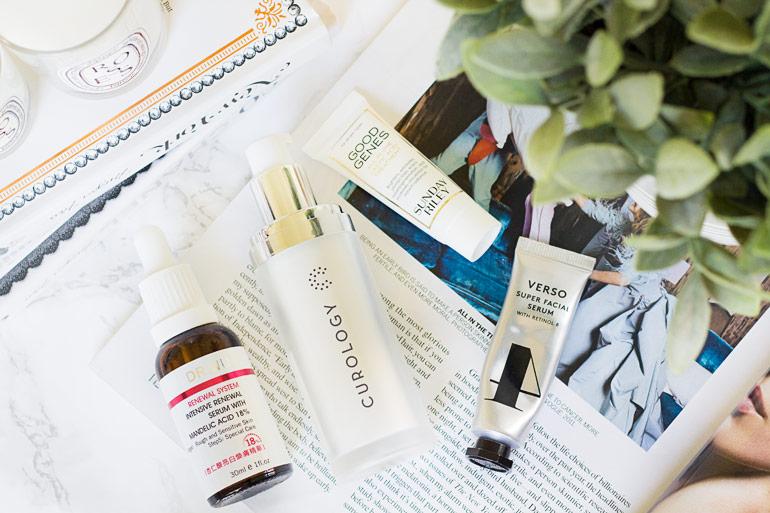 Dr. Wu Intensive Renewal Serum with Mandelic Acid 18% (15ml) is effective but still gentle, and I was almost inclined to put this in the first-timers group, but as with everything, baby steps is key to preventing over-exfoliation. This is what I used to use before Curology, and I still use it occasionally when I want a break from retinol. If you want smooth skin with minimal irritation, you need to try this.
→ Full ingredients on CosDNA
→ Buy from Amazon for $24.75, eBay for $23.90, or YesStyle for $48.36
Curology with 0.05% tretinoin + 4% azaleic acid is my main chemical exfoliant that I use daily. It's actually a cream formula and best applied right before your evening moisturizer to minimize any irritation, because boy it's strong. You can read about my Curology experiences here and here, and it's the one product I've used religiously since I started. I think I'm on my…5th bottle now?
→ Order from Curology for $39.90 every 2 months, and get your first 1-month supply free!
Verso Super Facial Serum (30ml) contains a gentle retinol alternative and vitamin c to provide the same resurfacing benefits as AHAs but without the irritations. It's also stupid expensive, but after using a sample for 2 weeks while traveling, I can see why. My skin was smoother, brighter, and I actually went foundation free my last few days because my skin looked that good. Plus a little goes a long way.
→ Full ingredients on CosDNA
→ Buy from Dermstore and Net-a-Porter for $120, Cult Beauty for $107
Sunday Riley Good Genes (30ml) is here because everyone raves about it, but honestly I don't care for it. It's expensive, stings like a b*tch, and it didn't do anything for my skin other than to make it red and angry. It's main exfoliant is lactic acid, and it also contains a bunch of great plant extracts, so maybe you'll have better luck with it?
→ Full ingredients on CosDNA
→ Buy from Sephora, Dermstore, or Nordstrom for $105, Cult Beauty for $91
For the travelers or those lazy days
These are like the wipe equivalent of makeup removers. I don't reach for them often as I prefer either my gentle acid toners or strong chemical exfoliants, but when I'm feeling lazy or traveling, exfoliating pads (especially individually packaged ones) are my top picks.
Nip+Fab Glycolic Fix Daily Cleansing Pads* (60 pads) aren't glamorous or even fun to use by any means, but they're surprisingly gentle, convenient, and affordable. I thought the pads would dry out because they're not individually packaged, but I've had this for a couple months now and they're still moist.
→ Buy from Ulta or Amazon for $12.99
COMMON LABS Mild Peeling Finger Pad* (7 pads) contains both AHA (glycolic acid) and BHA (salicylic acid) to gently exfoliate the skin. I first fell in love with these they were part of the Common Labs Ggultamin Real Jel Masks, and I'm so glad to see these now sold individually. In addition to the acids these also contain honey, vitamin c, hyaluronic acid, and soothing plant extracts. Unfortunately it also contains alcohol, but personally I haven't experienced any irritations. Since these are individually packaged they're great for travel!
→ Full ingredients on CosDNA
→ Buy from Amazon for $9.99
Wish Formula C200 Bubble Peeling Pad* (4 pads) is a unique foaming pad that uses a combo of lactic acid, glycolic acid, and ascorbic acid (vitamin c) to exfoliate the skin. It's definitely the strongest of the 3, but it also contains hyaluronic acid and soothing plant extracts to hydrate the skin. Despite the high price point, this does an excellent job of smoothing and brightening the skin, and the irritation is temporary, leaving no redness or tightness behind. You also get a lot of product in 1 pad, so you can use it on your neck, elbows, and even knees!
→ Full ingredients on CosDNA
→ Buy from Amazon for $19.99
For those who prefer physical exfoliation
Even though I've pretty much stopped using face scrubs since my St. Ive's days, I still like to keep a few in my rotation, mainly due to its ability to give immediate results. Try to look for ones with very fine particles and always massage gently to avoid micro injuries on your skin. For this reason I typically to avoid drugstore scrubs because they tend to use rough particles like walnut shells (I'm looking at you St. Ive's) or microbeads, which can harm the environment.
Instytutum Triple Effect Peel* (120ml) combines micro exfoliating particles with salicylic acid and papaya enzymes give you baby soft skin instantly. Thanks to skin soothing ingredients like chamomile extract and allantoin, this doesn't feel harsh on the skin, and can even be used as a mask without the scrubbing motion! I like using this once a week by massaging this on wet clean skin, and then leaving on for a few minutes to let the chemical exfoliants do their work before washing it off.
→ Full ingredients on CosDNA
→ Buy from Instytutum for $79
Josie Maran Argan Exfoliating Cleansing Powder (60g) can be used as a daily cleanser, but I prefer to use it as a weekly exfoliating treatment, which it does a good job at. It uses very fine argan shell and rice powder as its physical exfoliants, papaya enzyme to gently dissolve dead surface skin cells, and green tea + licorice root extracts to soothe and brighten. Since it's a dry powder, it can be mixed with water or any non-foaming cleanser of choice – my pick is the Oskia Renaissance Cleansing Gel.
→ Full ingredients on CosDNA
→ Buy from Sephora for $40
Klairs Gentle Black Sugar Face Polish (110g) was an old favorite thanks to its amazing smell and its gentle ingredients. It uses black sugar as its main exfoliant and contains shea butter and cranberry seed oil to nourish the skin simultaneously. The sugar actually dissolves in contact with water, leaving your skin smooth, soft, and moisturized.
→ Full ingredients on CosDNA
→ Buy from YesStyle for $16.35, Amazon for $18.30, Wishtrend for $23 (check my Twitter for monthly coupon codes!)
So obviously I don't use these in my routines everyday (with the exception of Curology), otherwise my face would be in an extremely tragic state. As the categorization suggests, I vary the products I use depending on my skin's needs at the moment. In fact, I probably use at most 1 of these products a day, but it's all about understanding what your skin needs and what it can tolerate.

Hopefully you found this list helpful, and let me know if there are any exfoliating products (on this list or not) that you love and recommend! Have a great rest of the week! As for me, I'll be in curling up in a blanket nursing my feelings after that Game of Thrones episode last night, because icanteventhatwasjustomgimdead.