Last updated on April 5th, 2019
What is it

A 2-step sheet mask. It starts with a peeling pad to gently exfoliate, followed by a gel-drenched sheet mask to hydrate + brighten + nourish your skin

How I use it

At night after I cleanse, when I feel like my skin could use some extra pampering. While you can apply the sheet mask directly after exfoliating, I like to layer in my toner/serum steps first before applying the mask.

Best suited for

All skin types, and anyone who dislikes drippy or fast-drying sheet masks, because these stay moist for a loooong time.

Key ingredients

honey extract (1000ppm per mask), propolis extract, hyaluronic acid, niacinamide + magnesium ascorbic phosphate (vitamin c version), panthenol (vitamin b version), glycolic acid + salicylic acid (in peeling pad)

Full ingredients

All on CosDNA – Vitamin B peeling pad, Vitamin B sheet mask, Vitamin C peeling pad, Vitamin C sheet mask

Irritants

There is fragrance, though it's at the end of the ingredient list, along with the preservatives. Otherwise this is paraben-free and the sheet mask is alcohol-free (there is alcohol in the peeling pads).

Packaging

Um, I love the clean minimal design and the matte surface (because taking pictures of shiny mask packs is such a b*tch). Other than that it's a pretty standard sheet mask packaging with a separate pouch for the peeling pad. You can actually detach the peeling pad pouch from the sheet mask if you prefer to use them separately!

Scent

A very light citrusy scent for the vitamin c version and a light fresh scent for the vitamin b version.

Texture

The peeling pad feels very gentle on the skin, probably the most gentle one I've tried so far. The vitamin c mask uses cupra sheets and the vitamin b mask uses USA lyocell sheets, but both feel equally soft on the skin. The gel feels like…well, jelly, and boy is there a lot of it (33ml to be exact).

Finish

Somewhat tacky, but my skin feels soft and bouncy. Sadly I don't get that immediate brightening effect afterwards.

What I love

I really like the ingredients in these masks, very little fillers and most of those are near the end. The mask left my skin soft and smooth, effects which were still noticeable the next morning. Plus it didn't irritate my then-sensitive skin (thanks Curology)!  Despite containing alcohol, the peeling pad is really gentle, no stinging or redness whatsoever.

What I dislike

Is there a thing as too much gel? It made removing the mask from the pouch difficult and it took forever to massage the remaining gel into my skin. I also wasn't a fan of the stickiness it left behind. Plus, there were no significant improvements when I used the peeling pad prior to the sheet mask – I used the sheet mask alone and got similar results. Maybe the peeling pads were too gentle?

Size & Price

$25 for a box of 10

Where to buy

Amazon (Vitamin C version and Vitamin B version)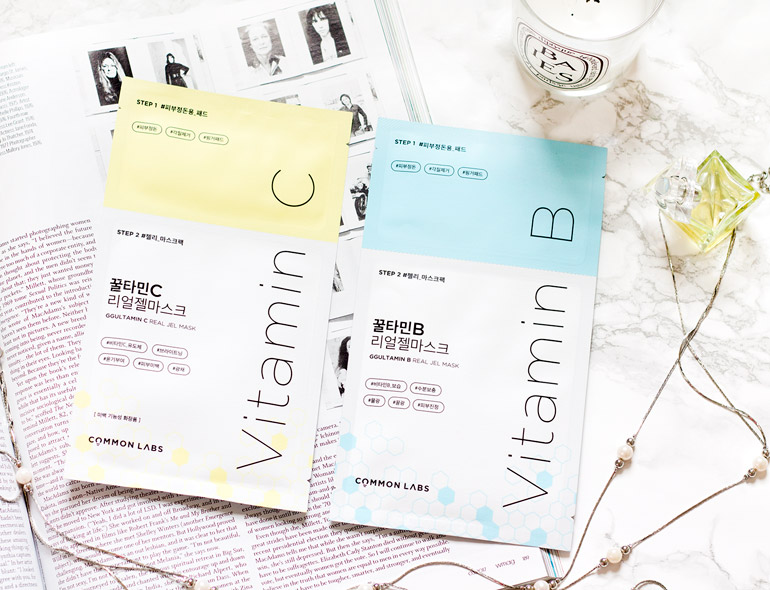 Can we take a minute to appreciate the pretty packaging? I know packaging is probably the most insignificant factor when it comes to sheet masks, but as a blogger, I appreciate the non-reflective surface of these packs – it makes taking the photos so much easier!
Alright, shallow gushing aside, I enjoyed using these gel masks. It reminds me a bit of the sandwich masking technique, except it's all prepackaged nicely for you. When you take the sheet mask out, you'll find that there's a lot of gel leftover in the pouch. While you can apply that immediately, I like to leave it and apply it to areas that start drying up first (usually my t-zone) so that I keep my sheet masking session going for as long as possible.
In terms of wear time, I'd say these can last 40 minutes to 1 hour, especially if I apply the extra essence half way through.
After trying both masks with and without the peeling pad, I've found the results are very similar. This isn't surprising, given that the ingredients between the 2 masks are almost identical except for a few key ingredients. Both left my skin soft, plump, and bouncy, but no with differences in skin tone. The effects were noticeable the day after, which is pretty awesome considering most sheet masks just give my skin a temporary (albeit amazing) boost.
Common Labs Ggultamin Real Jel Mask review
Packaging

Ingredients

Texture/Application

Performance

Price
Overall I'm really happy to have discovered these masks, and I find the price reasonable considering the quality and effects. Since I'm a slave to niacinamide, I will most likely repurchase the vitamin c version in the future. If you like the key ingredients featured in these masks, I would highly recommend giving these a try.