I can't say no to masks, especially when it comes in a beautiful jar and contains fancy ingredients like black tea and black rose (because red roses are too basic). Say hi to the DearPacker Black Tea & Black Rose Mask.
What is it

A gel mask with 77% black tea + rosewater infusion that moisturizes, calms, and smoothes the skin.

First Impression

Gorgeous jar, act uallysmells like rose tea, and the light gel texture is perfect for the summer

Ingredients

Rose Extract, Black Tea Tree, Glycerin, Butylene Glycol, Propylene Glycol, 1,2-Hexanediol, Sophora Japonica Flower Extract, Panthenol, Sweet Almond Oil, Rose, Calendula Officinalis Flower Oil, Borage Seed Oil, Rosemary Leaf Oil, Chamomile Flower Oil, Lavender Oil, Black Tea Leaves, Lemon Peel Oil, Bergamot Fruit Oil, Orange Extract, Juniperus Mexicana Oil, Lime Oil, Damask Rose , Lemon extract, Methyl Gluceth-20, Propanediol, Peg-60 Castor Oil Isostearate, Acrylates/C10-30 alkyl acrylate crosspolymer, Glyceryl acrylate/acrylic acid copolymer, Potassium Hydroxide, Trisodium EDTA, Perfume, Limonene, Linalool
CosDNA ingredient analysis

How I use it

Apply a light layer all over using the included spatula, layer with a lotion mask, and feel fancy for the next 10 minutes

Best suited for

All skin types, especially combo/oily skin

Size & Price

100ml – $26.95

Where to buy

BB Cosmetic
This mask is filled with plenty of nourishing plant extracts and oils, but it's 2 key ingredients are rose extracts (35%) and black tea extracts (35%). So not only does this mask smell delicious (like a fancy cup of rose tea), but it provides hydrating, anti-inflammatory, and antioxidant benefits to the skin (source).
On the negative side, this mask also contains potential irritants like fragrance, lemon peel oil, and lime oil. As such I would recommend skipping your actives when using this mask – I once used my Curology before this mask and it definitely stung a bit.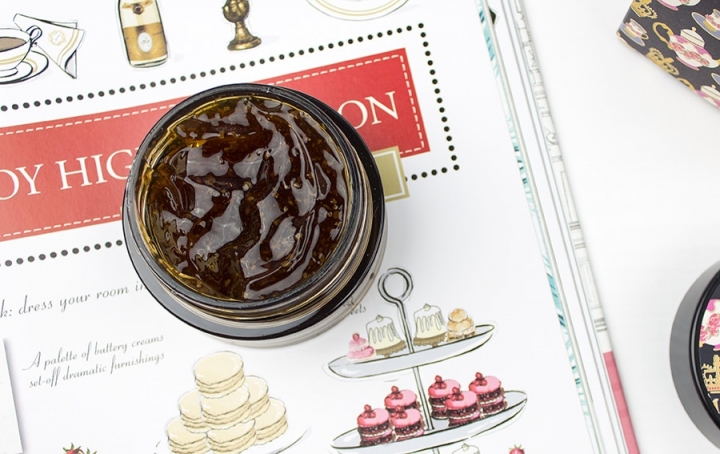 DearPacker is a Korean brand that makes masks exclusively, and the Black Tea & Black Rose Mask is one of the many flavors they offer. I like that it's a gel instead of a cream texture, as the latter is usually too heavy for my combination skin, especially during the summer. A spatula is included and I definitely recommend using it to keep your product sanitary and your fingers clean.
Applied alone, it starts drying out after 5 minutes. You can then wipe most of it off with a tissue and gently wash the rest with water. At this point your skin does feel softer and more plump from the additional moisture, but nothing that will make you go wow. This is why I highly recommend using this mask as part of the sandwich masking method.
What is sandwich masking?
It's a masking technique that involves layering on your masks to improve efficacy and maximize product absorption rate. Here's the formula:
gel mask + lotion/toner mask + seran wrap (optional)
Cream masks won't work with sandwich masking because they're usually too occlusive. So anything you layer on top will have very little chance of actually getting absorbed into your skin.
You can make a lotion/toner mask by soaking multiple cotton pads in your favorite hydrating toner and putting them on your face, or you can buy individually wrapped coin masks. But make sure you select a hydrating toner, as the key to the lotion/toner mask is to add more moisture to your skin.
Lotion/toner recommendations: Esthe Dew White-Up Lotion, Esthe Dew Moist-Up Lotion, Kikumasamune Skincare Lotion, NRK Luffa Super Hydrating Lotion, NRK Calendula Soothing & Calming Toner. These are all hydrating toners that come in huge bottles at affordable prices. Win!
The seran wrap helps seal everything in, forcing your skin to absorb all the moisure and nutrients in your gel and lotion masks. It also helps prevent the moisture from evaporating, allowing you to mask for a longer period of time. If you have sensitive skin, I would skip this as this forced absorption can be too much.
The DearPacker Black Tea & Black Rose Mask Sandwich
Now that we know what sandwhich masking is, here are the steps and ingredientsto make your very own mask sandwhich!
Prep your mask sandwich with toner. Make sure you don't use any actives at this step, as we don't want to risk irriating our skin.
Apply your gel mask. Pick any one that you like. My recent go-to has been this DearPacker Royal Black Tea & Black Rose Mask for its luxuriousness and its great ingredients.
Create your lotion mask with a hydrating toner, and apply that over your gel mask. I really like the Este Dew whiteing and moisturizing toners. By themselves they're kind of blah, but they're excellent for lotion and/or sandwich masking!
Wait 10-15 minutes, periodically checking to see if the lotion mask has dried. If you want to extend your masking session, you can pat the dry areas with additional toner. When you're done, simply remove the lotion mask and use that to wipe off the gel masks.
Your skin should feel plump, bright and super hydrated at this point. You can gently wash off any residues with water, or if the gel mask allows for it, just pat the rest into your skin (read the instructions first!). Finish off your routine with a serum and moisturizer and you're done!
If you have enough time in the morning, sandwich masking with the DearPacker Black Tea & Black Rose Mask can really prep your skin for makeup application, to the point where you may be able to skip primer. But even if you just use this at night, it's a excellent for hydrating your skin and minimizing any redness or discomfort.
Packaging
Ingredients
Texture/Application
Performance
Price
For the most part this mask does deliver on its claims of hydrating and soothing your skin. But to really see results, I definitely recommend layering a lotion/toner mask on top. If you're looking for a hydrating and nourishing gel mask to try out, this is a decent option to consider, but don't expect to be blown away. If you know you're sensitive towards fragrance and/or fragrant oils, patch test first to make sure!