A while back I hauled a bunch of Korean skincare products from Wishtrend, one of which was the amazing Wish Box No. 17 featuring 5 full sized products and 5 sheet masks from Klairs! In a nutshell I'm now a fan of the Klairs brand, but today, we'll be taking a closer look at the lovely Klairs Gentle Black Sugar Facial Polish.
About the Brand
Klairs is a skincare brand from South Korea with a focus on gentle and effective ingredients that will work on all skin types. That means no parabens, alcohol, or artificial colorings are used, making them a great choice for those with sensitive skin. They're also cruelty free (no animal testing) and are eco-friendly.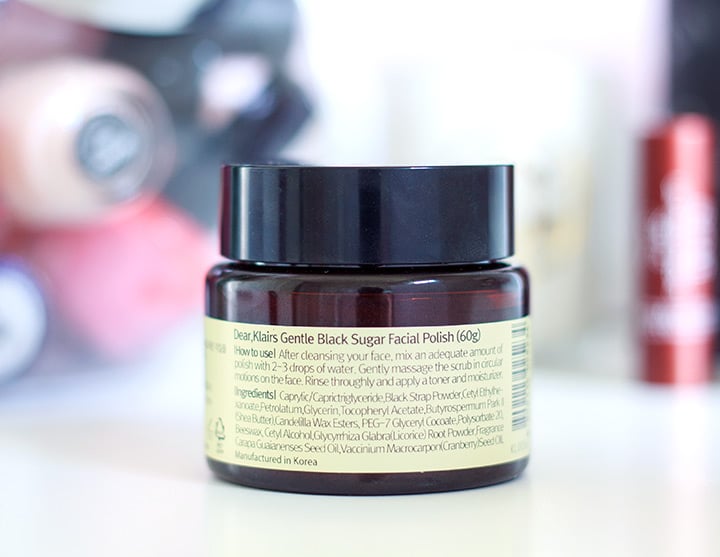 Product Review
When it comes to exfoliation, I typically prefer chemical to physical, but I love the instant softness and brightness a physical scrub gives you. Sadly most scrubs contain really rough ingredients (eg. the walnut shells in my old favorite St. Ive's Apricot Scrub) that can irritate your skin in the long run. Klairs Gentle Black Sugar Facial Polish uses sugar (duh) as its main physical exfoliant, but it also contains moisturizing ingredients like shea butter, cranberry oil, antiroba oil, and Vitamin E.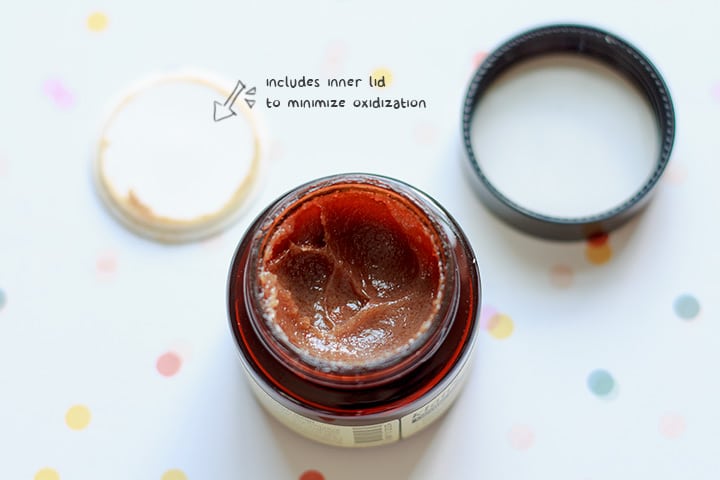 While this is a small jar, a little goes a long way. I first wet my face with water, and then scooping up a pearl-sized amount, I gently massage it on my face, paying extra attention to my t-zone area. The scrub has a sweet herbal scent that reminds me of gingseng tea. I personally find it quite pleasant and relaxing.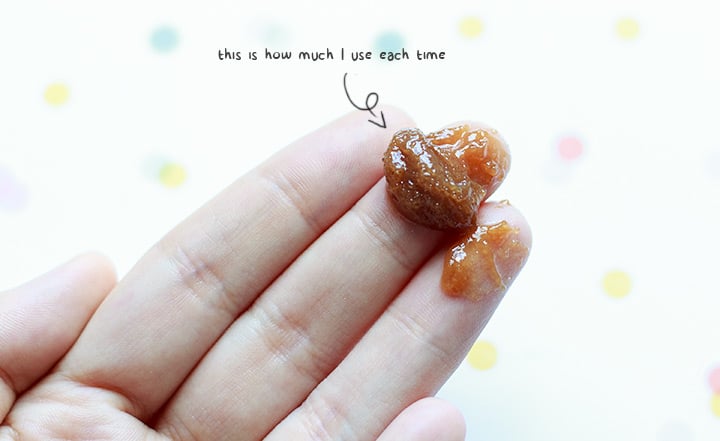 Since sugar dissolves in water, I'll keep massgaing my face until all the grains have disappeared. If I find the grains are too rough or they're not dissolving fast enough, I add a couple drops of water to my palm to help speed up the process. Once the grains are gone, I rinse off my face and holy crap my skin is baby butt soft . And unlike other scrubs in the past, my face doesn't feel dry or tight at all! Unfortunately I didn't notice any improvements with my blackheads, but that's what my BHAs are for ;)
The best thing about using Klairs Gentle Black Sugar Facial Polish? How nicely my makeup applies afterwards. It really helps smooth out my skin and remove any flakiness that could cause caking later on. I typically use this scrub in the morning in place of my cleanser, and if I have time afterwards, I'll use a toner mask to give my skin a hydration boost, and seriously, my makeup applies so much easier and caking is never an issue.
Key Points
Makes your skin super soft and allows for smoother makeup application.
Jar packaging isn't as hygienic.
Not cheap for a small jar.
Doesn't help remove blackheads.
Summary
Packaging

Ingredients

Performance

Price
If you're looking for a nice physical scrub that's gentle on the skin, this is it. The Klairs Gentle Black Sugar Facial Polish won't do much for your blackheads or your pores, but no physical exfoliant really can. Instead, it aims to give you skin that's softer than a baby's butt, and it definitely delivers. If you're interested in trying out other Klairs products, I definitely recommend buying Wish Box 17 rather than the individual items for a better deal.
Where to Buy
Wishtrend – $18.99 – Currently this product ships for free, and you can get $5 off your first order when you use invitation code 144278101. Get another 10% off $55+ with promo code WISHJUNE2015!
Further Reading