A while back I reviewed my experience of creating bespoke serums with Activist Skincare, how much I adored their Precious Oils Serum, and how the Hyaluronic Acid Serum didn't quite meet my needs. Activist Skincare kindly offered to reformulate it free of charge, and a week later I received my product just as I finished my old bottle. Fast forward 2 months, I'm finally ready to give the Hyaluronic Acid Serum the review it deserves.
What is it

A hydrating serum that contains peptides for anti-aging and antioxidants for protection, plus your customized blend of ingredients to target your unique skincare needs.

How I use it

Twice a day after first essence and toner. In the evenings I'll sometimes apply a brightening serum before this.

Best suited for

Literally all skin types, thanks to ingredients customization. Great for those who want to keep their routine simple as this is a multi-purpose serum, and don't mind splurging for better ingredients + formula.

Irritants

None, you won't find alcohol, parabens, artificial fragrances, or any common irritants in this.

Packaging

An elegant frosted glass bottle with a pipette for dispensing product. The copper + white color combo is also on point ????????

Scent

This is fragrance free, so no noticeable scent.

Texture

A medium-weight serum with has a nice silky slip to it, making it easy to apply

Finish

Absorbs almost instantly and leaves behind a natural finish with no shine or stickiness.

Available At

$89/1 oz for the customized version and $59/1 oz for the ready-to-wear version at Activist Skincare (free shipping in the US, $5 shipping to Canada, and $10 shipping to UK – sign up for their newsletter to get 10% off!)
Ingredients Breakdown
Whether you go with their customized or ready-to-wear version, the ingredient list is quite impressive and totally worthy of its own section in this review. You can view the full list on CosDNA, but I'll be highlighting the actives below:
Vitamin C* – The form used here is Sodium Ascorbyl Phosphate, which is much gentler and more stable than ascorbic acid, but still provides the same antioxidant benefits.
Witch Hazel Water – Naturally anti-inflammatory, the tannins found in witch hazel are also great antioxidants
Cassia Angustifolia Seed Polysaccharide – These polysaccharides mimic hyaluronic acid's ability to attract and retain moisture, thus hydrating the skin. It also has anti-inflammatory properties.
MSM – A building block for collagen, it also acts as a absorption enhancer for other ingredients!
Aloe extract – Great for calming, soothing, and hydrating the skin
Jojoba Seed Oil – A lightweight oil that has a similar composition to our natural sebum, making it a great emollient for dry skin types
Niacinamide* – Aka Vitamin B3, this can help smooth, brighten, and protect our skin against UV damages while stimulating collagen production. Activist Skincare uses a 10% concentration to get maximum potency.
Centella Asiatica Extract – Great for soothing the skin, it can also help increase our skin's moisture level.
Horsetail Extract – Another soothing ingredient with antioxidant properties
Dandelion Extract – There haven't been many studies done in regards to its effect on our skin, but we do know that it's full of vitamins A, B, C, and D, as well as minerals that are beneficial for the skin. (source)
Wild Geranium Extract – A natural astringent that can also promote skin healing and new cell growth
(2s)-2-Amino-5-guanidinopentanoic Acid – A really long name for L-arginine, an essential amino acid that helps maintain healthy skin and has anti-aging properties.
Licorice Root Extract* – Contains glabridin, which has strong antioxidant and soothing properties, making it great for sensitive or easily irritated skin. It's also great for evening skin tones!
Acai Extract* – A superfruit that's rich in antioxidants (higher than all the other berries!) that can help protect your skin against UV damage.
Green Tea Extract* – An excellent antioxidant, and the variety used by Activist Skincare uses actually contains a 90% concentration of EGCG, the compound richest in antioxidants, so you know you're getting the good stuff here.
I love that there's a great blend of proven ingredients mixed with promising plant extracts to provide a well-rounded array of benefits for the skin. The ingredients with * are my customized ingredients, but even without those, you still have a great selection of base actives that will hydrate and protect your skin.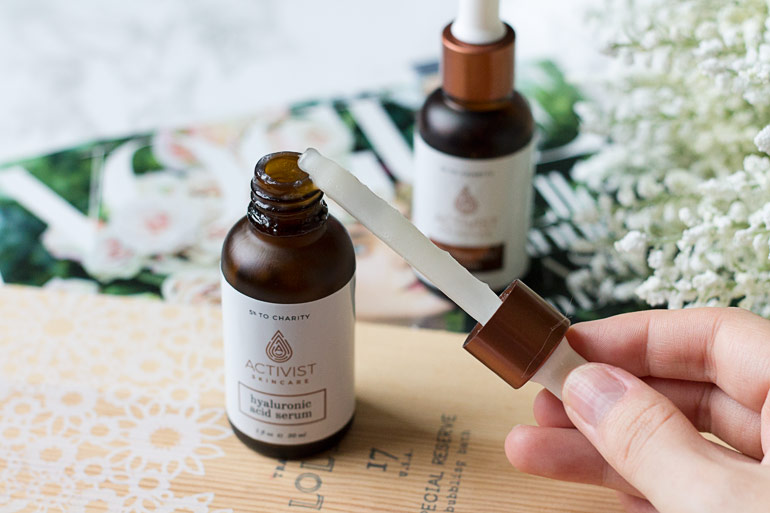 Due to the acai extract and green tea extract in this second formula, the serum itself actually looked orange-ish red, but it had the same texture and feel as the first formula. I love how fast this serum absorbs into the skin and how it doesn't leave behind any stickiness, a common problem I have with most hydrating serums. I don't mind the pipette dispenser, but be careful putting it back in the bottle as some of the product outside the pipette can get on the side of the opening, which then dries up and starts looking crusty and gross. Not a deal breaker, just don't be sloppy like me ????
The million dollar question: did it work?
I will be honest and say that this isn't a product where you'll see instant results overnight, or even after 1-2 weeks. But after patiently using this for about 1+ month, I noticed that my skin just looked…better. It was a little brighter, it felt a lot smoother, the redness was gone, my makeup applied like a dream, and I looked like I had gotten 10+ hours of sleep everyday (one can hope). The difference was even more noticeable once I stopped using it, not that my skin instantly got worse, but I feel like it just wasn't as resilient or healthy as before.
I'm glad that I'm seeing more results this second time around, probably due to the additional actives + increased concentrations, something I wish I had requested the first time. The customer support at Activist Skincare is excellent, so don't be afraid to really tell them what you're looking for, or if you really want a particular active in your formula!
The one caveat I have to say about this serum is it's price per ounce – when used twice a day the bottle lasts about just under 3 months, so using this continuously can get really expense. But then again, it's a customized formula, so are you really surprised? Anyways do I think it's worth it? Considering all things (ingredients, formula, customer service, etc), yes. Do I think it's for everyone? No. If you love layering and a complex routine, you probably want products targeted at a single skincare concern rather than something well-rounded like this. But if you prefer a minimal routine and don't mind splurging, the Customized Hyaluronic Acid Serum is an excellent option.
Packaging
Ingredients
Texture/Application
Performance
Price
Overall a beautiful serum that really improves your skin in the long run. It's one of the few, if not only product I've reviewed so far that's gotten a full score for ingredients, and that's because it truly goes above and beyond in that aspect, especially when you add in the bespoke factor. The only thing holding this serum back from being a 9+ product is the price, which I know can be a deterrent for some people. But if you have the means and are willing to spend, then this is definitely worth trying out.
[12/20/2017 UPDATE: After reading our comments regarding the price of this serum, the founder of Activist Skincare, Allison (who is totally sweet and very passionate about her products), reached out to me to shed more light on this subject:
It takes them about 1 hour per serum to individually analyze the customer's needs, carefully consider how the available active ingredients will work in synergy for the customer's skin type, create a personalized brochure with details about the formulation, and then create the serum by hand in their lab. Hopefully as they grow they'll be able to find efficiencies and reduce costs, but until then it will be a labor intensive process, as you can tell.

They take great pride in their selection of ingredients to provide the highest quality and effectiveness possible, and they use them at their optimal concentrations (eg. 10% niacinamide – holla! ???????? )! They also avoid using any ingredients that could potentially irritate or sensitize the skin in the long run.
Also when you think about how much other eco-luxe brands are charging for their serums, the price for this is more than reasonable, all things considered. Of course, I know that for some people a product could contain unicorn tears and $89 would still be too much, and I get it, I probably would've felt the same way 10 years ago when I was still in school. But hopefully these details give you more insight into the rationale behind their pricing :) /end update]
Hope you enjoyed this post, and thank you all for the lovely comments in my previous post!! I've been falling behind in replying to comments again (working on it, I promise!), but I have read every single one and I'm honestly so moved by all your kind words ❤️
Hope you all have a fantastic week!