Skincare by nature is very personal. Everyone's skin is unique and has different needs, yet beauty companies try to fit us into a single category like "dry" or "oily" or "acne-prone". Luckily there are brands out there that recognize and respect the individuality of our skin and understand that there's no one-solution-fits-all product. One such brand that I've had the pleasure of discovering and working with these past months is Activist Skincare.
I rarely gush about brands, but even before I go into how much I've adored using their products I need to give some love to the Activist Skincare brand itself. Just take a look at their philosophy:
We believe that your skin is as unique as you are, and it deserves to be treated like an individual. Why use unnecessary chemicals that won't benefit you, or miss out on the active ingredients that can really make a difference for your skin? Our emphasis on caring for each client's unique skin type — and our 5% donation to charity — sets us apart from other skincare companies.
Green and clean (not a must have for me personally but I respect it)? Check. High quality ingredients? Check. Giving back to the community? Check. They also have amazing customer service. From creating your unique products by hand in single batches to offering reformulations if your product doesn't work, you feel like you're building a personal relationship with the brand.
Activist Skincare's goal is to help clients simplify and improve their skincare routine, so they only offer a few product, two of which you can customize : the water-based Hyaluronic Acid Serum and the oil-based Precious Oils Serum, which you can also purchase as a duo to save $29! After filling out a survey about my skin (it's part of their standard ordering process), I received my custom-formulated serums in the mail, complete with a personalized brochure that included my skin analysis and more details on the added actives.
Custom Hyaluronic Acid Serum review
Custom Actives

Full Ingredient List

water, sodium ascorbyl phosphate (vitamin c), witch hazel water, cassia angustifolia seed polysaccharide (botanical hyaluronic acid), dimethyl sulfone (MSM), aloe barbadensis extract*, vegetable glycerin, jojoba oil*, niacinamide, centella asiatica extract*, horsetail extract, dandelion extract, wild geranium extract, (2s)-2-amino-5-guanidinopentoanoic acid, licorice root extract, acrylates/C10-30 alkyl acrylate crosspolymer, phenoxyethanol, ethyhexylglycerin
* organic

Price & Size

$89 for 1 fl oz/30 ml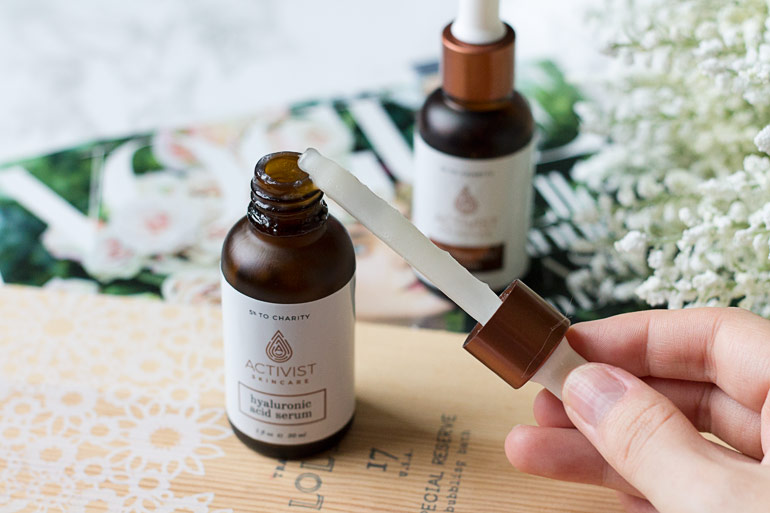 This is a water-based hydrating serum that would benefit all ages and skin type. It features cassia angustifolia seed polysaccharide, a botanical extract that not only mimics the behavior of hyaluronic acid to help retain moisture on the skin, but can also help repair and soothe the skin. In addition, the serum also contains:
MSM to increase collagen production and enhance the absorption of other ingredients
Aloe extact & centella asiatica extract to soothe the skin
Horsetail extract to firm the skin and reduce the appearances of fine lines
L-arginine, an amino acid that helps with healing and reverse the signs of environmental damage
Then to address my unique skin needs – brighten, hydrate, and soothe – vitamin c (in the form of the more stable SAP), niacinamide, and licorice root extract were added to the formula. Typically they will choose 3 custom ingredients, but depending on your needs, it could be up to 5 or 6. Other possible options include green tea extract, lotus extract, or for those wanting mild exfoliation, an AHA blend. There are no artificial fragrances, parabens, colorants, or alcohol, and the only emulsifying agent and preservative are at the end of list. You can view a full list of their ingredients here, and they're continuously adding new ones to the list!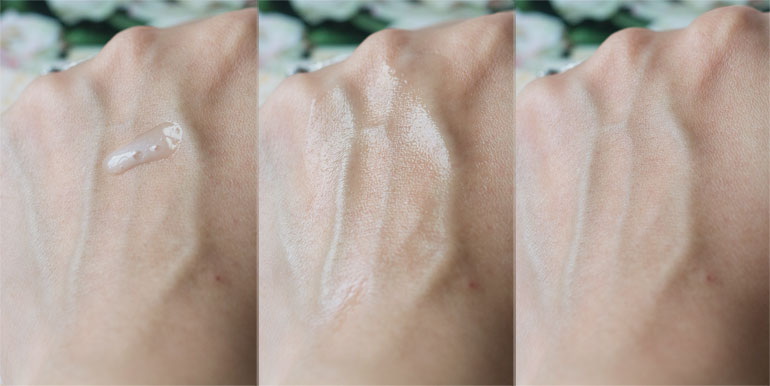 The serum itself has a lightweight milky consistency and no noticeable scent. It's spreads very easily and my skin drinks this up instantly. It leaves behind almost a matte finish, and you can definitely layer on another serum if you like, though I've found this sufficient for my routine. While I haven't noticed any significant brightening results during my month of using this serum, I've noticed that my skin feels more plump and my makeup goes on smoother.
For me this serum does a wonderful job of hydrating my skin while providing some anti-aging and anti-oxidant benefits. I do like the choice of base ingredients, but I felt like the custom blend didn't quite work as well as I would've liked, especially considering the price. I wrote back to Activist Skincare to let them know my results, and now I have a new blend coming my way with more antioxidants & 10% niacinamide that I can't wait to try! See what I mean by amazing customer service?
Custom Precious Oils Serum review
Custom Actives

Antioxidant cocktail, Bisabolol, Coenzyme Q10

Full Ingredient List

grape seed oil, avocado oil, macadamia seed oil, organic jojoba oil, oil of tamanu, noni oil, antioxidant cocktail (poemgranate seed oil, tocotrienols, vitamin e, astaxanthin, lycopene, lutein, alpha lipoic acid [R-(+)-], beta carotene), coenzyme Q10, bisabolol

Price & Size

$109 for 1 fl oz/30 ml
This is a facial oil that includes a blend of wonderfully nourishing oils, and I was excited to see tamanu oil and noni oil on the list as those are quite uncommon. A bit of research showed that:
Tamanu oil is full of antioxidants and contains calophyllolide, which has anti-inflammatory properties. It's also rich in fatty acids and can help your skin lock in moisture (source).
Noni oil is non-comedogenic and found to show strong anti-inflammatory properties (source). It's rich in linoleic acid and excellent for nourishing and protecting the skin.
To boost this oil's skin protecting and soothing properties, my blend includes the anti-inflammatory bisabolol, the powerful antioxidant CoQ10, and an antioxidant cocktail that includes pomegranate seed oil and astaxanthin, the latter which can be 1000 times more potent than vitamin c! Needless to say, I couldn't be more pleased with the ingredients, and was even more excited when I found out that they'll be rolling out the ability for you to customize the base oils as well. Avocado oil breaks you out? Not a problem, they'll work with you to find another oil that'll suit your skin type!
As for the texture, this is definitely one of the heaviest face oils I've tried and reminds me a bit of the Skin Actives Every Lipid Serum but with a much nicer scent (kind of nutty). If I apply this on dry skin, it's actually pretty hard to blend in, so I either apply it directly after a sheet mask to lock the remaining essence in, or mist my face generously with the La Roche Posay Thermal Spring Water (HG status) and then massage the oil in while my skin is still wet. Just make sure you use this product at the end of the routine as it does contain occlusive oils.
While this doesn't give me instant marshmallow-soft skin a la the Naruko Supreme Rejuvenating Elixir Oil, it still manages to nourish and plump my skin extremely well, and I'd always wake up with a glow the next morning. Over time I've also noticed that some of the fine lines on my cheeks were no longer visible and my skin feels more balanced, though this may be a combination of using both the hydrating serum and this face oil. However, I can't deny that on moist skin this oil is a delight to apply and massage in. It's now my favorite step of my skincare routine, to the point where I even use this in the morning. No I've never used a face oil in the morning, and yes I love using it that much.
Overall thoughts on customization and eco-luxe products
I won't lie and say you can't find ready-to-made products available on the market with similar ingredients, but I think that's partly because my skin concerns are quite common (I've lost count of the products I've seen with brightening + hydrating + anti-aging properties). But what if you needed a product with anti-acne + anti-aging + hydrating? I think it's circumstances like this, where you struggle to find products to meet your unique skin needs, that Activist Skincare really shines.
But it's more than just the customization aspect that appeals to me, it's also their dedication to the quality of ingredients. From the selection to sourcing to formulation, Activist Skincare is committed to using only the safest and most effective ingredients while eliminating fillers and potentially dangerous chemicals. They also don't test on animals, so both Cooper & Shelly gives 2 paws up! Something about this willingness to go above and beyond the bare minimum while still creating such beautiful products is just so compelling to me, and why I'm starting to become a fan of eco-luxe brands (though I believe this might have started with Odacite, which I still love).
Anyways, the above are just my personal opinions, and I understand that in the end, skincare products should be about value & results. For me, the value for the Precious Oils Serum is definitely there, especially considering the prices of face oils for most eco-luxe brands. The Hyaluronic Acid Serum in this current formulation didn't quite hit the mark for me in terms of value, but I'm excited to try the reformulation and will give and updated review in another month!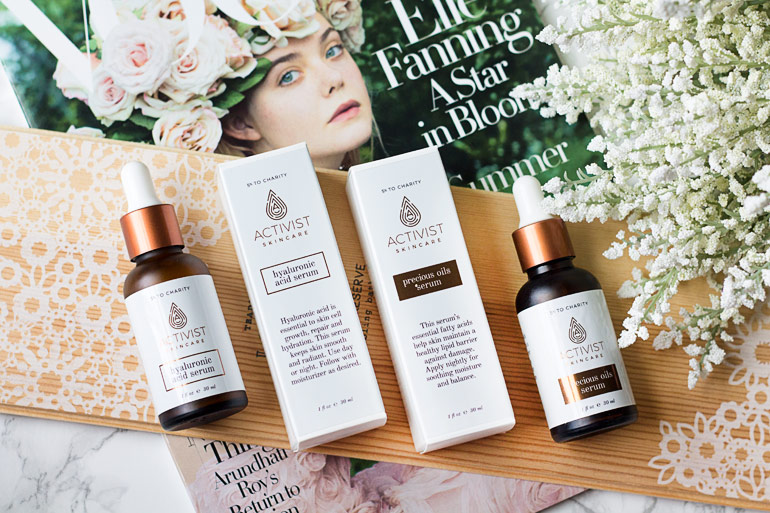 Packaging
Ingredients
Texture/Application
Performance
Price
Truly a fabulous face oil in every way, from the ingredients to user experience to the results. However, I know the high price isn't for everyone, so I would recommend it to the following:
- Those who have trouble finding products that work with their specific skin needs.
- Those who want to use safe and "green" ingredients and don't mind paying the premium for it.
- Those who already use eco-luxe brands and want to try something different.
- Those who are disillusioned with conventional high-end brands that charge a premium for mostly filler ingredients.
Or even if you're just curious, I would recommend reaching to the brand out with your skincare needs. They're super responsive and helpful!
Hope you all enjoyed the review! FYI Activist Skincare is always looking for feedback to improve their products, so if there are any ingredients you'd love to see in their custom formulas, please let me know in the comments below! If you are interested in trying out these products, be sure to sign up for their newsletter to get 10% off or like their Facebook page for exclusive deals (they had a 20% off deal a while back)! Have a great rest of the week everyone!