Y'all know when I describe something as "liquid gold" that means it's f*cking fantastic, and that's definitely the case with the Naruko Supreme Rejuvenating Elixir Oil, which coincidentally (…or not?????) actually looks like liquid gold!
What is it

A facial oil that's 80% nourishing oils and 20% essence with an easy-to-absorb texture that penetrates deep to instantly soften, revitalize and brighten our skin.

How I use it

Shake vigorously to mix the oil and essence, then massage 3-4 drops all over the face either directly after cleansing (as a first essence) or during my serum step, mornings and evenings.

Best suited for

All skin types, especially those who want to use oils but hate the heavy feeling and shiny finish.

Irritants

Free of parabens, alcohol, mineral oil, and artificial fragrances. None of the ingredients are shown to be comedogenic, but it does contain a buttload of plant extracts and a few essential oils, so be careful if you're sensitive to those.

Packaging

A beautiful dropper bottle with gold print. I'm loving this gold-on-gold thing here. And let's not forget the fancy ass box it comes in!

Scent

A light, soothing floral scent from the mix of oils and plant extracts. Ahhh yes.

Texture

Very light and watery. It's definitely the lightest of all the oils I've tried to date.

Finish

A completely natural, 99% shine-free finish.

Size & Price

$40.99 for 30ml

Where to buy

Naruko USA, eBay (free worldwide shipping from Taiwan), Naruko Canada
Key Ingredients
Actuat E60® – A blend of 60 different botanical extracts that combines the benefits of eastern herbs with western aromatherapy. Not only does it helps relax the senses, but the synergy helps boost the brightening, hydrating, and firming effects on the skin.
Abyssinian Oil – An ultra light oil rich that's easily absorbed by the skin. Rich in fatty acids, this oil helps soften and moisturize the skin while diminishing the appearance of fine lines (source).
Squalane – Derived from olives, this fast-absorbing oil is very similar to the natural sebum our skin produces. Not only is it moisturizing, it's also a great source of antioxidants to prevent UV damage, eg. fine lines and dark spots (source)!
Argan Oil – Rich in vitamin e, antioxidants, and fatty acids, it helps moisturize and increase skin elasticity. Because who doesn't like bouncy skin?
Meadowfoam Seed Oil – An oil that's very similar to Jojoba Oil in that it mimics our skin's natural sebum. As with the other oils, it can help moisturize and soften our skin. It's also an excellent antioxidant, and can extend the shelf life of other blended ingredients (source).
Buriti Oil – One of the richest sources of beta-carotene (even more than carrot seed oil!), it also includes vitamin e, vitamin c, and fatty acids to help nourish the skin and delay aging (source).
Babassu Oil – Another excellent oil with moisturizing properties. Research has shown that it can help prevent moisture loss, improve the our lipid barrier skin, and soothe our skin (source).
Marula Oil – A lightweight, fast-absorbing oil, it actually contains 60% more antioxidants than many other oils, including argan (source)! So you know it's a beast at moisturizing, softening, and nourishing the skin.
Sacha Inci Oil – Extremely high in linoleic acid, it's an excellent oil for combo/oily skin types and it can help even out our skin tone (in addition to all the other awesome benefits oil offers). (source)
Rosehip Seed Oil – A well known superstar oil with vitamin A, C, E, and fatty acids that can brighten, moisturize, and nourish your skin.
Sunflower Seed Oil – A great oil with anti-inflammatory properties that can help repair our skin's barrier and prevent moisture loss (source).
Rosewood Oil – An oil with antibacterial properties (source). It has a naturally sweet and woody fragrance, and is used in aromatherapy for its antidepressant properties.
Ubiquinone/CoQ10 – An enzyme with antioxidant properties, it also helps in the production of collagen and elastin (source). A must have for maintaining young bouncy skin.
Vitamin E – An antioxidant that helps moisturize, protect, and soften the skin. It also acts as a natural preservative in skincare products.
Cyclopentasiloxane – The first ingredient is actually a lightweight, non-comedogenic silicone that helps deliver ingredients into our skin while giving the product a light silky texture (source).
You can view the full ingredient list on CosDNA, which actually lists out all the extracts in Actuat E60®. Boy that list was a b*tch to type out.
Saying that there are a ton of facial oil products on the market is an understatement, but if you look at their ingredients, you'll mostly find common oils like jojoba, olive, and avocado. Not saying those oils are bad, but I do appreciate Naruko for selecting these less common (yet fabulous!) oils creating something that's significantly different.
But great ingredients are only great if the product works for your skin, and let me tell you, my skin f*cking loves this. The bi-phase formula feels so light and silky, and it's by far the fastest absorbing oil I've ever used, leaving minimal shine behind.
Let me tell you, my skin feels like marshmallows after I massage this in. Soft bouncy non-shiny marshmallows #skincaregoals. Other oils leave my skin soft, but not this soft, and definitely not shine-free. I know this sounds crazy, but it actually feels like all the ingredients are going into my skin rather than just sitting on the surface!
Recommended Reading: Love face oils? Here are 5 new ways to use them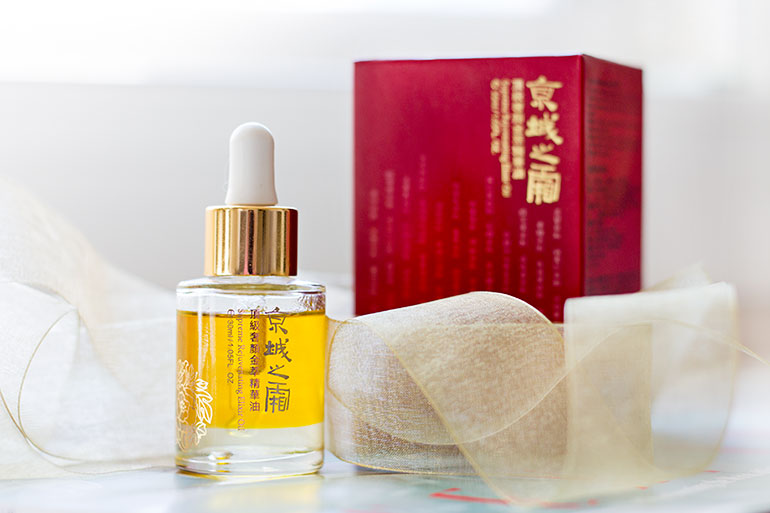 While I haven't noticed any brightening effects, my skin has definitely gotten softer and smoother as I continued using the Naruko Supreme Rejuvenating Elixir Oil, and I'm talking I-can't-stop-touching-my-face-all-day soft here. I also haven't experienced any negative effects – no redness, no product conflicts, no breakouts, none. And you wonder why I call this liquid gold in a bottle? Seriously, this can do no wrong in my eyes. Yes the regular price of $90 for 30ml is a little outrageous, but so are the results, and I will buy this as long as Naruko has any kind of sale on it (which is literally always).
Packaging

Ingredients

Texture/Application

Performance

Price
If your ideal skin is that of a marshmallow (honestly that's a pretty damn good goal), then you need this oil in your routine. All other facial oils have lost their appeal to me since using this (except for the Odacite booster serums because they're so unique), and it's now become a must-have in my routine, as well as my favorite Naruko product to date, by far. Definitely repurchasing!!
Hope you guys enjoyed this review, and let me know if you've tried any products with any of these uncommon oils (see key ingredients above) before! This is my first time trying a lot of these oils, and so far it's been a fabulous ❤️ Have a lovely rest of the week + weekend!