If you're familiar with Korean skincare, then you've definitely heard of the brand Sulwhasoo, specifically their star product: Sulwhasoo First Care Activating Serum. It was one of the first K-beauty products I tried almost a decade ago, and this is my 4th bottle. So why am I only writing about it now?
Because for the longest time I was confused about what it's supposed to do. Don't be fooled by the name, it's anything but your typical serum.
If you're also confused by this product, or just want to know if it lives up to the hype, this post is for you.
Overview
What is it
This best-selling K-beauty serum is the coveted step to getting a visibly smooth, glass skin-level glow–now elevated to perfection with a glossy exterior for a more luxurious look and feel. The secret is in JAUM Activator™, a masterfully blended complex of 5 precious herbs that improves the look of skin's hydration, brightness, radiance, translucency, visible wrinkles, and moisture barrier.
Best suited for
Anyone who enjoys the grounding scents of hanbang (Korean herbal medicine) in a lightweight yet hydrating formula. Those in their late 20's or older will probably get more out of this than younger folks.
Sensitive skin may want to avoid due to all the extracts, alcohol, and fragrance.
Things to note
Contains alcohol but doesn't feel drying. Also contains fragrance.
Packaging
A beautiful opaque ceramic pump bottle. Occasionally they also release limited edition designs.
Scent
A light herbal scent which I personally find calming. If you're familiar with Chinese or Korean herbal medicine, this smells just like that. Scent dissipates after the product has absorbed.
Texture
Light and almost water like, with an amber color.
Finish
Absorbs quickly, and assuming you apply this first on clean skin, it leaves a natural non-sticky finish.
Purchase
$89 for 60ml on Dermstore (15% off with code JENNY) Amazon, Sephora, Skinstore; $66 on Jolse, $57 on Stylevana (10% off with SHOPJENNY)
Sulwhasoo First Care Activating Serum Ingredients
Water, Alcohol Denat., Butylene Glycol, Betaine, 1, 2-hexanediol, Bis-peg-18, Methyl Ether Dimethyl Silane, Glyceryl Polymethacrylate, Carbomer, Peg-60 Hydrogenated Castor Oil, Tromethamine, Propanediol, Glyceryl Caprylate, Walnut Seed Extract, Dextrin, Cocoa Extract, Skullcap Root Extract, Fragrance, Ethylhexylglycerin, Adenosine, Limonene, Methyl Trimethicone, Disodium Edta, Xanthan Gum, Cellulose Gum, Carrageenan, Honey, Madecassoside, Rehmannia Glutinosa Root Extract, Pentylene Glycol, Ophiopogon Japonicus Root Extract, Paeonia Lactiflora Root Extract, Lilium Candidum Bulb Extract, Linalool, Lycium Chinense Fruit Extract, Polygonatum Odoratum Rhizome Extract, Biosaccharide Gum-1, Propylene Glycol, Ziziphus Jujuba Fruit Extract, Nelumbo Nucifera Flower Extract, Pueraria Lobata Root Extract, Natto Gum, Licorice Root Extract, Prunus Mume Fruit Extract, Citronellol, Citral, Geraniol, Hydrogenated Lecithin, BHT, Citric Acid, Lentinus Edodes Extract, Tocopherol, Hydrolyzed Soybean Extract, Paeonia Albiflora Root Extract, Ginger Root Extract
Your typical K-beauty formula with lots of extracts, get your tea/coffee ready and let's break them down:
Walnut seed extract – Exhibited antioxidant, anti-inflammatory, and anti-aging properties in vitro.1
Cocoa extract – Similar to walnut seeds, the polyphenols within provide antioxidant, anti-inflammatory, and anti-aging benefits in in-vivo studies.2
Skullcap Root Extract – A traditional Chinese medicinal herb rich in flavonoids that provide anti-inflammatory and antioxidant benefits.3
Rehmannia Glutinosa Root Extract – Aka Chinese foxglove and 1 of the 5 extracts in the JAUM Activator. A study in mice found it can suppress the expression of inflammatory cytokines and chemokines, both which can contribute to skin aging.4
Ophiopogon Japonicus Root Extract – A study found it to be anti-inflammatory and barrier restoring.5
Paeonia Lactiflora Root Extract – Aka White Peony or Bai Shao, another traditional Chinese medicinal herb that can decrease hyperpigmentation.6 Also a part of the JAUM Activator.
Lilium Candidum Bulb Extract – Aka White Lily and a part of the JAUM Activator, though there's little research on its exact benefits. One study did find that when used together with other extracts (none of which are included here), it can help reduce the appearance of dark circles.7
Lycium Chinense Fruit Extract – Goji berries are considered a superfood rich in antioxidants, but topically it's also found to help decrease hyperpigmentation and improve skin tone.8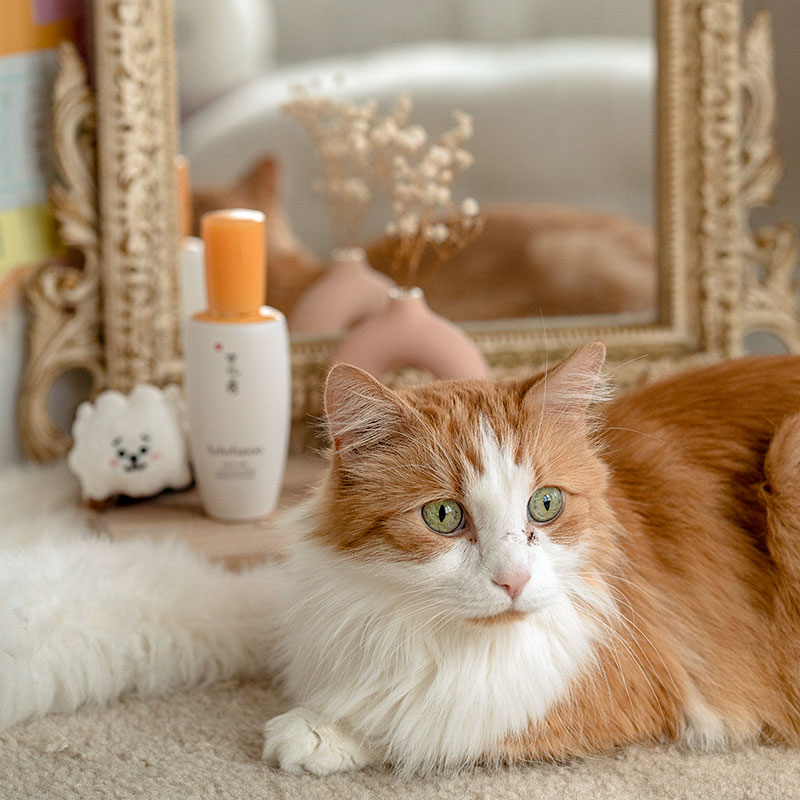 Polygonatum Odoratum Rhizome Extract – Aka Solomon's Seal and a part of the JAUM Activator, it claims to be anti-inflammatory and anti-bacterial but I couldn't find any research supporting this.
Ziziphus Jujuba Fruit Extract – Aka Jujube, a study found it to have anti-inflammatory effects when applied topically.9
Nelumbo Nucifera Flower Extract – Aka Lotus Flower and the final member of the JAUM Activator, research has found it to have anti-aging benefits.10,11
Pueraria Lobata Root Extract – Aka Kudzu, it's shown to help with collagen production and inhibit photoaging.12
Licorice Root Extract – One of the better researched extracts, it's been shown to have antioxidant, anti-aging, and brightening benefits.13
Prunus Mume Fruit Extract – Aka Chinese Plum, it's been found to brighten the skin by inhibiting melanin production.14
Lentinus Edodes Extract – aka Shitake Mushrooms, is rich in flavonoids, polyphenols, and amino acids that provide antioxidant and anti-inflammatory benefits to the skin.15
Paeonia Albiflora Root Extract – aka Peony, which is different from the White Peony earlier. I couldn't find any research on this specific Peony, but it contains Paeoniflorin as well, which is an antioxidant.
Ginger Root Extract – Its main compound Gingerol has great antioxidant and anti-inflammatory properties.16, 17
Based on the studies I found, the brightening/radiance and anti-aging claims of the JAUM Activator complex are supported, albeit the support is pretty weak. But there's nothing to support the hydration or barrier support claims, though other ingredients pick up this slack.
Overall it's a mixed bag here, with some more proven extracts like licorice root but also a lot of obscure ones like lily bulbs and solomon's seal (interestingly both part of the JAUM Activator). Not a completely lost cause though, as there are other well-researched ingredients like honey to moisturize and vitamin e + madecassoside (from centella asiatica) as powerful antioxidants.
A warning about having too many plant extracts: the more you have, the greater the chance of one causing a sensitive reaction. Granted I have never experienced any issues, but it's something to keep in mind.
How to use the Sulwhasoo First Care Activating Serum
It's critical that you use the serum in right step of your skincare routine and in the right amount, otherwise you're not going to see the expected results.
After cleansing, lightly dry your skin leaving it damp but not wet. Or spritz a light layer of facial mist.
Apply 2-3 pumps into your palms and gently warm up the serum with a light rubbing motion.
Massage the serum gently into your skin.
Press your hands on your face and hold it in place for a few seconds, allowing the heat from your hand to help the product absorb.
If you love the herbal scent, take a few deep breaths and enjoy the aromatherapy benefits!
Continue on with the rest of your skincare routine!
Notes
Don't skimp on the amount to use - you're not going to see the full benefits if you just use 1 pump! To save on the product, you can just use it once a day in the evening instead.
Usage Experience & Results
✅ A delightful sensorial experience
While results is my #1 priority, I still love when products deliver a beautiful usage experience, and this Sulwhasoo serum absolutely hit the spot. From the beautiful bottle to the grounding herbal medicine scent to the water-like texture, it's a joy to use. The scent is truly calming for me, breathing it in as part of my evening routine is a wonderful way to end the day.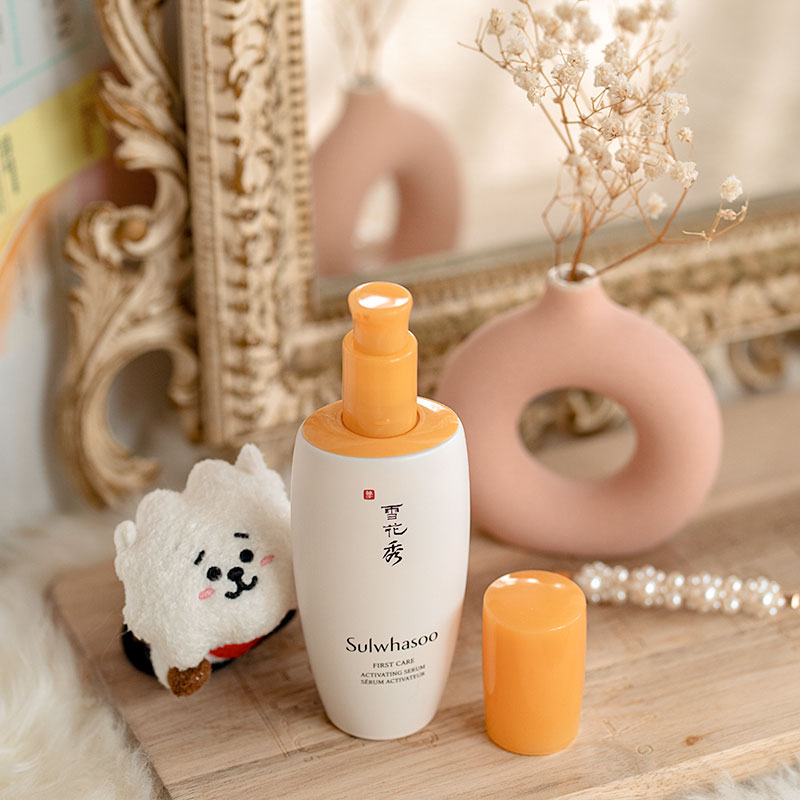 ✅ Helps with product absorption
It seems contradictory that adding an extra layer of skincare would help subsequent layers absorb better, but it works. Maybe it's the alcohol (a known penetration enhancer), but the rest of my toner and serums seem to aborb quicker and leave less of a film when I use the Sulwhasoo activating serum.
✅ Helps boost other products' efficacy
This was slightly harder to notice, but I've noticed that the rest of my products work harder when I use the Sulwhasoo serum. When I don't, my skin hydration and glow levels seems to drop by about 10%, which is obviously an arbitrary number, but you get my point – my skin just feels more moisturized and has a bit more glow when I use this. I didn't notice a difference in fine lines either way though.
💡 The older your are, the better it works
So if you're in your 20's, as I was when I first tried the Sulwhasoo Activating Serum, you're going to be disappointed. But as we get older and our skin gets drier, duller, and more fine lines, this product can be just the boost your skincare routine needs. I'm definitely noticing more overall results now than I did 10 years ago!
😐 Must use 2-3 pumps to see results
I've tried using just 1 pump, which honestly feels enough for my face, but the efficacy is noticeably reduced. As in you won't notice any difference at all. With this serum, you either go big or go home, which is tough since a bottle isn't cheap!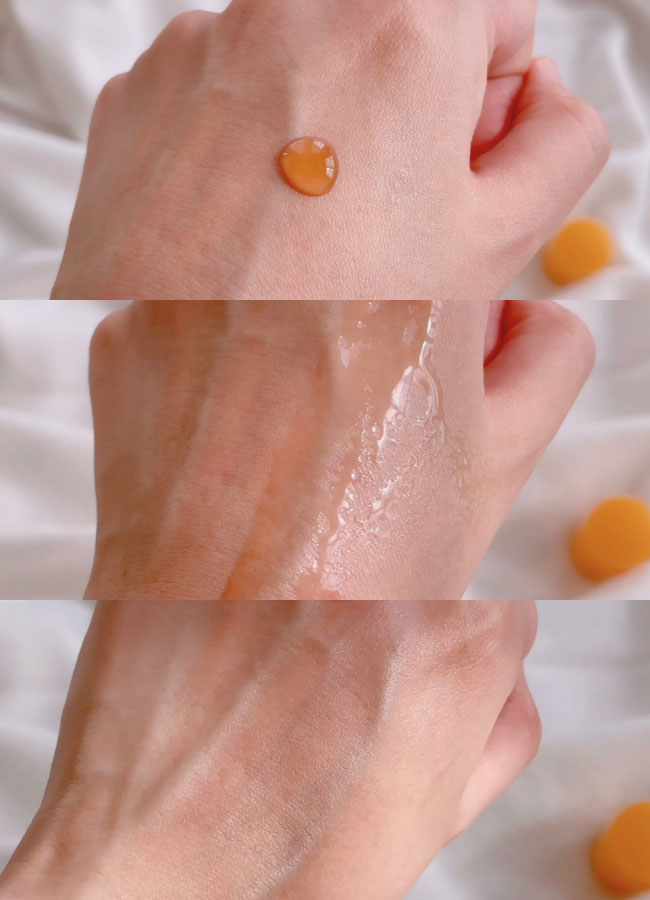 😐 Doesn't deliver the claimed results when used alone
Yes it seems to boost the efficacy of other products, but what about when used alone? I tried using this without any of my other skincare products except moisturizer, and it was a flop. It's definitely not hydrating on its own, and it's anti-aging benefits are inferior compared to retinol. As for skin brightening, there are so many more effective and affordable options as well!
But as a "first serum", it's not meant to be used on its own, just like how the SK-II FTE isn't meant to be used on its own. First serum/essence goals are mainly to boost overall routine absorption and efficacy, which it does well. But again if you're going off the claims thinking this $98 is the answer to all your skincare concerns, you're going to be disappointed.
What Others Say
I would consider adding it to my routine to boost my favorite serums if it were cheaper, but at $89, I don't think it's for me.

Kelsey Clark, dry skin
I wouldn't say there's a huge, glaring difference in my fine lines that I could 100% attribute to this product. I do think it makes my skin look more radiant, healthy and plumped up.

K Beauty Hobbit, combination skin
What my skin gained from the First Care Activating Serum EX (and then lost when I cut it from my routine, and then regained when I welcomed the product back into my life) was a youthful radiance that I don't think I've had since I was seventeen.

Fiddy Snails, normal skin
Sulwhasoo First Care Activating Serum dupes
We're going to look at other products with either 1) similar hanbang ingredients or 2) similar functions.
🌿 Missha Geum Sul Rejuvenating Essence
This is probably the closest "dupe" you'll get in the traditional sense: it's also a first essence/serum that you use at the start of your routine, with Korean herbal ingredients like ginseng, licorice root, and reishi mushroom extracts.
🌾 Haruharu Wonder Black Rice Hyaluronic Toner
Not as many extracts, but this includes ginseng, rice, bamboo, and skullcap root to name a few. It also as a similar texture to Sulwhasoo, a light hydrating liquid that absorbs well into the skin. The main effect of this is hydration, which in part helps with subsequent product absorption.
🌌 Klairs Midnight Blue Youth Activating Drops
This has a super minimal and non-hanbang formula, but its EGF content and help provide an anti-aging boost to your routine. I've found it to improve my overall skin health when used in my routine. Full review here.
💦 Any facial mist!
You don't need a fancy serum to help boost product absorption, just use a face mist to dampen your skin and you'll find that your serums and creams absorb much easier and faster! Don't use one before acids or retinol though, or else you'll increase their potency and irritation!

Final Verdict
Ingredients
Packaging
Texture/Application
Performance
Price
This cult-favorite Korean skincare serum is not for the skincare minimalist, I wouldn't even consider it a serum for your average skincare user. While the results are there, I argue that you can still get hydrated and glowing skin for less. Is it going to smell or feel as nice as the Sulwhasoo Activating Serum? Maybe not.
I may repurchase this one mainly because I genuinely love the usage experience and that Korean herbal medicine scent, but it's by no means a must have!
Article Sources
To keep my content accurate and trustworthy, I rely on peer-reviewed studies, articles from reputable academic institutions, and quotes from certified healthcare professionals to back my claims. No woo-woo clickbait nonsense here!
Agata Przekora, et al. "UVB Protective, Anti-Aging, and Anti-Inflammatory Properties of Aqueous Extract of Walnut (Juglans Regia…" ResearchGate, unknown, 31 Oct. 2018, www.researchgate.net/publication/328846984_UVB_protective_anti-aging_and_anti-inflammatory_properties_of_aqueous_extract_of_walnut_Juglans_regia_L_seeds.

Scapagnini, Giovanni, et al. "Cocoa Bioactive Compounds: Significance and Potential for the Maintenance of Skin Health." Nutrients, vol. 6, no. 8, Aug. 2014, pp. 3202–13, https://doi.org/10.3390/nu6083202.

Schinella, G. R., et al. "Antioxidant Activity of Anti-Inflammatory Plant Extracts." Life Sciences, vol. 70, no. 9, Jan. 2002, pp. 1023–33, https://doi.org/10.1016/s0024-3205(01)01482-5.

Sung, Yoon-Young, et al. "Topical Application of Rehmannia Glutinosa Extract Inhibits Mite Allergen-Induced Atopic Dermatitis in NC/Nga Mice." Journal of Ethnopharmacology, vol. 134, no. 1, Mar. 2011, pp. 37–44, https://doi.org/10.1016/j.jep.2010.11.050.

Mainzer, Carine, et al. "Clinical Efficacy of Oligofructans from Ophiopogon Japonicus in Reducing Atopic Dermatitis Flare-Ups in Caucasian Patients." Medicaljournals.se, 2020, www.medicaljournals.se/acta/content/abstract/10.2340/00015555-3224.

Qiu, J., et al. "The Skin-Depigmenting Potential of Paeonia Lactiflora Root Extract and Paeoniflorin:in VitroEvaluation Using Reconstructed Pigmented Human Epidermis." International Journal of Cosmetic Science, vol. 38, no. 5, Mar. 2016, pp. 444–51, https://doi.org/10.1111/ics.12309.

Alsaad SM;Mikhail M. "Periocular Hyperpigmentation: A Review of Etiology and Current Treatment Options." Journal of Drugs in Dermatology : JDD, vol. 12, no. 2, J Drugs Dermatol, 2013, pubmed.ncbi.nlm.nih.gov/23377386/.

Huang, Huey-Chun, et al. "Supercritical Fluid Extract of Lycium Chinense Miller Root Inhibition of Melanin Production and Its Potential Mechanisms of Action." BMC Complementary and Alternative Medicine, vol. 14, no. 1, June 2014, https://doi.org/10.1186/1472-6882-14-208.

Al-Reza, Sharif M., et al. "Anti-Inflammatory Activity of Seed Essential Oil from Zizyphus Jujuba." Food and Chemical Toxicology, vol. 48, no. 2, Feb. 2010, pp. 639–43, https://doi.org/10.1016/j.fct.2009.11.045.

Park, Ki Moon, et al. "Nelumbo Nucifera Leaf Protects against UVB-Induced Wrinkle Formation and Loss of Subcutaneous Fat through Suppression of MCP3, IL-6 and IL-8 Expression." Journal of Photochemistry and Photobiology B: Biology, vol. 161, Aug. 2016, pp. 211–16, https://doi.org/10.1016/j.jphotobiol.2016.04.006.

Paudel, Keshav Raj, and Nisha Panth. "Phytochemical Profile and Biological Activity ofNelumbo Nucifera." Evidence-Based Complementary and Alternative Medicine, vol. 2015, 2015, pp. 1–16, https://doi.org/10.1155/2015/789124.

Heo, Hee Sun, et al. "Pueraria Montana Var. Lobata Root Extract Inhibits Photoaging on Skin through Nrf2 Pathway." Journal of Microbiology and Biotechnology, vol. 29, no. 4, Apr. 2019, pp. 518–26, https://doi.org/10.4014/jmb.1812.12019.

Ciganović, Petar, et al. "Glycerolic Licorice Extracts as Active Cosmeceutical Ingredients: Extraction Optimization, Chemical Characterization, and Biological Activity." Antioxidants, vol. 8, no. 10, Oct. 2019, p. 445, https://doi.org/10.3390/antiox8100445.

Pi, KyungBae, and KiBeom Lee. "Prunus Mume Extract Exerts Antioxidant Activities and Suppressive Effect of Melanogenesis under the Stimulation by Alpha-Melanocyte Stimulating Hormone in B16-F10 Melanoma Cells." Bioscience, Biotechnology, and Biochemistry, vol. 81, no. 10, Oct. 2017, pp. 1883–90, https://doi.org/10.1080/09168451.2017.1365591.

Wu, Yuanzheng, et al. "Mushroom Cosmetics: The Present and Future." ResearchGate, MDPI AG, 8 July 2016, www.researchgate.net/publication/305078746_Mushroom_Cosmetics_The_Present_and_Future.

Kim, Jin-Kyoung, et al. "[6]-Gingerol Prevents UVB-Induced ROS Production and COX-2 Expression in Vitro and in Vivo." Free Radical Research, 2022, www.tandfonline.com/doi/abs/10.1080/10715760701209896?journalCode=ifra20.

Guahk, Gui-Hee, et al. "Zingiber OfficinaleProtects HaCaT Cells and C57BL/6 Mice from Ultraviolet B-Induced Inflammation." Journal of Medicinal Food, vol. 13, no. 3, June 2010, pp. 673–80, https://doi.org/10.1089/jmf.2009.1239.