As we head into December, it's time we start bringing in richer and more hydrating products to combat the colder and drier climate. Here are my winter skincare tips and picks.
Why we need a winter skincare routine
If you live in an area where temperatures change drastically between seasons, this will impact your sebum production, which is your skin's natural method of staying moisturized. Studies have found that the environment temperature affects our sebum production, with higher temperatures triggering more sebum, and vice versa.
Of course it doesn't help that the colder air is naturally drier – the lower the temperature, the less its ability to hold water. But the good news (sort of) is that heaters don't make the dryness worse, it's just heating up the same dry air, so the absolute moisture content remains the same.
Winter Skincare Tips
Now that we know how cold weather impacts our skin, it's a no brainer that the focus of winter skincare should be hydration – adding more to the skin and locking it in! I'll be sharing my tips as well as recommended winter skincare products below:
1. Hydration starts with cleansing
Unless your skin is still oily, it's a good idea to shelf your foaming cleansers and switch to a more emollient formula: gel, cream, milk, oil, or even balm. You don't want to strip what little sebum your skin has left with anything too harsh.
This feels so gentle on the skin, smells like yummy apricots, and cleans well without leaving a film behind! While foaming cleansers leave my skin feeling a tight in the winter, this just leaves my skin soft and balanced. Ingredient wise it's excellent for the price: a lovely mix of emollient oils, humectants, and skin soothing ingredients. It also has a few antioxidants and skin brightening ingredients, but they're probably not staying on your skin long enough to have any effect.
While not as enjoyable to use as the Andalou, the value you get for this gentle cleanser is incredible. I reviewed it in full here, but in a nutshell: excellent ingredients, low pH, super gentle, amazing price. The only downside is the bland packaging, but if you don't care for the superficial (good for you), then you won't regret trying this.
🏷️ $15 for 473ml on Amazon, LookFantastic
If cream cleansers are too rich for you, this lightweight gel cleanser is an excellent alternative. Slightly more expensive and while I don't recommend splurging on cleansers, this one is so worth it. Not only is it gentle, but it actually leaves your skin feeling more hydrated after cleansing! A truly underrated gem and one of my all time favorite cleansers!
2. Look for humectants in the ingredient list
What are humectants? They help attract moisture to the skin and can even enhance the skin's own hydrating abilities – much needed in the dry winter air! Some common ones to look for are hyaluronic acid, glycerin, aloe vera, urea, beta-glucan, sodium pca, and honey.
If you're not sure the easiest way is to check websites like Incidecoder (my favorite) or Skincarisma where they break down the types of ingredients for you. Humectant-featuring products will be your winter skincare essentials!
One of my all-time favorite product from the brand! Full of humectants and skin-soothing ingredients, it's ridiculously hydrating without being heavy or sticky. You can even use this for lotion masking to amp up the hydration effects! Full review here. There is also an essential oil-free version which is good for sensitive skin, but I find it slightly less hydrating.
While snail mucin is a less common humectant, the hydrating power of this essence will blow a lot of other mediocre toners and even serums out of the water. While it has a somewhat slimey consistency (it's snail mucin, what did you expect?), it doesn't feel sticky and actually leaves a velvet smooth finish on the skin. It's also incredibly soothing, great to pair with actives like retinol or AHAs!
Don't let the water-like texture or low price tag fool you, this serum/essence is surprisingly hydrating and relies on algae extracts + amino acids to help draw and retain moisture in your skin. At first it might feel like it's not doing much, but I've notice reduced fine line appearances with continued usage, a good sign that it's helping combat dryness! Did I mention this one is super easy to layer in any routine?
🏷️ $6.80 for 30ml on Ulta, Sephora, FeelUnique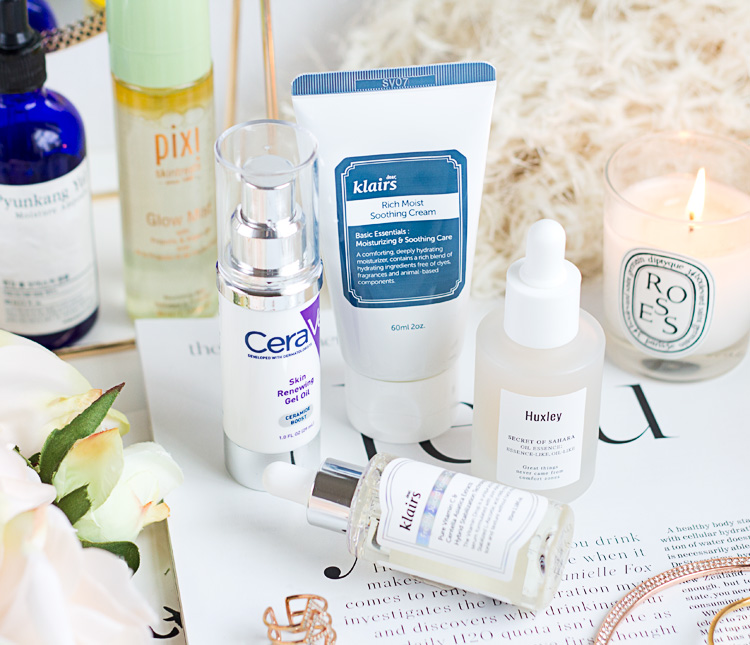 3. Incorporate a facial oil
Not because it's the trendy thing to do, but because your skin isn't producing as much sebum during the colder months. A good facial oil not only provides our skin with additional nourishments (think antioxidants, anti-aging, and brightening properties), but it also helps reinforce our skin's moisture barrier and prevent moisture loss.
Luckily there are a ton of options out there, even for those who hate the texture of a traditional oil! Here are a few beginner options that I recommend:
Love CeraVe when it comes to gentle + inexpensive products with great ingredients that just work. This initially feels like a gel but as you massage it in, it transforms into a light oil that is then quickly absorbed. Let me tell you, this has made such a difference for my skin, especially the fine lines around my eyes, which had become more noticeable as temperatures dropped. It also feels lighter than your usual oil, making it a good option for first time facial oil users.
If you don't mind fragranced products, this is a beautiful oil essence hybrid that contains 61% prickly pear seed oil to nourish and repair the skin. It's the least oily-feeling oil I've ever tried, and absorbs instantly leaving skin feeling velvety soft. Now it does contain alcohol as a penetration enhancer, but for me the dryness of alcohol is canceled out by all the other emollients and moisturizers in here.
🏷️ $30 for 30ml on StyleKorean, YesStyle
If I had to pick a single oil that I recommend to facial oil beginners, it'd be squalane. For one they're relatively affordable, and two, they have a light dry texture that doesn't feel thick or suffocating on the skin. Squalane is also a natural part of the sebum we produce, so you don't have to worry about potential irritations or clogging of pores. I like the Good Molecules one because of the small bottle, so you're guaranteed product freshness and can finish the oil before it goes rancid!
🏷️ $8 for 13ml on Beautylish, Ulta
4. Try the skincare sandwich method
While cold weather calls for more layers (both clothes and skincare!), it doesn't necessarily mean we need more products. As a matter of fact, you can keep your skin nourished and hydrated just by using a sandwich method:
mist ➡️ hydrating serum ➡️ mist ➡️ facial oil ➡️ mist ➡️ cream ➡️ mist ➡️ facial oil
You can decide how many layers you want in your sandwich, but the key is adding a mist between every step. This helps add that extra bit of hydration, which the serums/oils/creams can then lock in. I actually do this year-round, but it's especially incredible during the winter time!
For more dry skin picks, here is a huge roundup of moisturizers: 38 moisturizers reviewed, and here are the best ones for dry aging skin
Winter Skincare Products For The Body
As the rest of our body already produces less sebum compared to our face, it's extra important that we properly moisturize our bodies in the colder months to prevent ashy skin.
I love a thick creamy body butter or a body oil for the winter. Both feel lush on the skin and they'll deliver the necessary emollients to nourish and protect our skin from the cold dry air. Make sure you apply body butter/oil while your skin is still damp to lock in that extra moisture!
This one smells like sparkling grape juice and feels luxurious yet light on the skin! With a blend of grape seed and sweet almond oil, your skin not only feels nourished but you also get a boost of antioxidants and vitamins from the grape extracts.
🏷️ $29 for 100ml on Zulily, Amazon, and Panier des Sens
The OG body oil, and one that can be used to your hair and cuticles as well. This one has a similar dry velvet feel as the Panier des Sens, but the scent is floral + musk. I used this before the Panier des Sens and really enjoyed it as well, it's definitely easier to find and if you're in Europe, super affordable too!
PS: There's also a pink floral version, same formula, just different color and scent!
🏷️ $24 for 50ml on CultBeauty, Amazon, The Hut
Love or hate the cheeky Soap & Glory packaging, but their body care products are fantastic yet affordable. Their Righteous Body Butter is a classic for a good reason - a light floral scent and a decadent texture that nourishes the skin without being heavy or sticky. Result wise I think it's just as good as The Body Shop body butters, but Soap & Glory just seems more fun to use (at least for me).
🏷️ $15 for 300ml on SkinStore (code JENNY for 25% off), Ulta
If you're sensitive to scent or just have sensitive skin, La Roche-Posay is my go-to brand. For a while my feet were going through this super dry + itchy phase and after a few days of applying this lush body cream, the itchiness and dryness subsided. I love that it comes in a pump bottle instead of a jar, makes dispensing easier and more hygienic too!
🏷️ $19.99 for 400ml on SkinStore (code JENNY for 25% off), Amazon, Ulta
If you're looking for a skin repairing blend of ceramides, cholesterol, and fatty acids but don't want to spend $$$ for an elegant formula, the Illiyoon is an excellent option. Not only is it nourishing, it also doubles as a face moisturizer! Unlike the other options that are thick and buttery, this one leaves a velvet finish and would apply just as easily on dry skin. Full review.
🏷️ $14 for 200ml on StyleKorean; $24 on YesStyle
In addition to using a body butter, I've also started dry brushing this winter. It claims to have a lot of benefits, but I'm mainly interested in one: it helps slough off dead skin, which then improves the efficacy of moisturizers used. As with all exfoliation, you want to be gentle and you don't want to overdo it. Treat your skin with love, not like you're scrubbing a potato!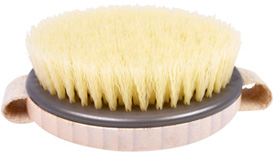 Another affordable win, no wonder it's a best-seller! Now don't expect this to be soft and fuzzy. It's meant to exfoliate, so the bristles are going to have some roughness to them. But as long as you're brushing slowly and gently, you should be left with baby soft skin and minimal redness. I like to use this once a week before I shower, and I find the experience rather therapeutic. Also it's low-key satisfying to see all the dead skin cells getting brushed off!
So there you go, my tips on helping your skin survive the frigid weather, all without breaking the bank! I've said this before, but products in the low and mid-range prices often deliver the best value. Trust me I love my bougie lotions and potions for their aesthetics and usage experience, but often times you can find affordable options that work just as well, if not better.
I wrote a comparison of high-end vs drugstore skincare products, find out which are worth paying for and which aren't: High end vs drugstore skincare, which is worth it?
Hope you found this helpful, and let me know what your beauty must-haves are this winter!
Article Sources
To keep my content accurate and trustworthy, I rely on peer-reviewed studies, articles from reputable academic institutions, and quotes from certified healthcare professionals to back my claims. No woo-woo clickbait nonsense here!
Boer, Magdalena, et al. "Structural and Biophysical Characteristics of Human Skin in Maintaining Proper Epidermal Barrier Function." Advances in Dermatology and Allergology, vol. 1, 2016, pp. 1–5, https://doi.org/10.5114/pdia.2015.48037.

CBS Minnesota. "Good Question: Why Is the Air so Dry in the Winter?" Cbslocal.com, WCCO | CBS Minnesota, 5 Dec. 2016, minnesota.cbslocal.com/2016/12/05/good-question-winter-air-dry/.