Originally posted on November 30th, 2018
As we head into December, it's time we start bringing in richer and more hydrating products to combat the colder and drier climate. Here are my winter skincare tips and picks.
This blog post is sponsored by iHerb. However all opinions are 100% honest and my own. For more information please read my disclosure policy.
Why we need a winter skincare routine
If you live in an area where temperatures change drastically between seasons, this will impact your sebum production, which is your skin's natural method of staying moisturized (source). Studies have found that the environment temperature affects our sebum production, with higher temperatures triggering more sebum, and vice versa (source). Of course it doesn't help that the colder air is naturally drier – the lower the temperature, the less its ability to hold water (source). But the good news (sort of) is that heaters don't make the dryness worse, it's just heating up the same dry air, so the absolute moisture content remains the same.
Now you can see why skin tends to get oilier in the summer, and drier in the winter, and why it makes sense to switch up our routine as seasons change! This doesn't mean we need a whole new set of products though, we just need to make sure we're using the right products! For this post I've partnered with iHerb to show how you can easily and affordably update your routine.
One stop beauty shop at iHerb
I first shopped here in 2014 and quickly became a fan of the retailer for their affordable prices and huge selection of natural and Korean beauty brands. Not only that, their customer service (which I'm a stickler for) has always been top notch, with a triple guarantee to ensure 100% customer satisfaction:
2020 Update: While I genuinely did enjoy shopping at iHerb, my account was recently hacked and an order was placed with my credit card. After informing iHerb about this, their solution was to not to reset my password or investigate the hacker and report them, but to permanently disable my account because it's been "compromised". So a big fuck you to iHerb, I will personally never shop there again, and will not recommend them again.
Value guarantee – You'll receive the best overall value in the world for over 30,000 brand name natural products.
Quality guarantee – All products are authentic and are shipped directly from their climate controlled warehouses in California and Kentucky. They also list the product expiration date on their site so you know exactly how long they'll last, Love this thoughtful detail!
Delivery guarantee – Free or discounted shipping to over 150+ countries! If you're in the US not only do you get free shipping but it's super fast – often times Amazon Prime fast!
They don't just sell beauty products, but supplements, baby goods, food & snacks, and even a few home/lifestyle goods! It's one of my favorite places to shop for budget-friendly natural products!
Winter Skincare Products & Tips
Knowing how the seasons impact my skin, winter for me is all about hydration – adding more to the skin and locking it in.
1| Hydration starts with cleansing
Unless your skin is still oily, it's a good idea to shelf your foaming cleansers and switch to a more emollient formula: gel, cream, milk, oil, or even balm. You don't want to strip what little sebum your skin has left with anything too harsh!

This feels so gentle on the skin, smells like yummy apricots, and cleans well without leaving a film behind! While foaming cleansers leave my skin feeling a tight in the winter, this just leaves my skin soft and balanced. Ingredient wise it's excellent for the price: a lovely mix of emollient oils, humectants, and skin soothing ingredients. It also has a few antioxidants and skin brightening ingredients, but they're probably not staying on your skin long enough to have any effect.
While not as enjoyable to use as the Andalou Naturals Cleanser, the value you get for this gentle cleanser is incredible. I reviewed it in full here, but in a nutshell: excellent ingredients, low pH, super gentle, amazing price. The only downside is the bland packaging, but if you don't care for the superficial (good for you), then you won't regret trying this.

2| Make sure your products contain humectants.
Some common humectants to look for are hyaluronic acid, glycerin, aloe vera, urea, sorbitol, sodium pca, and honey, so make sure at least one of these is the key ingredient in your toner and serum! These help attract moisture to the skin and can even enhance the skin's own hydrating abilities – much needed in the dry winter air!
This is my all-time favorite product from the brand!
Full of humectants and skin-soothing ingredients, it's ridiculously hydrating without being heavy or sticky.
You can even use this for lotion masking to amp up the hydration effects! Full review
here
. There is also
an essential oil-free version
which is good for sensitive skin, but I find it slightly less hydrating.

Applying this is a breeze with its fine and even mist! In addition to antioxidants and humectants, this also contains some nourishing oils to lock that moisture in the skin and prevent it from evaporating. Make sure you shake the bottle well before using to mix the water and oil layers!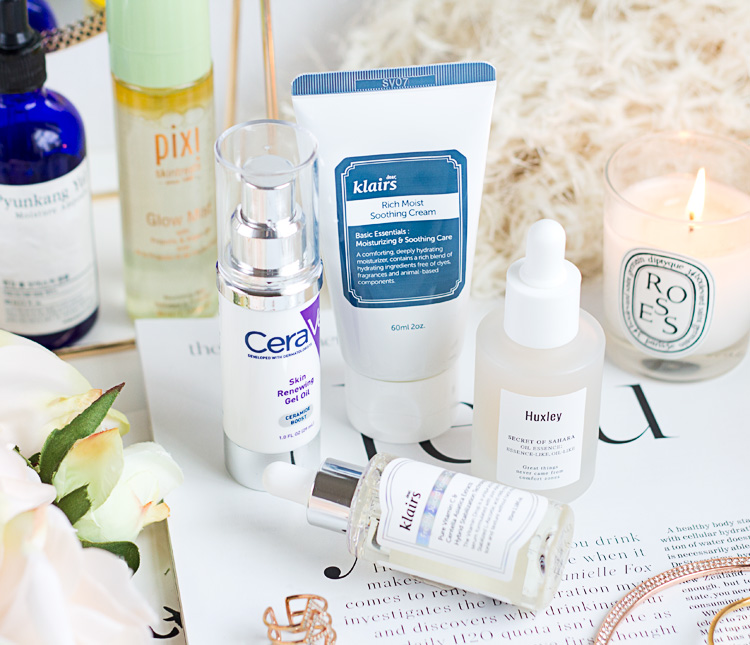 3| Replenish your lost oil with oils
Since your skin isn't producing as much sebum during the colder months, it's important that we replenish that with an external source – enter the facial oil. It not only provides our skin with additional nourishments (think antioxidants, anti-aging, and brightening properties), but it also helps reinforce our skin's moisture barrier and prevent moisture loss! There are a ton of options out there, even for those who hate the texture of a traditional oil.
Love CeraVe when it comes to gentle + inexpensive products with great ingredients that just work. This initially feels like a gel but as you massage it in, it transforms into a light oil that is then quickly absorbed. Let me tell you, this has made such a difference for my skin, especially the fine lines around my eyes, which had become more noticeable as temperatures dropped. Now that I'm using this regularly, the fine line situation is no more!
If you don't mind fragranced products, this is a beautiful oil essence hybrid that contains 61% prickly pear seed oil to nourish and repair the skin. It's the least oily-feeling oil I've ever tried, and absorbs instantly leaving skin feeling velvety soft. Now it does contain alcohol as a penetration enhancer, but for me the dryness of alcohol is canceled out by all the other emollients and moisturizers in here.
Winter body care products
As the rest of our body already produces less sebum compared to our face, it's extra important that we properly moisturize our bodies in the colder months to prevent ashy skin. I love a thick creamy body butter for the winter – they not only feel lush on the skin, but they'll deliver the necessary oils to nourish and protect our skin from the cold dry air. Make sure you apply body butter while your skin is still damp to lock in that extra moisture!
Petal Fresh Restoring Body Butter in Honey & Coconut Oil
8oz for $7? You can't beat the price! It smells exactly like the name suggests, and both are actually ingredients in this body butter, along with other nourishing oils and Shea butter. While it is thick, it spreads easily and absorbs quickly enough, leaving my skin moisturized and not one bit sticky. If you prefer fruity scents this also comes in Guava Nectar!
In addition to using a body butter, I've also started dry brushing this winter. It claims to have a lot of benefits, but I'm mainly interested in one: it helps slough off dead skin, which then improves the efficacy of moisturizers used. As with all exfoliation, you want to be gentle and you don't want to overdo it. Treat your skin with love, not like you're scrubbing a potato!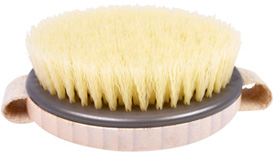 Another affordable win, no wonder it's a best-seller! Now don't expect kitten softness when using this. It's meant to exfoliate, so the bristles are going to have some roughness to them. But as long as you're brushing slowly and gently, you should be left with baby soft skin and minimal redness. I like to use this once a week before I shower, and I find the experience rather therapeutic!
So there you go, my tips on helping your skin survive the frigid weather, all without breaking the bank! I've said this before, but products in the low and mid-range prices often deliver the best value. Trust me I love my bougie lotions and potions for their aesthetics and usage experience, but often times you can find affordable options that work just as well, if not better.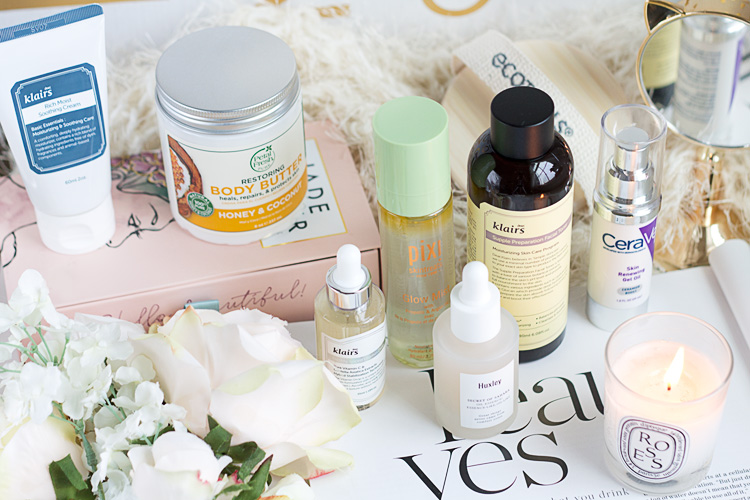 Hope you found this helpful, and let me know what your beauty must-haves are this winter!