Once upon a time, I loved being in sun and hated wearing sunscreen. I know, the horrors. By the time I realized my mistake, my skin had lost its glow and looked dull + uneven. After countless products and trials + errors, I've finally found a brightening routine that works.
For reference, my natural skin tone is NC20, but at the peak of my SPF-less days, I was around NC40 (when I tan, I friggin tan). Now there's nothing wrong with NC40, except:
I can't pull it off. Some people look gorgeous tanned, but nope not me.
The color was uneven and dull. Unlike an artificial tan, a sun tan is actually a defense mechanism of the skin to protect it from further UV damage and it's not meant to be pretty.
So in order to restore my skin's brightness and glow, I needed to undo as much of the sun damage as possible, which coincidentally means getting rid of my not-so-flattering tan. Trust me when I say it was a long journey with lots of disappointing products, but luckily these 4 proved to be total hits:
Kose Sekkisei Lotion
Key Ingredients

Coix Seed Extract, Angelica Extract, Melothria Extract, Licorice Extract – full ingredients here

Available at

SkinStore for $48/200ml (frequent 20% off sales + free shipping)
This is a skin-brightening cult classic, and that's because it works. I credit this bottle to doing most of the heavy lifting during the earlier stages of Operation Restore Dat Glow™, fading my splotchy tan and helping brighten my overall skin tone. I also love how refreshing and light this feels on the skin, which is especially nice in the summer time when my skin gets oilier.
Keep in mind this does contain alcohol high up in the ingredient list, and parabens + artificial fragrance at the bottom of the list. There's also the addition of octinoxate, a UV filter commonly found in sunscreens. What it's doing in a brightening toner, I have no idea, but personally I haven't had any issues with it or any of the other "questionable" ingredients myself.
SK-II Facial Treatment Essence
Key Ingredients

90% Pitera (Galactomyces Ferment Filtrate) – full ingredients here

Available at

Net-A-Porter, Sephora, Nordstrom, Dermstore for $99/75ml
People either love this or hate this, and I used to be in the latter camp. Then I gave this another try a few years later and holy crap did this make my skin glow. When the Sekkisei Lotion plateaued in terms of its brightening abilities, the SK-II took just picked up where Sekkisei left off and took the glow to a whole new level. It sounds dramatic, but honestly even I was shocked by the almost immediate difference I saw in my skin from using this, and now I can never be without it. God help my wallet.
If you can, I'd highly recommend getting a sample – a travel-sized one should be enough to determine if this will work for your skin. If you're not seeing results after you finish the sample (I saw results just after 1 use!), don't bother with the full-sized bottle.
CircCell Dramatic Lightening Potion*
Key Ingredients

Resveratrol, Soy Amino Acids, Peptides, Yeast Extract, Licorice Root Extract, Soybean Seed Extract, Vitamin C – full ingredient list here

Available at
No this won't lighten your skin beyond its original shade, but if you want to really brighten your complexion, this does just that. I was skeptical at first, because most brightening/lightening product tend to be disappointing (there's a reason why there are only 4 products featured in this post), but in the 2 months I've been using this, I've noticed that my skin is now closer to my original tone than ever before. In other words, this is the brightest my skin has ever been (since I was a baby).
Bonus points for its non-sticky texture and matte finish on the skin, plus it layers well with other products. The foundation-like color did throw me off at first, but it actually doesn't tint your skin in anyway. However, the price makes me want to cry. Why the hell are effective brightening products so expensive??? Also, this did nothing for my dark spots, but I wasn't expecting it to either.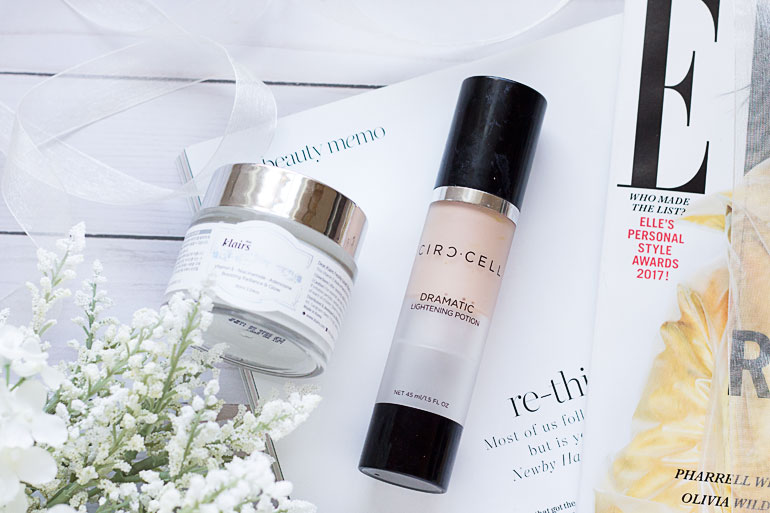 Klairs Freshly Juiced Vitamin E Mask*
Key Ingredients

Vitamin E, Niacinamide, Hyaluronic Acid, Ceramides – full ingredients here

Available at

Wishtrend for $27/90ml (currently 30% off for $18.90, plus get free global shipping for orders $69+)
I raved about the brightening abilities of this sleeping mask in depth already, so it's no surprise that this is a star product in my brightening routine. Plus, it's also the most affordable of the products mentioned here, so don't be afraid to really lather this on at night. I promise, your skin will glow the next morning.
And of course, what good is me raving about brightening products if I don't have the photos to prove it?
FYI here's a timeline of the when I started using which products:
Early 2016 – Kose Sekkisei Lotion
May 2017 – SK-II Facial Treatment Essence
Beginning of August 2017 – CircCell Dramatic Lightening Lotion
Beginning of September 2017 – Klairs Freshly Juiced Vitamin E Mask
Also, I tried to take the photos in the same spot at around the same time of the day to get consistent lighting, and as always, no filters or editing whatsoever.
3 tips to help your skin glow
In addition to using the above brightening products, I've found that making the following adjustments to my routine are just as crucial in the success of Operation Restore Dat Glow, and some of them might be so obvious you'll roll your eyes and think "Seriously?"
Wear sunscreen everyday. *cue the eye roll* But seriously, sun damage is evil. It robs your skin of its glow, its smoothness, its softness, and its overall health. If you must tan, use an artificial tanning product. If you want to learn more about sunscreens and how to pick the right one, I've got a detailed guide for you.
Layer and lock in the hydration. A big part of having brighter + glowing skin is making sure it's hydrated, and I've found the best way to add hydration to a routine is by using a simple thermal water mist (I adore the La Roche Posay one). I like spraying it generously between each step of my skin care routine, as moist skin is also better at absorbing ingredients than dry skin (think wet sponge vs dry sponge).
Exfoliate, but not too frequently. Sometimes the dullness is caused by dead skin cells accumulating on the surface of your skin, so using a gentle AHA occasionally can do wonders for brightening the complexion. As for which AHA to use, I've rounded up 13 exfoliants for different skin types and needs.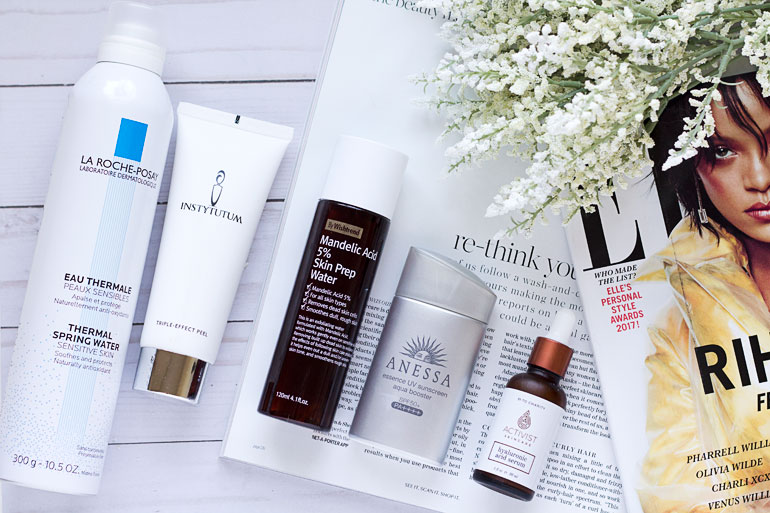 Lastly I want to make the disclaimer that this post is not about perpetuating the beauty trend that lighter = better. If you want to add color to your complexion, all the power to you, but there are plenty of skin-friendly options (ie. sunless tanners, bronzers) other than baking in the sun without SPF.
Hope you all enjoyed this post, and let me know if you have any favorite brightening products that you swear by! Have a great rest of the week!