Originally posted on September 21st, 2016
I randomly share products I use on Instagram, but I haven't done a full skincare routine post in…years! As we transition from the humid summer heat to the drier, chilly fall weather, it's important that we adjust our skincare routine accordingly. 
The basics
Aka, the starting point and foundation of my summer-to-fall routine if you will. Everything I use focuses on the following:
Hydration. This is the most important one, because

drier weather = drier skin

. Hydration really should be a main focus for any skincare routine, regardless of weather or skin type, but it's especially important during drier seasons.
Exfoliation. As the temperature starts to drop, so does our cell turnover rate. Exfoliating regularly (this depends on your skin type) can prevent dead skin cells from accumulating and giving you that dull/ashy look.
Minimizing irritation. Seasonal changes always makes my skin more fickle than usual, so I typically avoid brightening products or anything with potentially irritating ingredients. Instead I try to use things that are more gentle on the skin until it's fully adjusted to the weather.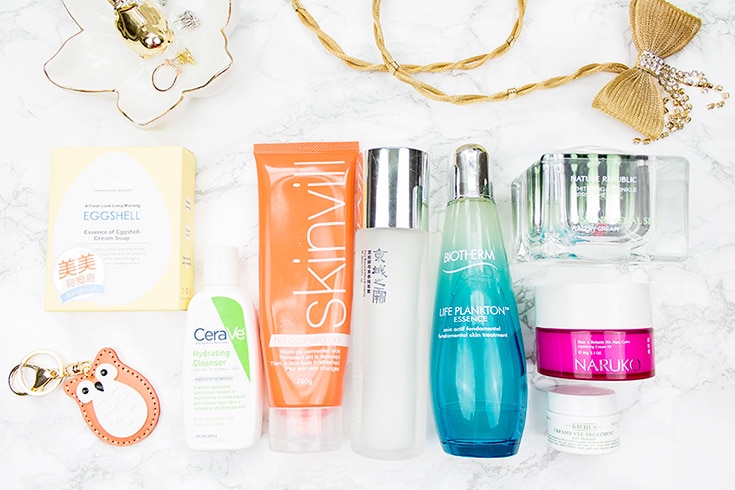 From left to right, top to bottom we have:
Dr. Douxi Essence of Eggshell Cream Soap (pm) – I've been obsessed with bar soaps lately, and this one gives a creamy lather that doesn't dry out the skin. It's at pH 7, which is acceptable, though not ideal. But my skin likes it, so I like it.
CeraVe Hydrating Cleanser (am) – Non-foaming, super gentle, and perfect for mornings. I wrote a full review about this here.
Skinvill Hot Cleansing Gel (pm) – One of my many Japan purchases, it's a warming gel makeup remover + cleanser in one, but I still prefer to double cleanse. The warmth is perfect for the chilly weather! Full review here.
Naruko La Creme Face Renewal Miracle Essence (am/pm) – Contains 94.9% fermented rice extract, 60 different herbal extracts, and pretty much no filler ingredients. It's a lovely first essence that preps my skin for subsequent products. Full review here.
Biotherm Life Plankton Essence (am/pm) – This hydrates my skin really well, and it's got a beautifully light texture. Full review here.
Nature Republic Ginseng Royal Silk Watery Cream (pm) – Another product with a texture so beautiful I could cry. It's rich enough for the drier weather, but not oily or heavy at all.
Naruko Rose & botanic HA Aqua Cubic Hydrating Cream EX (am) – You can read the full review here, but again, that texture! Plus it's very hydrating without being heavy, great for day use.
Kiehl's Creamy Eye Treatment with Avocado (am/pm) – I reviewed this one as well, and its rich creamy texture is perfect for the drier fall season. This is going to be a staple year-round most likely.
Like I said, this is just the basics. Typically I'll add 1-2 more products to the routine, depending on the condition of my skin that day and how I feel (because it's all about the feels).
Serums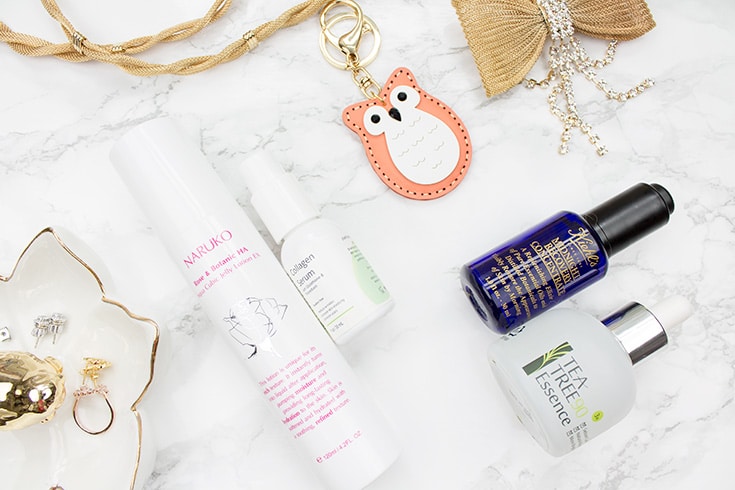 I always like to have a couple serums on rotation, because I get bored quickly and I like to have options. From left we have:
Naruko Rose & Botanic HA Aqua Cube Jelly Lotion EX (am/pm) – This is sort of a toner/serum hybrid. I really like the light texture and the hydration it provides. Plus, the rose scent from this entire line is just heavenly! Full review here.
Skin Actives Collagen Serum (pm) – Another recently reviewed product, I alternate between this and the Kiehl's Midnight Recovery Concentrate, depending on how I/my skin feels.
Kiehl's Midnight Recovery Concentrate (pm) – This one feels like a serum/oil hybrid, so I've been more reluctant to use it during the summer. But now that it's almost fall, I'm starting to use this regularly again.
LJH Tea Tree 90 Essence (am) – This is here only because I'm trying to finish it. It's nice and light for the summer, but it really doesn't do much else. Tea tree is anti-inflammatory though, so I guess it works out well during the seasonal changes. Full review here.
Exfoliation
Exfoliating is important year round, but I make it a priority especially during seasonal changes. From left to right we have:
Masks
My skincare routine would feel empty if I didn't incorporate at least one type of mask in there. From left to right we have:
Sheet masks (pm) – Sheet masking definitely blew up in the past few years, but I've been preaching about how amazing they were since 2011, and I've been using them since…2003? Anyways, I use these about every other day, either after my serums or before, depending on the consistency of the mask essence vs. the serums. For very heavy masks, I may skip serums altogether.
Sulwhasoo Overnight Vitalizing Mask Ex (pm) – God bless Incheon Airport duty shops. I love how good this sleeping mask feels on the skin, and most importantly, how much better my skin looks + feels after waking up. I can't wait to really layer this on once the weather gets colder!
Cosrx Ultimate Nourishing Rice Overnight Spa Mask (pm) – This mask is really gentle and nourishing, just like the name implies. I like using this after Curology to soothe and hydrate my skin.
Last but not least, sunscreen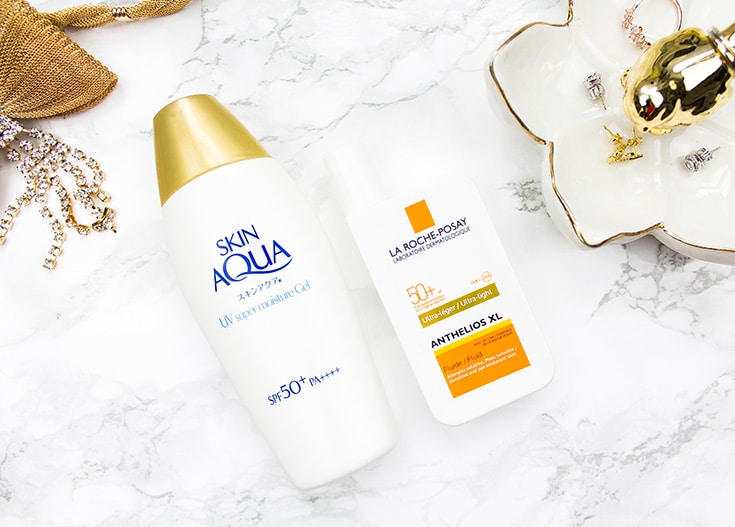 I don't care what this stupid Buzzfeed quiz says, unless you spend your time in a windowless room all day, you need to wear sunscreen everyday, no excuse! Rant aside, I actually have 2 sunscreens I rotate through:
Skin Aqua UV Super Moisture Gel SPF50+ PA++++ – As the name suggests, this is a hydrating sunscreen that has a light, almost serum-like texture. Seriously, Japanese brands are on point with their SPF game. This is my everyday sunscreen.
La Roche-Posay Anthelios XL Ultra-light Fluid SPF50+ – This is NOT the same as the US version, as it contains a couple ingredients that the FDA hasn't approved. It has a super high UVA protection rating, PPD42 vs PPD16+ of the Skin Aqua Moisture Gel. It's a bit heavier, but still very tolerable. This is my going-out (aka I'll be in the sun for more than 30 minutes) sunscreen.
So with all that said, my morning routine usually consists of 7-8 products total, while my evening routine can go upwards of 10 products if I exfoliate + sheet mask as well. I'm by no way suggesting this is how many products you should use, but rather giving you ideas on how you can transition your current routine for the fall weather.
Hope you found this helpful, and let me know if you want in-depth reviews on any of these products!