No doubt you've heard that eye creams are a must have in your skincare routine, and it's never too early to start. After all, the key of skincare should always be prevention, and a good eye cream will keep your delicate eye area hydrated and wrinkle-free for as long as possible
What is it

A creamy, moisturizing eye treatment formulated with Avocado Oil

How I use it

Best suited for

All skin types

Size & Price

$29 for 0.5 oz/$48 for 0.95 oz

Where to buy
What is it
A creamy, moisturizing eye treatment formulated with Avocado Oil
How I use it
Apply a generous amount, first rubbing it between my ring finger, then applying it to my eye area
Best suited for
All skin types in their 20's or early 30's, mainly looking for hydration with minimal anti-aging needs.
Size & Price
$29 for 0.5 oz/$48 for 0.95 oz at Sephora, Ulta, Saks
Kiehl's Avocado Eye Cream Ingredients
Water, Shea Butter, Butylene Glycol, Tridecyl stearate, Isodecyl salicylate, PEG-30 Dipolyhydroxystearate, Tridecyl trimellitate, Avocado oil, Isocetyl stearoyl stearate, Propylene Glycol, Dipentaerythrityl hexacaprylate/hexacaprate, Sorbitan sesquioleate, Magnesium sulfate, Phenoxyethanol, Hydrogenated Castor Oil, Sodium PCA, Ozokerite, Methylparaben, Tocopherol Acetate, Isopropyl Palmitate,Disodium EDTA, Copper PCA, Butylparaben, Ethylparaben, Propylparaben, Zea mays oil, Beta Carotene
At first the ingredient list sucks. 2 of the 3 advertised ingredients, shea butter and avocado oil, are near the top of the list, but beta carotene is at the very end. Other than these 3 ingredients, there's also Vitamin E, but that's it.
Now ignore the ingredients.
I've mentioned this before, but the ingredients used are only as effective as their formulation. And this Kiehl's Creamy Eye Treatment with Avocado has one heck of a formulation, nothing else really matters in comparison.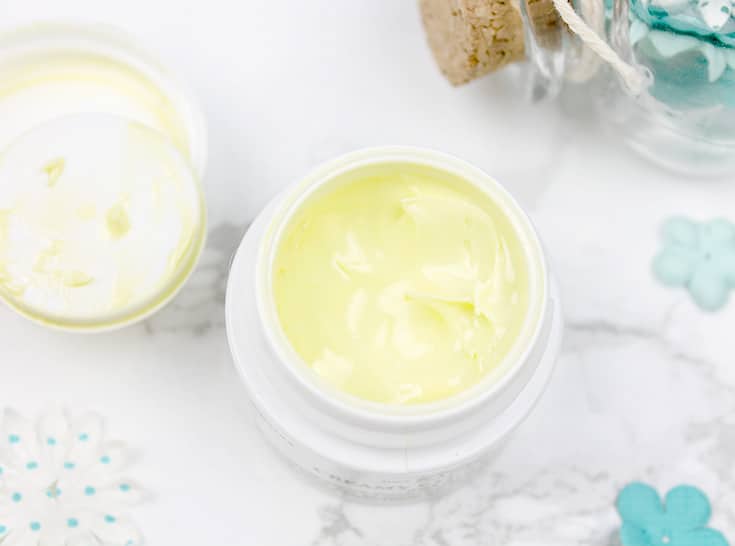 Why use eye creams?
Certain people argue that they're worthless, and that any good moisturizer will work for the eye area as well. This is not 100% true, because the skin in our eye area is thinner and has less oil glands than the rest of our face.
Add to the fact that we're constantly using the muscles around our eyes, it's no wonder this is the first area to show signs of aging.
So while a light moisturizer will work for your face, your eyes most likely need something richer and heavier. But because the product is applied near your eye, it shouldn't contain any irritating ingredients. Hence why a dedicated product is necessary.
What makes a good eye cream?
Nourishing yet easy to absorb. Many creams are formulated to be rich, yet they don't absorb well and instead clog the skin, causing the dreaded milia.
Non-irritating. Because we don't need to be temporarily blinded every time we apply the product.
Emollient enough for massages. Massages are an excellent way to improve the circulation around your eye and also help the product absorb. Having an emollient (ie. enough slip) formula helps to reduce tugging on the already delicate skin.
I wasn't 100% sold on eye creams until I tried the Kiehl's Creamy Eye Treatment with Avocado. It has all the 3 factors of what makes a great eye cream, and it really helped diminish the fine lines around the area. My concealer now goes on smoother and creases less, yet my eyeliner doesn't budge or smudge.
The packaging is less than ideal, and is actually a bit messy (as you can see in the above photo). However, due to the thick consistency of the cream, it wouldn't make sense to package it any other way.
The cream will feel very thick and heavy at first, but the trick is to rub it between your fingers before applying it. Once massaged, the cream becomes a light slippery consistency, similar to that of the fantastic Naruko Rose & Botanic Hydrating Cream. It then absorbs into the skin fairly quickly – no oiliness or heaviness left behind.
Best part of the Kiehl's Creamy Eye Treatment with Avocado is that I can apply a generous amount of this right up to my lash lines, and I don't have to worry about any issues.
No irritations, no milia, just nourished happy skin. The cream is ophthalmologist- and dermatologist-tested, and I definitely notice a difference between this and other eye creams I've tried in the past.
Final Verdict
Packaging

Ingredients

Texture/Application

Performance

Price
It's no wonder this eye cream is a best-seller. It truly lives up to its claim of gently hydrating and nourishing the eye area, and it's the only eye product I've used that's rich enough to minimize fine lines, yet formulated for maximum absorbency (ie. no millia!). I absolutely love this eye cream, and will definitely repurchase this in the future. This eye cream gets a solid 8 - it lost 2 points for its leaky packaging and somewhat unsexy ingredient list, but more than made up for it with its excellent formulation and effectiveness.