What a mouthful, but also, what a lovely product! I'm very picky when it comes to moisturizers – too light, and it's not hydrating enough. Too rich, and it feels heavy + breaks me out. The Naruko Rose & Botanic HA Aqua Cubic Hydrating Cream EX manages to find the perfect balance, and has been my moisturizer of choice this summer.
What is it

A lightweight and watery cream that thoroughly moisturizes the skin, leaving it hydrated and shine-free.

How I use it

Scoop a pea-sized amount with spatula and apply all over face every morning

Best suited for

All skin types, especially dehydrated skin

Size & Price

60g – $18.99

Where to buy
Purified Water, Cyclomethicone, Propylene Glycol, Butylene Glycol, Dicaprylyl Carbonate, Glycerin, Methylpropanediol, Cetyl Dimethicone, Silica, Cetyl PEG/PPG-10/1 dimethicone, Sodium chloride, Phenoxyethanol, Glycosyl Trehalose, Bisabolol, Panthenyl ethyl ether, Hydrogenated starch hydrolysate, Phytosteryl/Octyldodecyl Lauroyl Glutamate, Rosa Damascena Essential Oil, Rosewood, Saccharide Isomerate, Galactoarabinan, Isostearyl Alcohol, Xylitylglucoside, Anhydroxylitol, Ascorbyl Glucoside, Citrus Aurantium Amara Essential Oil, Palmarosa, Kalanchoe spathulata, Licorice Root Extract, Scutellaria Alpina Flower/Leaf/Stem Extract, Peucedanum Ostruthium Leaf Extract, Ginkgo Biloba Leaf Extract, Artemisia Umbelliformis Extract, Leontopodium Alpinum Extract, Epilobium Fleischeri Extract, Calendula Officinalis Flower Extract, Chamomilla Recutita Flower Extract, Camelia sinensis leaf extract, Tocopheryl Acetate, Xylitol, Iodopropynyl Butylcarbamate, Sodium Hyaluronate, Phospholipids, Tremella Fuciformis Extract, Polyquaternium-51, Cetyl Ethylhexanoate, Hydrogenated polyisobutene, Salix Alba Bark Extract, Ceramide 3, Retinyl Palmitate
The first third of the ingredients list may seem underwhelming, but the remaining 2/3 is packed with great plant extracts and hydrating ingredients. Xylitylglucoside + Anhydroxylitol + Xylitol makes up the ingredient AQUAXYL, which helps balance dehydrated skin by improving moisture retention and decreasing water loss (source).
Next, you have 11 different plant extracts – from Kalanchoe spathulata, which contains ferulic acid, to camelia sinensis leaf extract, aka green tea leaf extract – which combine to form phytoferulin. The synergy from these extracts help improve our skin's natural defenses and provide antioxidant benefits.
In the mix you have your traditional favorites like hyaluronic acid, ceramide, a water + oil soluble form of vitamin c, and even a little of retinol for antiaging benefits.
A closer look
The Naruko Rose & Botanic HA Aqua Cubic Hydrating Cream EX comes in a sturdy pink glass jar and smells like fresh roses. The outer box packaging can actually be repurposed into an origami piggy bank (see above photo), a part of Naruko's effort to reduce waste and encourage reuse. Sadly my origami skills are nonexistent and my piggy bank ended up looking deformed :(
Open the lid and you'll find a small plastic spatula that fits perfectly on the inner lid – how ingenious is that? If more products did this I wouldn't be losing those damn spatulas all the time and have to resort to using my fingers #skincareergonomics101. Anyways, points to Naruko for its quality and thoughtful packaging!
Oh mah gawd that texture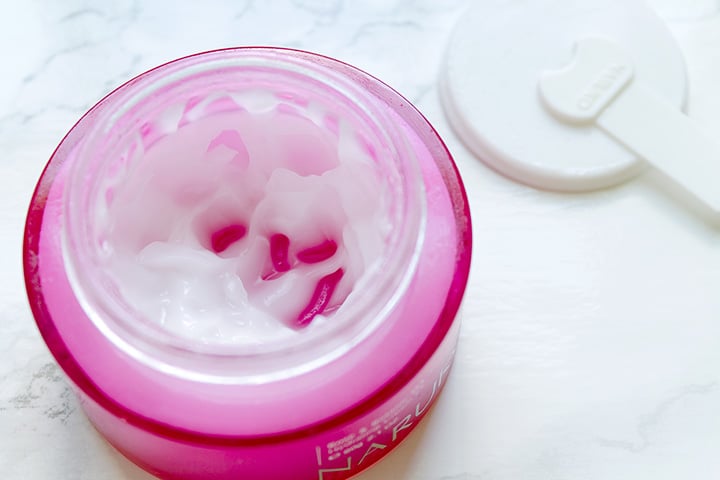 I've never felt anything like this before. It's not a gel or a traditional cream, but it feels ah-mazing! At first glance it looks like a gel, but you'll definitely want to use the included spatula to scoop it up, because it turns into liquid upon the tiniest bit of friction.
LOOK AT THAT MAGIC! IS THIS MADE FROM UNICORN TEARS? Honestly I don't know how or why it does that, but it feels pretty darn magical on the skin when you apply it. The liquid has a slip to it, but it's not oily at all. As you can see from the 3rd photo, it dries to a completely shine-free finish and your skin feels soft + hydrated. I've been using this since April as my day moisturizer, and it's been nothing but lovely for my combination skin.
Magical texture and great hydrating properties aside, it layers well under makeup and actually helps prevent caking and creasing. Seriously this cream is on point when it comes to hydration, and hydrated skin = happy skin. With that said, don't expect any anti-aging or brightening effects from this cream. It's formulated as a moisturizing cream, does a great job at that, but nothing more.
Packaging

Ingredients

Texture/Application

Performance

Price
It's affordable, works well, has a heavenly texture, and is just an all-around solid moisturizer. For those with seriously dry skin or mature skin, this might not be enough, but if you're just looking to keep your skin properly moisturized, please give this a try, you won't be disappointed.