You know what the most annoying thing about acne is? It's never just one pimple by itself, nope, they come in swarms, and you need to fend them all off at once. So how do we help calm these pimples, or better, prevent them from popping up? By using a product like the LJH Tea Tree 90 essence.
What is it

A lightweight serum containing 90% tea tree extract and other plant extracts to help soothe your acne-prone skin

How I use it

Use the dropper to dispense a generous amount, and apply after toner but before heavier serums and oils

Best suited for

Oily and/or acne-prone skin

Ingredients

Size & Price

$27.98 for 1.7oz

Where to buy
Disclaimer: I actually don't have acne-prone skin, but once I started using Curology, my skin started purging and started breaking out. At that point I had no anti-acne products in my skincare rotation except for my sad tube of Clean & Clear salicylic acid gel, and that gel just irritated my skin even more. I needed something to calm my acne and my irritated skin, and I needed it fast.
I took the leap with the LJH Tea Tree 90 Essence, and boy am I glad I did. I loved that it's super lightweight and it doesn't contain any irritants like parabens, alcohol, or mineral oil. Instead it contains 90% tea tree extract, which is anti-inflammatory and antibacterial. Unlike tea tree oil, which can irritate the skin at higher %, the LJH Tea Tree 90 Essence is soothing and provides enough hydration for oily skin types.
#Skincaretip: If you have troubled skin, look for tea tree extract in the ingredients, it's anti-inflammatory and antibacterial!
Within a week of using this essence twice a day, my skin stopped purging and the acne slowly went away. While it wasn't an overnight miracle, it did a great job of gently clearing my skin and preventing future breakouts. This is a nice change from most anti-acne treatments I've tried, which relies on more irritating ingredients like salicylic acid or benzoyl peroxide.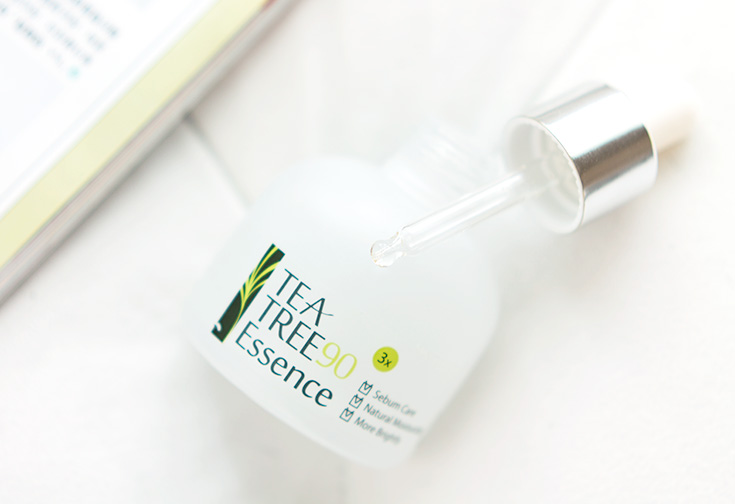 Lastly, let's talk a bit about the packaging. It comes in a lovely frosted glass bottle with a dropper, which seems nice at first, until you reach the last bit of the serum. Then it becomes impossible to get out with the dropper, and you have to pour it out, and that's always a disaster.
Ok, so I exaggerate, it's just slightly annoying, and in the grand scheme of things this is a very minor flaw. Overall this serum delivers on its promise to calm acne and troubled skin, so it gets a thumbs up from me!
Final Verdict
Packaging

Ingredients

Texture/Application

Performance

Price
I can see why people rave about this product, because with consistent use, it works. Your skin won't be further irritated, and it provides a light layer of hydration. I stopped using it after my skin returned to normal, but it's nice to have in my skincare rotation, just in case. I would definitely recommend this if you have troubled or acne-prone skin!
Hope you found this review helpful, and let me know what products you recommend for acne and troubled skin!