Can you believe it's mid-March already, and spring is just a week away? Now if only the weather would get on board (what happened to the gorgeous 70°F weather from February?) this topic would actually make more sense, because right now it still feels like winter to me. Give me all the facial oils and heavy creams!
Anyways, when it does eventually start warming up, the rich serums and moisturizers you were using during the winter might not be ideal anymore. I know that's definitely the case with my skin, but does that mean we need a whole new set of products every time the seasons change? Absolutely not! You can easily transform your winter skincare into something spring-appropriate using products you already own!
Light toner + heavy cream = spring-ready moisturizer
We all know you can add a bit of facial oil to your moisturizer to make it richer, but what if we wanted to make it lighter? Add a lightweight toner or essence to your moisturizer to thin out the consistency.
Depending on how much lighter you need your moisturizer to be, adjust the amount of toner accordingly. Make sure you mix it in your hand each time you apply it, don't go pouring your toner into your jar of moisturizer!
However, if your moisturizer contains any actives or acids, mixing it with a toner/essence could disrupt its effectiveness. To minimize any issues, pick a toner with simple ingredients to mix with your moisturizer.
Thick toners + cotton pads = stickiness be gone!
I love a thick goopy toner like the Klairs Supple Preparation Toner for the winter but it can feel sticky during the warmer weather. The easiest way to minimize stickiness? Apply the toner with a cotton pad instead of your hands.
If you find that it's difficult to soak a cotton pad with your toner, dampen the cotton pad first with a bit of water or even a simple facial mist like my favorite La Roche Posay Thermal Spring Water!
Another great way to use your thicker toners is to do a lotion mask. You'll need thick multi-layer cotton pads like the MUJI Facial Soft Cut Cottons, and again, dampen it with a bit of water/facial mist first. Apply the toner liberally until the whole pad is soaked, then peel off the layers and apply them on the various parts of your face. Wait 3-5 minutes, then peel off, and your skin will feel super hydrated.
Or you can go the easy route and buy compressed sheet masks and just drench that with the toner for a similar effect!
Rich serums + sheet mask = painless absorption
I've always applied my sheet masks after my toner and serum steps because the occlusive design + extra moisture from the sheet mask helps your skin absorb all the products you previously applied. So if you're struggling with a serum that's too rich or takes forever to absorb, try layering it before a sheet mask to help it out.
Read more: Oh sheet! 6 mistakes you might be making with sheet masks
For this to work, you'll want to make sure the sheet mask you're using doesn't have a heavy/creamy essence itself. When in doubt, go with a mask that focuses on pure hydration, as those usually contain a lighter essence. My favorite lightweight + affordable masks to use are ones by My Beauty Diary , My Scheming, and Naruko (I'm partial to Taiwanese brands).
Read more: $2 indulgences – my top 5 affordable sheet masks
Facial oils + anything = so much awesomeness
Even though I have combo skin, I'm a huge fan of using facial oils in my routine, even during spring and summer. The trick is knowing how to use them so you don't end up a shiny oily mess, and here are 2 methods I love for the warmer months:
Mixing it with a toner/essence to create an emulsion. Similar to mixing a heavy cream with toner, the idea is to thin out the thicker consistency of the oil by adding a water-like product.
Apply it before a sheet mask. This method creates a synergy between the oil and the sheet mask essence, increasing our skin's ability to absorb ingredients. Plus, it'll completely minimize any of that oily feeling of applying facial oils! Just keep in mind that occlusive oils won't work well with this method.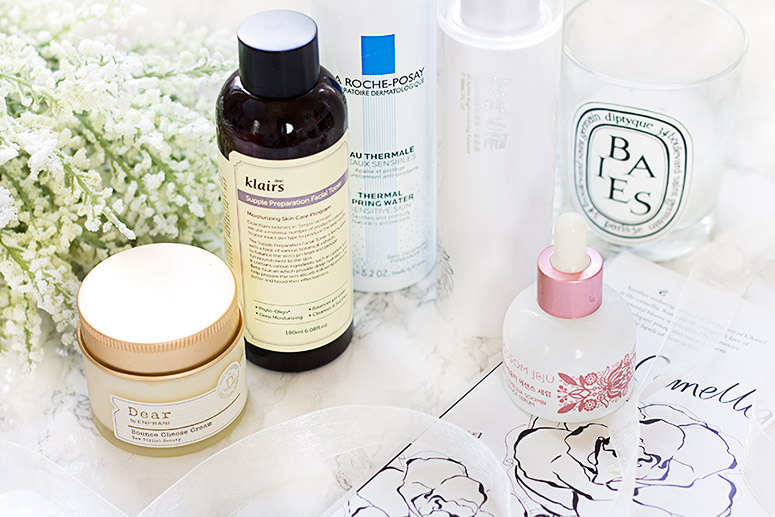 So there you go, a lighter and fresher spring skincare routine just from your winter products! Hopefully you'll have sheet masks, cotton pads, and a light toner/essence available for mixing, and if not, they're worth the small investment as they can be used year round!
Hope you enjoyed this post, and let me know if you have any tips for a winter-to-spring skincare transition! Have a lovely week everyone :)