For the most part K-beauty is anything but minimalistic. They preach the 10-step skincare routine and their products often contain a ton of extracts, but that doesn't mean all K-beauty brands follow the "more is better" approach.
For the minimalists out there, Pyunkang Yul will fit your aesthetics and needs nicely.
Pyunkang Yul is the skincare range developed by the Pyunkang Korean Medicine Hospital, which specializes in treating respiratory and atopic skin disorders using hanbang, aka traditional/oriental medicines.
The ingredients in each product are carefully selected to help balance, reinforce, and protect the skin, and anything potentially sensitizing or frivolous are removed from the formula. The end result? Gentle products with the minimal yet effective ingredients, plus they're cruelty-free!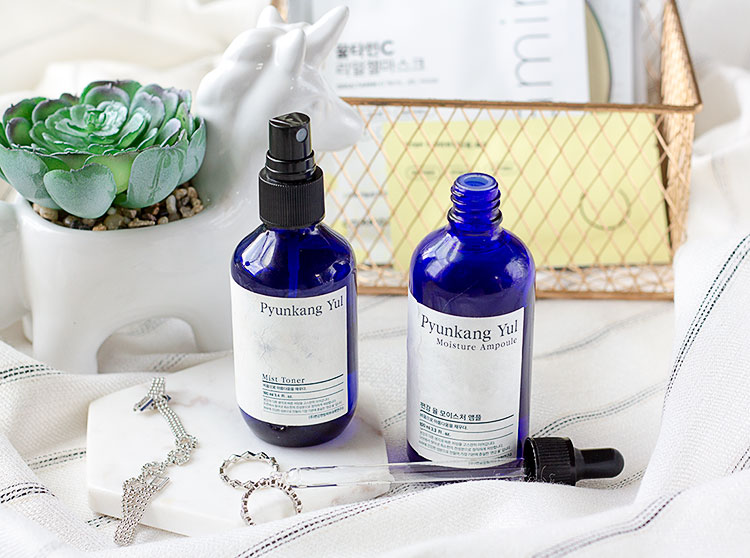 As an aspiring minimalist myself, I would've loved to buy the whole range, but I already had products in my stash, so buying these extra products would've been the opposite of minimal. So I opted for their Mist Toner (because one can never have enough mists) and Moisture Ampoule.
Pyunkang Yul Mist Toner Review
What is it
A fine mist toner to hydrate, refresh, and soothe the skin.
How I use it
Layered between my skincare steps for extra hydration.
Best suited for
All skin types, but especially oily skin or those that are prone to redness as a result of heat or irritations
Key ingredients
91.9% coptis japonica root extract, hyaluronic acid (full ingredients here)
Packaging
Blue apothecary style bottle. Made of plastic so clumsy folks like me need not worry!
Scent
A faint herbal scent that goes away pretty much instantly
Texture
Water like and dispenses as a fine mist.
Finish
Skin feels cooler and more hydrated without stickiness or oiliness.
Where to buy
$12 at Jolse and Ohlolly; $17 at Amazon; $22 at YesStyle (5% off with code GEEKYPOSH)
When it comes to mists, the simpler the ingredients the better, because I want to layer them on generously without worrying about it being too heavy or conflicting with my other products.
My holy grail is still the water-in-a-can La Roche-Posay Thermal Water, but the Pyunkang Yul Mist Toner is an excellent alternative if you want that extra skin-calming effect.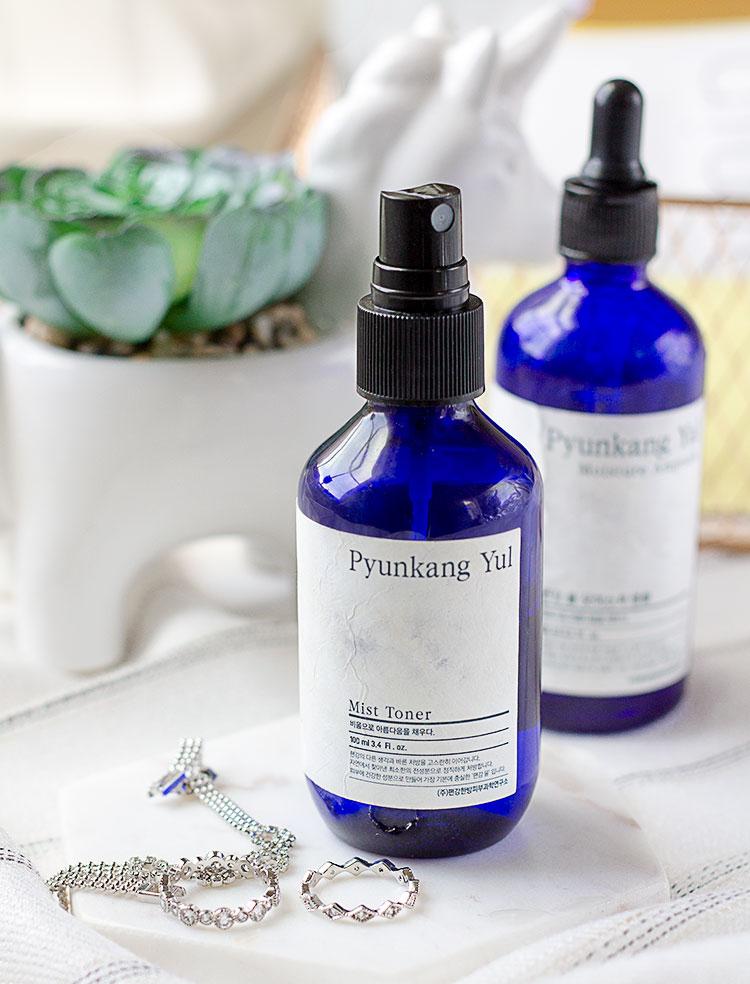 Unfortunately there's not much research on Coptis Japonica Root Extract, except for one claiming it can help prevent cellulite and skin sagging1.
However I did find more studies on berberine, the key component in Coptis Japonica Root Extract, and it's a great anti-inflammatory ingredient that's been used in traditional eastern medicine for hundreds of years2,3. There's also a bit of hyaluronic acid for extra hydration, but otherwise this is as simple as a mist can get.
I thought the Pyunkang Yul Toner Mist was an ok product and didn't feel the benefits until this summer with its unseasonably warm temperatures. After a day out in the sun my skin would be red and uncomfortable, and this mist has been excellent for calming it down.
I can't say it feels more cooling than other mists I've used, but it does get rid of the redness quicker. The mist itself is fine enough to disperse an even layer of moisture on my skin without disrupting what's underneath, because no one likes feeling like they just shot their face with a water gun.
Overall the Pyunkang Yul Toner Mist is lovely and I'm glad to have in my routine, especially when it's hot! If you have easily irritated skin this is a worth trying.
Pyunkang Yul Moisture Ampoule review
What is it
An occlusive gel that hydrates, calms, and smooths the skin.
How I use it
As the last step in my routine to seal everything in. I dispense a pearl sized drop on my fingers, dab the product evenly on my face, then gently pat everything in.
Best suited for
All skin types, but especially oily and sensitive skin.
Key ingredients
90+% coptis japonica root extract (full ingredients here)
Packaging
A blue apothecary style glass bottle with a pipette.
Scent
A barely noticeable herbal scent. You'd have to sniff real hard to notice.
Texture
Thick and goopy, but not sticky or oily.
Finish
A glass-like finish when you initially apply it, but eventually it dries down to a natural finish.
Where to buy
$20 on Amazon; $22.66 at Jolse; $28 at Ohlolly
The Pyunkang Yul Moisture Ampoule features the same anti-inflammatory Coptis Japonica Root Extract, except in a much thicker texture. So thick that the pipette can only pick up a small amount each time.
Don't let the thickness put you off though, it's not sticky or oily at all, and transforms into a water-like texture as soon as you start patting it into the skin. You can actually feel this cooling your skin down as you use it, which is especially nice after a hot day.
While it would've been nice to see more hydrating or skin-soothing ingredients in the mix, sometimes less is more, and I'm glad Pyunkang Yul provides this option. Plus you're gettin 90+ % of the actives, so you can't complain.
Despite the name, this isn't a traditional ampoule but an occlusive you can use after your moisturizer to seal everything in.
If you have oily skin or just an aversion towards traditionally heavier occlusives like oils or balms, you'll really like how refreshing (literally) the Pyunkang Yul Moisture Ampoule feels on the skin.
For me it's the perfect occlusive during the summer, and occasionally I'll even skip moisturizer and apply a more generous amount right after my serums.
A little really does go a long way with this, and usually the pipette picks up just enough. My face always feels less oily but still hydrated the next morning when I use this the night before, so obviously it's now a staple in my routine.
You can also use it during the day, which I've been doing under my heavier sunscreens. I find that the Pyunkang Yul Moisture Ampoule provide just the right amount of hydration and it helps keep my skin calm and cool in the heat.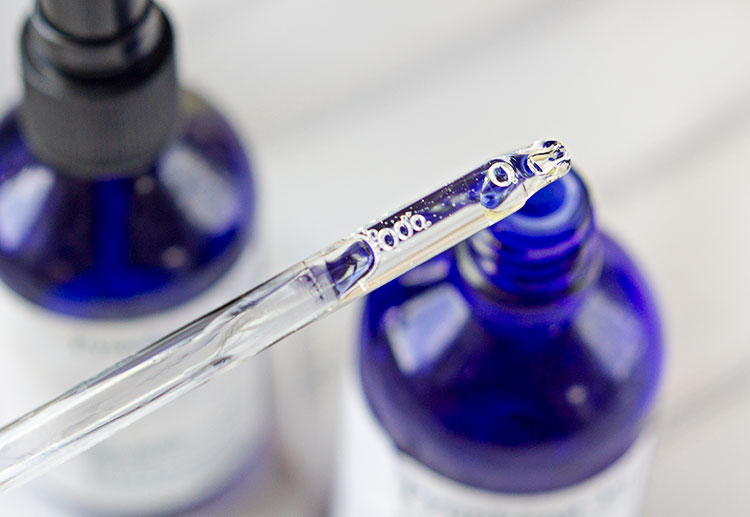 Packaging

Ingredients

Texture/Application

Performance

Price
This was already a 2017 favorite, but my skin is loving it even more during the summer! It's truly a really unique product as it locks in moisture without oil or any heaviness. I think all skin types will enjoy it's refreshing texture, but oily dehydrated skin or those who live in warm + humid climates will really love how this feels on their skin!
Hope you enjoyed this review, and let me know if you've tried anything from this brand before! Their essence toner and balancing gel are on my wishlist, and I've already ordered their cleansing foam (because you can't have enough cleansers either, amirite?)! Have a great weekend!
Article Sources
To keep my content accurate and trustworthy, I rely on peer-reviewed studies, articles from reputable academic institutions, and quotes from certified healthcare professionals to back my claims. No woo-woo clickbait nonsense here!
YashikiTohi, Keiko, et al. "Abstracts: The Effects of Coptis Japonica Root Extract and Its Key Component, Berberine, on Human Subcutaneous Adipocytes." International Journal of Cosmetic Science, vol. 32, no. 5, Sept. 2010, pp. 392–92, https://doi.org/10.1111/j.1468-2494.2010.00583_5.x.

Lee, Jin Wook, et al. "Fractionated Coptis Chinensis Extract and Its Bioactive Component Suppress Propionibacterium Acnes-Stimulated Inflammation in Human Keratinocytes." Journal of Microbiology and Biotechnology, vol. 28, no. 6, June 2018, pp. 839–48, https://doi.org/10.4014/jmb.1712.12051.

Tsang, Miranda, et al. "Anti-Inflammatory Activities of Pentaherbs Formula, Berberine, Gallic Acid and Chlorogenic Acid in Atopic Dermatitis-like Skin Inflammation." Molecules, vol. 21, no. 4, Apr. 2016, p. 519, https://doi.org/10.3390/molecules21040519.