If you have dehydrated skin buying cleansers can be tricky. Cream or milk cleansers might be too rich while foaming cleansers can be too stripping. Enter the new Inkey List Hyaluronic Acid Cleanser, a gentle gel cleanser that feels just right.
Quick Summary
Barely-foaming gel feels super gentle on the skin.
Cleans well but won't remove waterproof makeup or sunscreen.
Lovely dupe of my favorite H2O+ Hydration Sensitive Gel Cleanser!
Overview
What is it
A deeply hydrating cleanser for soft, smooth and healthy skin. The lightly foaming formula removes makeup & SPF and continues to hydrate skin for up to 48 hours post use.
Best suited for
Dehydrated skin that need to retain hydration without the extra emollience in cream/milk cleansers.
Things to note
It's alcohol-free and fragrance-free. Cetearyl Alcohol and Stearic Acid can be comedogenic for some people though.
pH Level
Inkey List lists it as 5.0 and my test confirmed it to be around 5 as well.
Packaging
A plastic white squeeze bottle with a flip cap. Basic but functional.
Scent
There's a faint salty scent from the ingredients, but it's not offensive and dissipates quickly.
Texture
A light gel.
Finish
Leaves skin feeling fresh, clean, and most importantly, not tight or uncomfortable!
Where to buy
$9.99 for 150ml on Sephora and Inkey List
Ingredients Highlight
Coco-Glucoside is the main cleansing agent in this cleanser and studies show that it's really mild on the skin with no irritations when used at regulated %. If SLS is too strong for your skin, Coco-Glucoside is a nice alternative.
1% Hyaluronic Acid Complex CationHA is actually a combination of Water + Hydrolyzed Sodium Hyaluronate + Sodium Hyaluronate + Polyquaternium-10 + Glycerin + Phenoxyethanol + Ethylhexylglycerin. According to the manufacturer this positively charged complex can adhere better to our negatively charged skin and minimizes any irritations caused by surfactants.
There are no independent studies of CationHA but we do know that Hyaluronic Acid is a proven humectant that can draw and retain moisture on the skin, even at low %.
1% PolyFructol Plus is a combination of Inulin + Glycerin + Phenoxyethanol + Lecithin + Xanthan Gum + Water. The manufacturer study showed that skin hydration levels increased when using PolyFructol Plus in a cleanser, while an independent study of Inulin showed it minimized irritation when added to body wash.
2% Betaine is an "osmolyte", which means it can help balance the skin's hydration and is beneficial to our moisture barrier. Due to its hydrating properties it's also used often as a humectant in skincare.
Full ingredients

Water, Glycerin, Coco-Glucoside, Betaine, Cetearyl Alcohol, Stearic Acid, Phenoxyethanol, Benzyl Alcohol, Xanthan Gum, Acrylates/C10-30 Alkyl Acrylate Crosspolymer, Inulin, Ethylhexylglycerin, Sodium Hydroxide, Dehydroacetic Acid, Polyquaternium-10, Trisodium Ethylenediamine Disuccinate, Hydrolyzed Sodium Hyaluronate, Sodium Hyaluronate, Lecithin
How to use the Inkey List Hyaluronic Acid Cleanser
Works best as a morning cleanser or a second evening cleanser after your makeup removing step.
Dampen skin first and gently massage a dime-sized amount on the skin.
Rinse thoroughly with warm or cold water. Water that's too hot may cause redness and dryness by stripping the oils from your skin.
Usage experience and results
✅ Dry-skin friendly gel cleanser
My dry skin gets fussy with gel/foaming cleansers during the winter time, with most of them leaving varying degrees of dryness and/or tightness after cleansing. This Inkey List Hyaluronic Acid Cleanser is one of 2 gel cleansers that's left my skin perfectly balanced afterwards with no discomfort!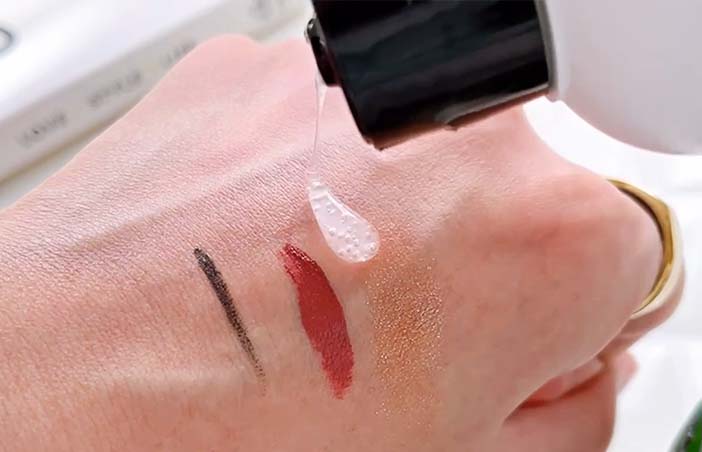 ✅ Using ingredients that actually matter
I credit the efficacy of this cleanser to its inclusion of ingredients that actually matter in a cleanser, ie. ones that will minimize any barrier disruptions and increase skin hydration levels. While my skin didn't feel more hydrated after using the cleanser, it definitely felt less dry, which is a win in my book!
✅ Rinses clean with no film left behind
A common issue with more hydrating cleansers like creams or balms is that they also tend to leave a "moisturizing" film behind. I personally don't like that, so I was pleased to confirm that this cleanser leaves skin soft and balanced sans weird film.
❓ Utilitarian and little joy sparking
I personally love lush cleansers that also smell nice as I find it elevates the entire cleansing experience. While the gel texture is pleasant, the Inkey List Hyaluronic Acid Cleanser won't be delighting any senses anytime soon. It's not a bad thing, because it skips all the fragrances and colorants that could potentially sensitize the skin, but just something to note if you're a cleanser snob like me.
❌ Won't remove waterproof makeup
While I never expected such a gentle cleanser to be able to do so in the first place, Inkey List claimed it could, so I put it to the test. As you can see, it did a terrible job on my waterproof eyeliner and lip stain. It seemed to remove the eyeshadow and tinted sunscreen ok, but I would err on the side of caution and use a dedicated makeup remover first anyways.
Inkey List Hyaluronic Acid Cleanser compared
🧼 H2O+ Hydration Sensitive Gel Cleanser
I was immediately reminded of my favorite H2O+ cleanser when I used the Inkey List! They're almost identical in texture, and while the H2O+ actually left my skin hydrated, you can't beat the price of the Inkey List. In terms of overall value for the money, my vote is for the Inkey List.
🧼 Good Molecules Rosewater Daily Cleansing Gel
Another wonderful and affordable gel cleanser that doesn't strip the skin. Bonus points for the nicer packaging too. You can't go wrong with either one, but for me I felt like the Inkey List Hyaluronic Acid Cleanser was slightly more hydrating.
🧼 Glossier Milky Jelly Cleanser
The original gentle gel cleanser. It's still nice, but if the Good Molecules one is a great dupe that also costs less.

🧼 107 Chaga Jelly Low pH Cleanser
If you're looking for a bougie but still gentle gel cleanser, this 107 one is your best bet. Not quite as hydrating as the Inkey List, but it smells like earl grey tea and has bits of tea leaves in the gel too!
🧼 The Inkey List Fulvic Acid Brightening Cleanser
Similar to the 107 in texture but sadly not in scent, this one is slightly "stronger" than the previous cleansers and the Hyaluronic Acid Cleanser. Truthfully I don't expect cleansers to brighten my skin, so between the two Inkey List options I'd pick the HA one.
🧼 Holifrog Superior Omega Gel Wash
The Holifrog is almost the opposite of the Inkey List and all the above cleansers in that it cleans too well for my dry skin. If you have combo/oily skin this could be a good option.
Final Verdict
Ingredients
Packaging
Texture/Application
Performance
Price
An all around great cleanser that does its best to respect the skin's natural moisture barrier, which means happier and healthier skin for us in the long run! It's definitely more of a workhorse product so those practical folks who don't care for the bells and whistles will appreciate The Inkey List Hyaluronic Acid Cleanser's simple efficacy.
The biggest flaw imo is that the brand claims this cleanser can remove makeup, which it does, but poorly. As long as you keep that in mind, this cleanser won't disappoint.
FAQs
Is The Inkey List Hyaluronic Acid Cleanser cruelty free?

Yes! According to their official site, The Inkey List has confirmed that they don't test their ingredients or finished products on animals. They also don't use any suppliers or third party that do, and their products aren't sold in countries where animal testing is required by law. They're working to get all their formulations Leaping Bunny approved by the end of this year.

Is The Inkey List Hyaluronic Acid Cleanser vegan?

Yes, this cleanser is labeled as vegan on their official website. The Inkey List is also working to have all their formulations registered and approved by the Vegan Society by the end of this year.​
Article Sources
To keep my content accurate and trustworthy, I rely on peer-reviewed studies, articles from reputable academic institutions, and quotes from certified healthcare professionals to back my claims. No woo-woo clickbait nonsense here!