I've always loved rice, both as a food and as skincare ingredients. So when I saw the Keana Nadeshiko Rice Mask in Japan and that it ranked #1 on Cosme in 2016 for new products, I was instantly sold.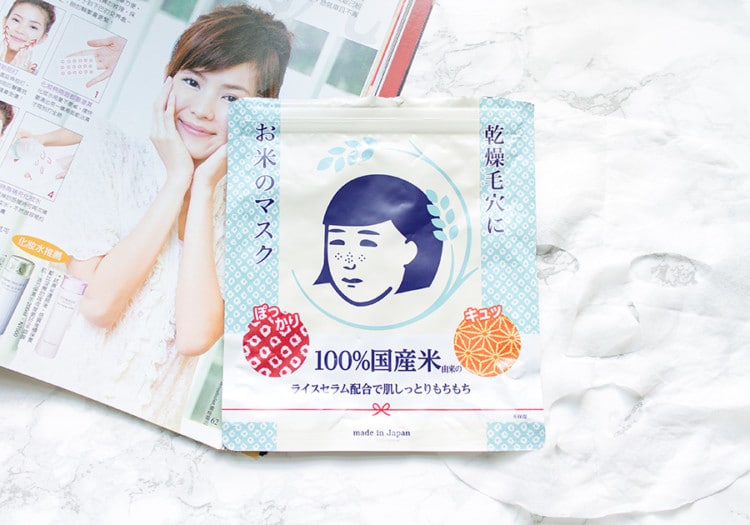 What is it
A pack of 10 hydrating sheet masks made with rice-based ingredients for dehydrated skin.
How I use it
Apply it to my face after cleansing and toning, wait 30 minutes, remove and massage the remainder essence in, and continue with the rest of my routine.
Best suited for
All skin types, especially dry/dehydrated skin.
Where to buy
$7 on Dokodemo, $9.50 on Amazon, $17 on YesStyle (5% off with code GEEKYPOSH)
Keana Nadeshiko Rice Mask Ingredients
water, glycerin, propylene glycol, alcohol, styrene/VP copolymer,
rice ferment filtrate
,
rice bran oil
,
hydrolyzed rice bran extract
, rice bran sphingoglycolipid, glucosyl ceramide,
alpha-glucan
, butylene glycol, xanthan gum, polysorbate 80, citric acid, sodium citrate, phenoxyethanol, methylparaben
As you can see, the mask is full of rice-derived ingredients that will help hydrate and nourish your skin.
Sphinogoglycolipids is a patented ingredient that contains both α-glucosamine and β-glucosamine and provides hydrating + anti-oxidant properties (source).
It also contains my favorite ceramide to help protect and repair your skin barrier, crucial for dehydrated skin types.
And as with 99.9% of Japanese skincare products, the Keana Nadeshiko Rice Mask does contain alcohol. It's not a deal breaker for me, but probably no bueno for sensitive or irritated skins. Paraben is also listed, and as much hate has it gets, I'd take that over bacteria/fungal growth any day. Just saying.
Usage experience & results
I do like the eco-friendly packaging of these mask packs, especially if you're sheet-masking daily. Not so good if you sheet mask infrequently, as you run the risk of ingredient oxidizing and the essence drying out.
It comes in a nice resealable bag, though it was hard to get the first sheet out as they're all squished together. Also not a fan of reaching my hands into the bag and having to fish out a single mask from the mask pile each time.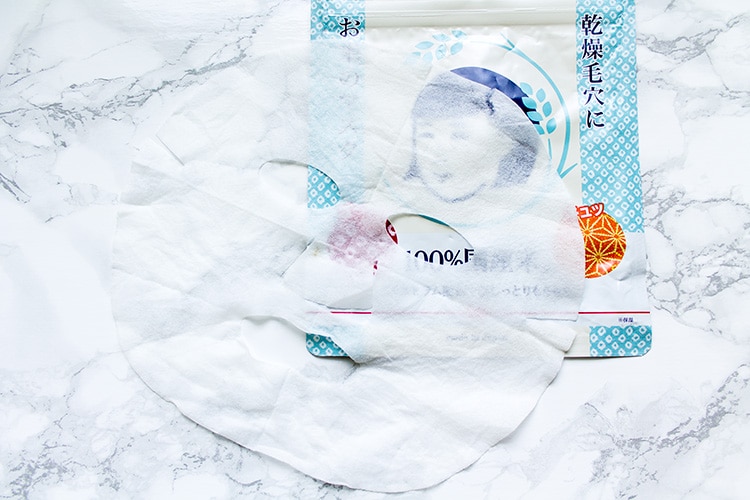 The sheet mask itself is on the thicker side, and you can tell the material is cheap because it rips very easily, so be careful when applying it. It does feel very soft on the skin, and the fit isn't bad either.
There's a lot of essence in each pack, and each mask can hold quite a bit, probably due to the thicker material. Instructions say to leave it on for 5 minutes, but I've pushed 40 minutes and the sheet mask was still moist when I removed it!
Does the Keana Nadeshiko Rice Mask work for dehydrated skin?
I prefaced this post saying this was a mask for dehydrated skin, because that's what the mask was claiming.
As we know, dehydrated skin is a condition, not a type. It happens when the skin lacks water, but still continues producing oil, and it's common among combination/oily skin types.
One of the main issues the Keana Nadeshiko Rice Mask addresses is the large, visible pores on combo/oily skins and providing the hydration to rebalance the skin and thus minimize the appearance of these pores.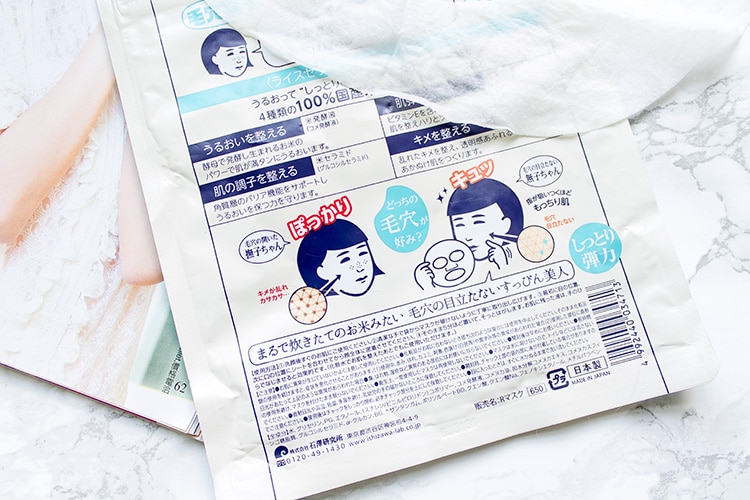 Sounds perfect right? Except eh, the effects were average at best.
It's still a hydrating mask no doubt, but it also left a slightly sticky finish that I didn't particularly care for. My pores also looked the same afterwards, and even after using the mask 8 days in a row, I did not notice any particular improvements in pore visibility.
As a matter of fact, I didn't notice any significant improvements in my skin other than the standard increase in hydration. But every sheet mask does that, so what else is new?
Looking to actually address the appearance of your pores? How I minimized my pores with the Paula's Choice Niacinamide 20% Treatment
So technically speaking, yes this mask does work for dehydrated skin because it adds extra hydration. However it doesn't balance the moisture/oil balance on the skin, nor does it address the pore issues that can be associated with dehydrated skin.
Final Verdict
Packaging

Ingredients

Texture/Application

Performance

Price
While I love rice-based ingredients, this mask failed to live up to its claim and I really didn't like the stickiness afterwards. The price per mask is cheap, but cheap is never a good reason to buy something mediocre.
There are so many better sheets masks out there for dehydrated skin that are just as affordable and accessible, so this is definitely a no-thanks-bye product for me.