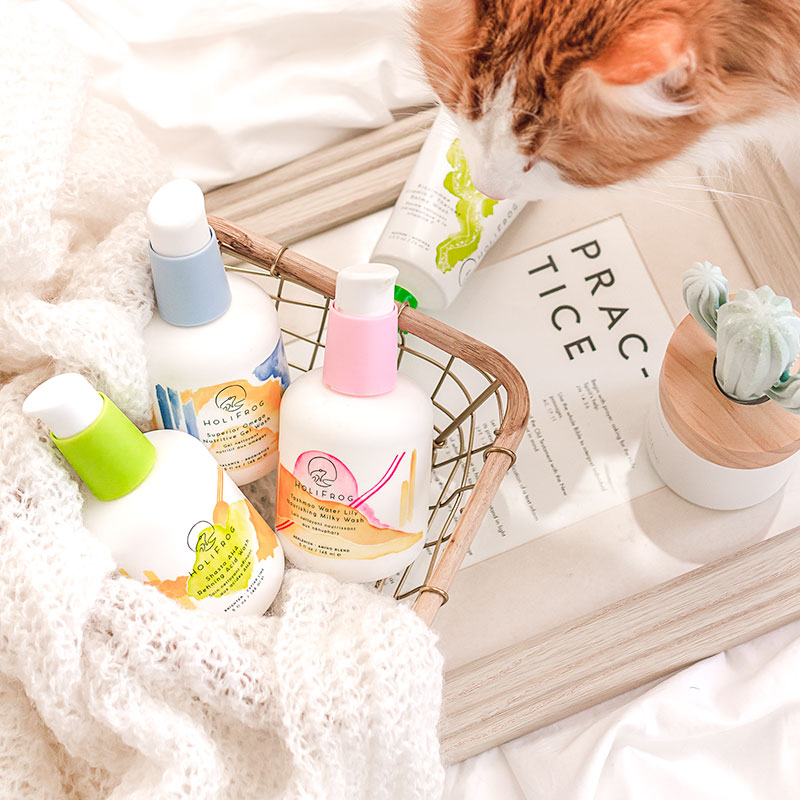 Last updated on September 8th, 2020
While most skincare brands are churning out products faster than our face (and wallets) can keep up, there's a new brand dedicated to just cleansers, and really cute cleansers too. Say hello to Holifrog! ????
Aesthetic packaging aside, here's what initially drew me to this brand and their cleansers:
Low pH to match our skin's natural pH levels – I can't stress the importance of this enough, but messing with our skin's pH level with high pH cleansers will give you all sorts of problems down the line. Just don't do it.
No harsh surfactants – There's really no reason we need to be stripping our skin dry with SLES or SLS. If you're wearing makeup or waterproof sunscreen or just super grimy, double cleanse with an oil and balm first, followed by a gentle cleanser, it's much better for your skin overall.
No extras like fragrance or dyes – As much as I enjoy scented products, I also admit they add no value to our skin health and can even cause irritations. Holifrog lists all these "unsavory" ingredient on every product page in what they cheekily call their "Holish*t List". ????
A ton of skin-friendly ingredients – You can argue that these ingredients won't do much since they don't stay on the skin for long, and I agree. However emollients like plant oils can help restore some moisture to the skin so I'm still happy to see them.
A cleanser for every situation and skin type – Or what Holifrog calls "Situational Cleansing". It makes sense when you think about it, our skin's needs can change depending on our lifestyle, the environment, and so many other factors, so likewise our routine needs to adapt too.
Currently they have 5 different cleansers available, and after trying all of them for the past few months, here are my thoughts.
5 Holifrog cleansers reviewed
Kissimmee Vitamin F Therapy Balmy Wash
Holifrog's version of a cleansing balm, I love that it comes in a tube for ease of dispense. It's a medium weight balm full of emollient plant oils like sunflower, marula, and avocado to nourish the skin while removing makeup and waterproof sunscreen. This one doesn't sting the eyes and emulsifies beautifully with water, though it does leave a moisturizing "film" that some people might find uncomfortable.
I've used this both as a first cleanser and a morning cleanser, and honestly the great ingredients are wasted removing makeup. I prefer this as a second/morning cleanse when my skin is extra parched. I've also applied it as a mask right before showering and that was *chef's kiss*. Make sure to shake before use as sometimes the oils can separate.
→ $42 for 2.5oz/74ml on Dermstore, Beautylish, Space.NK
Tashmoo Water Lily Nourishing Milky Wash
My go-to morning cleanser! True to its name, the texture is a milky gel that doesn't foam and feels so silky smooth on the skin. Between its plethora of humectants and soothing ingredients like amino acids and Sodium PCA and a super mild surfactant, this is one of the gentlest cleansers I've used and leaves my skin feeling soft and refreshed.
This reminds me a lot of the Cerave Hydrating Cleanser (reviewed here) in terms of texture and results. The Tashmoo comes in a much cuter packaging, but is it worth the huge price difference? Ehh, not really, but if you have the money why not?
→ $38 for 5oz/148ml at Dermstore, Beautylish, Space.NK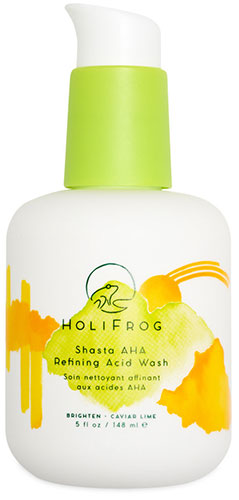 Shasta AHA Refining Acid Wash
The most unique cleanser from Holifrog IMO and a 2019 favorite discovery! This is a non-foaming gel cleanser that's very gentle but has the added benefits of exfoliation from a mix of glycolic, mandelic, lactic, tartaric, and citric acids. Unlike other exfoliating cleansers that rely on scrubs or harsh acids that can sting, my skin has never felt irritated using this. I also like the Oskia Renaissance Cleansing Gel and Kate Somerville Exfolikate Cleanser, but both are stronger (and fragranced).
I only use this once times a week as a deep cleanse since I use other actives (BHA and retinol) in my routine and I don't want to risk overexfoliating. However depending on your routine and skin type, it's possible to use this daily as a second cleanse.
→ $38 for 5oz/148ml at Dermstore, Beautylish, Space.NK
Superior Omega Nutritive Gel Wash
The strongest of the Holifrog cleansers and sadly a bit too drying for my dry skin type. However if you have combo/oily skin, an active lifestyle (aka working up a sweat daily) or live somewhere humid, you'll probably prefer this mildly-foaming cleanser to the other ones.
To be fair, this is still pretty gentle when you compare it to most foaming cleansers out there, and I do enjoy it as a sole evening cleanser on my no-makeup days when my face is extra sweaty. A good dupe for this is the Cerave Foaming Facial Cleanser, and yes the Superior is much cuter but you decide if cuteness is worth the extra $$$.
→ $36 for 5oz/148ml at Dermstore, Beautylish, Space.NK
Como Popp-E Renewal Scrubby Wash
Imagine the Kissimmee, but now in a delicious red texture with poppy seed and bamboo powder to provide physical exfoliation, and you have the Como. The scrubs don't feel nearly as harsh as St.Ive's but it's definitely more noticeable than your typical microdermabrasion scrubs. Make sure you massage gently on damp skin!
Overall it doesn't feel harsh thanks to the super emollient base, but if it's still too much you can mix this with Tashmoo, or you can add in some chemical exfoliation by mixing it with Shasta. No matter how you use it, this one will leave your skin baby soft, and unlike the Kissimmee, won't leave a film behind.
→ $40 for 3.4oz/100ml at Dermstore, Beautylish
Are Holifrog cleansers worth it?
While I thoroughly enjoyed most of these cleansers and do think they're wonderfully formulated, I also think there are great alternatives to some of these, namely the Cerave cleansers which are dirt cheap and work ridiculously well if you can get over their blandness.
My rule has always been that serums are where you should be spending your $$$. Other products, especially cleansers, do not need to be expensive to be effective.
Also I've noticed an issue with the Holifrog pump packaging: if you don't use them regularly (eg. the Shasta only once a week), they do clog a little bit which results in the product going everywhere when you pump it. ????????‍♀️ Not a deal breaker, but when you're paying a premium for a cleanser, details like these do matter.
Another factor is the sensory experience. For some of us, myself included, part of paying a premium is for the luxurious texture and spa-like scent, which often means essential oils. Holifrog isn't wrong to eliminate EOs as potential irritants, but it also makes their cleansers feel and smell a bit like regular cleansers. ????????‍♀️
Of the 5 cleansers I tried, I would probably repurchase Como because I like the idea of being able to use it alone or with other cleansers. Shasta is a maybe because while I do think it's unique, I still prefer the usage experience (scent) of the Oskia or Kate Somerville.
Final verdict
Holifrog Cleansers
Packaging

Ingredients

Texture/Application

Performance

Price
Overall I still think these are fantastic cleansers and I applaud Holifrog's dedication to educating consumers on how to cleanse properly and what ingredients to look for. Cleansing truly is an important step of our skincare routine, and if you have the budget, you can't go wrong with Holifrog's cleanser selection. However if you're already using a well-formulated cleanser (low pH and gentle), stick to what you have, you're not missing out!
Did you enjoy this post?
I share first impressions, product comparisons, and more skincare tips regularly on Instagram! Learn about products first and get a bonus dose of daily fluff! 😸
Follow Now